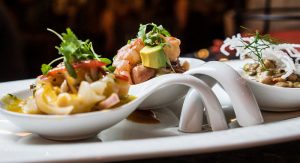 Check out the best San Diego restaurants to visit this week.
Edited by Lisa Kelley
Juniper & Ivy
Aug. 18. The Little Italy hot spot hosts its sought after monthly farm dinner featuring a seven-course meal paired with exclusive wines. The dinner highlights Juniper & Ivy's strong partnerships with local farmers and purveyors and the commitment of Executive Chef Richard Blais to push the envelope with creative and sustainable dishes. The menu will showcase locally raised lamb from Teralta Ranch in El Cajon paired with Italian-style wines from Grattamacco Estate. $175/pp. 2228 Kettner Blvd., Little Italy, 619.269.9036. juniperandivy.com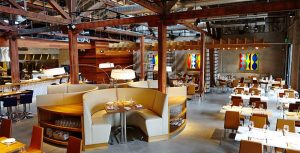 Ambrogio15
The new restaurant has fast become a destination for Milanese-style Italian cuisine in North Pacific Beach. The extensive menu features gourmet Neapolitan pizzas with thin crusts made of organic Petra flour; focaccia breads and ingredients from small-scale Italian producers. Enjoy highlights such as the pizza Hannibal Lecter, Scrocchiarella crudo e burrata and delicious desserts. 926 Turquoise St., Pacific Beach, 858.291.8650.
S&M: Sausage and Meat
The popular University Heights sausage-centric "meatery" is launching a brand new menu featuring standouts such as the smoked portabella vegetarian sausage and the "Fruity Duck" sausage made with duck, pork, apricot and lavender. Adventurous diners should opt for the exotic kangaroo merguez or antelope sausages. S&M also showcases main courses such as vegetarian ravioli, cola-braised pulled pork tacos and the short rib pad Thai with lemongrass-braised short rib. Top it off with a signature cocktail and some sweet bacon for dessert. 4130 Park Blvd., University Heights, 619.344.2177. sausageandmeat.com
True Food Kitchen
The summer may be wrapping up, but now's the time to enjoy late-summer seasonal ingredients and produce at True Food Kitchen. The eatery continues to focus on fresh, seasonal ingredients and crafts its menu around as much local produce as possible. Enjoy new menu features such as summer squash pizza, roasted toybox squash, lasagna Bolognese and more. 7007 Friars Rd., Mission Valley, 619.810.2929. truefoodkitchen.com
Sirena Cocina Latina
Everything is more fun when served in a flight, and Sirena Cocina Latina's new ceviche lineup is no different. The dish features three of Sirena's most popular ceviches inspired by the bright flavor profiles of Chile. Enjoy three servings: Campechana with white fish, shrimp, octopus and squid topped with tomato, cucumber, red onion and avocado; Chileno with white fish, salmon, scallops, octopus, red onion, cilantro and peppers; and Ahi with red onion, cilantro, sesame, soy sauce, yuzu, cucumber and avocado. 1901 Columbia St., Little Italy, 619.564.8970. sirenacocina.com
Madison on Park
University Heights is quickly becoming a foodie destination and Madison on Park is bringing this trendy neighborhood even more attention with their brand new weekend brunch and daytime cocktail menus. Enjoy savory favorites like carnitas Belgian waffle stack, lamb and leeks, soy chorizo flatbread and gravlax on rye, or indulge in the sweeter options like waffled churro sticks. In addition to a classic bloody mary, the cocktail list includes signature drinks like the Hollyhock with vodka, strawberries, lemon, basil and champagne; or try the Radler with Frida Khalo blanco tequila, grapefruit, lime, cilantro and Sculpin IPA. Mimosas can be enjoyed by the glass or the pitcher with flavors like orange pineapple kale, cucumber honey and lemon blackberry. Sat.-Sun., 9 a.m.-2:30 p.m. 4622 Park Blvd., University Heights, 619.269.6566. madisononpark.com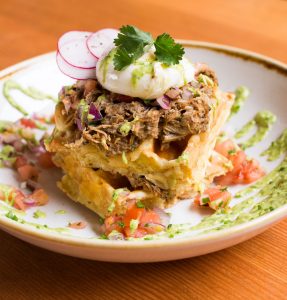 Notorious Burgers
The 21-and-over crowd should definitely save room for boozy ice cream floats for dessert when dining at the Carlsbad burger joint. Floats are made with stouts from local breweries such as Green Flash, Coronado Brewing Co., Toolbox, Society Brewing and more, topped with a generous scoop of vanilla ice cream. 6955 El Camino Real, Carlsbad, 760.431.2929. notoriousburgers.com