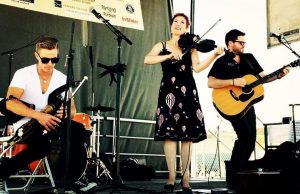 San Diego-based band, Brogue Wave rocks Irish and Celtic tunes and joins Flogging Molly on an upcoming tour.
As luck would have it, Irish tunes don't have to be limited to St. Patrick's Day because San Diego-based band, Brogue Wave, delivers their eclectic sound to local audiences all year long. The group performs Celtic folk, traditional Irish tunes and a bit of old timey music. The "band of misfits" includes David Lally on guitar and vocals, Patric Petrie on the fiddle, Matt Hensley on accordion, Tim Foley on pipes, low whistle, bodhran and vocals, and Jordan McKinley on drums.
SoCalPulse had the opportunity to chat with David Lally about the band's formation, their upcoming tour with Flogging Molly and his experience in the music industry.
SoCalPulse: How/when did the band come together?
Lally: We've all been playing music separately and together for many years in San Diego. Tim and Patric also play in a band called Skelpin. We would come together often and play for festivals and events. Patric and I had been operating under our own names (David and Patric) for a few years but had wanted a name to reflect the new reality of a larger group. Matt Hensley and I played over the years with Ned in Giblin's. Today when he's not on tour (with Flogging Molly) he joins us for the San Diego shows.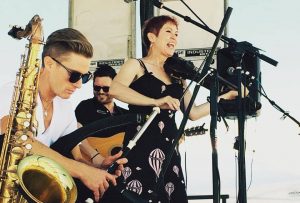 SoCalPulse: What inspired the name Brogue Wave?
Lally: As we were setting up for a show on the Flogging Molly cruise last year, a wave hit the ship and knocked Tim backwards onto his music cases. Matt looked at me and said "Rogue Wave." The name stuck and the audience at each show would tell others that was our name. When we docked back in Miami and someone got online, we realized there was a band with that name already. The next day, a friend suggested Brogue Wave. Brilliant! That was it. So we've been playing together for years, but formally as Brogue Wave for just a year now.
SoCalPulse: How did you get started performing with Flogging Molly?
Lally: Our connection to Flogging Molly is Matt [Hensley] – he was the one who got us invited to play at last year's "Salty Dog" cruise, and this year they invited us back to perform again.
SoCalPulse: Do you have any fun St. Patrick's Day traditions?
Lally: Truth is, I'm always playing music on St. Patrick's Day so I usually have a good breakfast to build up my energy for the day. It takes a certain level of insanity to sign on to play 12 hours of high-energy Irish music like we usually do on Paddy's Day. But honestly we wouldn't have it any other way. And this year, we'll be flying to Miami on Paddy's Day, then playing a show that night in Fado, an Irish pub out there. So it'll be interesting – starting at the Pacific, ending with a gig at the Atlantic!
After touring with Flogging Molly for their "Salty Dog Cruise" through the Bahamas, the band returns to San Diego to perform at O'Sullivan's Escondido on March 25 and April 8, and O'Sullivan's Carlsbad on April 23 and 29. Brogue Wave has also just released two singles, "The Cliffs of Moher" and "The Valley Street Jig," available on CDBaby.com.