The Patio on Goldfinch Debuts Complete with a Cheese Cave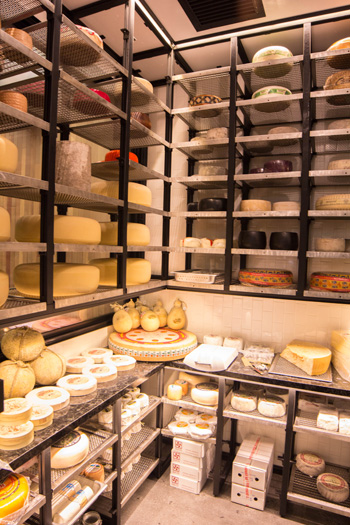 Turophiles will rejoice at The Patio on Goldfinch's cheese cave and menu of stellar fare.

Two words: cheese cave. The Patio on Goldfinch—the newest neighborhood concept by The Patio Restaurant Group—has one. Even those who are lactose intolerant will marvel at the restaurant's stunning, glass-encased dairy palace—stocked with fromage wheels from Venissimo Cheese. In addition, The Patio's open-air front room flows into a spacious den punctuated by repurposed woods, two sumptuous "living walls," a gleaming bar and an open kitchen.
If you haven't tried this cheese yet, it needs to go on your San Diego bucket list, right now. Do it today, tonight. Don't wait.
Executive Chef John Medall oversees a menu of salads, flatbreads, seafood and carnivorous delights such as the pork shank with bacon and asiago risotto. GM Chris Simmons doubles as the resident tequila expert, and can recommend an array of cocktails, global wines and local craft brews. And just like its sister locale in Pacific Beach, canine companions drink for free. 4020 Goldfinch St., Mission Hills, 619.501.5090. patioongoldfinch.com