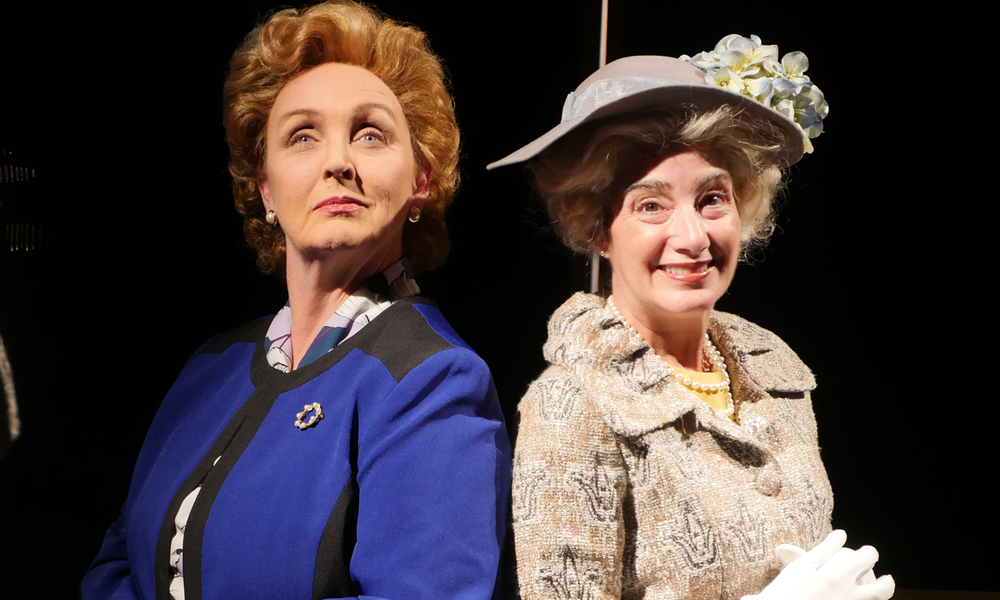 Meet Margaret Thatcher and Queen Elizabeth II in Handbagged at Moxie Theatre.
By Pat Launer.
One was born and known as "The Grocer's Daughter." The other once said she wanted to grow up to be a farmer's wife. The two would go on to make history. "The Grocer's Daughter," aka Margaret Thatcher, became England's first female Prime Minister. The would-be farmer's wife was 25 when she assumed the British throne as Queen Elizabeth II. These two formidable women face off in a historical comedy: Handbagged. Moxie Theatre hosts its West Coast premiere—a coup for the plucky, woman-centered company.
Mrs. Thatcher, a "radical conservative" who held her post from 1979-1990, was one of the most controversial figures of the 20th Century—earning herself monikers such as "Iron Lady" and "Attila the Hen." Known for her confrontational style, she spoke out against immigration as a threat to the Commonwealth culture, and was determined to weaken unions and dismantle nationalized industries and social services. From the economy to women's fashion, no Prime Minister in living memory had such far-reaching influence on the social landscape of Britain. Both revered and reviled, she was ultimately forced from office in a vote of no confidence. She died in 2013, just before the play premiered.
The Queen, 93, endures as the most popular royal and the longest- reigning monarch of the UK. Currently, she's the world's longest-reigning monarch. Valued for her wit, she has always expressed interest in horses and dogs, especially her beloved Pembroke Welsh corgis. Her conservative clothes are always complemented with matching handbags and hats. She has never given a press interview and has avoided public airing of her personal opinions.
Many thought the two women, born six months apart, had an adversarial relationship. No one knows exactly what transpired during their weekly private teatime meetings (as the Queen had with all her Prime Ministers) over the course of 11 years.
The possibilities were irresistible to award-winning English screenwriter and playwright Moira Buffini, who first penned Handbagged as a 30-minute one-act in 2010. In an expanded, full-length form, it premiered at the Tricycle Theatre in London in 2013, transferring to the West End the next year, winning an Olivier Award and then touring the UK in 2015.
The play finally premiered in the U.S. in 2018 (with updates and revisions to accommodate American sensibilities and the current political climate), opening first in Washington D.C., and this past January off-Broadway. Critics called it "marvelous," "buoyant" and "dizzyingly funny."
Partly, that's due to the conceit of the piece: putting four handbag-wielding women onstage simultaneously— the younger and older versions of Mrs. Thatcher and the queen—who not only contradict their political opponent, but also their own alter ego. "I never said that" is a repeated refrain, which offers comic moments while underscoring the mutability of memory.
As the piece moves back and forth in time, the women are hilariously counterbalanced by two men playing 17 servants, husbands, ministers and the like—including both Ronald and Nancy Reagan. All the while, they comment (meta-theatrically, to each other and to the audience) on this challenging job for which they were hired. Buffini makes no attempt to mask the inherent artifice of theater. It should be noted that the term "handbagged," meaning "browbeating," was coined in reference to Mrs. Thatcher.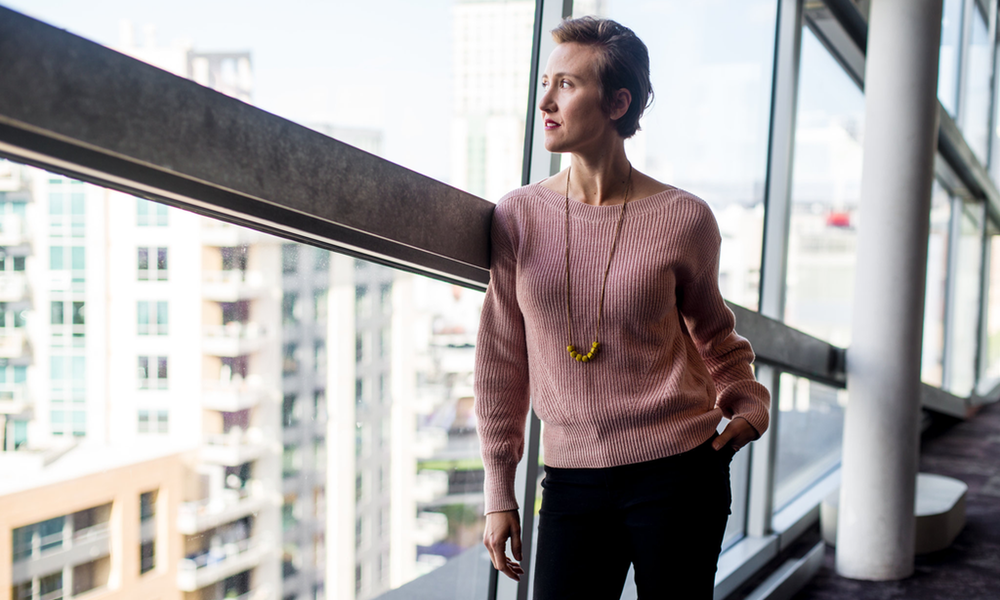 "It's a totally sexist term," says Jennifer Eve Thorn, who's entering her third year as executive artistic director of Moxie Theatre. "A man would use it to talk about a woman who forced him to do something, figuratively battering him with a handbag."
Thorn considers the play to be "a perfect celebration" of Moxie's 15th-anniversary season. The company's mission is "to create more diverse and honest images of women for our culture."
To direct the comedy, Thorn chose Kim Strassburger. "I'd seen her other work," says Thorn, "how sexy, current and fun she could make aplay. There was no other person I thought of to direct this piece. She's passionate, and she loves history. "
Strassburger, who has distinguished herself locally as both an actor and director, studied at the London Academy of Music and Dramatic Art, and she was a 2014 member of the prestigious Lincoln Center Theater Directors Lab. She said yes to the offer before she even read the script.
"I loved it," says Strassburger. "Buffini created a satire; it's all conjecture. These meetings were not documented. The playwright asks us to imagine 'What if?' What if we were flies on the wall?"
"It's wonderful to watch these two incredibly powerful, historical women," says Thorn, "who were diametrically opposed in so many ways, but united in their love for their country. We don't seem to be able to do that here in the U.S., to find that common ground. Despite their disagreements, there was a level of civility and mutual respect. The U.S. can't seem to wrap its head around a female president. But Britain has had queens for so long."
To convey the humor, the history and the inside scoop on a high-profile relationship, Strassburger and Thorn assembled what became an actor "dream team."
Sandy Campbell and Linda Libby play the older versions of the queen (Q) and Mrs. Thatcher (T), respectively. Their younger incarnations (all are given nicknames that appear only in the script, not onstage) are played by Debra Wanger (Liz) and Lisel Gorell-Getz (Mags). The rapidly morphing, accent-and-dialect-mastering males are Durwood Murray and Max Macke.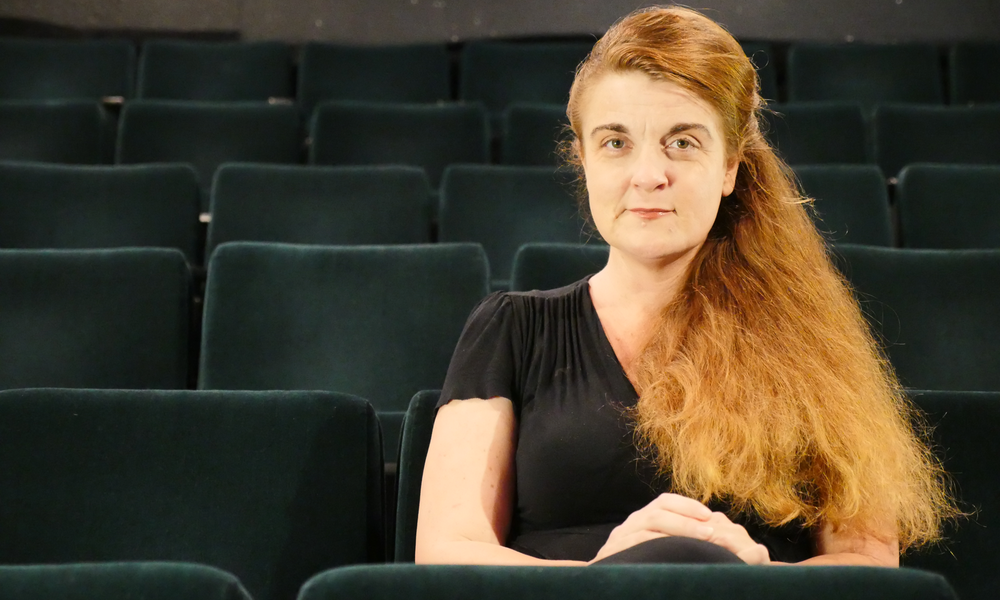 "As an actor's piece, the play demands smart, witty, funny actors who can navigate the dialogue," says Strassburger. "Linda [Libby] and Sandy [Campbell] are legendary ladies of San Diego. I've worked with them both a lot, though they've only worked together on one show, a decade ago."
She admits to being a "long-time fan" of Wanger and Gorell-Getz, and has admired the work of Murray and Macke.
"When these six actors took the stage during auditions," she says, "there was palpable electricity. It's a tricky piece, because all four women are onstage at the same time. I guess the script is a little more negative toward Thatcher, but as a director, you can't go in with a bias; it will skew everything you do. Like an actor with a role, you can't judge the character. If you put too fine a point on it, you deprive the audience of their agency.
"Americans have always been fascinated by the monarchy and how it operates," Strassburger notes. "This play is like an evening with the queen and Lady Thatcher in the Royal Albert Hall. But local audiences won't be left behind. There are many resonances to today. Class and race are part of it, and vestiges of colonialism. The intimation that Thatcher had a crush on Ronald Reagan is slyly funny. It's even funnier when she says she wants to 'Make Britain Great Again.'
"Interestingly," Strassburger adds, "what you see in the play is that the women's younger versions are in some ways more intransigent, more conscious of maintaining form—the roles they were born to or elected to. As represented here, the two become a little more free in their opinions and analyses as they age. Overall, it's a power play; the giving and taking of power is fluid, but it's omnipresent, noticeable in body language, in who sits or stands, for example. If you want to see how it all resolves, you'll have to buy a ticket!
"These are dark times we live in," Strassburger concludes. "It's nice to be able to enjoy some humor in politics, to laugh and learn."
Handbagged
 

runs Oct. 19-Nov. 17 at Moxie Theatre, 6663 El Cajon Blvd., Suite N, Rolando
For tickets and info: 858.598.7620, moxietheatre.com