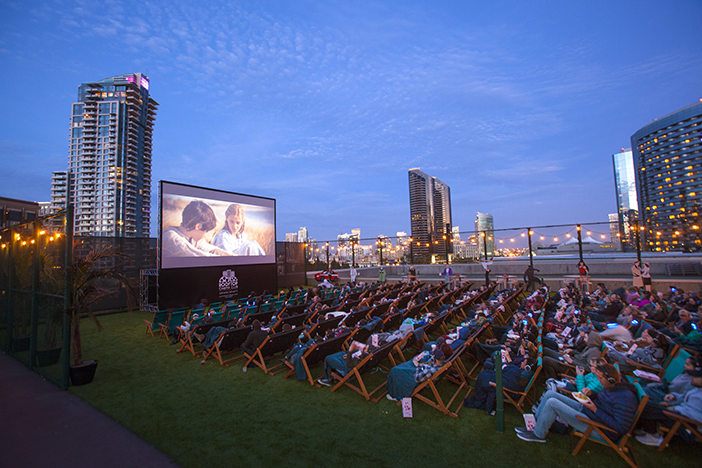 Discover a new type of movie-going experience under the stars at San Diego's new Rooftop Cinema Club located atop downtown's Manchester Grand Hyatt.
Enjoy a wide range of films, from timeless classics to recent releases, while you sit back and relax. Grab a cocktail or craft beer along with your popcorn at the concession stand before the movie starts or stop by early for one of the Manchester Grand Hyatt's on-site dining options like Top of the Hyatt lounge located on the 40th floor or Sally's Fish House & Bar.
San Diego's Rooftop Cinema Club is open to adults 18+. Tickets start at $17 per person for a single lounge seat. For $20, guests will receive a single lounge seat along with bottomless popcorn, and for $24 per person, a couple can enjoy their movie in the comfort of a double love seat with bottomless popcorn for both. 
Doors open at 6:30 p.m. and movies begin around sunset.
April 3    Grease*
April 4    Bohemian Rhapsody*
April 5    A Star Is Born
April 6    The Greatest Showman
April 9    10 Things I Hate About You
April 10   Dazed and Confused
April 11    Top Gun
April 12    Dirty Dancing 
April 13    Love Jones
April 16    Mean Girls
April 17    Pulp Fiction
April 18    Selena^
April 19    Pretty in Pink
April 20    The Big Lebowski
April 23    Pretty Woman
April 24    Zoolander
April 25    Anchorman: The Legend of Ron Burgundy
April 26    Bohemian Rhapsody*
April 27    A Star Is Born
April 30    Casablanca
*Denotes special sing-along nights
^Denotes special theme night
Manchester Grand Hyatt, 1 Market Place, downtown. rooftopcinemaclub.com