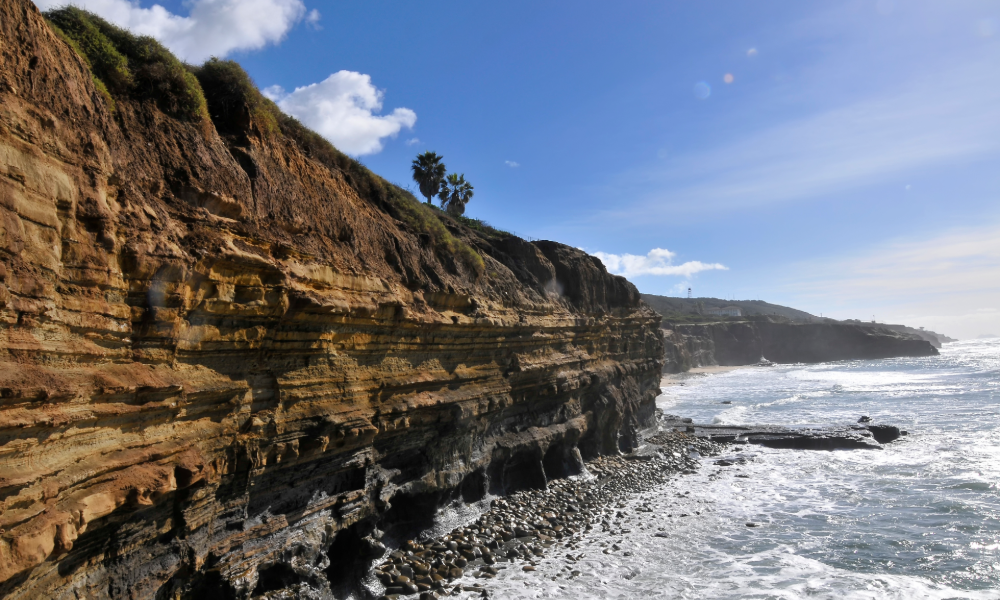 By David Moye.
Chances are, if you're visiting San Diego this summer, you're here for the surf, sun, sand, suds (if you like beer), and our beloved main attractions—such as the San Diego Zoo, SeaWorld, Balboa Park and Legoland. But in addition, there are plenty of lesser-known attractions and historical sites that show off San Diego's quirkier, funkier side. Consider adding some of these undeniably one-of-a-kind destinations to your itinerary. Happy exploring!
Sunset Cliffs Trail Walk
This 3.7-mile hike is a twisting, turning jaunt that takes you directly along the coast down to Sunset Cliffs Natural Park near Point Loma Nazarene University. Because the coastline is mostly sandstone, erosion is common and some of the pathways can deteriorate after a big rainstorm. Still, the contrast between the beige, craggy cliffs and crystal-blue water is top-notch and, depending on the tides, there can be lots of fun caves to explore. Start at Ocean Beach Pier at 1950 Abbott St. and walk south.
Unarius Academy of Science
Who would have ever thought that the center of the universe is actually a storefront in suburban El Cajon? The Unarius Academy of Science is an organization that believes spaceships from 33 different planets are going to land in Jamul, one on top of the other. The date of arrival has been changing for decades, but visitors can see artistic renderings of the proposed alien village that will be set up when they do land. The best time to visit is in October when the group celebrates Interplanetary Confederation Day, and members parade down the street with banners promoting planets with names like Myton, Vixall and Po. 145 S. Magnolia Ave., El Cajon. unarius.org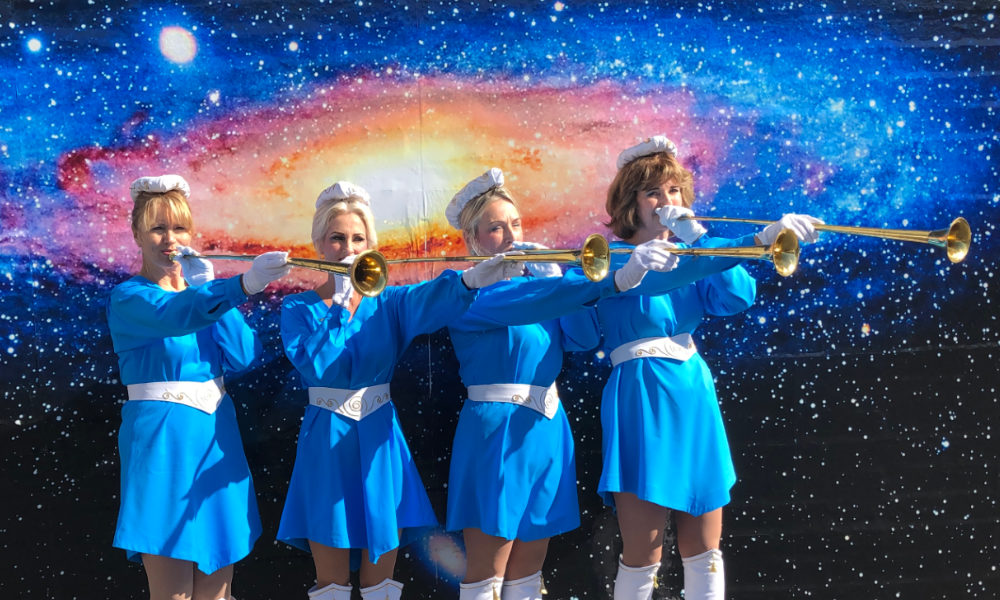 El Indio
To get a real taste of San Diego, you must stop in this nearly 80- year-old taco shop for taquitos— i.e., tortillas rolled up with filling and deep-fried before being served with cheese, salsa and guacamole. (They're also known as "rolled tacos," but a warning: Most locals and the staff at El Indio will correct you if you call them that.) While the taquito (meaning "little taco") is regarded by many as a Mexican dish, it was actually invented in the U.S. In fact, El Indio is world-famous as the place where they were first created in 1940. 3695 India St., Middletown
The Munchkin House
A La Jolla house that seems slightly smaller than the others on the street is the site of the area's biggest urban legend. Instead of being constructed on top of the hillside, architect Cliff May built slightly underneath so that the roof can be touched from street level. Over the years, people have claimed that this home was specially built for one of the "munchkins" in the 1939 film The Wizard of Oz. 7470 block of Hillside Drive, La Jolla
Ted Williams' Boyhood Home
The man known as the "Splendid Splinter" and "Teddy Ballgame" spent his youth in San Diego before moving to Boston, where he had a Hall of Fame career with the Red Sox. You'd never know he lived in a small house on Utah Street—except when the Sox win the World Series; and then all sorts of team paraphernalia covers its wire fences. 4121 Utah St., North Park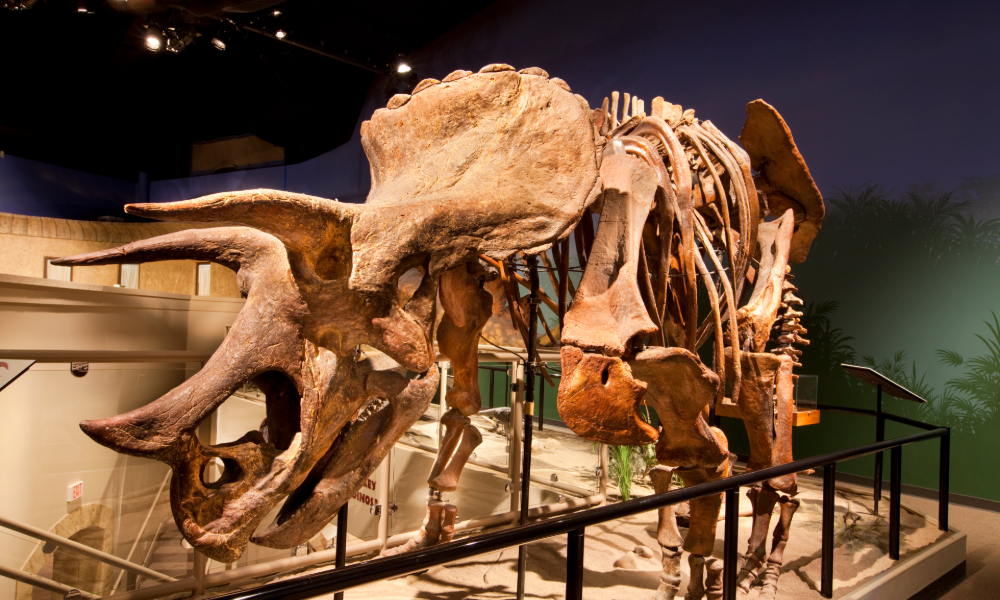 Creation & Earth History Museum
God may have made the world in seven days, but you only need 45 minutes to tour this East County museum that shows "how it was done." Exhibits include a garden filled with dinosaur statues, rooms set up to show what the Earth looked like during each day of the creation, and a display dedicated to showing how Noah's Ark could have carried all the animals of the Earth. Although the museum is made for a Christian base, officials admit 30 percent of visitors are actually skeptics. 10946 Woodside Ave., Santee. 619.599.1104, creationsd.org
Eagle Mining Company
Though San Diego's coastline gets the attention these days, back in the 1880s, the mountain town of Julian was the area' hottest place to live, thanks to a gold rush. There's not much gold left in "them thar hills" these days. However, there is quite a bit of history thanks to the Eagle Mining Company, which offers tours of an actual mine. The tour goes 1,000 feet underground, and the knowledgeable guides explain the ins and outs of digging for gold. Afterwards, you can practice panning for gold yourself (though they won't let you keep any nuggets). 2320 C St., Julian. 760.765.0036, theeaglemining.com
Old Mission Dam
Located in Mission Trails Regional Park (the state's largest municipally owned park) Old Mission Dam dates back to the early 1800s and was one of the first dams built on the West Coast. Built out of stone and cement by Spanish missionaries and Kumeyaay natives indigenous to the area, it's now an idyllic place for a picnic, a hike or just a calm place to enjoy nature. 1 Father Junipero Serra Trail, Mission Gorge. mtrp.org/old-mission-dam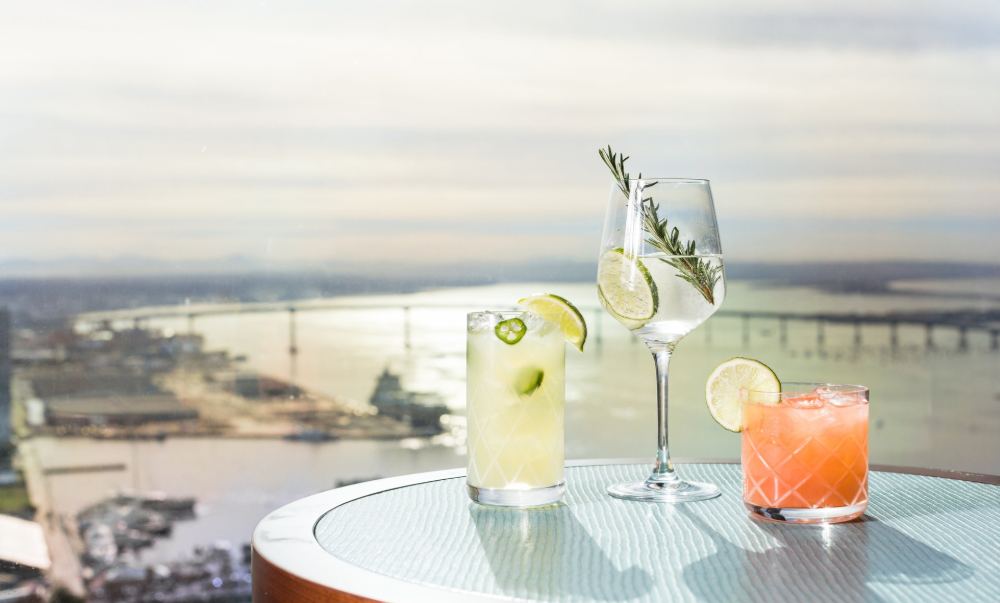 Top Of The Hyatt
As the tallest waterfront building on the West Coast and with 1,628 guest rooms spanning two towers, the Manchester Grand Hyatt downtown is iconic—a far cry from a secret. But when searching for truly extraordinary, 360-degree, bird's-eye views of the city, bay, open ocean and even Mexico, the hotel's Top of the Hyatt bar is an unsung gem. Located 40 stories above San Diego Bay, the lounge boasts floor-to-ceiling glass all around, offering unobstructed views that stretch for miles. Top of the Hyatt opens daily at 3 p.m., serving craft cocktails and gourmet light bites; the Fig & Pig flatbread is a favorite. For prime sky-high views, we recommend going at sunset. Manchester Grand Hyatt, 1 Market Place, Gaslamp. 619.232.1234, topofthehyatt.com
Hotel Del Coronado
Keep an open mind on this one. While it's ludicrous to call the city's most famous hotel an off-the-beaten-path attraction, the property holds lots of little "quirks" that aren't common knowledge. For instance, The Wizard of Oz author Frank Baum reportedly designed the chandeliers in the hotel's Crown Room, and legend has it that British King Edward VIII met his future bride Wallis Simpson at the hotel. Oh, and there was an episode of Baywatch dedicated to Kate Morgan, the ghost that reportedly still haunts the hotel to this day. 1500 Orange Ave., Coronado. 619.435.6611; hoteldel.com
Photos: Sunset Cliffs Trail Walk by Stefano Panzeri. All other photos are courtesy images.