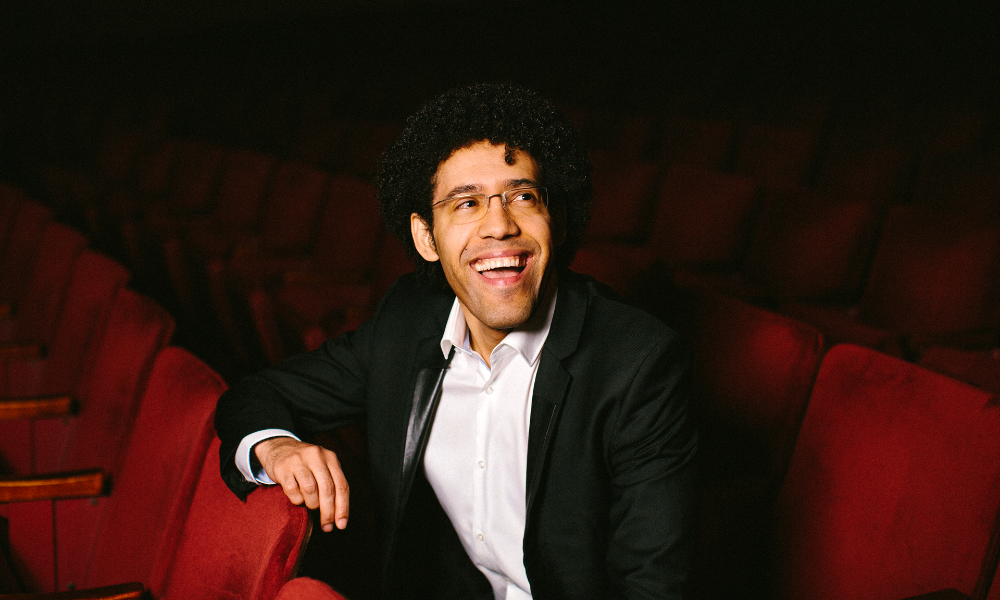 Stages across San Diego this spring are lighting up with glittering productions that embrace the power and beauty of song. We rounded up a unique mix of anticipated shows that are sure to hit all the high notes. Springtime in S.D. Means Special Concerts, Nights at the Opera, Musicals & More.
by Avery Jordan
The San Diego Opera dazzles with three spring productions to close out its season. The West Coast premiere of Paola Prestini's Aging Magician—part of the Opera's Detour Series—unfolds at Balboa Theatre with three performances March 13-14. Produced by Beth Morrison Projects, the hybrid opera blends puppetry, chorale music and opera into a one hour, 25-minute (no intermission) run. The multitalented Rinde Eckert portrays Harold, an eccentric clockmaker nearing his life's end, who is transported to a fantastical realm in which he questions what is real. The Grammy Award-winning Brooklyn Youth Chorus provides exquisite musical backup. Rossini's romantic comedy, The Barber of Seville, plays April 25 and 28 and May 1 and 3 at the Civic Theatre. The opera centers on the iconic character Figaro, played by baritone David Pershall, a barber-turned-matchmaker who tries to help Count Almaviva (tenor Carlos Santelli) win over the lovely Rosina (mezzo-soprano Emily Fons).
Hijinks and hilarity ensue. The season's Detour Series finale, The Falling and The Rising, plays May 8, 9 and 10 at Balboa Theatre. A soldier is wounded by a roadside bomb just after sending a video message home right before her daughter's 13th birthday. She travels through a coma-induced dream world and meets fellow service members as they all struggle to find their way home. Bring tissues for this powerful, heart-squeezing drama, with music by Zach Redler and libretto by Jerre Dye.
The task of transforming the timeless tale of Peter Pan into a story of modern-day relevance is no small one. But the all-star team behind the West Coast premiere of Fly—playing at La Jolla Playhouse through March 29—does just that. Based on the famous early 1900s J.M. Barrie play-turned-novel, Peter and Wendy, the production is the musical incarnation of the book by Rajiv Joseph, with music by Bill Sherman and lyrics by Joseph and Kirsten Childs. Hamilton producer Jeffrey Seller directs, with Tony Award-winning Broadway veterans Andy Blankenbuehler and Stephanie Klemons as co-choreographers. Travel with Peter Pan and Wendy back to Neverland, where fantastical staging complete with eye-popping aerial acrobatics (not to mention a pirate named Hook and a crocodile with an agenda) await.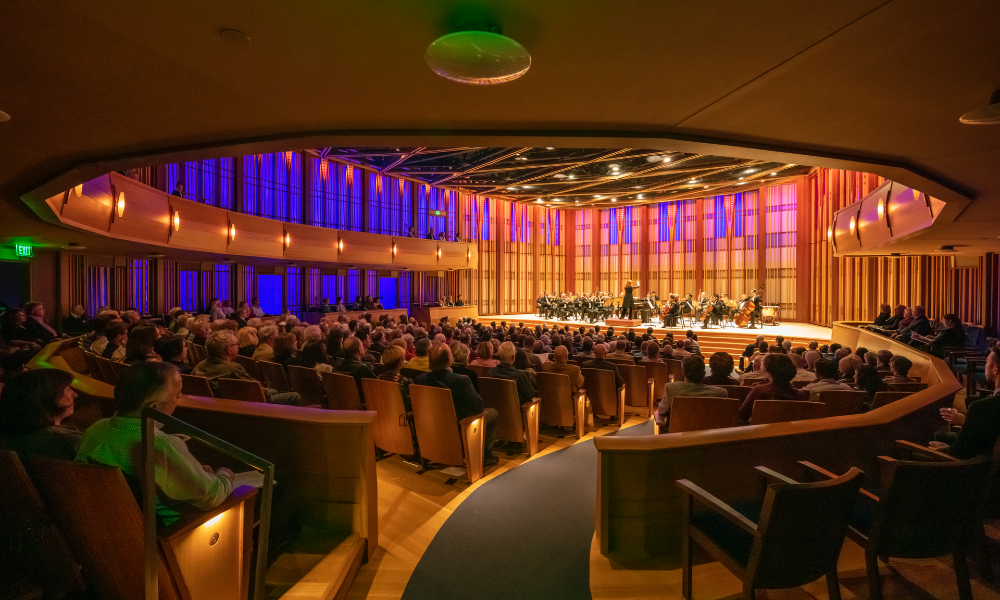 La Jolla Music Society (LJMS) is going full speed ahead this spring with dynamic programming and concerts at its new permanent home—the $82 million Conrad Prebys Performing Arts Center, aka The Conrad, in La Jolla. Its airy, wood-lined 500-seat Baker-Baum Concert Hall has received raves from both performers and audiences as having the best acoustics of any venue in San Diego; while the 116-seat, flexible-use space, The JAI, works well for more intimate concerts and events. A few highlights of LJMS' 51st season include the Hagen Quartet in concert on April 24, part of the Revelle Chamber Music Series; pianist Zoltán Fejérvári on April 26, part of the Discovery Series; a family concert featuring Spanish classical guitarist Pablo Sáinz Villegas on May 9; and a performance by Igor Levit on May 21, part of the Piano Series. On a nonmusical note, Nat Geo Live!, part of LJMS' Speaker Series, features storytellers of all kinds with great tales and accompanied by high-tech visuals and acoustics. Don't miss "Exploring Mars" on March 26 with Kobie Boykins, a NASA mechanical engineer from the Jet Propulsion Lab in Pasadena; and "Ocean Soul" on May 14, with seasoned National Geographic photographer Brian Skerry.
Inspired by the story of Broadway legend Graciela Daniele— an Argentine-American dancer, choreographer and theater director—The Old Globe theater has commissioned the world-premiere musical The Gardens of Anuncia, playing May 8-June 14. Daniele herself choregraphed and directs the production, based on the book by Michael John LaChiusa—a five-time Tony Award winner who also wrote the music and lyrics. It's a funny, touching musical—complete with a tango-infused score—in which we follow Anuncia, who reflects on her childhood in Argentina, as she gardens at her country house. As the story unfolds we come to see how Anuncia's family of strong women sacrificed to pave the path for her to become an artist.
The spring lineup for the San Diego Symphony at the Jacobs Music Center at Copley Symphony Hall is action-packed and diverse, per usual. Highlights of March include "Vivaldi & Piazzolla: Four Seasons" on March 20, featuring violinist Elena Urioste in a showcase of Antonio Vivaldi's four violin concertos; followed by Four Seasons in Buenos Aires by Argentine composer Astor Piazzolla. On March 28-29, "Trumpets & Tchaikovsky" spotlights the composer's Fourth Symphony—with Music Director Rafael Payare conducting. The evening also includes trumpeter Pacho Flores performing Johann Baptist Georg Neruda's trumpet concerto. As part of its Jazz @ The Jacobs series on April 25, the Symphony presents a concert dedicated to saxophonist John Coltrane—featuring an elite group of jazz musicians handpicked by series curator Gilbert Castellanos to perform two of Coltrane's most iconic albums: Giant Steps and Blue Train. The evening promises to be a showstopper.