Explore King Tut Artifacts at San Diego Natural History Museum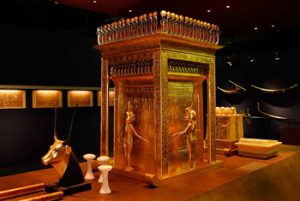 The San Diego National History Museums displays artifacts from Pharaoh Tutankhamun in The Discovery of King Tut.
The San Diego Natural History Museum hosts the West Coast debut of a large exhibit, The Discovery of King Tut, which recreates the moment of archaeologist Howard Carter's astonishing discovery of the lost tomb of pharaoh Tutankhamun in 1922. Utilizing more than 1,000 reproductions of the treasures discovered in the undisturbed tomb, all objects on display have been scientifically recreated by leading Egyptian artisans. From Oct. 11, 2014 through April 26, 2015, view King Tut's tomb and burial treasure as it was first assembled thousands of years ago—this is as close to the original scene as it gets.
If there's one thing you have to see in your lifetime in San Diego this year, it's this exhibit. Trust us.
1788 El Prado, Balboa Park, 619.232.3821. sdnhm.org