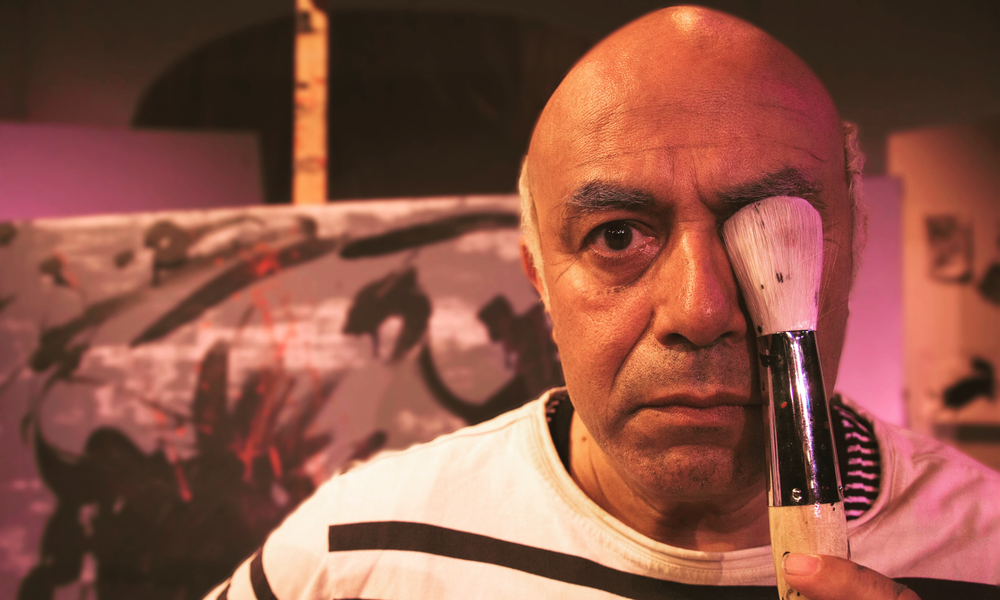 by Pat Launer
It all began with a book. When he was 7 years old, sitting in his dentist's waiting room, Herbert Siguenza started paging through The Private World of Pablo Picasso. He looked at the photos of this bald 80-year-old man, painting, cavorting, playing with pets and children, and said, "Who is this old man with no shirt on, being so free? It looked like a charmed life," Siguenza reports. "I said, 'I wanna be like that—an artist.'"
The very next year, thanks to his second-grade teacher, Siguenza would have his own art exhibition, at the San Francisco Board of Education.
Forty years after his first encounter with the most influential artist of the 20th century, Siguenza was in residency at the San Diego Repertory Theatre with Culture Clash, the renowned comedy performance troupe he cofounded in 1984, and he showed the Picasso book to San Diego Rep associate artistic director Todd Salovey.
"He told me he'd always wanted to write a play about Picasso," says Salovey. "I was very enthusiastic about it. A week later, the first scene was in my mailbox."
Siguenza did reams of research. Then he and Salovey worked together to shape and create the piece, with Salovey serving as dramaturge and director. The result, a one-man show aptly called A Weekend with Pablo Picasso, is entirely based on Picasso's speeches and writings.
The piece was first workshopped at the San Diego Rep in 2010. After tweaking and tightening, the play had its world premiere in 2011, at the Alley Theatre in Houston. Then, it returned for a rapturously received production at the Rep in 2013, and went on to successful performances in Los Angeles,Denver and Walnut Creek, California.
Siguenza just began his second three-year stint as playwright-in-residence at the San Diego Rep, as part of The Andrew W. Mellon Foundation's National Playwright Residency Program. During his time at the Rep, he has written and premiered Steal Heaven and El Henry, an adaptation of Shakespeare's Henry IV, produced by the La Jolla Playhouse in association with the San Diego Rep. The San Diego Theatre Critics Circle named it the Best New Play of 2014. Siguenza's Manifest Destinitis opened at the Rep in 2016. For Pixar's 2017 animated film, Coco, Siguenza served as a cultural consultant and lent his voice to two of the characters. His most recent solo show, workshopped earlier this summer at New Village Arts (NVA) in Carlsbad, is Asimov's Last Chapter, for which the chameleon actor morphed into the acclaimed science/science fiction writer.
Now, he's reprising his Picasso performance at New Village Arts, Aug. 9-25. In the play, Picasso is 78 years old, already enormously famous. But, says Salovey, "he was struggling with who he was as an artist at this stage of his career."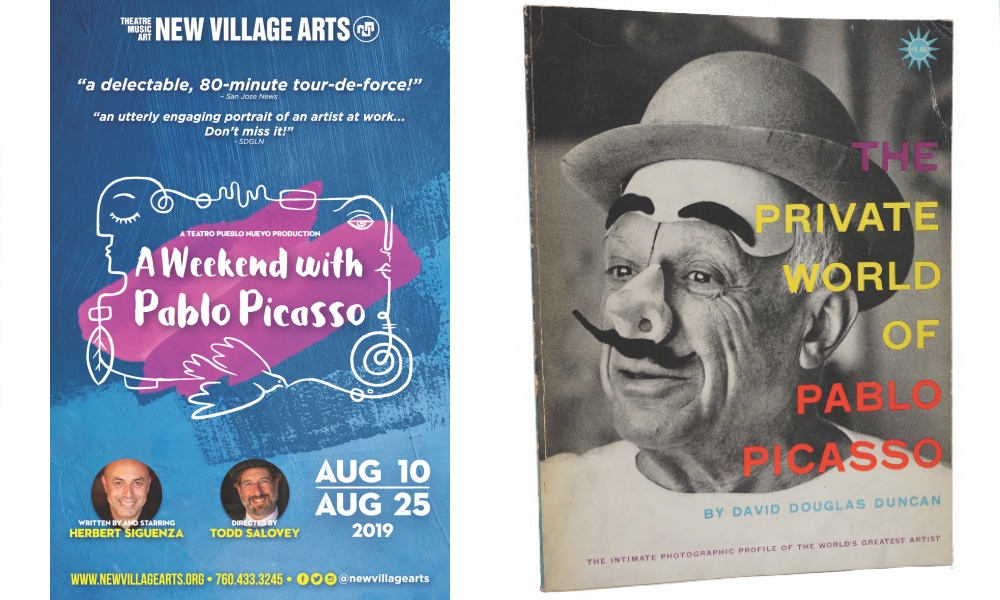 "He talks to the audience about his art, his philosophy of art. It's the 1950s," Siguenza explains. "The Communists have just invaded Hungary. He's torn between being an artist, an activist and a Communist."
One of the major challenges in creating an intimate visit with the prolific multi-hyphenate— painter, sculptor, printmaker, ceramicist, stage designer, poet and playwright—was deciding on a framework for containing all his wonderful musings on life and art, and determining exactly who the audience was supposed to be.
In consultation with San Diego Rep founding artistic director Sam Woodhouse, Siguenza and Salovey invented a commission that would keep Picasso busy: In one weekend, he had to create six paintings and three vases for a wealthy patron.
The audience, says Salovey, "is actually a group of art students sent by Picasso's agent to make sure he finishes the project."
Over the course of 80 minutes, we watch Siguenza paint, sing, clown, dance, draw, sculpt, impersonate a few mythical characters, and be childish, funny, introspective and wise. The role requires an exceptionally versatile actor. Siguenza is the perfect man for the job.
Of Salvadoran descent, he spent several years in El Salvador, though he was born and educated in San Francisco. He received a Bachelor of Fine Arts degree in Printmaking from the California College of the Arts. Although theater became his life's work, he never stopped making art. That's something he learned from Picasso.
"He's given me fearlessness, to attack a drawing or painting without knowing the outcome. I'm not afraid to destroy and rebuild, because something will come out of the destruction. That spills over into my writing: fearlessly reconstructing and cutting the script. In Picasso's mind, an art piece is never finished. His philosophy makes sense to me.
"I've put fictional scenarios into the play to make it more human," Siguenza continues. "At first, I wrote it like a master class, but that isn't interesting theater. So I started whittling away, giving it more action, more painting, more movement, some of it through dreams. Once we add the music and projected images, it becomes more theatrical, less didactic. I know what he's talking about in terms of art. I can put conviction behind the words. I want a feeling to wash over people: the feeling of genius, creativity unleashed."
Siguenza was especially impressed by the fact that Picasso "painted or did something creative every day. That inspired me; I try to do something— write, draw, paint—every day. In the play, Picasso talks about the struggles he had when he started. During his Blue Period, he was poor, living in an attic. But he doesn't believe in the myth of the virtue of being a starving artist. He feels that the success he had gave him the courage to try new things."
Salovey was struck by another Picasso quote: "'The first brushstroke is a mistake. You've got to do it, so you can get on to the good stuff.' He really loved to paint," says Salovey. "Happiness for him was making that his life."
One of the most electrifying moments of A Weekend is when Siguenza creates a "Picasso" painting (one of the master's famous bullfight pieces), right before our eyes. That painting, signed by Siguenza, is put up for sale after the show, the proceeds split among Siguenza, the theater and a local nonprofit.
"We are thrilled to bring Herbert's delightful one-man tour de force to the New Village Arts stage," says AJ Knox, NVA's associate artist and director of connectivity. "Herbert is one of America's great contemporary art makers, performers and writers, so to have him showcase all three talents at once is a thrilling opportunity. This intimate, powerful celebration of art will feel right at home in our space. Our audiences are going to love becoming students in Picasso's studio, as Herbert inhabits Picasso and paints several works of art each night, live onstage." Watching the master (because Siguenza looks and acts so much like Picasso) create so much work, nonstop, is inspirational for audiences.
"The show rekindles people's interest in their own creativity," says Salovey, who has traveled with the play since the beginning, and together with Siguenza, is making adjustments to take advantage of the intimacy of this venue. "The most common response to us is, 'I went home and I wrote a poem,' or 'I drew.' That's the magic of the piece. Not only can Herb paint like Picasso, he can cavort and clown like Picasso. The play is spectacularly theatrical."
A Weekend with Pablo Picasso runs at New Village Arts Theatre in Carlsbad, Aug. 9-25. For more info: newvillagearts.org.
Photos: Herbert Siguenza as Picasso by Hector Sandoval.