La Jolla Playhouse presents John Leguizamo's new musical, Kiss My Aztec!
By Pat Launer.
They invented chocolate and devised a game like soccer. They built pyramids, causeways, aqueducts and dikes. They introduced irrigation, performed surgeries, developed a hieroglyphic form of writing and created a 365-day calendar. They popularized popcorn and chewing gum. They had a rich mythology and cultural heritage. At the height of their power and influence, in the 14th-16th centuries, the Aztec empirecovered 80,000 square miles in-central and southern Mexico and was 5 million people strong.
But then, as funnyman John Leguizamo writes, in the lyrics for his first musical, Kiss My Aztec!, "Cortés and his Euros/ craved ourcheese and churros …. Our empire, our people, 'twas Eden restored/ Till we all got Conquistadored."
The mega-talented Leguizamo— whose Tony- and Emmy-Awardwinning work spans theater, TV, film acting and directing, screenwriting, stand-up comedy and even a graphic novel—has been telling audiences about his personal and cultural ancestry since his first of seven acclaimed solo shows, Mambo Mouth (1991).
Two of his solo pieces, Freak and Sexaholix … A Love Story, were aired on HBO. Two others,  Ghetto Klown and  Latin History for Morons, were developed at the La Jolla Playhouse and Berkeley Repertory Theatre.
Now he's back at the Playhouse (fresh from the world premiere at Berkeley Rep) with a continuation of his story in a genre he's never tried before.
"I wanted a challenge," says the wildly inventive, prolific and inexhaustible Leguizamo, who describes his heritage as Amerindian and Mestizo. "I just thought a musical could be more fun and funnier. Over five years of development, it's gotten raunchier and rawer and more in-your-face. But don't expect to see me in it, because I can't sing."
Instead, he wrote the libretto (co-written with director Tony Taccone) and the lyrics (co-created with composer Benjamin Velez and lyricist David Kamp).
"Writing lyrics was easy in some ways for me," he admits. "I can't write scansion, but I can write rhymes. Throughout the writing process, the idea came first, something that would reveal character  or move the plot forward. Then came the music."
This wholly irreverent historical musical is set in 16th-century Spanish-occupied Mesoamerica (the Spanish conquest was in 1521, which marked the end of the Aztec empire. It's estimated that 240,000 Aztecs were slaughtered, and 100,000 more died of either starvation or disease).
The language of the musical is a mashup of Elizabethan dialect and ghetto street-talk, with a score ranging from salsa to bolero to Latin boogaloo, from hip-hop to gospel, funk to merengue, all played by a power-band of eight musicians.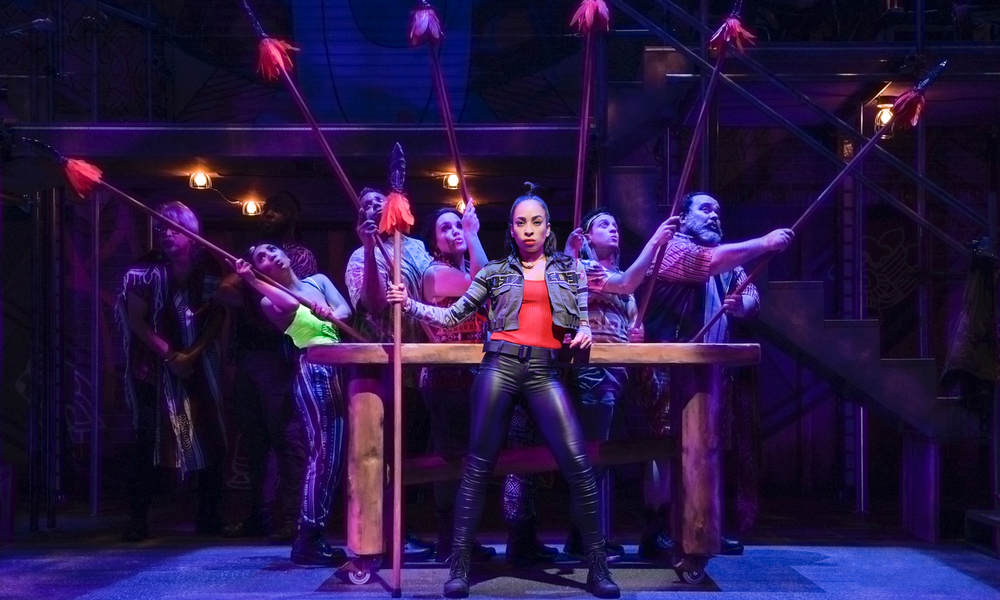 "These Aztecs are 'woke,'" says Leguizamo. Led by an unlikely duo of a fierce feminist warrior/rapper (she prefers "slitting a throat to knitting a coat") and a not-so-fierce clown (who would rather entertain the troops with his sock-puppet friends, Machu and Picchu), they mount a scrappy resistance against their Spanish oppressors.
So, how much of this zaniness is based in fact?
"It all started from fact," says Leguizamo. "Then we strayed somewhat. After the Spanish conquest, they set up viceroyships." (The dysfunctional dynamics of the Spanish Viceroy and his scheming family play a major role in the show).
"It was all about exploitation," he continues. "The Spanish enslaved the Aztecs and forced them to mine gold and silver. The characters are amalgams, but even then, and well into the late 1800s, there were strong women nobody wrote about.
"It was the most successful destruction in history—of the language, culture and religion of a people," he claims. "Who knows anything about Aztec history? White America generally doesn't. So I'm proud to be able to make this history known and accessible. You have to make it palatable, so there's understanding. Comedy is recognition. You have to recognize something to laugh at it. I want audiences to come away with some knowledge of how we were able to survive the Conquest through humor and an incredible sense of positivity."
When the show opened in Berkeley in May, the reviews called it "outrageous," "a naughty narrative of the New World," a "snarky lampoon of the colonial impulse, infused with Leguizamo's frenetic sense of comedy," "pivoting from vulgar to revolutionary," with "take-no-prisoners sarcasm … mixing low-brow humor with highminded ideas."
Those still-relevant ideas include gender discrimination, gay rights, cultural appropriation, racial profiling, conversion therapy, abstinence,white privilege and interracial comingling.
Leguizamo is thrilled to be working again with Tony Taccone, who is just completing his 30-year run as artistic director at Berkeley Rep.
"When I did Ghetto Klown  at Berkeley," says Leguizamo, "he gave me great notes. Then we worked on Latin History  together. He has a brilliant sense of structure, storytelling and character development. He's constantly refining in such a beautiful, efficient way. He became my writing partner, and was a conduit for this whole thing. He's so wise, and so passionate about story. Usually, we're like twins, though we have different strengths. He's a structure freak; I'm a dialogue/character nut."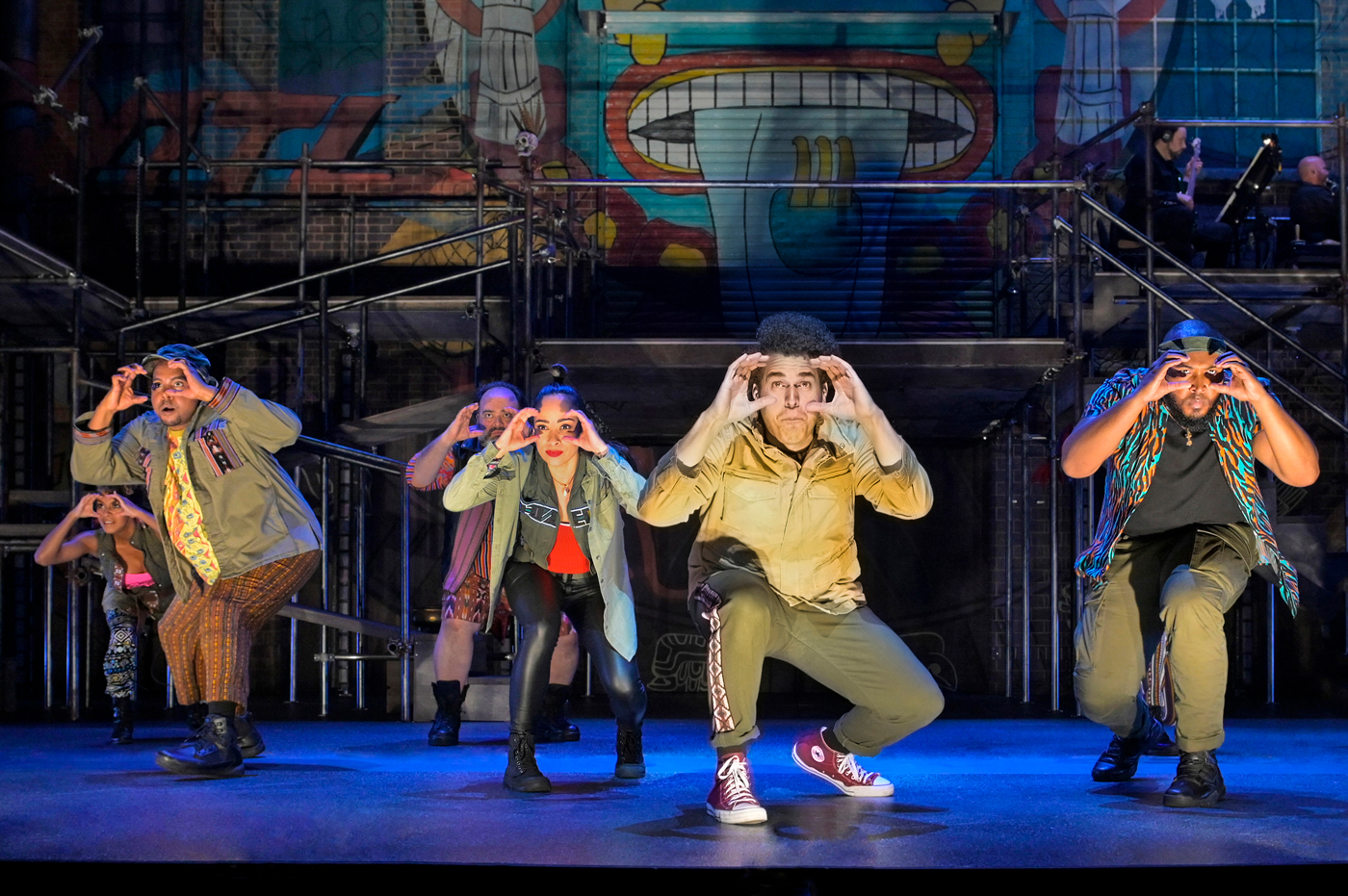 "One of my jobs was to help encourage the non-joke side of him," Taccone said in the 2018 documentary about the development of Latin History for Morons , titled John Leguizamo's Road to Broadway . "He started taking intellectual responsibility for his own history and the history of his people, which caused a major shift in who he was. For him, the work never seems finished. He has a unique process. He's a very, very rigorous and disciplined writer. On his solo shows, he puts in hundreds of hours of reflection, so he can own the material." 
"At first," Leguizamo says in the documentary, "I didn't know anything about Latin history. My problem was feeling like a second-class citizen. In my hometown of Jackson Heights, Queens, there were 50 feral latchkey kids per class. We weren't included in the history books, Latin or otherwise. I wanted to engender a sense of pride. Everyone around me was Latin; we're not ashamed of ourselves in our own community. But if you don't see yourself represented outside yourself, you feel invisible. Why are we treated like the enemy? We're the only ethnic group that has fought in every American war, from the beginning. And we're the most decorated ethnic group in each of those wars. Imagine if we were put back into the history textbooks. Can you imagine how Americans would feel about us? And how we see ourselves?"
Leguizamo espoused precisely that perspective in Latin History for Morons , which he'll be presenting at the Ahmanson Theatre in Los Angeles at the same time Kiss My Aztec!  is running in La Jolla.
"I gotta undo your whole education," he says during that show. And that's what he's after in his new musical, too. "It's the first step to conquering prejudice," he says.
The comic craziness—and the joke side of Leguizamo—are in full force in his new musical.
"Kiss My Aztec!  is John Leguizamo through and through," says Christopher Ashley, The Rich Family Artistic Director of the La Jolla Playhouse. "A riotous satirical force and a celebration of perseverance in the face of seemingly insurmountable odds."
Tellingly, the show opens with the comical song "White People on Boats" and ends with the equally comical "The World Is Getting Browner."
"I don't want to take anybody down," Leguizamo avers. "I want to be inclusive—and to really make a difference."
The new musical Kiss My Aztec! runs Sept. 3-Oct. 13 at the La Jolla Playhouse. For tickets and info: 858.550.1010; lajollaplayhouse.org
Photos courtesy Alessandra Mello/ Berkeley Repertory Theatre.