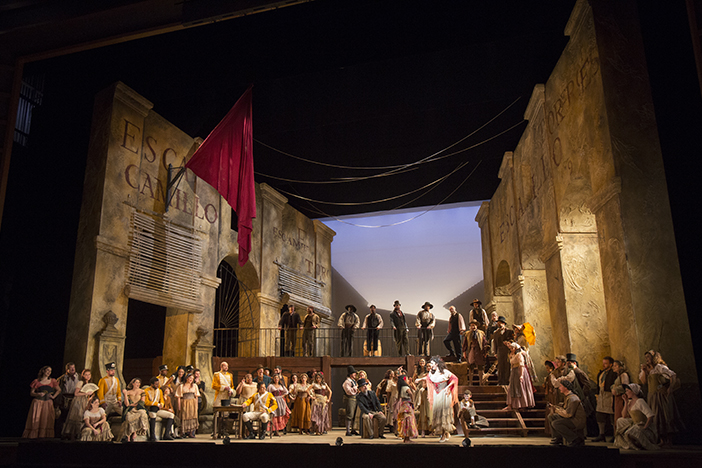 After announcing its final curtain call not long ago, the San Diego Opera is singing with new energy.  

By Stephanie Thompson
Four years after being deemed not viable by its then-administrators on the cusp of its 50th anniversary, then resurrected by the heroic efforts of its determined staff, renegade board members, and impassioned opera lovers, San Diego Opera (SDO) appears to have now settled into a new normal—one that's exciting and delighting local opera lovers with powerful and unexpected productions. The company's recent staging of Turandot completely sold out—the first time an SDO opera has sold out since 2006.
The company has found a new rhythm, alternating its season between grand opera productions on the main stage and more innovative programming in smaller spaces, and it's working. Its Detour Series, aimed at showcasing the beauty and power of opera through nontraditional outlets and boutique productions, is attracting a younger generation of opera lovers. And the mood at the season-closing "One Amazing Night" concert, featuring SDO favorites Lise Lindstrom and Greer Grimsley, was nothing short of celebratory.
"Opera is a beautiful performance-based live art form that uses storytelling to share life lessons that can be drawn from age-old tales or crafted from current events," says board president Robert Kaplan. There was a lot to love this past season. Critics called out SDO's "daring and artistically satisfying fresh new productions" and sold-out houses, from the "sumptuous, musically resplendent production of Puccini's Turandot" to a "rousing, vibrant production of Daniel Catán's Florencia en el Amazonas" (Ken Herman), which spurred The San Diego Union-Tribune's Pam Kragen to gush, "It's one of those rare times when you wish an opera was longer."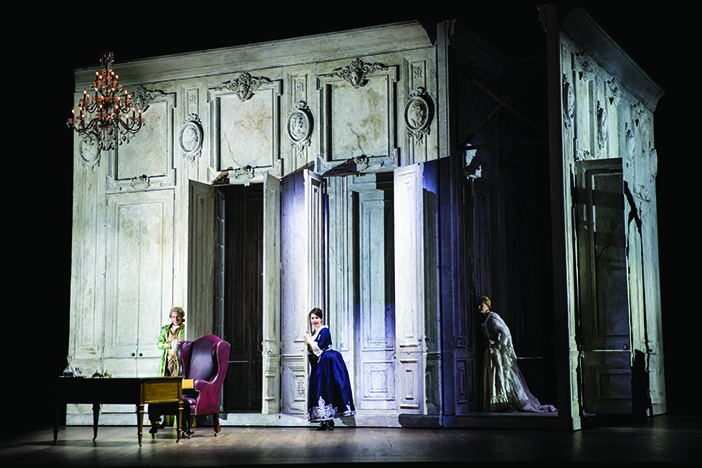 Anticipation and momentum surround SDO's coming season, a full-speed-ahead return to some great classics local audiences haven't seen in years, with a mix of favorite artists and lots of exciting debuts. Mozart's comedy The Marriage of Figaro, last performed in San Diego in 2007, returns in a new production co-owned with Kansas City Opera and Opera Philadelphia. All four principals are making their company debuts: Bass-baritone Nicholas Brownlee, who won both the 2016 Belvedere Singing Competition and Operalia's zarzuela contest, stars as the wily barber Figaro. Sarah Shafer debuts as his love Susanna, and John Moore as Count Almaviva, with Metropolitan Opera veteran Caitlin Lynch as the Countess.

Last performed here in 2009, Verdi's 1851 tragedy Rigoletto will star Stephen Powell, returning in triumph from last season's La Traviata, in the title role of the cursed court jester. Coloratura soprano Alisa Jordheim makes her company debut as Rigoletto's sheltered daughter, Gilda, and Scott Quinn debuts as the dastardly Duke, who gets one of the most famous tenor arias in all opera, "La donne è mobile." Also making debuts are conductor Steven White and Canadian director Michael Cavanaugh.

A standout of last season's Detour Series was an intense, pared-down version of The Tragedy of Carmen. Fans of Bizet's classic will be delighted to hear the full grand opera version returns in 2019. Mezzo-soprano Ginger Costa-Jackson makes her company debut in the smoldering title role, with tenor Robert Watson debuting as her violently jealous lover, Don José, baritone Scott Connor as the bullfighter Escamillo, and soprano Sarah Tucker as Don José's jilted fiancée, Micaëla. As always, things end badly—and bloodily—for the fiery gypsy.

SDO's Detour Series, in the meantime, continues to produce daring premieres and innovative productions of existing works. The company continues its relationship with contemporary composer Jake Heggie with the San Diego premiere of Three Decembers, a chamber opera exploring the inner workings, hidden conflicts, and hopes and dreams of a family over the decades. Superstar mezzo-soprano Frederica von Stade created the role of Madeline Mitchell for the opera's world premiere in Houston in 2008, and reprises it here.
Finally, SDO's new tradition "One Amazing Night" returns featuring Stephen Powell joined by the gorgeous soprano Ailyn Pérez, who was last seen here in recital in 2014 as well as performances in 2010's Romeo and Juliet and 2011's Faust. The concert will focus on music in the Puccini and Verdi repertoire.
"I'm so excited about our new season, knowing that it will appeal to longtime opera lovers as well as newer audience members," says David Bennett, SDO general director. "The 2018-19 season builds upon the successes of our past two seasons with the continuation of our Detour Series in venues around San Diego, while maintaining the company's commitment to the best of grand opera at the Civic Theatre. There are plenty of familiar titles, and each production in the season will be completely new to our audiences. There's something for everyone in this season. You will not be disappointed."
Header photo by Jeff Roffman, The Atlanta Opera. "The Marriage of Figaro" photo by Dan Norman, Minnesota Opera.