13 San Diego Things To Do In August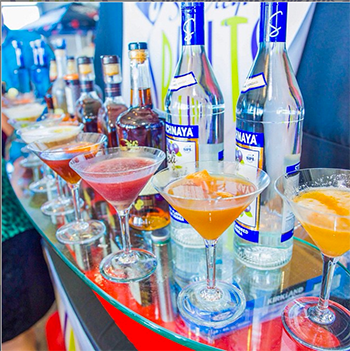 Before summer slips away, we've gathered the San Diego happenings you don't want to miss this August. Enjoy performances, parties, cocktails and competitions.
EVENTS
World Hip Hop DANCE Championship and World Battles
Aug. 2-9. National street dance champions from 50 countries compete at the World Hip Hop DANCE Championship XIV. Nearly 3,500 dancers will compete at Harrah's Resort Southern California (33750 Valley Center Rd., Valley Center) until the World Finals on Aug. 9 at the Viejas Arena at San Diego State University (5500 Canyon Crest Dr.). hiphopinternational.com
Culture & Cocktails at the San Diego Museum of Art
Aug. 6. The San Diego Museum of Art celebrates new exhibition Coney Island: Visions of an American Dreamland, with an after-hours event. The evening will include Cotton Candy Cosmo specialty cocktails, busker performances, carnival games, photo booth, gourmet sausages, flavored popcorn and mini cupcakes, as well as access to the new exhibit. 1450 El Prado, Balboa Park, 619.232.7931. sdmart.org
Ringling Brothers and Barnum & Bailey Circus
Aug. 6-9. Get in on some high-voltage fun featuring superhuman stunts, elephants, tigers, acrobats and aerialists. Valley View Casino Center, 3500 Sports Arena Blvd., Midway District, 619.224.4171. ringling.com
Twainfest
Aug. 15. Annual event celebrates the life and writings of Mark Twain and his contemporaries. Enjoy stories read by professional actors, live music, games and more activities for the entire family. Old Town State Historic Park, Old Town, 619.220.5422. writeoutloudsd.com
Ferragosto: "Pompeii: Little Italy's Toga Party"
Aug. 15. Little Italy's party of the summer invites guests to wear their togas, strap on sandals and enjoy an evening of festivities where everyone's Italian. The event will feature dishes, drinks and cocktails from some of San Diego's finest restaurants, circus rides, live entertainment and a theatrical act. 5 p.m.-12 a.m. Amici Park, Union St., Little Italy 619.234.4820. ferragostosd.org
World Bodysurfing Championships
Aug. 22-23. The 39th annual competition will play host to nearly 400 bodysurfers from across the globe competing for the world titles in their respective age and gender divisions. Oceanside Pier, Pier View Way, Oceanside. worldbodysurfing.org.
San Diego Spirits Festival
Aug. 22-23. The annual celebration brings together the region's top chefs and mixologists. Enjoy cocktails, entertainment and cuisine all in one location. Port Pavilion on Broadway Pier, 1000 N. Harbor Dr., downtown, 858.551.1605. sandiegospiritsfestival.com
San Diego Brew & Food Festival
Aug. 29. Motley Brews hosts the inaugural Brew & Food Festival featuring 70+ breweries, chef creations from top San Diego restaurants, live music and beautiful bay views. 3-6:30 p.m. Waterfront Park, 1600 Pacific Hwy, brewandfoodfest.com
Cork & Draft
Aug. 29. Sip, taste and socialize at San Diego's Cork & Draft Classic with unlimited wine and beer tastings, food available for purchase, lawn games, live music and beautiful views of America's Finest City. 3-6 p.m. Embarcadero North Park, 400 Kettner Blvd. corkanddraft.com
THEATER + PERFORMANCES
The Nerd
Aug. 14-Sept. 20. Larry Shue's comedy about an architect stuck in a rut faces a milestone birthday when his life is suddenly upended by the unexpected appearance of an old army buddy. Lamb's Players Theatre, 1142 Orange Ave., Coronado, 619.437.6000. lambsplayers.org
The Comedy of Errors
Aug. 16-Sept. 20. In Shakespeare's classic comic tale of mistaken identity, hilarity ensues when a young man and his servant arrive in town, unaware that each of them has a separated-at-birth identical twin already there. Lowell Davies Festival Theatre at the Old Globe, 1363 Old Globe Way, Balboa Park, 619.234.5623. theoldglobe.org
Pippin
Aug. 25-30. The Tony Award-winning Broadway hit musical features acrobatics, choreography, magical feats and songs from the composer of Wicked. Broadway/San Diego Civic Theatre, 1100 Third Ave., downtown, 619.570.1100. broadwaysd.com
San Diego Symphony Summer Pops
Through Sept.6. Enjoy an evening of music under the stars from the San Diego Symphony as they perform at Embarcadero Marina Park South. Aug. 7-8: Broadway: A Rodgers & Hammerstein Celebration feat. the 50th Anniversary of The Sound of Music; Aug. 9: Disney in Concert: Pirates of the Caribbean:Dead Man's Chest; Aug. 14-15 Sinatra at 100: A Salute to the Chairman of the Board; Aug. 16: Burt Bacharach; Aug. 20: Esperanza Spalding presents: Emily's D+Evolution; Aug. 21-22: Leann Rimes; Aug. 27: Tribute to Journey; Aug. 28-29: A Night of Classic Rock. Embarcadero Marina Park South, 619.235.0804. sandiegosymphony.org