Sirena Gourmet Latin Seafood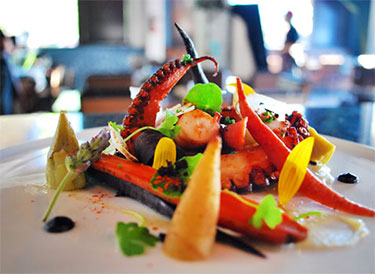 Experience bold and creative flavors, the freshest seafood and a tour through Latin-inspired cuisine at Sirena Gourmet Latin Seafood Restaurant.
Step into one of Little Italy's hottest restaurants, and you might be hard-pressed to find anything remotely Italian on Sirena Gourmet Seafood Restaurant's menu. The Latin flavors gracing the menu rather draw inspiration from Executive Chef Jaime Chavez's upbringing and travels in Chile, Spain and Mexico. However, due to the restaurant's location, Chavez opted to include one pasta dish, the "Neighborhood Pasta" on his list of entrees. The rest of his creative dishes showcase unique seasonal ingredients, celebrating San Diego's proximity to Baja, the diversity of Latin flavors and the freshest seafood delivered to San Diego's port.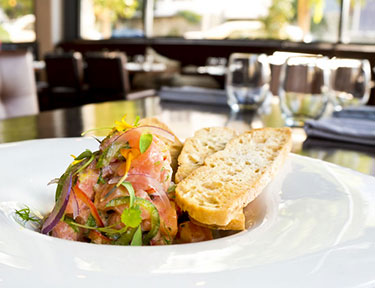 Those in search of Taco Tuesdays will love the rotating menu that often highlights shrimp, carne asadada, the now famous grilled octopus and even vegetarian options like artichoke or mushroom. Wednesdays, ceviche takes center stage with combinations like mango and shrimp, octopus and nectarines, and yellowtail, shrimp, scallops and crab meat with pomegranate, cilantro and blackberries. Bold appetizers delicious drink specials complete the happy hour menu featured Tuesdays through Saturdays from 4-7 p.m.
Brunch showcases sweet and savory options including chocolate croissants, whole wheat pancakes, ceviche and toasted bread, house smoked salmon salad and shrimp cocktail. Through the end of November, guests can enjoy complimentary mimosas with their brunch entrees.
Sirena boasts an impressive wine and beer list, hand selected by General Manager, Michael Zenteno. The restaurant will soon celebrate its one year anniversary with a new menu launch as well as a full bar and specialty cocktails.
1901 Columbia St., Little Italy
619.564.8970. sirenagourmet.com