JRDN Restaurant Launches Summer Menu with New Executive Chef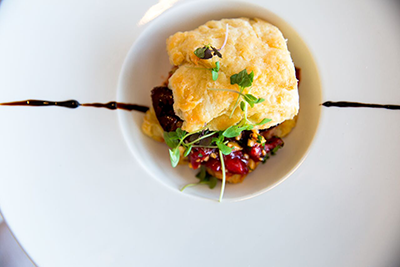 JRDN at Tower23 brings the heat this summer as Executive Chef DJ Tangalin debuts with a new menu befitting their distinction as "Best Hotel Fine Dining Restaurant" by the California Restaurant Association.
Situated within Tower23 Hotel, with an oceanfront view of the vibrant Pacific Beach boardwalk, JRDN restaurant draws a lively crowd of foodies —both local and visitors. The dining area offers both indoor and outdoor options and a modern/coastal vibe that is reflected on their expansive cocktail and cuisine menus. Larger parties can opt for private dining and the "wave wall" with color-changing lighting draws an audience from passerby on the boardwalk. The restaurant elevates the beachfront dining experience from casual eatery to upscale dining while still keeping an approachable Southern California style.
With an ever-changing fresh menu, JRDN hits the right notes for every guest, ranging from shared plates like ahi tuna and charcuterie to decadent desserts with everything in between. Tangalin's excitement in the kitchen is contagious to both the staff and the guests of the restaurants. He was quick to share that "Nothing can compare to the joy I have when a guest tells me that our kitchen served them the best meal of their life. Chasing that feeling drives me to choose top ingredients and then to let those ingredients shine. I try to always remember that nature is the star of the dish, not the chef." He also allows several of his chefs to experiment with flavors and influence the daily menu specials, fostering creativity and new additions to the "Pure Sizzle" menu with each visit.
Highlights in the new menu include: charcuterie board; ahi tuna poke; squash blossoms filled with goat cheese, mascarpone, tomato jam and lemon aioli; daily soup creations; pb&j with foie gras, peanuts, berry jam and fresh biscuits; and the catch of the day (fish served whole). Those looking for a classic steak house can also find New York, top sirloin and bone-in ribeye steaks gracing the menu.
JRDN Restaurant, Tower 23 Hotel, 723 Felspar St., Pacific Beach, 858.270.2323. t23hotel.com