Dining at Dinner Lab San Diego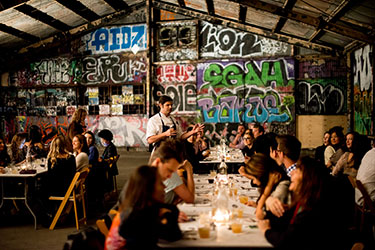 Dinner Lab San Diego combines a little mystery and a lot of food.
Dinner Lab—the pop-up dinner club that got its start in New Orleans in 2012—has been making a splash on the San Diego dining scene as well as in 30 other cities across the country with more than 1,000 dinners showcasing top local talent cooking in surprising and sometimes elaborate locations.
Venue locations are a secret until 24 hours before the event and can be anywhere: parking structure rooftops, abandoned warehouses, boat docks and art galleries have all come into play.
And what used to be a fee-based members-only club has now just evolved into an open experience for anyone to join. All you have to do is sign-up online and select your dinner that will usually range from $55-85/pp; for those who want to stick with being an elite member, the $175 annual fee gains you access to Dinner Lab events nationwide at a discounted price, early sign-up opportunities and exclusive access to special happy hours, seasonal parties, chef demos, wine dinners and more.
A typical Dinner Lab dinner includes a cocktail hour and features hot local chef who lines up five to seven courses paired with cocktails, wine or beer. As each course hits the table, the chef describes the inspiration behind each dish. Then you get to become the critic, rating the menu's concept, creativity and taste.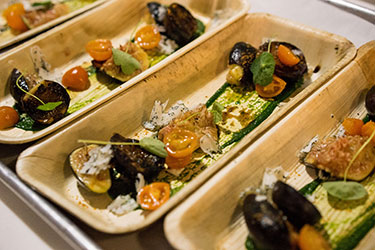 The dining scenario works out to be a win-win for everyone. Adventurous diners get to enjoy a sneak preview menu of an up-and-coming chef, meet new friends at shared tables and gets access to an exclusive dining event. Dinner Lab then provides the chefs with the honest feedback for their menus, helping them to make any necessary tweaks to the dishes.
The next San Diego Dinner Lab event takes place Nov. 19 with a 5-course "Friendsgiving Celebration." Chef DJ Park serves pickled and smoked crudité, corn porridge, roasted vegetable stuffing, surf & turf and a rustic apple tart, complete with fall beer pairings by Samuel Adams. Location is a secret until Nov. 18.
Click here to sign up for free membership and get $20 off the first ticket purchase.