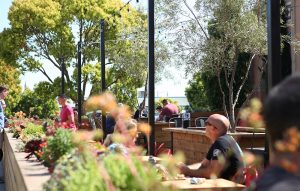 Dine your way through the brand-new Liberty Public Market with our foodie-focused tour of best bites.
Adapted from Liberty Bells by Sarah Daoust in the Summer issue of WHERE San Diego Magazine.
Culture and cuisine collide at San Diego's most-buzzed-about foodie destination of the moment. Liberty Public Market, a 25,000-square-foot indoor/outdoor marketplace by Blue Bridge Hospitality, is finally open after two years of development and construction. Housed in Liberty Station's historical Naval Training Center commissary (circa 1921), the space encompasses nearly 30 artisan retailers and food vendors (with more on the way) and one designated restaurant; plus thousands of square feet of outdoor living rooms, dining decks and patios. Consider it a mostly food-focused marketplace—with outposts offering dine-in and to-go options—ideal for strolling, shopping and tasting while sipping your beverage of choice.
Navigating your way through Liberty Public Market is easy (when it's not jam-packed). Simply come hungry and follow your nostrils, as more than two dozen food vendors offer everything under the San Diego sun.
Carnivores will delight over the fine cuts of meat from sustainable farms available at Liberty Meat Shop—easily located by its cow-shaped neon sign. The old-fashioned butcher shop is known for custom-cutting only all-natural meats, from steaks to chops to chicken. And tell the guys behind the counter about a new recipe you're hoping to try at home, and they'll happily offer helpful tips. Owner Tommy Battaglia is usually on hand as well to offer suggestions and encouragement.
Find more protein power at local food truck Mastiff Sausage Company, serving handcrafted sausages and sauerkraut. The menu changes daily, but we love the classic bratwurst with whole-grain mustard, the coconut-curry chicken sausage, and the spicy Italian sausage meatball sub. At Stuffed!, nosh on grass-fed organic burgers topped with gourmet cheeses; plus tater tots and ice cream sandwiches.
From the sea, fishmonger FishBone Kitchen sources daily local catches, along with a 12-seat raw bar serving oysters, poke and uni. Nearby at Wicked Maine Lobster, munch on New England-style lobster rolls from southern Maine; plus clam chowder, lobster bisque and fried clams. And soon to open is Roast, a Canadian sandwich shop featuring roasted meats; think savory delights such as beef brisket with caramelized onions and Dijon aioli. Ethnic and regional cuisine shines at Liberty Public Market as well.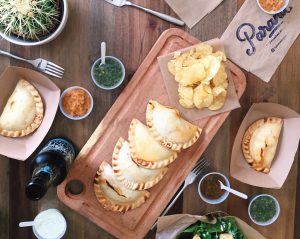 At Paraná, sample more than a dozen authentic Argentinian empanadas accompanied by house-made sauces such as chimichurri, roasted tomato and creamy celery. The empanadas are all-natural, baked (read: no lard) and made with sea salt. A standout is the beef empanada, prepared with seasoned ground beef, green olive, roasted red bell pepper and sautéed onion. At Cecilia's Taqueria, owner Cecilia Cortazar Peterson ensures its hand-pressed gourmet tacos and regional Mexican fare incorporate only local ingredients and grass-fed, free-range and wild-caught proteins. Try the surf & turf quesadilla, shredded chicken tostada and house-made salsas. And then there's Mama Made Thai, cooking up healthy, MSG-free, Bangkok-style street food, fried rice dishes and pan-fried noodles. The Tom Yum soup with shrimp and the Kula noodles with chicken are delicious. For a flavor of the south, head over to Cane Patch Kitchen for jambalaya, gumbo, beignets and po'boys. And don't overlook the Southern fried chicken, collard greens and honey-barbecue wings—worth every calorie.
To supplement your meal, side dishes (which double as mains) abound. Create your dream cheese plate at Venissimo, a European-style formaggio shop with 100-plus gourmet selections from around the world. Choose from cow, sheep and goat cheeses, along with charcuterie, olives, spreads and picnic packs to-go. Find your perfect pasta made from scratch and incorporating only premium organic ingredients at Pasta Design—from fettuccine to ravioli to risotto to lasagna to mac 'n' cheese—along with freshly made sauces.
Get your greens at produce stand Garden Fresh, offering seasonal, organic produce from local farms such as Suzie's Farm, Be Wise Ranch and El Campito Farms. Expect exotic offerings, too, such as enoki mushrooms, red Russian kale and Japanese white radishes. Nearby, be sure to stop by Local Greens, a fast-casual concept from Solana Beach specializing in salads, wraps, bowls and burritos. Health nuts will love the Immunity Boost salad—organic mesclun and baby arugula, wild-caught grilled salmon, raw bell peppers, raw zucchini, raw beets, grape tomatoes and a ginger-miso-citrus vinaigrette.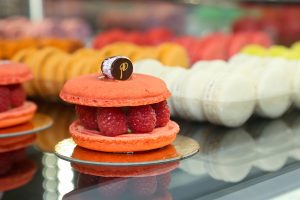 Satisfy your sweet tooth at Le Parfait Paris, a French patisserie and boulangerie serving up crepes, pastries, chocolate éclairs, petite confections and other baked goods. (The raspberry and pistachio crème pastry is heavenly.) There's also Scooped by MooTime Creamery for handcrafted ice cream; Lolli San Diego Sweets for candy, locally handmade chocolates and even organic cotton candy; and Crafted Baked Goods for both sweet and savory treats, including fudge, brownies, cupcakes and stuffed pretzels.
To wash it all down, imbibe at Grape Smuggler, a premium wine shop with 500 labels (encompassing 5,000 bottles!) from around the globe, plus daily tastings, flights and wines by the glass. Beer lovers will find respite at Bottlecraft, a boutique beer shop and tasting room with 500 bottles of coveted local and international brews, plus 24 rotating craft selections on draft. To perk up, WestBean Coffee Roasters focuses on pour-over coffees, cold brews, French press selects and micro-batch roasts. Drink to your health at Fully Loaded Juice, with 100-percent raw, organic cold-pressed juices packed with produce from local farmers.
Liberty Public Market's official sit-down restaurant is the bustling and loud Mess Hall, headed by Executive Chef Tim Kolanko. Featuring a full bar and lounge area serving lunch and dinner, plus a wood-fired oven, Mess Hall showcases a constantly changing menu with ingredients sourced daily from the market's vendors. In other words, it's a "market to menu" joint. Think salads, pizzas, chicken 'n' dumplings, cheese boards and roast beef with potatoes. Don't miss Sunday brunch with specialties such as "Bloody Mary Bowls" and duck confit hash; and Sunday roast, with a prix fixe menu that highlights roasted meats, beginning at 5 p.m.
Other shops at Liberty Public Market are centered on home wares and pantry items. Find fresh-cut flowers and potted plants at AE Floral; pet supplies at Howlistic; premium olive oils and aged balsamic vinegars at
Baker + Olive; and small-batch barbecue sauces, seasonings, hot sauces and other gourmet accoutrements at Pacific Provisions.
➼Perks: Parking is ample and free, with street parking and several lots available; Wi-Fi is free; and a dog-friendly outdoor patio welcomes canine family members.
➼Tips: Don't expect Liberty Public Market to be just like the Anaheim Packing District or the Ferry Building Marketplace in San Francisco. It's not—at least not yet. The space is smaller and regularly packed with long lines—especially during lunchtime hours and on the weekends. As hours are 11 a.m. to 7 p.m. daily, we suggest going right at opening time, before the crowds arrive. Take your time and exercise patience while shopping and exploring. There's a lot of heart behind this ambitious, first-of-its-kind endeavor for San Diego, and the potential is huge.
➼Location: 2820 Historic Decatur Road, Liberty Station, libertypublicmarket.com