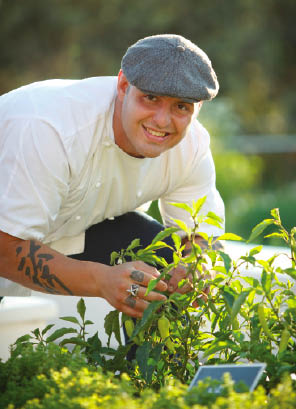 1500 Ocean's Robert Hohmann is settling into his new home at the Hotel Del. Find out who he draws inspiration from and what foods he simply can't live without in WHERE's exclusive interview.
He's the New York-bred, impeccably trained culinarian who has worked under such heavy-hitters as Jonathan Benno, Jacques Pépin and Thomas Keller. Now heating up the kitchen at the Hotel Del's elegant 1500 Ocean restaurant (after leaving the famed Bottega Ristorante in Napa, Calif.), Robert Hohmann has settled into life as chef de cuisine at one of the most iconic pieces of real estate in San Diego. With the beach as his new backyard, Hohmann is the latest reason to head to Coronado—promising some of the finest dining in the region with his refined "Southland Coastal" cuisine. Feeling especially adventurous? Hohmann makes a mean tripe dish (cow stomach lining). Just be sure to save room for crème brulee. He always does.
You have quite a resume working at iconic restaurants and with renowned chefs.
I hold myself to very high standards and working as both a player and coach in the kitchen. I hope to make 1500 Ocean the best restaurant in Coronado and a contender for best in San Diego. Personally, and with the team here, I hope to give an extraordinary guest experience highlighting contemporary Mediterranean-American cuisine with simply sophisticated but bold flavor profiles.
What and who has inspired your cooking the most?
My Italian and German heritage. Most of what inspired me came from my mother and grandmother.
What is your opinion of the dining scene in San Diego, particularly fine dining?
I'm still researching and trying to find the time to get out, eat and explore the city more. I've heard great things about Addison.
Favorite recent discoveries?
I went for lunch at Underbelly in Little Italy and it was awesome—definitely will be going back. Also, a friend of mine is a partner at the Operacaffe in the Gaslamp. I went there and it reminds me of Italy so much that I've been twice already.
Hobbies outside the kitchen?
I'm definitely a beach guy. I was always at the beach and in the pool growing up. I haven't had too much time off to enjoy. I'm into a lot of sports—love to watch football, basketball and baseball, but my favorites are boxing and martial arts. I train in my garage almost every day.
Any local chefs you admire?
I really like Jason Knibb's style and cuisine at Nine-Ten. I think he is doing beautiful food and different flavors.
If not a chef, you'd be a …?
Navy Seal or full-contact fighter. My whole life I've always trained as hard as possible, physically and mentally, to keep myself ready in case the time came where all else failed.
A daring dish you've tried that succeeded? That flopped?
I would say that truffle Parmesan risotto with fried veal brain and brown butter was the most daring that succeeded. I haven't had too many dishes professionally that flopped, but when I was a teenager I tried to make bolognese with lamb mutton, and it was horrible.
Your go-to comfort food?
I love a good grilled rib-eye steak, rare to medium-rare.
Name one food trend you wish would go away.
I'm not really big into foams and fake caviar. I really appreciate and understand the science behind all of the molecular gastronomy stuff, but I don't see why it's necessary in a meal that's called "fine dining."
Name one dish you always have to try when you see it on the menu when dining out.
That would be crème brulee. It's so delicious when done right and enjoyed with a glass of Madeira.
DETAILS
1500 Ocean 1500 Orange Ave., Coronado. 619.522.8490. hoteldel.com/1500-ocean.aspx
Addison 5200 Grand Del Mar Way, San Diego. 858.314.1900. addisondelmar.com 
Underbelly 750 W. Fir St., Little Italy. 619.269.4626. godblessunderbelly.com
Operacaffe 835 Fourth Ave., Gaslamp Quarter. 619.234.6538. operacaffe.com
Nine-Ten 910 Prospect St., La Jolla. 858.964.5400. nine-ten.com