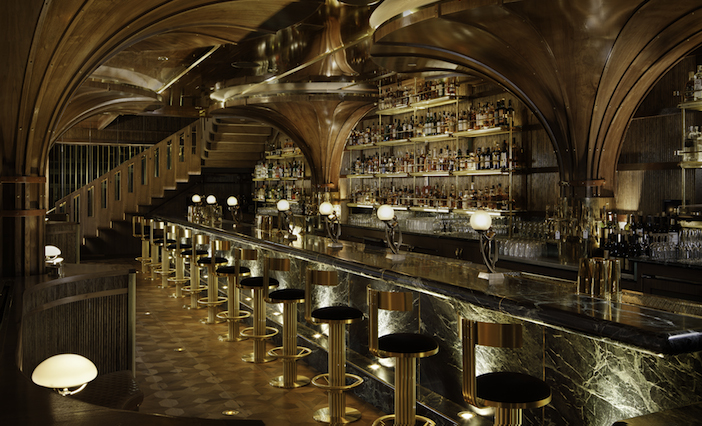 Some say traditional fine dining in San Diego is dead. Save for a handful of revered institutions still standing, that statement arguably rings true.
Enter the culinary/design dream team behind Born & Raised, indisputably the city's most buzzed-about new restaurant since Brian Malarkey's Herb & Wood opening in April 2016. The $6.5 million, open-air steakhouse in the heart of Little Italy is nothing short of stunning, with no expense spared and no detail ignored. Have a look at the dining destination boldly trailblazing a new era of "fine dining."
By Sarah Daoust, adapted from WHERE San Diego magazine
The Design
Drawing inspiration from the original NYC chophouses of the late 1860s, the two-story restaurant spans 10,000 square feet of a 1930s-era building (which formerly housed Nelson Photo Supply for decades) on the northeast corner of India and Fir streets. Ornate, opulent and glamorous, the overhauled space also feels clean, warm and approachable—fusing deco elements with mid-century modern accents. It's old-school nostalgia with contemporary flair.
A striking, 45-foot cocktail bar covered in Italian green marble catches the eye upon entry. The main dining space is outfitted in Italian marble-topped tables punctuated by elegant glass sconces; camel-hued leather booths; parquet and terrazzo floors; and brass trim throughout. A walnut-paneled ceiling and eight walnut "blooms"—majestic, pillared columns that flank the room, illuminated at the top by LED lights—were sourced from a single tree in Northern California. Portraits of gangsters both old and new dot the walls. A massive, multi-tiered crystal chandelier—truly jaw-dropping in aesthetic and scale—completes the decor.
Climb a suspended wood and steel staircase in the corner to find a 2,700-square-foot rooftop dining deck with plaid-upholstered booths and city views.
The Experience
Serving dinner nightly, Born & Raised pays homage to the classic American steakhouse. This means eye candy and pageantry in the form of tuxedo-clad servers, tableside cart service (flambé, anyone?), and its own butchery and dry-aging room. It's a place that inspires patrons to shuck the flip-flops for an evening and dress up a little, simply because it's fun. And the special occasion? It's Tuesday night and you're alive. In a town where "casually elegant" and "fast-casual" eateries are king, Born & Raised is a refreshing departure.
Adding to the experience, like any decent steakhouse, Born & Raised is all about the beef. Committed to responsible sourcing and sustainability, the restaurant features an in-house dry-aging program for its humanely raised beef—which is hand-selected from elite Black Angus producer Creekstone Farms. The glass-enclosed butchery, which can age up to 750 pounds of meat at one time, allows guests to view the action from the dining room.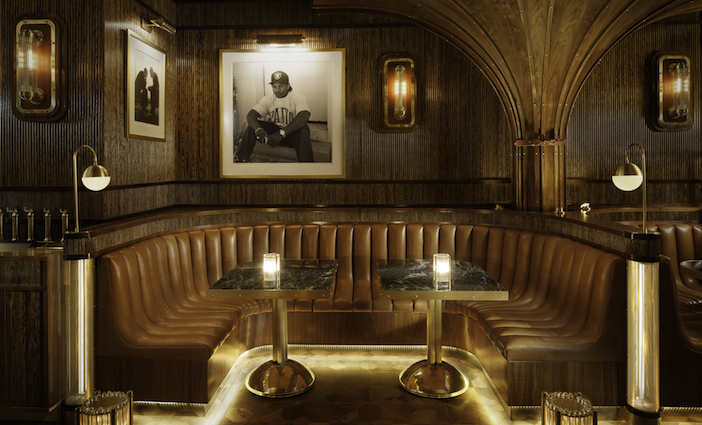 The Cuisine
Steak lovers will find that Born & Raised is their new mother ship. The selections are vast and of premium quality: filets, porterhouses, rib-eyes, dry-aged cuts, American and Japanese wagyu, slow-roasted Prime rib and more. There's even specialties such as British-style rib of beef served with Yorkshire pudding; Tournedos Rossini, a decadent French steak dish with truffle and foie gras; and Steak Dyyyanne (actual spelling), a vegan steak served with hand-cut fries. Mains also extend to charcoal-roasted lamb, dry-aged duck, pork, roasted chicken and a daily whole fish preparation. Starters and sides include escargot, crab claws, lobster bisque, smoky creamed kale, Parisian-style gnocchi, mac 'n' cheese, an overstuffed baked potato, private-label caviar, and dry-aged meatballs with ricotta polenta. 
For dessert: seven-layer carrot cake with actual carrot ribbons fashioned into rosebuds, topped with glitter and pearls. Come hungry.
The Libations
With the city's largest collection of scotch by the glass and an inventory of more than 300 bottles—including coveted pours such as the Highland Park 1964 Vintage single malt scotch—Born & Raised is scotch central. The bar also stocks some 500 distinctive spirits—shaking and stirring martinis, Manhattans, side cars, and Prohibition-era favorites. An exceptional wine list highlights producers across California and France, with more than 150 selections.
The Team
Restaurant and bar juggernaut CH Projects—co-founded by Arsalun Tafazoli and Nathan Stanton—is no stranger to multimillion-dollar, envelope-pushing projects, with close to a dozen progressive venues around San Diego. Born & Raised marks the outfit's most ambitious endeavor to date, and they brought in the big guns to deliver. Renowned local designer and builder Paul Basile took on the task of transforming the 1930s building into a stylish steakhouse of substance. Executive Chef and partner Jason McLeod, owner of two Michelin Stars, painstakingly developed the menu and helms the kitchen. Seasoned sommelier Rafael Peterson, whose resume includes Bracero and Addison, mans the wine program. Anthony Schmidt, a CH Projects veteran and true Jedi among cocktail masters, serves as beverage director. Executive Pastry Chef Elizabeth Olson dreams up indulgent desserts. And last but not least, there's lead butcher Michelle Allen. Under her watch, no guest at Born & Raised will ever need to ask, "Where's the beef?"
1909 India St., Little Italy, 619.202.4577. bornandraisedsteak.com
Photo by Robert Benson
[et_bloom_inline optin_id=optin_13]