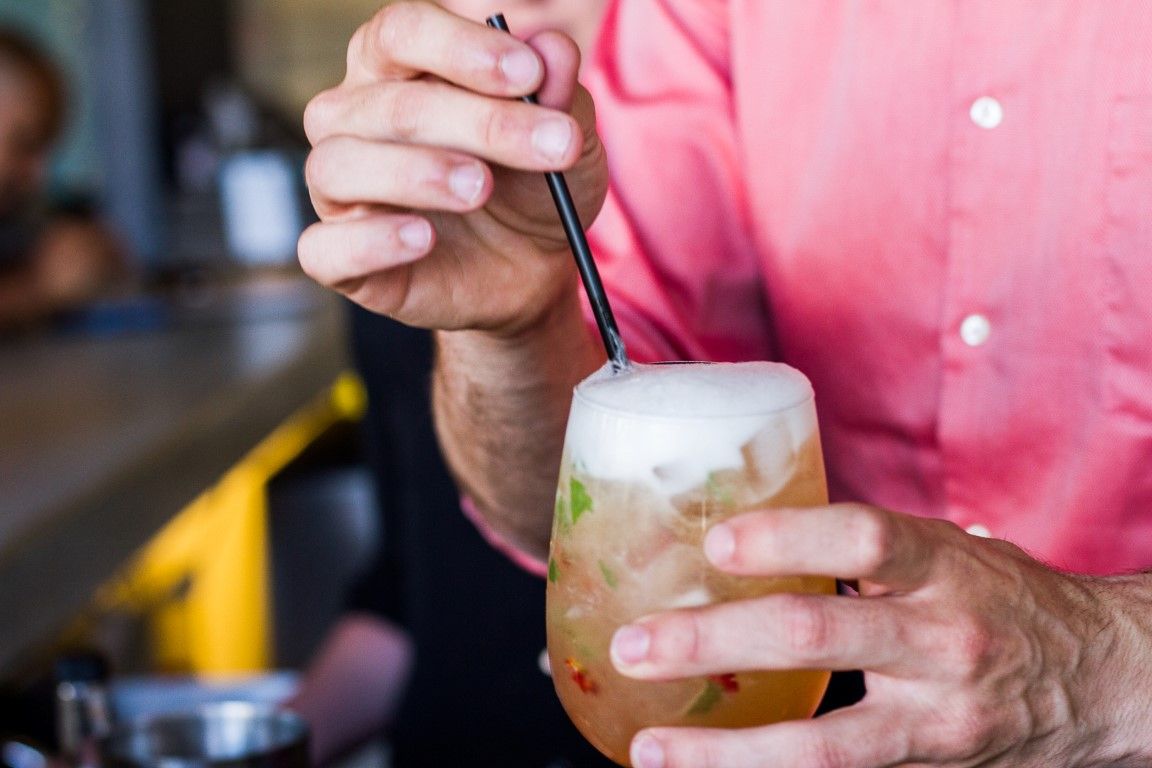 From jazz series to arts festivals to the renowned San Diego County Fair, check out the best things to do in San Diego this month.
Edited by Madelyn Harris
Sip the City: Kick Off Event
June 1. Head to The Headquarters at Seaport Village to experience some of San Diego's top urban wineries all in one place. The event offers wine tastings and winemaker meet-and-greets along with live musical entertainment by the Manny Cepeda Orchestra. 5:30-8 p.m. The Headquarters, 789 W Harbor Dr., 619.235.4013. theheadquarters.com
The Westgate Hotel's Sunset Poolside Jazz Series
June 1–Aug. 31. This summer, head to The Westgate Hotel on Thursday nights for smooth jazz. The evening also offers signature cocktails, wine and craft beer while indulging in an array of appetizers and tapas. $25+. 6:30-9:30 p.m. 1055 2nd Ave., downtown, 619.238.1818. westgatehotel.com
Rock 'n' Roll Marathon Weekend
June 1-4. The party doesn't stop when the race is finished; celebrate all weekend at Whiskey Girl, where party-goers can enjoy drink and food deals as well as raffle prizes and giveaways. Whiskey Girl, 702 Fifth Ave., downtown, 619.236.1616. whiskeygirl.com
Damn Yankees
June 2–June 18. Winner of 11 Tony Awards, Damn Yankees, is a clever musical comedy about America's favorite pastime. Baseball fan Joe Boyd sells his soul to the devil in order to save his favorite team. Follow Joe in his journey to save both his team and his soul. Spreckels Theatre, 121 Broadway, downtown. 858.560.5740. sdmt.org
Mainly Mozart Festival
June 2-25. The region's annual music festival celebrates Mozart and other classical masters. Various venues, 619.466.8742. mainlymozart.org
Wonderspaces
June 2–July 30. Enjoy over a dozen extraordinary art experiences previously seen at renowned events such as Burning Man, Sundance Film Festival and SXSW. Wonderspaces plays on all the senses and aims to transport visitors outside of their everyday lives. Civita Park. Intersection of Civita Blvd and Qualcomm Way, Mission Valley. wonderspaces.com
I Love You, You're Perfect, Now Change
June 2-25. Catch this witty, musical comedy about modern love in all forms. OB Playhouse
& Theatre Co. 4944 Newport Ave., Ocean Beach, 619.795.9305. obtheatrecompany.com
The Vine Affair
June 2. Explore Balboa Park's museums while enjoying unique art installations, live music and entertainment, artisan food, wine and wine education. 6-10 p.m. Balboa Park Cultural Partnership. thevineaffair.org
Adios to Bracero Cocina
June 3. Raise a glass to the Little Italy restaurant that opened in 2015 and celebrate its last hurrah. Bracero will be giving away branded T-shirts and other memorabilia to diners throughout the night. Reservations are highly recommended. Bracero Cocina, 1490 Kettner Blvd., 619.756.7864. bracerococina.com
Common Theory Public House's Anniversary Party
June 2-3.  Celebrate the 3rd anniversary of Common Theory Public House with a two-day party. Enjoy live music, a pop-up art gallery, live art in-action and the announcement of the BREWBattles winner—a bracket-style competition between local breweries. Common Theory Public House, 4805 Convoy St., 858.384.7974. commontheorysd.com
San Diego County Fair
June 2-July 4. This year, San Diego's largest annual event is themed Where the West Is Fun—celebrating all things Wild, Wild West. Find car shows, animals, games, exhibits, carnival rides, arts and crafts, food vendors, concerts and more. Closed Mondays except July 3, and Tuesdays except June 27 and July 4. Del Mar Fairgrounds, 2260 Jimmy Durante Blvd., Del Mar, 858.755.1161. sdfair.com
Boca Roja Anniversary Party
June 4. Celebrate Boca Roja's anniversary with a Padres game and a tailgate. Get access to an all-you-can-eat taco bar along with premium wines from Valle de Guadalupe, as well as plenty of Boca Roja swag. Petco Park 1:40 p.m. bocarojawineadventures.com
Big Fish
June 9-July 30. The Broadway hit based on the celebrated novel by Daniel Wallace and the acclaimed film directed by Tim Burton is a delightful, adventurous musical journey about the importance of imagination and storytelling in our lives. Lamb's Players Theatre, 1142 Orange Ave., Coronado, 619.437.6000. lambsplayers.org
San Diego Festival of the Arts
June 10-11. Formerly known as the La Jolla Festival of the Arts, the 31st annual arts festival hosts nearly 200 award-winning local and national artists.  Waterfront Park, Embarcadero, 619.744.0534. sdfestivalofthearts.org
Global Wellness Day at Pier South Resort
June 10. As one of 3,000 destinations around the world celebrating Global Wellness Day, Pier South Resort will offer guests a variety of physical activities to motivate families to be active together. Fitness instructors and a DJ will lead the festivities with a yoga-inspired stretch, plus guests can enjoy a scenic 5K bike ride and healthy snacks and lunch from food trucks. Pier South Resort, 800 Seacoast Dr., Imperial Beach, 619.621.5900. piersouthresort.com
"Mow"Town Gala & 8th Annual Chef Appetizer Challenge
June 10. This annual fundraiser event includes a full course meal, open bar and fun-filled night of groovin' to Motor City's favorite '60s tunes. Plus, all funds raised will support over 3,400 seniors in San Diego. Sheraton San Diego Hotel & Marina, 1380 Harbor Island Drive, 619.291.2900. sheratonsandiegohotel.com
Escape to Margaritaville: Cast Meet & Green Brunch
June 10. Hosted on the Arroyo Terrace at The Lodge at Torrey Pines, this Margaritaville-themed luxury dining experience will feature musical numbers from the La Jolla Playhouse show, a meet and greet with case members and a delicious spread of brunch dishes, margaritas included. 10 a.m.-noon. $95. 11480 North Torrey Pines Rd., 858.453.4420. lodgetorreypines.com
Early Morning Yoga on the Beach
June 11. Head to the Hotel Del Coronado for a yoga fundraiser on a private beach. Following the yoga class, participants are invited to enjoy refreshments, live music, giveaways, an opportunity drawing, and prizes. 7 a.m. Hotel Del, 1500 Orange Ave., Coronado, 619.435.6611. hoteldel.com
Withering Heights
June 11–July 9. Enjoy a comic retelling of Emily Bronte's Wuthering Heights as Heathcliff and Catherine take to the Moors unlike anything before; the two actors will perform all fourteen roles in the play for an action-packed rendition of one of the most romantic novels of all time. 4545 Park Blvd. #101, 619.220.0097. diversionary.org
King Richard II
June 11-July 15. Convinced of his divine right to rule, King Richard acts recklessly and provides the canny Henry Bolingbroke an opening to seize the crown in this insightful portrait of how the forces of history collide and combust to shape a nation's political landscape. The Old Globe, 1363 Old Globe Way, Balboa Park, 619.234.5623. theoldglobe.org
Summer Shakespeare Festival
June 11-Sept. 10. The Old Globe presents King Richard II (June 11-July 15) and Hamlet (Aug. 6-Sept. 10) performed in nightly repertory on the outdoor stage.  1363 Old Globe Way, Balboa Park, 619.234.5623. theoldglobe.org
The Bodyguard
June 13-18. A romantic thriller based on the hit film, The Bodyguard stars R&B super-star Deborah Cox and features many irresistible songs, including "Queen of the Night," "So Emotional," "Saving All My Love" and "I Will Always Love You." Broadway/San Diego, Civic Theatre, 1100 Third Ave., downtown, 619.570.1100. broadwaysd.com
San Diego International Boat Show
June 15-18. Browse and board dozens of docked boats at the Sheraton San Diego Hotel & Marina, from sailing yachts to family cruisers.  1380 Harbor Island Drive, Harbor Island, sandiegointernationalboatshow.com
San Diego International Beer Festival
June 16-18. Enjoy hundreds of beers from all over the globe—including many hard-to-find specialty craft beers—alongside local favorites at this 11th annual event. Del Mar Fairgrounds, 2260 Jimmy Durante Blvd., Del Mar, 858.755.1161. sandiegobeerfestival.com
Taste of Gaslamp
June 17. Sample dishes from more than 25 Gaslamp Quarter restaurants during this 23rd annual event. At the end of your tour, enjoy a complimentary beer and one of the city's best views at the Altitude Sky Lounge. 1-4 p.m. 600 Fifth Ave., Gaslamp Quarter. sandiego.org
MUSE: The San Diego Museum Mural Exhibition
June 17. The San Diego Museum Council, along with lead art curator Danielle Deery, has paired nine San Diego County museums with local artists to create inspiring murals for the community to view. La Bodega Gallery, 2196 Logan Ave., 619.255.7036. labodegagallery.com
Neighborhood's 10th Anniversary Celebration
June 17. In honor of 10 years in San Diego, Neighborhood invites guests to a street fest celebration. The event includes pop-ups and rare pours from San Diego's best breweries, bites from local food trucks, branded merchandise for sale, a custom t-shirt screen print station and a surprise headline performer. 8th Street between Market St., and G St. neighborhoodsd.com
19th Annual Old House Fair
June 17. Learn more about historic homes in South Park while having a blast. South Park's home and garden street festival brings together vintage home specialists, craft beer and wine, restaurants, food vendors, live music, artists and kid's activities. 10 a.m.-4 p.m. South Park Neighborhood. $25. southparksd.com
3rd Annual Tony Gwynn 5.5K Run and Walk
June 17. Run or walk through a course winding through the streets of Miramar and celebrate with a post-race party. The distance of the race is a reference to the space between third base and shortstop where Tony Gwynn was known to hit balls and dubbed the "5.5 hole". 8 a.m. AleSmith Brewing Company, 9990 AleSmith Court, tonygwynn5k.org
Brats and Beer on the Bay
June 17-18. Celebrate Father's Day aboard the schooner Californian, the official tall ship of California. Each adult will receive a bratwurst sandwich, chips and a cold beer prior to the three-hour sailing trip. $70. 1492 N. Harbor Dr., 619.234.9153. sdmaritime.org
Father's Day Beer Brunch Cruise
June 18. Celebrate your dad with a beer brunch cruise, featuring a variety Dad-friendly dishes as well as bottomless beer and champagne. Plus, Dad will get to take home a souvenir pint glass. Various boarding times. Grape St., Pier, 1800 N. Harbor Drive, 619.686.8715. hornblower.com
Shockheaded Peter
Through June 18. Fall into the world of Victorian steam-punk nightmares as a manic music box spins stories of naughty children and misguided parents in this silly and sinister play. Cygnet Theatre in Old Town, 4040 Twiggs St., Old Town, 619.337.1525. cygnettheatre.com
Taste of Liberty Station
June 21. Stroll through Liberty Station as businesses open their doors for attendees to enjoy bites from Liberty Station's eateries, live music, artisan goods and artwork from local artists. 5-9 p.m. Liberty Station, Point Loma. libertystation.com
Del Mar Summer Solstice
June 22. Annual culinary event features samples from top Del Mar eateries, wine and beer tastings and live music. 5-8 p.m. 21+.  Powerhouse Park, 1658 Coast Blvd., Del Mar, visitdelmarvillage.com
FruitCraft Grand Opening
June 23. As a culminating event of San Diego Startup Week, FruitCraft Fermentary & Distillery will be celebrating its grand opening. Guests can expect fruit wine, cocktails and creative appetizer plates. 1477 University Ave., 877.484.6282. fruitcraft.com
Ocean Beach Street Fair & Chili Cook-Off
June 24.  Enjoy a day of live music across five stages, plus an artists' alley, children's activities, a beachside beer garden and a chili cook-off featuring more than two dozen amateur entrants.  10 a.m.-8 p.m. Newport Avenue, Ocean Beach. oceanbeachsandiego.com
Monet's Water Lilies at the San Diego Museum of Art
Opening June 24. San Diegans will have the opportunity to experience Monet's renowned water lilies with a special viewing of painting Le Bassin de Nympheas in the museum's Reflections on Monet exhibit, opening this June. 1450 El Prado, 619.232.7931. sdmart.org
Taste of Adams Avenue
June 25. Sample eats from 40 restaurants along Adams Avenue, serving everything from Thai to Mexican to dessert. 11 a.m.-3 p.m.  Adams Avenue, Normal Heights. adamsavenuebusiness.com
Escape to Margaritaville
Through June 25. Featuring original songs and Jimmy Buffett classics, this world-premiere musical tells the story of a bartender/singer who thinks he's got life all figured out until a tourist makes him question everything. Mandell Weiss Theatre at the La Jolla Playhouse, 2910 La Jolla Village Drive, La Jolla, 858.550.1010. lajollaplayhouse.org
The Imaginary Invalid
Through June 25. In this classic Molière comedy, the hypochondriac Argan wants his daughter to marry a doctor so he can save on his medical bills. But as it turns out, she's in love with someone else. Soon the whole household joins in her madcap scheme to save true love. White Theatre at The Old Globe, 1363 Old Globe Way, Balboa Park, 619.234.5623. theoldglobe.org
The Spitfire Grill
Through June 25. A compelling, heartwarming tale of redemption and fortitude, this heartfelt musical tells the engaging story of a young woman recently released from prison who is searching for a new life. North Coast Repertory Theatre, 987-D Lomas Santa Fe Drive, Solana Beach, 858.481.1055. northcoastrep.org
International Summer Organ Festival
June 26-Aug. 28. On Mondays, enjoy free concerts by internationally renowned organists performing on the world's largest outdoor pipe organ. 7:30 p.m. Spreckels Organ Pavilion, Balboa Park. spreckelsorgan.org.