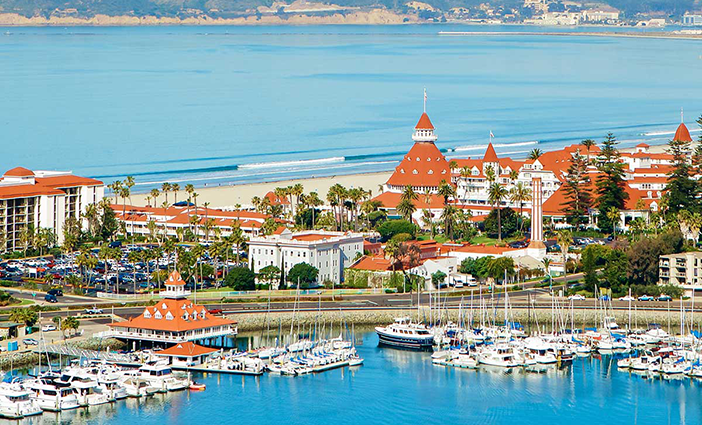 Spending a sunny day in Coronado? Be sure to visit these cool spots.
1. Coronado Beach
Frequently voted as one of America's finest beaches, you'll find miles of sand at Coronado Beach. Start out at the south end near Hotel del Coronado to see tidepools during low tide. Then head north for swimming, sunbathing and surfing. Insider Tip: bring your pup along to the dog-friendly north end of the beach, frequented by locals.
Ocean Blvd., Coronado. sandiego.org
2. Coronado Cays Gondola Rides
Be transported to Venice as you cruise in a private gondola through the canals of the Coronado Cays. Perfect for a romantic evening for two or bring the whole family along for a relaxing journey on the water. Wine and desserts are available for purchase. Reservations required.
Gondola cruises weekdays 3-10 p.m. and weekends noon-11 p.m. 503 Grand Caribe Causeway, Coronado, 619.429.6317. gondolacompany.com 
3. Coronado Ferry Landing
Eat, shop and play at Coronado Ferry Landing. Restaurants include Il Fornaio, Peohe's, Candelas on the Bay and more. Pick out some new clothes for him or her at Men's Mojo and Miss Match. After all that, rent a bike to explore Coronado yourself or hop on the ferry to make your way back downtown.
Open daily 10 a.m.-9 p.m. Complimentary parking. 1201 1st St., Coronado. coronadoferrylanding.com
4. Stake Chophouse
Known for being Coronado's only "tried-and-true steakhouse," Stake Chophouse offers a variety of options from traditional filet mignon to A5 wagyu coming all the way from Japan. Additional menu highlights include a selection of shellfish and crudo, wood fire-roasted sides, as well as composed seafood entrées.
Daily dinner service 5-10 p.m. and happy hour 4-6:30 p.m. 1309 Orange Ave., Coronado, 619.522.0077. stakechophouse.com
5. Coronado Museum of History and Art
Peruse permanent exhibits like The Enchanted Island, which details the island of Coronado's history from when it was hunting and gathering grounds for Native Americans to present day where it is now a place for residents and guests alike, as well as the home of the US Naval Air Station. The exhibit includes both art and historic photographs of life in Coronado.
Open daily 10 a.m.-4 p.m. Free. 1100 Orange Ave., Coronado, 619.435.7242. coronadohistory.org 
6. Hotel del Coronado
Book a stay at the iconic Hotel del Coronado, easily spotted by its white exterior and red rooftops. Notable features include their famous Sunday brunch in the historic Crown Room; lounge chairs, umbrellas and beach beds available for full-day rental; boat rentals located just across the street at Glorietta Bay; and pet-friendly accommodations.
1500 Orange Ave., Coronado, 619.435.6611. hoteldel.com
7. Bluewater Boathouse Seafood Grill
Located in the historic former Hotel del Coronado boathouse, dine on fresh, sustainable seafood with a view of Glorietta Bay. Happy hour specials include oyster shooters, seafood ceviche cocktail, baked crab and artichoke dip, and $5 craft and imported beers.
See website for hours. 1701 Strand Way, Coronado, 619.435.0155. bluewatergrill.com
8. Lamb's Players Theatre
Enjoy plays year-round at Lamb's Players Theatre, an artist-led company that hires more San Diego-based actors than any other theatre. Their mission is "to tell good stories well," which they do by looking for stories that question the values and choices of contemporary culture.
See website for showtimes. 1142 Orange Ave., Coronado, 619.437.6000. lambsplayers.org
Header and Bluewater Grill photos by Bluewater Grill. Stake Chophouse photo by Blue Bridge Hospitality.