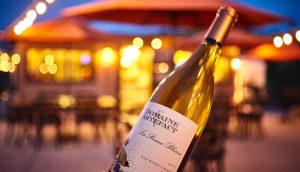 Pique your palate at these seven top Escondido wineries.
By Ann Wycoff, adapted from Locally Grown in the August 2016 issue of Performances Magazine San Diego
A little known fun fact about San Diego County: It's home to more than 100 dynamic wineries, with a legacy of viniculture dating back to the 18th and 19th centuries. Sleepy Escondido, an agricultural pocket of northeast San Diego County, is home to 20-plus vineyards alone, and offers a compelling range of wine-centric experiences for both wine newbies and neophytes—from urban tasting rooms in industrial parks, to horse-dotted estates with patchworks of grapes and arresting valley views. Life doesn't get much better.
Domaine Artefact Winery
Winemaker Mark Robinson, who perfected his craft in Paso Robles, and his wife Lynn love Rhone grape varietals, so they sought out a site, now Domaine Artefact Winery, where they could grow syrah, grenache, viognier, roussanne and more. Spend a leisurely wine-infused afternoon tasting their nine offerings, including a flirty Les Beaux Blanc white blend and their Rincon Del Diablo, a classic GSM red blend with a bouquet of raspberries and currants; while enjoying the bucolic setting. Think horse-filled pastures, roaming friendly dogs, stylish wine barrel furniture and an umbrella-dotted patio. Tastings: Sat.-Sun., noon-6 p.m. 15404 Highland Valley Road, 760.432.8034. domaine-artefactwine.com
Cordiano Winery
The Cordiano family, who left Calabria, Italy and created a pizzeria empire in the southern U.S., always held onto the dream of growing grapes and producing Italian-style wines. When they moved west in the 1990s, they converted a 20-acre avocado farm in Escondido into a family home surrounded by vineyards, now Cordiano Winery. Not only do they produce more than a dozen wines and divine wood-fired pizzas, they happily share the soul-stirring views from their property's sprawling terraces, perched high on the hillside. Diners and wine lovers are transported to Tuscany with the rolling hill vistas, vineyards, horse farms and greenery. Be sure to share a bottle of their zinfandel and a thin-crusted Margherita pizza at sunset. Tastings: Wed.-Sun., 11 a.m.-8 p.m. (summer hours). 15732 Highland Valley Road, 760.469.9463. cordianowinery.com
Hungry Hawk Vineyards & Winery
Named for a pair of nesting hawks in a pine tree at the edge of the vineyard, Hungry Hawk Vineyards & Winery is a family-spun winery that grows 15 fabulous varietals and produces award-wining wines. Post up on the winery's patio and drink in the San Pasqual Valley views along with their top-notch tempranillo. Be sure to also try their crisp albariño, as Hungry Hawk is only one of two vineyards growing this grape in Escondido. Also notable, their blueberry wine, a surprising non-syrupy sipper, is made like a dry medium-bodied red that's refreshingly light with notes of the ripe fruit. Tastings: Fri.-Sun., noon-6 p.m. 3255 Summit Drive, 760.489.1758. hungryhawkvineyards.com
Stehleon & Vesper Vineyards
Urban winery and tasting room Stehleon & Vesper Vineyards sits in the shadow of the world-famous Stone Brewing Company in an industrial park. Sample six wines in the casual tasting room, such as the Vesper McCormick Ranch Carignan, an old-world-style red table wine with earthy, smoky characteristics; or Stehleon's Rockwood Vineyard rosé, a refreshing and crisp fruit-forward wine with a strawberry nose. Fill up a one-liter growler with your favorite and take home some locally made avocado oil. Tastings: Fri.-Sat. noon-6 p.m.; Sun., noon-5 p.m. 298 Enterprise St., Suite D, 760.741.1246. stehleonvineyards.com
Altipiano Vineyard & Winery
Stop by Altipiano Vineyard & Winery, where vintner Denise Clarke favors big, bold reds like her Brunello Sangiovese Reserve or her Altipiano Estate 2013 Due Barili that she suggests pairing with "beef, pork and the opera Don Giovanni." Husband Peter Clarke, an affable and erudite host, regales guests with tales of the fermented grape on the patio of their Mediterranean-style home, replete with fountains, canopies and epic views. 20365 Camino del Aguila, 619.857.7242. altipianovineyard.com
Espinosa Vineyards
Microbiologist-turned-winemaker Robert Espinosa helms the family-owned Espinosa Vineyards in the Highland Valley area of Escondido that produces wines from grapes native to Spain and 100 percent grown in California. Enjoy his nicely balanced merlot while touring the wine cave. 15360 Bandy Canyon Road, 619.772.0156. espinosavineyards.com
Orfila Vineyards & Winery
Finally, venture over to the locally renowned Orfila Vineyards & Winery, a 70-acre estate in San Pasqual Valley owned by Argentine Ambassador Alejandro Orfila. It is home to tranquil rose gardens, picnic patios, food trucks and riveting Rhone-style wines. 13455 San Pasqual Road, 760.738.6500. orfila.com