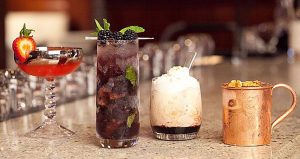 Get in the fall spirit by sipping these six cocktails from San Diego's top restaurants and bars.
Edited by Lisa Kelley
The pumpkin spice latte hit coffeeshop menus even before fall hits our calendars, but it's certainly not the only beverage to cue in the changing season. Here's our roundup of cocktails around San Diego that will truly put you in the mood to jump into a pile of leaves this autumn.
Grizzly Folk at Campfire
The new Carlsbad restaurant embraces a communal experience with its indoor/outdoor dining, live fire cooking and classic cocktails with a hint of rustic flair. Grab a seat around the outdoor fire ring with some friends and share a growler of Grizzly Folk made with bourbon, mulled cider, tamarind syrup and lemon. 2725 State St., Carlsbad. thisiscampfire.com
Polynesian Forty Niner at False Idol
Foodies and fans of Consortium Holdings (CH Projects) have been excitedly anticipating the reopening of Craft & Commerce in Little Italy during its near year-long renovations. New to the concept is the addition of False Idol, a tiki-style speakeasy tucked behind a secret passage in the restaurant. At the helm of cocktail menu, Martin Cate and Anthony Schmidt just revealed a new seasonal beverage, the Forty Niner. The drink combines chai-infused bourbon, St. George pear brandy, madeira, orange juice, lemon and housemade gardenia mix. Reservations required. 675 W. Beech, Little Italy. falseidoltiki.com
Harvest Apple Cider at Julian Hard Cider
The fall season is reason enough to take a day trip up to San Diego's quaint mountain town. After apple-picking in the Julian orchards, head to Julian Hard Cider's Miners' Saloon and sip some refreshing hard apple cider. The classic Harvest Apple is fermented with Champagne yeast giving it a slight effervescence to balance the tart sweetness of the juice. Also sip the other four infused flavors, Cherry Bomb, Razzmatazz, Black and Blue and Apple Pie. 4470 Julian Rd., Julian, 760.765.2500. julianhardcider.biz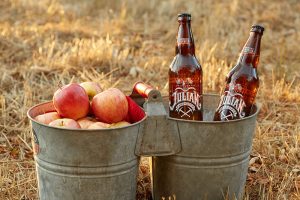 Hemingway Martini at ginger's
The brick interior and comfy lounge furniture at ginger's in the Gaslamp Quarter creates a cozy atmosphere that's perfect for sipping cocktails with friends. Located just beneath Barleymash, ginger's whips up a creative cocktail menu with some classics thrown on for kicks. We recommend the Hemingway Martini with Grey Goose L'Orange, Cinzano dry vermouth, vanilla syrup, grapefruit and cherry. Enjoy it with "The Duck Pie," tender duck confit, goat cheese, arugula, tobacco onions, garlic and balsamic-Jager reduction. 600 Fifth Ave., Gaslamp Quarter, 619.255.7373. gingersgaslamp.com
Butch Cassidy and the Sundance Kid at Grant Grill
Trant Grill Chef de Bar, Cory Alberto takes inspiration from his favorite old Western films for his fall craft cocktail menu. This inventive menu showcases smoky, rich flavors that are perfect for a slightly chilly evening. We like the Butch Cassidy and the Sundance Kid, made with mescal, pineapple juice, grapefruit, acne reyes, grenadine, smoked and flamed cinnamon stick. 36 Broadway, downtown, 619.744.2077. grantgrill.com
Honey Crisp at Cucina Urbana
Enjoy all the flavors of baked apple pie in beverage form at Cucina Urbana. The Banker's Hill hotspot just released new seasonal cocktails and we're head over heels for the Honey Crisp, stirred with house-infused apple bourbon, baked apple bitters and delicate honey simple syrup. 505 Laurel St., Bankers Hill, 619.239.2222. urbankitchengroup.com