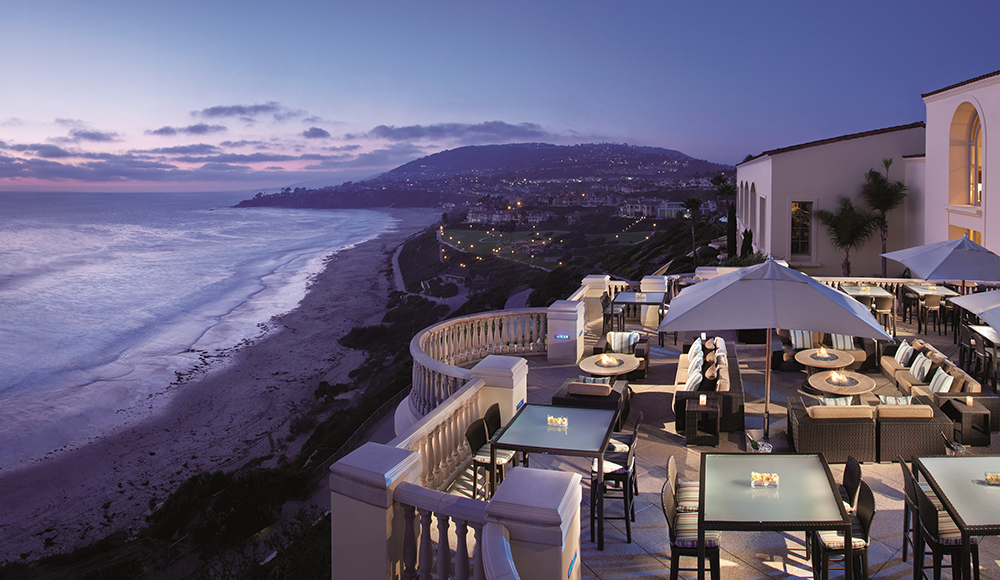 Plan your perfect romantic dinner at our top Orange County picks to celebrate Valentine's Day—from gourmet seaside dining to an aphrodisiac-inspired menu, you'll need reservations and your appetite.
Edited by Laura Okey.
McClain Cellars Wine Tasting Room Lounge
Feb. 13-14. Bring your sweetheart to one of two different live music and wine pairing nights to celebrate this sweet holiday at the McClain Cellars' new wine tasting lounge. Join Jason and Sofia McClain and the McClain Cellars team for a special five-part wine flight (two flights to choose from). Enjoy these wines paired with cheese, charcuterie and chocolates, along with soft, romantic live music playing in the background. W 4-7 p.m.; Th 5-8 p.m. Call to RSVP or send an email to jason@mcclaincellars.com. 849 Laguna Canyon Road, Laguna Beach, 949.590.9980. mcclaincellars.com
21 Oceanfront
Feb. 14. Indulge in a three-course menu this Valentine's Day at one of Orange County's most romantic restaurants, complete with a sweet raspberry sorbet interlude and ocean views. Starters include coconut shrimp, mustard-crusted lamb lollipop and lobster bisque. Look forward to entree highlights such as jumbo lobster tail, center-cut filet mignon and scallops and clams couscous. For sweet endings, choose between a dark chocolate cake, passion fruit bar or cupid's crème brûlée. Two-hour limit per table, credit card taken upon booking. Reservations 4-10 p.m. $115 per person. 21 Oceanfront, 2100 W. Oceanfront, Newport Beach, 949.673.2100. 21oceanfront.com
Anaheim White House
Feb. 14. Experience a four-course prix fixe dinner at the historic national landmark Anaheim White House. The appetizer is the Ravioli Amore—heart-shaped ravioli filled with imported cheeses with an Italian porcini mushroom sauce—followed by the chef's salad. For the main entree, guests enjoy Rome & Juliet, an oven-roasted filet mignon with an Italian Gorgonzola cheese sauce paired with Atlantic lobster tail in a champagne sauce. End the evening on a sweet note with Cuore di Chocolata made with vanilla crème brûlée, raspberry compote and chocolate mousse cake. Seatings: 4-4:30 p.m., 6:30 p.m., 8-8:30 p.m. and 10-11 p.m. $85 per person (excludes tax and gratuity). 887 S. Anaheim Blvd., Anaheim, 714.772.1381. anaheimwhitehouse.com
Andrea
Feb. 14. Recognized as one of America's Top 10 Most Romantic Restaurants by GAYOT and Southern California's Most Romantic Restaurant by Los Angeles Times readers, Andrea offers Valentine's diners a four-course prix fixe lunch and dinner with heated ocean-view terrace, a live guitarist and exquisite selection of Italian wines. From February 15-17, a la carte specials will be available. Lunch: starting at $90 per person, $150 with wine pairings; Dinner: starting at $150 per person, $200 with wine pairings. The Resort at Pelican Hill, 22701 Pelican Hill Road South, Newport Coast, 877.563.5102. pelicanhill.com
Andrei's Conscious Cuisine & Cocktails
Feb. 14. Treat your Valentine to a three-course meal, locally sourced with the finest ingredients. First course options include arugula salad, King crab legs, oysters, organic romaine little gems and shrimp bisque. The next course features selections such as Chilean seabass, Maine lobster tail, dry-aged Kansas City steak, rack of lamb, filet mignon and truffle ragout. Finish off the meal with Trio of Temptations, featuring rose and elderflower sponge cake with pistachio anglaise; open-face chocolate sphere and red velvet mousse; and Cabernet-fig tartlet. Reservations required. $75 per person, optional $25 wine pairing. A limited a la carte menu will be available in the bar and lounge. 2607 Main St., Irvine, 949.387.8887. andreisrestaurant.com
Back Bay Bistro
Feb. 14. Enjoy a romantic evening accompanied by panoramic views of the Back Bay and a live smooth jazz performance by the Darnell Wyrick Quintet. Indulge in a four-course, gourmet prix fixe dinner, courtesy of executive chef Daniel Jimenez. Course possibilities include roasted heirloom tomato basil bisque, center-cut filet with roasted fingerling potatoes, carrots, asparagus and green peppercorn sauce, and, for dessert, crème brûlée with chocolate-covered strawberries. 5-9 p.m. $75 per person. 1131 Back Bay Drive, Newport Beach, 949.999.3170. newportdunes.com
Bistango
Feb. 14. Make reservations for a romantic, three-course prix fixe meal featuring Bistango executive chef Javier Montoya's decadent creations. Savor dishes such as lobster and shrimp ravioli, kurobuta pork chop and oven-roasted Chilean sea bass. Enjoy live music from musicians roaming the lounge or opt for a more intimate table setting. $78 per person. 19100 Von Karman Ave., Irvine, 949.752.5222. bistango.com
Bayside Restaurant
Feb. 14. Amid live entertainment opposite Newport Harbor, dine on Bayside executive chef Paul Gstrein's three-course prix fixe dinner featuring filet mignon, Chilean sea bass and New Zealand rack of lamb. $95 per person (excluding tax and gratuity). 900 Bayside Drive, Newport Beach, 949.721.1222.  baysiderestaurant.com
Bruno's Italian Kitchen
Feb. 14. Savor a decadent three-course Italian dinner at Bruno's Italian Kitchen, beginning with an artisanal selection of salami and Italian cheeses with grilled ciabatta bread. Continue the evening with options such as braised short ribs paired with roasted mushrooms and homemade pappardelle pasta, and for dessert, raspberry brown butter torte with blood orange curd, fresh raspberries and crispy meringue heart. Reservations required. $58 per person (tax and tip excluded). 210 W. Birch St., Brea, 714.257.1000. brunosbrea.com
Cha Cha's Latin Kitchen
Feb. 14. Celebrate the romantic occasion with a special three-course menu featuring the eatery's signature dishes. Perfect to share with your date, the ceviche combination is a duo of shrimp ceviche and ahi aguachile. Entree highlights include lobster tacos with maseca-dusted lobster tail topped with jalapeño creme drizzle, and the guajillo-braised short rib enchiladas. Finish the night with dessert for two—a chocolate decadent brownie with white chocolate horchata sauce, fresh strawberries and vanilla ice cream. Reservations required. $35 per person. 110 W. Birch St., Brea, 714.255.1040; The Market Place, 13126 Jamboree Road, Irvine, 714.408.7819. chachaslatinkitchen.com
Coastal Kitchen
Feb. 14. Treat your date to Coastal Kitchen's cozy and sophisticated space in Dana Point's Lantern District. Indulge in entrees such as a 9-ounce filet mignon with three sauces (classic bearnaise, house-made Worcestershire and bourbon cream), broccoli & Parmesan and mashed potatoes, or the 15-ounce Big Island rib-eye, marinated for 72 hours and served with a loaded baked potato. Complete the experience with a decadent dessert: the s'mores pie or the classic key lime pie. 34091 Pacific Coast Hwy., Dana Point, 949.449.2822. coastalkitchendanapoint.com
Davio's Northern Italian Steakhouse
Feb. 14. Book a romantic dinner at Davio's Northern Italian Steakhouse. In addition to the full dinner menu, a special three-course prix fixe repast will feature dishes such as hamachi crudo with Asian pears, avocado, basil and aleppo citrus; center-cut filet mignon with scallop potatoes, white asparagus and pomegranate port; and a dessert trio of warm chocolate cake, chocolate cremeux with raspberries and salted caramel gelato. $75 per person (excludes tax and gratuity). Irvine Towers, 18420 Von Karman Ave., Irvine, 949.477.4810. davios.com
Eats Kitchen + Bar
Feb. 14. Build your own three-course dinner with libations while a Spanish guitarist sets the perfect romantic mood. Couples will choose their appetizers to start (grilled Castroville artichoke or baby scallops), before diving into featured entrees such as King salmon with smoked bacon, king oyster mushroom and farmers market vegetables, or lemon rosemary half chicken with heirloom carrots and mashed potatoes. For dessert, indulge with options including a warm chocolate chip cookie with vanilla ice cream, hot fudge and a house-made marshmallow or seasonal bread pudding. Price includes bottle of wine, two cocktails or two beers. $90 per couple. 17900 Jamboree Road, Irvine, 949.225.6780. eatskitchen.com
EnoSteak and Raya
Feb. 14. The Ritz-Carlton, Laguna Niguel's pan-Latin coastal restaurant Raya features a special four-course prix fixe dinner with highlights such as crab bisque cappuccino with brandy cream, chive and ancho dust, sweet soy-glazed salmon, bahibé chocolate and jasmine torte. Meanwhile, the resort's more intimate restaurant EnoSteak features a four-course prix fixe with options such as lobster arrancini and grilled prime filet with truffled mushroom duxelle, spinach, puff pastry and perigueux demi-glace. Reservations required. EnoSteak: 6-10 p.m. $145 per person. Raya: 6-9 p.m. $125 per person. The Ritz-Carlton, Laguna Niguel, One Ritz Carlton Drive, Dana Point, 949.240.2000. ritzcarlton.com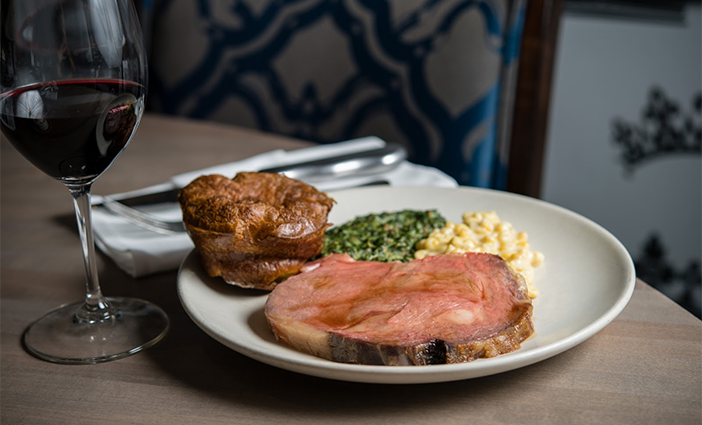 Five Crowns
Feb. 14–15. Five Crowns presents the perfect Valentine's Day date night with a decadent four-course dinner for two, courtesy of executive chef Alejandra Padilla. The prix-fixe menu includes a glass of wine for you and your date, along with the option to feast on Five Crowns' signature California-cut prime ribs of beef with Yorkshire pudding, au jus and whipped organic horseradish. End your evening on a sweet note with indulgent dessert options such the vanilla bean crème brûlée with mixed berries. Th 5-9 p.m., F 5-10 p.m. $150 per couple. 3801 E. Coast Hwy., Corona del Mar, 949.760.0331. thefivecrowns.com
Farmhouse at Roger's Gardens
Feb. 14. Cozy up with that special someone and dine al fresco in a romantic, garden setting at Farmhouse at Roger's Gardens. Experience a selection of lunch and dinner specials, courtesy of owner and executive chef Rich Mead, featuring seven new Valentine's Day dishes. Toast your date with the featured craft cocktail, Heart Beets, made with tequila, chartreuse, beet simple and pineapple. Lunch: 11:30 a.m.-2 p.m.; dinner: 5-11 p.m. 2301 San Joaquin Hills Road, Corona del Mar, 949.640.1415. farmhouserg.com
Find your #Firstmate Singles Cocktail Cruise
Feb. 14. Un-celebrate this mushy holiday with friends and family aboard a Hornblower cruise ship. Set sail and dance beneath the stars with a live deejay, complimentary appetizers and desserts. Enjoy a glass of champagne upon boarding, and choose from wine, beer and cocktail selections for purchase. See website for details on romantic dinner cruises. 7 p.m. $55 per person. Hornblower Cruises, 2431 W. Pacific Coast Hwy., Newport Beach, 949.631.2469. hornblower.com
Fly N' Fish Oyster Bar & Grill
Feb. 14. Enjoy a special Valentine's Day four-course prix fixe dinner at Newport Beach oceanfront restaurant, Fly N' Fish Oyster Bar & Grill. Menu highlights include award-winning clam chowder, wild Norwegian miso-glazed halibut and an 18-ounce prime rib. For dessert, enjoy options such as warm banana chocolate bread pudding or Key lime pie. $85. 2304 W. Oceanfront, Newport Beach, 949.673.8400. flynfishoysterbar.com
Habana Irvine
Feb. 14. Spend this holiday at the Cuban-inspired eatery Habana for a special dinner menu and listen to vocalist Adelaide. Start with oysters on the half shell with a tropical fruit mignonette or perhaps the pan-roasted bacon-wrapped scallops with coconut polenta, crispy ginger, and passion fruit beurre blanc. The wide selection of entrees include the paella a la Habana with lobster for two. Save room for the Valentine's Delight for two—chocolate covered strawberries with an almond sponge cake and a tropical mousse cake, topped with fresh raspberries. Irvine Spectrum Center, 708 Spectrum Center Drive, Irvine, 949.419.0100. restauranthabana.com
K'ya Bistro Bar
Feb. 14. Boasting an intimate, romantic setting for Valentine's Day, K'ya Bistro Bar offers a four-course prix fixe dinner with options such as fondue with black garlic and truffle oil, braised short rib with mashed potato, spinach and porcini mushroom sauce and lobster macaroni and cheese. $99 per couple. 1289 S. Coast Hwy., Laguna Beach, 855.990.0281. kyabistro.com
Marché Moderne
Feb. 14. Enjoy a delectable three-course menu from acclaimed Marché Moderne chef Florent Marneau, featuring items such as king crab and prime filet carpaccio and lamb rack with braised pepper piperade. For dessert, choose from chef Amelia's milk-and-honey macaron with burnt honey and macadamia gelato or chocolate bourbon butterscotch gateau with house-made cherry ice cream. $130, additional $40 for wine pairing. 7862 E. Coast Hwy., Newport Beach, 714.434.7900. marchemoderne.net
Mesa
Feb. 14. The chic cocktail haven and eatery Mesa offers a a prix fixe menu for couples, as well as an In Love With Myself mixer at the bar top and lounge area. For those interested in the prix fixe menu, chef Abad will be offering an amuse bouche, followed by a three-course menu featuring tuna nicoise as the first course, and entreé choices such as charred filet and mushroom tortelloni. The In Love With Myself mixer for singles includes two specialty cocktails and light appetizers. Available only at the bar and within the lounge area. Prix fixe: $70 per person, additional $30 for custom drink-pairings; Mixer: 6-9 p.m. $30 per person. 725 Baker St., Costa Mesa, 714.557.6700. mesacostamesa.com
Mix Mix Kitchen Bar
Feb. 14. Award-winning globally inspired dining concept Mix Mix Kitchen Bar presents a four-course prix fixe Valentine's Day menu. Guests start with albacore tostada, goat-cheese toast, potato chorizo croquette and a bacon-wrapped date. Second-course choices include a hamachi spring roll, soft egg raviolo or lobster lumpia. Main course selections include beef tenderloin, market fish and roasted duck breast. To top it all off, indulge in desserts such as tropical panna cotta, chocolate fondant and sorbet. See website to make reservations. $65 per person. 300 N. Main St., Santa Ana, 714.836.5158. mixmixkitchenbar.com
Oak Grill
Feb. 14. Treat your partner to a romantic four-course dinner featuring aphrodisiacal ingredients and a complimentary glass of champagne or rosé at Oak Grill. Menu highlights include wagyu New York strip accompanied by black truffle beef jus, pommes puree, charred leeks and crispy onion; Chilean sea bass with beet mole, lime crema, charred avocado, roasted beets and "flower" tortillas; and bone-in pork chop with charred cabbage, whole grain mustard pork jus, apple chutney and mustard frill. A glamorous dessert will be served as "the final seduction." $125 per person (excluding tax and gratuity). 690 Newport Center Dr., Newport Beach, 949.760.4920. oakgrillnb.com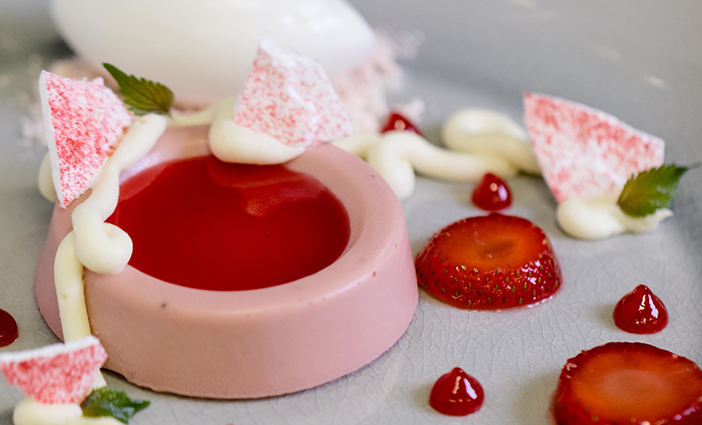 The Ranch Restaurant & Saloon
Feb. 14. Crafted by executive chef Michael Rossi and brother pastry chef Dave Rossi, the curated Valentine's Day prix fixe menu features a variety of dishes prepared from scratch. Highlights include housemade sweet potato gnocchi, Dungeness crab and champagne bisque, Colorado lamb chop, elderflower panna cotta and strawberry cheesecake. 5-10 p.m. Starting at $95 per person. 1025 E. Ball Road, Anaheim, 714.817.4200. theranch.com
Splashes
Feb. 14. Take in stunning ocean views this Valentine's Day with an idyllic dining escape and fresh seaside cuisine at Surf & Sand Resort. The special four-course prix fixe dinner will include optional wine pairings and highlights such as crisp pork belly, lobster bone marrow, seared scallops, roasted veal strip loin and Colorado bison duo. $135-$185. 1555 S. Coast Hwy., Laguna Beach, 888.281.3502. surfandsandresort.com
Studio
Feb. 14. Chef Ben Martinek serves heartfelt selections on a six-course menu, set amid a stunning ocean view at the beautiful Montage hotel. Menu highlights include smoked Santa Barbara red abalone with forbidden black rice, cauliflower mushrooms and wasabi-english pea pearls; and alina duck breast with swiss chard, sunchoke, morel mushroom and hazelnut. End with a whipped brie course followed by ivory chocolate mille-feuille. $175 per person, additional $250 for wine pairings (tax and gratuity not included). Montage Laguna Beach, 30801 Coast Hwy., Laguna Beach, 949.715.6420. montagehotels.com
My Vintage Valentine Aboard the Queen Mary
Feb. 14. Celebrate romance and glamour in the majestic Queen Mary's historic Grand and Windsor Salons. Enjoy a four-course dinner and special show featuring burlesque performances, a tango duet and contortionists. Upon arrival, guests will be greeted and ushered to their dinner table by Cupid. Two seatings: 5:30 p.m., $125 per person; 8:30 p.m., $135 per person. The Queen Mary, 1126 Queens Hwy., Long Beach, 877.342.0738. queenmary.com
Watertable
Feb. 14. Elevate your Valentine's Day date night with a three-course menu featuring highlighted items from chef Adrian Lagov's winter menu, coupled with romantic music by guitarist Ben Woods. Starter selections include roasted winter squash soup, Watertable wedge, mixed baby kale salad, and beet and pomegranate salad. Entree highlights include house-butchered filet, grilled-coffee-scented venison, Sixty South salmon and pan-seared branzino. For dessert, indulge in Six Degrees of Chocolate, white-wine poached apples or fried custard. $70 per person. Hyatt Regency Huntington Beach Resort & Spa, 21500 Pacific Coast Hwy., Huntington Beach, 714.845.4776. watertablehb.com
Photos: Header image courtesy The Ritz-Carlton, Laguna Niguel. Five Crowns courtesy The ACE Agency. The RANCH Restaurant & Saloon strawberry cheesecake by Mike Milla.