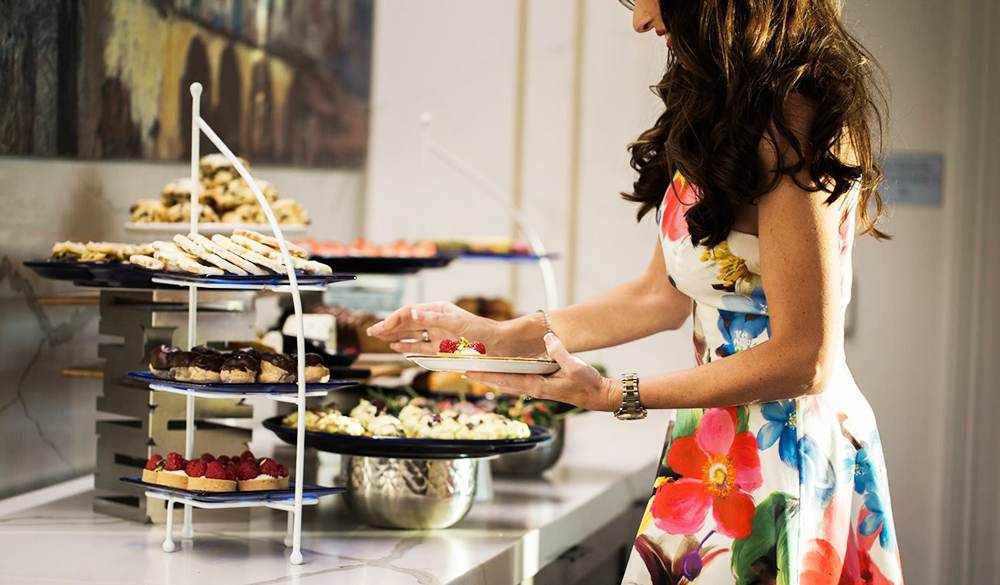 From lavish brunches and delectable dinners to cruises and relaxing spa specials, see our list of 40+ places to celebrate Mother's Day in Orange County.
Edited by Whitney Lauren Han.
Blissful Mother's Day Escape
May 1-31. Help mom relax anytime this month with a 45-minute classic manicure along with a 60-minute body bliss massage or an organic radiance facial. Guests will receive a plush robe for the session and be served lunch at Mosaic Bar and Grille. Package comes with complimentary valet parking. Call to book a session. $425 ($600 value). Montage Laguna Beach, 30801 Coast Hwy., Laguna Beach, 949.715.6010. montagehotels.com
Mom's Eat Free at Grasslands Meat Market | BBQ & Churrasco
May 1-31. Celebrate Mother's Day all month long with Grasslands Meat Market's irresistible 'Mom's Eat Free' special. Every day through May, Grasslands will offer moms a complimentary platter with the purchase of one family platter. Su-Th 4-10 p.m., F-Sa 4 p.m.-midnight. 400 W. Disney Way, Suite 199, Anaheim, 657.208.1133. grasslandsusa.com
BRIO
May 12-13. Make new memories with mom while enjoying BRIO's signature favorites along with a special brunch menu. Featured items include frittata al forno, Sicilian omelette; ham and biscuit Benedict; berries and cream French toast; gorgonzola crusted lamb chops; and surf and turf, among others. Reservations are highly recommended. 11 a.m.-3 p.m. Irvine Spectrum Center, 774 Spectrum Center Dr., Irvine, 949.341.0380. brioitalian.com
Eureka!
May 12-13. Brighten up your mom's day with a special MOM-osa flight from Eureka! This sampler includes four different freshly squeezed juices such as orange, pineapple, grapefruit and housemade ginger lime syrup that all mothers can enjoy alongside a delectable brunch. Menu highlights include the Six-Pack Breakfast Burrito made with scrambled eggs, ground turkey, black beans, pepper trio, avocado and charred tomato salsa; and bread pudding French toast featuring blueberry compote and whiskey crème anglaise. $12 sampler. Flight available all day, brunch 10 a.m.-2 p.m. 4143 Campus Dr., Irvine, 949.596.8881; Bella Terra, 7631 Edinger Ave., Huntington Beach, 714.230.3955. eurekarestaurantgroup.com
Mother's Day Fashion Tea at Monarch Beach Resort
May 12. Sip on afternoon tea at AVEO Table + Bar while enjoying fashion vignettes, designer raffle prizes and more at Monarch Beach Resort. The resort has partnered with South Coast Plaza, Saks Fifth Avenue, Henry Bendel and Styled by SJ for a showcase of the latest clothing trends, plus a pop-up boutique and fashion displays. All guests will receive a beautiful gift bag upon check in. Reservations required. 2:30-4:30 p.m. $89. One Monarch Beach Resort, Dana Point, 949.234.3423. monarchbeachresort.com
Orange County Mining Co. Brunches and Dinner
May 12-13. Celebrate with mom a day early at Orange County Mining Co. for the pre-Mother's Day brunch or come have brunch the next day. Diners can look forward to the omelette station, carved prime rib and ham, crab legs, smoked salmon and more. Sa 10 a.m.-2 p.m.; Su 9 a.m.-3 p.m. Sa $37 adults, $13 children under 12; Su $43 adults, $14 children under 12. 10000 S. Crawford Canyon Road, Santa Ana, 714.997.7411. orangecountyminingco.com
TAPS Fish House and Brewery
May 12-13. Get a head-start on Mother's Day at TAPS Fish House and Brewery or come celebrate the day-of. Moms can sip on free-flowing champagne and mimosas or handcrafted ales and lagers. Expect seafood on ice, a carving station, breakfast favorites, TAPS signature favorites, made-to-order omelettes, pasta station, chocolate fountain and dessert bar. 9 a.m.-3 p.m. $45. 101 E. Imperial Hwy., Brea, 714.257.0101; The Irvine Market Place, 13390 Jamboree Road, Irvine, 714.619.0404. tapsfishhouse.com
21 Oceanfront
May 13. Treat your mom to a decadent three-course Mother's Day brunch with sweeping ocean views. Starters include heirloom tomato and burrata salad, sesame crusted ahi tuna and lobster bisque. Entrees include king crab eggs Benedict, seared pisco salmon or grilled hanger steak and eggs. End your brunch with a banana caramel bread pudding, espresso chocolate ganache bar or chocolate covered strawberries. 10 a.m.-2 p.m. $75 adults, $25 children ages 5-10. 2100 W. Oceanfront, Newport Beach, 949.673.2100. 21oceanfront.com
Andrei's Conscious Cuisine & Cocktails
May 13. Book a table on the rooftop terrace of Andrei's for bottomless mimosas and a three-course prix-fixe brunch menu. Brunch highlights include crème brûlée French toast, New York steak and eggs and salmon breakfast toast. For sweet endings, choose between chocolate donut dips, organic sorbet trio or piña colada carrot cake. 11 a.m.-3 p.m. $49 adults; $15 bottomless mimosa cart; $15 children 12 and under. 2607 Main St., Irvine, 949.387.8887. andreisrestaurant.com
Bad to the Bone BBQ
May 13. Experience Southern-inspired fare with a barbecue Mother's Day brunch. Menu highlights include cowboy skillet hash, a Spanish-style breakfast frittata and an 18-hour smoked prime brisket pasta. Homemade soups will be available for the occasion, including tri tip stew and green chili lobster bisque. Don't forget to end with dessert such as chef's red velvet cake, salted caramel bread pudding and chocolate pecan pie. 10 a.m.-2 p.m. 31738 Rancho Viejo Road, San Juan Capistrano, 949.218.0227. badtothebone-bbq.com
The Backyard at Hotel Irvine
May 13. Spend this Mother's Day enjoying the outdoors with food, festivities and fun with a farmers market-inspired menu. Moms can enjoy hand-tossed salads, ahi poke and ceviche stations, plus roasted Berkshire ham and a build-your-own mimosa bar with fresh-squeezed juices. Before you eat, shop for locally sourced gifts like jams, honeys and fresh flowers as an extra treat to show mom just how special she really is. Seatings at 10 a.m., 12:30 p.m. and 3 p.m. $65 adults; $15 ages 5-12; free children 4 and under. Hotel Irvine, 17900 Jamboree Road, Irvine, 949.225.6780. hotelirvine.com
Back Bay Bistro
May 13. Let mom get creative at this brunch buffet as she builds her own pancakes with toppings like strawberries, blueberries, whipped cream and maple syrup, or savor a cooked-to-order omelet with choices like bay shrimp, bacon, mushrooms and fresh cut peppers. Don't forget the bottomless mimosas! 9 a.m.-3 p.m. $75 for adults (includes bottomless champagne and mimosas), $35 children 12 and under. 1131 Back Bay Dr., Newport Beach, 949.729.1144. newportdunes.com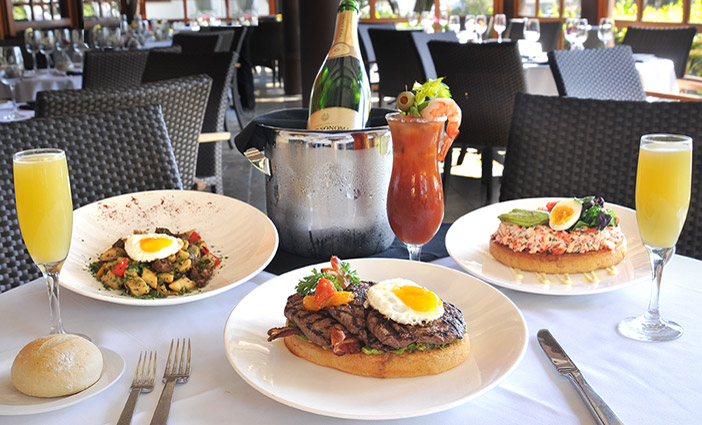 Bayside
May 13. Start your morning Bayside's holiday champagne brunch featuring a three-course menu. Highlights include exotic mushroom soup, prosciutto carpaccio, grilled spring lamb loin, blackened Pacific swordfish and much more. 11 a.m.-3 p.m. $58 adults, $22 children ages 12 and under. 900 Bayside Dr., Newport Beach, 949.721.1222. baysiderestaurant.com
Bistango
May 13. Elevate mom's morning with a three-course prix-fixe menu at Bistango. Menu highlights include Waldorf salad with wild baby arugula, grapes, candied walnuts, crumbled goat cheese and lemon vinaigrette for a starter; mushroom-crusted Alaskan halibut with lilies potato puree, asparagus and porcini mushroom sauce for the main course; and black forest chocolate cake for dessert. 11 a.m.-3 p.m. $65 adults, $19 children 12 and under. 19100 Von Karman Ave., Irvine, 949.752.5222. bistango.com
The Blind Pig Kitchen + Bar
May 13. Feast on a specially curated menu by executive chef Karl Pfleider this Mother's Day. Enjoy dishes such as the blueberry cheesecake waffle made with housemade waffles, macerated blueberries, and cheesecake filling; duck hash featuring fingerling potatoes, pearl onions, lardons, sunny egg and baby arugula; and grilled cheese eggs Benedict made with turkey, poached egg, hollandaise, brioche and cheddar. 11 a.m.-3 p.m. 31431 Santa Margarita Parkway, Rancho Santa Margarita, 949.888.0072. theblindpig.popmenu.com
The Capital Grille
May 13. Dine on a special Mother's Day three-course brunch menu with choices abound such as jumbo shrimp and white cheddar grits, The Grille's lobster frittata, bone-in dry aged New York strip with fried egg, an 8 oz. filet mignon and a pan-seared salmon with citrus crab salad. 10:30 a.m.-3 p.m. $49 adults, $14 bottomless mimosas; $15 children 10 and under. South Coast Plaza, 3333 Bristol St., Costa Mesa, 714.432.1140. thecapitalgrille.com
Cha Cha's Latin Kitchen
May 13. Enjoy a signature Mother's Day brunch featuring two courses at Cha Cha's Latin Kitchen. Mom can choose from entrees like huevos rancheros and grilled mahi-mahi to savor alongside the sounds of a live Latin jazz trio. Sip bottomless mimosas for an additional $10. 9:30 a.m. 110 W. Birch St., Brea, 714.255.1040; 13126 Jamboree Road, Irvine, 714.408.7819. chachaslatinkitchen.com
Coastal Kitchen
May 13. Bring mom to Coastal Kitchen in the Lantern District to experience California cuisine at its finest. Mom can choose between the signature lunch or dinner menu and enjoy dishes such as a crab cake sandwich, sauteed clams with fried bread and fried brie salad. Most importantly, moms can sip on a selection of handcrafted cocktails including the signature Bloody Mary. 11:30 a.m.-9 p.m. 34091 Pacific Coast Hwy., Dana Point, 949.449.2822. coastalkitchendanapoint.com
Cucina Enoteca
May 13. Take mom to a brunch with a Cal-Italian twist at Cucina Enoteca. Choose from a menu of specials including the one-pound ricotta pancake, croissant sandwich or brunch pizza. The unlimited walk-up brunch antipasti bar will be stocked with fresh pastas, charcuterie and housemade pastries. All moms will receive a complimentary sampling of housemade macarons. 10:30 a.m.-2 p.m. $45 adults, $18 children 12 and under. Fashion Island, 951 Newport Center Dr., Newport Beach, 949.706.1416; 532 Spectrum Center Dr., Irvine, 949.861.2222. urbankitchengroup.com
Del Frisco's Grille
May 13. Treat mom to a meal fit for a queen at Del Frisco's Grille. The brunch menu features a new menu item: Nonna's Cinnamon Roll topped with housemade bourbon espresso caramel and candied walnuts. Guests can also savor the decadent crab cake Benedict and red velvet Belgian waffles from the brunch menu. 11 a.m.-3 p.m. Irvine Spectrum, 772 Spectrum Center Dr., Irvine, 949.341.0376. delfriscosgrille.com
Fig & Olive
May 13. Get a taste of the three-course prix-fixe brunch and dinner with mom this Mother's Day. Expect appetizer choices such as heirloom tomato gazpacho, croquette tasting and avocado toast. For the main course, dine on lobster primavera ravioli, Riviera salmon and Moroccan free range chicken. Finish off with sweet endings like pot de crème or bruleed cheesecake. See full brunch and dinner menu online. Call to book reservations. Brunch $42, dinner $49. 151 Newport Center Dr., Newport Beach, 949.877.3005. figandolive.com
Five Crowns
May 13. Treat the women in your life like royalty this Mother's Day for brunch or dinner. Brunch offers a selection of starters including cauliflower soup and the Little Gem Caesar with entrees such as French toast, crispy chicken sandwich and chilled salmon salad. For dinner, choose from items like Colorado lamb chops, seared salmon, bricked jidori chicken, beef wellington and more. Afterwards, indulge in dessert options including Meyer lemon beignets during brunch and the carrot cheesecake with maple walnut ice cream, carrots chips and carrot cake at dinner. Brunch 10 a.m.-3 p.m., dinner 4-8 p.m. 3801 E. Coast Hwy., Corona del Mar, 949.760.0331. lawrysonline.com
Fuego
May 13. Dine on the water's edge this Mother's Day with the Long Beach skyline and the storied Queen Mary in eyesight. Executive chef Victor Juarez dishes up a spectacular brunch offering, complete with omelet, waffle, and carving stations. Live Latin music will set the relaxing atmosphere. 11 a.m.-3 p.m. $82 adults, $27 children 12 and under (excludes tax and gratuity). Hotel Maya — a DoubleTree by Hilton, 700 Queensway Dr., Long Beach, 562.481.3910. hotelmayalongbeach.com
Grasslands Meat Market | BBQ & Churrasco
May 13. Treat mom to a free brunch or dinner, with the purchase of one brunch or dinner at Grasslands Meat Market. Brunch menu highlights include some of Grasslands signature meats, such as smoked prime rib, famous BBQ ribs, pulled pork chimichurri and peel & eat shrimp, as well as brunch staples like bacon, sausage, shirred eggs and French toast. 10 a.m.-4 p.m. 400 W. Disney Way, Suite 199, Anaheim, 657.208.1133. grasslandsusa.com
Habana
May 13. Give this Mother's Day a Latin twist and indulge on a Cuban-inspired brunch menu at Habana. The menu boasts unique spices and sauces on every plate to complement traditional Cuban proteins such as roasted pork, plantain pancakes, breakfast empanadas and more. Costa Mesa: 9 a.m.-3 p.m., Irvine: 8 a.m.-3 p.m. 2930 Bristol St., Costa Mesa, 714.556.0176; Irvine Spectrum Center, 708 Spectrum Center Dr., Irvine, 949.419.0100. restauranthabana.com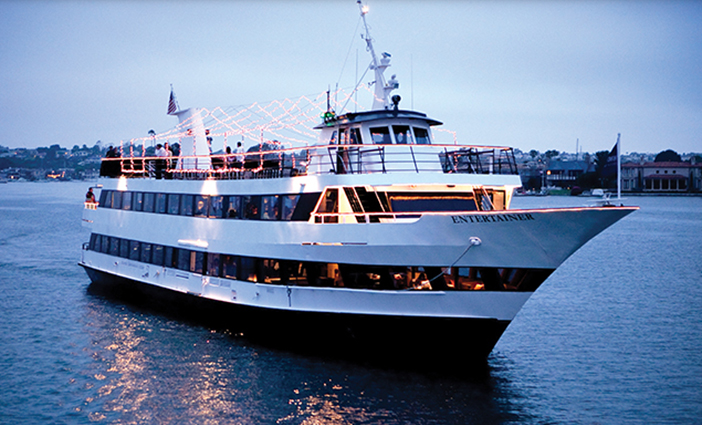 Hornblower Mother's Day Cruises
May 13. Hop on board a Hornblower yacht to cruise with mom through Newport Harbor for brunch or dinner. Highlights include a decadent buffet, live music and free-flowing champagne along with non-alcoholic beverages. Call to choose from three brunch cruises and two supper cruises. See website for all boarding times and prices. 2431 W. Coast Hwy., Newport Beach, 949.631.2469. hornblower.com
Hyatt Regency Huntington Beach Resort & Spa
May 13. Make Mother's Day a memorable one with a brunch buffet at Hyatt Regency Huntington Beach Resort & Spa. Start with deli selections and work your way through the seafood buffet with halibut ceviche and freshly-shucked oysters. Munch on pastries, enjoy SoCal-inspired pasta dishes or indulge in prime rib carved from the butcher's block. Top it off with dessert and a champagne toast to mom. 10 a.m.-2 p.m. $94 adults; $74 seniors 65 and over; $34 children 6-12; free for kids 5 and under. 21500 Pacific Coast Hwy., Huntington Beach. Call Melissa Scholz to make reservations at 714.845.4627. huntingtonbeach.regency.hyatt.com
Fashion Island Hotel in the Ballroom
May 13. Elevate Mother's Day with a bubbly brunch and family fun. The ballroom will feature live music, bouquet-making and a kid's activity station, plus a flower wall with a photographer standing by ready to capture the moment. Enjoy breakfast favorites such as an eggs Benedict station, French toast and chilaquiles. Satisfy your sweet tooth with the doughnut wall, strawberry cheesecake parfaits, gooey butter cake and more. Guests can check out the Bloody Mary bar or sip on bottomless mimosas. Frozé available for an additional $5 per glass. 10:30 a.m.-1:30 p.m. $80 adults; $20 kids 5-12; free for children 4 and under. 690 Newport Center Dr., Newport Beach, 949.760.4913. fashionislandhotel.com
Las Brisas
May 13. The culinary team at Las Brisas and new executive chef Jay Scollon presents a special four-course Mother's Day brunch along with dinner menu featuring the finest in Southern California cuisine. Whether you're having brunch or dinner, diners can order the seafood tower for the table along with pozole verde or Brisas salad to start. For entrees, indulge in garlic and herb crusted prime rib, filet and lobster, crab stuffed trout or vegan roasted squash. Brunch 8 a.m.-3 p.m., dinner 3 p.m.-close. 361 Cliff Dr., Laguna Beach, 949.497.5435. lasbrisaslagunabeach.com
Leatherby's Café Rouge
May 13. The re-imagined steakhouse with a modernized interior brings an exclusive, celebratory Mother's Day brunch and dinner with specials including a baby beet salad, pea agnolotti, ricotta pancakes and roasted prime rib. Indulge in dessert after your meal with options such as vanilla bean cheesecake, chocolate hazelnut bar and angel food cake. À la carte brunch 11 a.m.-1 p.m., dinner 4-7 p.m. Renée and Henry Segerstrom Concert Hall, 615 Town Center Dr., Costa Mesa, 714.429.7640. patinagroup.com
Mastro's Ocean Club
May 13. Make your mom's brunch unforgettable this year at Mastro's with sizzling steaks, chilled bottles of champagne, carving stations and decadent sides. Indulge in brunch favorites like chilled seafood and Belgium waffles and smoked salmon and bagel. Moms can sip on bubbly cocktails all morning, like a peach Bellini and sparkling sunrise. Don't forget the signature butter cake for dessert. Reservations highly recommended. 10 a.m.-3 p.m. $95 adults; $25 children 7-12; free for kids 5 and under. 8112 E. Coast Hwy., Newport Beach, 949.376.6990. mastrosrestaurants.com

Mother's Day Brunch at Monarch Beach Resort
May 13. Indulge in a signature Mother's Day Mediterranean buffet brunch that includes a seafood bar, omelet station, made-to-order pasta, a carvery and more—all set to the background of relaxing jazz music. While enjoying your meal, sip on your choice of a free-flowing beverage with options such as Spanish cava, bellinis and mimosas, plus mocktails for the kids. Moms will receive a petite box of specialty French macarons to take home. Reservations required. 10 a.m.-3 p.m. $159 adults, $65 children 12 and under. One Monarch Beach Resort, Dana Point, 949.234.3423. monarchbeachresort.com
Montage Masterpiece Celebration
May 13. Mothers, their families and lucky friends will find everything they are craving at this Mother's Day celebration that includes live musical entertainment, complimentary photographs and a champagne toast. Expect an egg bar with choices such as wild mushrooms, shrimp, goat cheese and a trio of peppers; house-cured smoked salmon and bagels with toppings. Stations offered include fruits, sushi, iced seafood, chef's carving station and a children's station featuring chicken fingers, macaroni and cheese, mini corn dogs and more. Don't miss out on chef Lee Smith's elaborate dessert display. 10 a.m.-3 p.m. $160 adults, $50 children 4-12. Pricing includes gratuity but not tax. Montage Laguna Beach, 30801 Coast Hwy., Laguna Beach, 949.715.6420. montagehotels.com
Mozambique
May 13. Savor the flavors of sub-Saharan African cuisine on three levels of dining this Mother's Day. Relax on the patio or capture the picturesque beauty of Laguna Beach on the Veranda rooftop deck while dining on menu highlights such as peri-peri prawns, 14-ounce pork chop, Atlantic lobster tail, curries and wood-fired steaks. 11 a.m.-10 p.m. 1740 S. Coast Hwy., Laguna Beach, 949.715.7777. mozambiqueoc.com
Oak Grill
May 13. Treat the leading lady in your life to brunch on Oak Grill's sun-filled outdoor deck. Chef Peter is doing all of the heavy lifting serving up a brunch for the whole family to enjoy including live-action stations, made-to-order specialties and desserts. Top off the morning with bottomless mimosas, a Bloody Mary and farm-to-table margarita bar. 10:30 a.m.-3:30 p.m. $90 per adult; $25 kids 5-12; free for children 4 and under. Pricing excludes tax and gratuity. Fashion Island Hotel, 690 Newport Center Dr., Newport Beach, 949.760.4920. oakgrillnb.com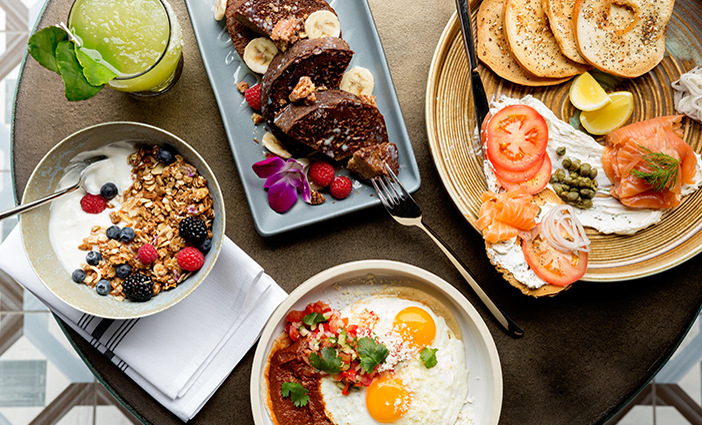 Pacific Hideaway
May 13. Spend Mother's Day at this beach-side bungalow restaurant for a special brunch buffet that will feature eggs, bacon, sausage, breakfast potatoes, mixed fruit, a lox and bagels station, an omelet station and a sweet tooth station. Moms and guests 21 and over can look forward to a "MA"-mosa bar with a complimentary premium mimosa. Juice selections include orange, grapefruit, cranberry, blackberry, blood orange and watermelon. 7 a.m.-2 p.m. $65 guests ages 21 and over; $45 guests ages 12-20; $35 children under 12. 500 Pacific Coast Hwy., Huntington Beach, 714.965.4448. pacifichideawayhb.com
Paul Martin's American Grill
May 13. Make plans to savor a curated Mother's Day brunch menu at Paul Martin's American Grill. Entree highlights include the garden frittata made with mushrooms, red peppers and arugula, topped with avocado and blistered tomatoes; short rib hash tacos made with scrambled eggs, bacon crema, chili essence, corn tortillas and smashed potatoes; brioche French toast featuring vanilla bean cream, maple-bourbon syrup, along with cinnamon sugar spiced bacon; and crab cake Benedict made with crab cakes, arugula, poached eggs, hollandaise, toasted english muffin and smashed potatoes. 11 a.m.-3 p.m. $24. Irvine Spectrum Center, 534 Spectrum Center Dr., Irvine, 949.453.1144. paulmartinsamericangrill.com
The Queen Mary
May 13. Experience a culinary adventure with your mom aboard the iconic ship for the Champagne Sunday Brunch featuring over 50 unique dishes from around the globe. Delight in traditional western breakfast fare such as made-to-order omelets, pancakes, eggs Benedict and homemade hash. Experience a southwestern sensation with Albondigas soup and carne asada tacos, or spice it up with hot n' sour soup or Asian style ribs. Cleanse your palate at the salad station featuring a chef-crafted Cobb salad, imported tuna nicoise and a variety of domestic and imported cheeses. Sip on free-flowing champagne while enjoying live music and entertainment. 9 a.m.-5 p.m. $69.95 adults; $24.95 children 4-11; free for kids under 4; $8 self-parking with validation; $15 valet parking with validation for up to 3 hours. 562.499.1606. 1126 Queens Hwy., Long Beach, 562.499.1739. queenmary.com
The RANCH Restaurant
May 13. Elevate mom's morning with interpretations of American cuisine in a special four-course plated brunch along with an extensive list of exclusive wine and whiskey. Crafted by executive chef Michael Rossi and brother pastry chef Dave Rossi, the menu showcases dishes such as vanilla bean creme brulee bombaloni, duck confit ravioli, farm egg shakshouka, brioche pain perdu, Vietnamese coffee semi freddo and passion fruit chocolate cheesecake. 10 a.m.-2 p.m. $85 includes complimentary bubbles (dry, sweet or mimosa). 1025 E. Ball Road, 714.817.4200. theranch.com
Relaxing Mother's Day Cruise
May 13. Sit back and relax with mom on a two-hour coastal cruise aboard the Ocean Adventures Catamaran. The trip will begin in Dana Point Harbor and travel up the coastline to Laguna Beach. Sip on a MOMosa or champagne while enjoying seasonal fruit, pastries, muffins and the view. 10 a.m. $49 adults, $29 children. 34675 Golden Lantern, Dana Point, 888.224.0603. danawharf.com
The Resort at Pelican Hill Grand Ballroom
May 13. Celebrate your family's leading lady and enjoy a chef-crafted brunch with spectacular ocean views in Mar Vista's Grand Ballroom. Expect live activities and entertainment such as a guitarist, face painter, balloon artist, caricature artist and storybook character visits. 10 a.m.-3 p.m. $128 adults; $60 children 5-12; free for kids under 5. 22701 Pelican Hill Road S., Newport Coast, 888.507.6427. pelicanhill.com
Richard Nixon Library & Museum
May 13. Give your mom an unforgettable Mother's Day experience by treating her to a lavish brunch in a replica of the historic White House East Room. Welcomed by a presidential red carpet and a complimentary glass of champagne, enjoy brunch under three crystal chandeliers. Following brunch, spend the day touring the rose gardens and museum galleries. Reserved seating is available for groups of 4-12 guests. Groups with less than 4 will be seated at family-style tables with other parties. "Sunday best" attire is suggested. Reservations are limited and must be made by May 10 at noon. Seating times: 9:30 a.m and noon. $75 adults; $35 children ages 2-10; $15 kinds under 2. 18001 Yorba Linda Blvd., Yorba Linda, 714.993.5075. nixonfoundation.org

The Ritz-Carlton, Laguna Beach Brunch Buffet
May 13. Surprise mom with a decadent buffet brunch in The Ritz-Carlton Ballroom. Expect freshly made salads, cheeses, ham and roast beef carving stations, chilled seafood, sushi and other savory selections. Traditional breakfast items will also be available such as eggs Benedict, waffles and made-to-order omelets, plus a variety of sweet treats for dessert. 11 a.m.-3 p.m. $125 adults, $62.50 children. One Ritz-Carlton Dr., Dana Point, 949.240.2000. ritzcarlton.com
Sapphire Laguna Brunch and Dinner
May 13. Treat mom to a three-course brunch or dinner at Sapphire Laguna. Brunch menu items moms will enjoy include brioche French toast with honey poached apricot, fromage blanc and crushed pistachio; Maine lobster and shrimp enchiladas; and Laura's lemon pie with blueberry-ginger compote and devonshire cream. For dinner, menu highlights include crispy skin pork belly with French lentil, mirepoix garnish and kumquat; buttermilk fried jidori chicken; rolled wild mushroom lasagna; and warm baklava with walnuts, local honey and yogurt gelato. Brunch $86, dinner $92. Pricing excludes beverages, tax and gratuity. 1200 S. Coast Hwy., Laguna Beach, 949.715.9888. sapphirelaguna.com
Selanne Steak Tavern
May 13. Chef Joshua Severson crafted a not-to-be-missed Mother's Day menu inspired by classic brunch favorites and his own creative twists. Enjoy sweet and savory dishes such as pancake soufflé with Vermont maple syrup, California berries and sweet vanilla bean cream cheese; Selanne's Benedict with Nueske's ham, poached egg, avocado, tomato marmalade, house hollandaise and croissant; and Teemu's brunch burger made with Kobe beef, kurobuta pork belly, fried egg and tomato jam. Other choices include bourbon caramel pecan sticky bun; chicken and waffles; steak bacon and eggs; and cured salmon scramble. A kids' menu will also be offered. 11 a.m.-2 p.m. A la carte pricing. 1464 S. Coast Hwy., Laguna Beach, 949.715.9881. selannesteaktavern.com
Silver Trumpet Restaurant and Bar
May 13. Get a taste of Silver Trumpet's brunch buffet along with gourmet desserts for all moms to enjoy. Expect seafood, crab claws with lemon wedges, poached shrimp with cocktail sauce, smoked trout with pepper aioli or smoked salmon with caper aioli. Hot entrees include New York strip with horseradish cream; lamb lollipops with red wine sauce; and roasted Scottish salmon with sauteed spinach, cipollini onions and pesto. End on a sweet note with strawberry shortcake with macerated berries; chocolate fudge cake with raspberry whipped cream; chocolate-covered strawberries; mini creme brulee tartlets; or Bailey's chocolate mousse parfaits. 10 a.m.-3 p.m. $65 adults, $22 children 12 and under. Avenue of the Arts, 3350 Avenue of the Arts, Costa Mesa, 714.442.8593. silvertrumpetrestaurant.com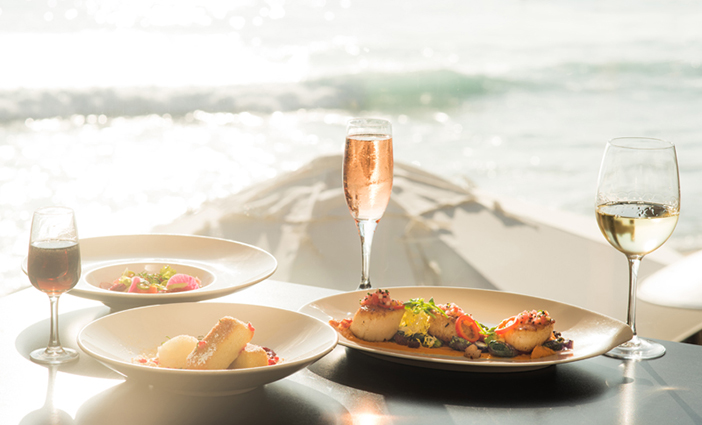 Splashes at Surf & Sand Resort
May 13. Book your table at Splashes for a three-course prix-fixe lunch and dinner this Mother's Day. Lunch noon-3:30 p.m., dinner 4-8 p.m. Lunch: $85/pp, $115 with optional wine pairings; dinner $100/pp, $130 with optional pairings. 555 S. Coast Hwy., Laguna Beach, 877.741.5908. surfandsandresort.com
Skyloft
May 13. Chef Arthur Ortiz presents a decadent menu for all moms to enjoy on the rooftop overlooking Main Beach. For breakfast, dine on chef's famed Loco Okimoto; Breakfast Puff made of oven-baked sweet corn hot cake topped with vanilla ice cream, fresh strawberries, powdered sugar and strawberry lemon zest syrup; and The Wake Up featuring two eggs any style, seasoned breakfast potatoes, maple bacon chicken andouille sausage, brisket or fried green tomatoes with your choice of toast. Call to make reservations. 9 a.m.-close. 422 S. Coast Hwy., Laguna Beach, 949.715.1550. skyloftoc.com
Studio in Montage Laguna Beach
May 13. Perched over the Pacific, Mother's Day will be extra special for those savoring chef Craig Strong's four-course brunch menu at Studio. First course choices include shaved melon salad with lemongrass panna cotta; onion, Gruyère and caraway tart with truffle dressing; or baby kale Caesar Salad with fried calamari. The second course is either warm white asparagus with chive hollandaise, king crab fried rice or mushroom ricotta tortellini. The third course options are salmon scallopini with braised Mary's chicken accompanied by mixed greens and Peruvian purple potato or duck confit hash with poached egg and shishito peppers. For dessert, enjoy pineapple upside down cake or molten chocolate cake. 11 a.m.-4 p.m. $150/pp (excludes tax and gratuity). Montage Laguna Beach, 30801 Coast Hwy., Laguna Beach, 949.715.6420. montagehotels.com
Three Seventy Common Kitchen + Drink
May 13. Indulge in a flavorful three-course meal with spring-inspired selections like avocado toast with crab, radish, herb, tomato, pancetta and cheddar; crab cake Benedict; spring scramble with chicken confit, cheese and vegetables; and toasted honey cake. A special kids platter will be available, which includes items like fruit salad with mixed berries, scrambled eggs, French toast, breakfast potatoes, bacon and sausage with chocolate chip cookies for dessert. 10 a.m.-2 p.m. $48 adults, $18 kids 12 and under. Pricing excludes tax and gratuity. 370 Glenneyre, Laguna Beach, 949.494.8686. 370common.com
True Food Kitchen
May 13. Celebrate mom with a special Mom-osa menu featuring three mimosas and one natural refresher at True Food Kitchen. Featured mimosas include pomegranate, orange vanilla and blueberry mint, along with the sparkling lavender lemonade refresher. $9 each mimosa, $5 refresher. Fashion Island, 451 Newport Center Dr., Newport Beach, 949.644.2400. truefoodkitchen.com
Vue Restaurant
May 13. Toast to mom at Vue Restaurant's champagne buffet brunch while taking in the ocean view. Expect a smoked fish station, gourmet macaroni and cheese made-to-order station, chocolate fountains and more. A photographer will be roaming the grounds ready to capture memories. Additionally, all moms will receive a rose to take home. 9 a.m.-2 p.m. $65 for adults, $30 children 6-12. Laguna Cliffs Marriott Resort & Spa, 25135 Park Lantern, Dana Point, 949.487.7577. lagunacliffs.com
Pacific Hideaway photo courtesy of Crowe PR.
[et_bloom_inline optin_id=optin_12]