Orange County's New Taverns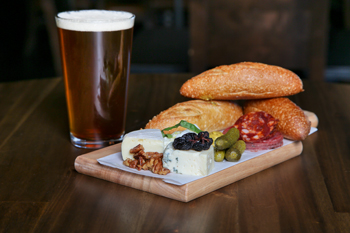 Taverns are taking Orange County by storm, offering top cuisine, cocktails and craft beer.
Ancient Rome and medieval England had taverns. Roman tabernae, according to one scholarly dissertation, served cheese, prunes, nuts and cucumbers to go with the drinking, gaming and sundry other activities; some upscale spots offered meat. England eventually discarded the word "tavern" in favor of "pub."
In America, taverns have a history, too—and an illustrious one at that. In Jamestown in the 1660s, Virginia's government met in taverns. (Maybe that's how we ended up with a two-party system: With a beer mug in your hand, two parties always sound better than one!) The First Continental Congress was formed at City Tavern, the U.S. Marines at Tun Tavern, both in Philadelphia. The U.S. Postal Service also had its beginnings in taverns (which might also explain a lot). Even George Washington, the father of our country, once slept in a tavern.
Here and abroad, pub fare was practically synonymous with lousy fare until gastropubs came along in the late 20th century. There's no need to coin the word "gastrotavern" in Orange County, where 21st century taverns give food, as well as drink, their due.
HOPSCOTCH
The name takes you back to your playground days, but it's more clever than that: "Hops" suggests the superb list of craft beers and "Scotch" what may be the county's finest whiskey list—pages of selections that, with craft beer, craft cocktails and wine, make up a hardbound Book of Libations. The new tavern—like a lodge, except that the ram and elk heads mounted on the rafters wear bow ties—is inside Fullerton's 1918 Pacific Electric Railway Station; historic photos line the walls. Under "Bites" are Cracklin' Rosemary Bread, a stellar pork-crackling flatbread, and brisket, pork or chicken sliders with HopSauces that include a super-spicy Death Sauce. Similarly exciting are the bourbon-based Kentucky Orange Blossom cocktail and the frothy, off-the-menu Flower of Fullerton, with gin and St. Germain. Among salads, the Thai Cobb honors the baseball legend, and the Q&A derives from quinoa and arugula. The slow-cooked headliners are St. Louis ribs, pulled pork and brisket. Finish with the bacon- and peanut-laced Elvis bread pudding. Consider sweet-potato waffle with bourbon maple syrup at brunch. Vintage Western films screen after 10 pm. 136 E. Commonwealth Ave., Fullerton, 714.871.2222. hopscotchfullerton.com
BACK BAY TAVERN
When Whole Foods Market decided to test the concept of a kitchen-driven tavern within its beautiful new location at Fashion Island, the company could have had no inkling of its popularity to come, and no doubt the concept will spread. Its patrons—not just shoppers, mind you—enjoy creative, clean-tasting fare, smartly presented: shishito peppers with smoked sea salt and yuzu; sushi and sashimi from a separate Asian Flare menu; caramelized Brussels sprouts with pomegranate seeds; organic chopped kale salad with lemon tahini dressing; the Tavern Burger with homemade bacon jam; and wasabi pepper-seared scallops with forest mushroom-asparagus sauté and micro-shiso. There's a finely edited beer list. You can bring in any bottle of wine from the market with no corkage fee. (Same goes for the market's patio!) On the wall: "Never cry over spilled milk. It could have been whiskey." 415 Newport Center Drive, Newport Beach. 949.999.8572, wholefoods.com
WILD GOOSE TAVERN
Now here's a place weary travelers can hang their hats—and an ideal hang for locals. The entrance is fairly hidden, but it's worth finding; look for the line. The fun hunt-lodge-saloon decor includes stag, beaver and "jackalope" taxidermy, a vintage American flag and light fixtures made from old chicken feeders. The curved hammered-copper bar and the back bar, clad in raw wood from a Tennessee barn, and comfy diamond-tufted booths add to the cozy ambience. On the menu are "rascally rabbit" and wild boar sausages; Peppadew-cheddar and cilantro-Caprese burgers; and a side of sweet potato and goat cheese tots. There's beer, lots of liquors and fine concoctions such as an Apple Fashion with Knob Creek rye and apple bitters. And here's the kicker: barrel-aged cocktails! For the Barrel-Aged White Hook, for instance, Hudson pot-distilled corn whiskey, Dolin Rouge and Luxardo Maraschino are aged for five to eight weeks. Make that five and eight weeks: Four liters are pulled when it's first ready, and 1 liter enjoys further aging—just for duckies! 436 E. 17th St., Costa Mesa, 949.722.9453. goosebar.com
AMERICAN TAVERN
This just-opened spot comes closest to the idea of tavern as inn: Not only can you wet your whistle and satisfy your palate, but since it's at Hotel Menage, you can stay the night if you're so inclined. The decor includes a curvilinear bar and vintage Americana photos. Snacks and small plates offer early-visit highlights: chili-seared, sea-salted edamame; pan-roasted prawns in a piquillo pepper sauce with whole garlic cloves; flash-grilled Caesar salad with a lively garlic-anchovy dressing; and mixed-fruit baguette with (yummm) Meyenberg goat butter. Also on the menu: entrées including chicken-and-waffles and a chimichurri flat-iron steak, a "messy" smoked bacon and cheddar-ale burger, and a chicken schnitzel sandwich. The tavern is surprisingly conducive to family dining, no doubt due to its proximity to Disneyland. In fact, here's the hottest tip: Before or after that Guinness ice cream-topped caramel apple tart, step outside to the palapa bar to watch Disneyland's spectacular nightly fireworks. 1221 S. Harbor Blvd., Anaheim, 714.758.0900. hotelmenage.com