Sip Award-Winning Cocktails from James Wood at Scott's Restaurant & Bar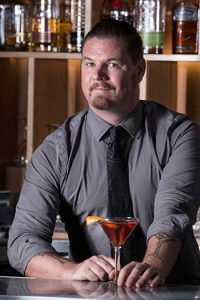 Orange County's hottest mixologist, James Wood lands at Scott's Restaurant & Bar in Costa Mesa, proving that shaking things up is a good thing indeed. If you're looking for awesome things to do in OC, let James mix you up the perfect cocktail!
Once a backdrop to conversations, cocktails have become the focal point. Restaurants old and new are putting emphasis on their cocktail program and Scott's Restaurant & Bar in Costa Mesa is no different. Diners have been demanding local, sustainable produce and meats and the same farm-to-table trend has spilled over to libations in the form of housemade syrups, freshly squeezed juices and small batch elixers.
Scott's Restaurant & Bar's lead mixologist, James Wood takes his craft very seriously, spending countless hours with his wife researching ingredients and interesting combinations for his future cocktail creations. Whether it involves reading cocktail books or visiting restaurants and bars, both give him inspiration for new concoctions and after endless tweaks, tastes and tests, another recipe is born. Before joining Scott's, Wood spent a year at Hopscotch in Fullerton as the Director of Libations, where he was recognized and awarded the 2013 Golden Foodie Award for Best Cocktails in OC as well as the 2013 OC Weekly Reader's Choice Awards for Best Bartender and Best Signature Cocktail—Smoke and Mirrors, a combination of Port Charlotte Peat Project scotch, Kubler absinthe, lime, vanilla and cherry bitters then misted with a smokey scotch mist.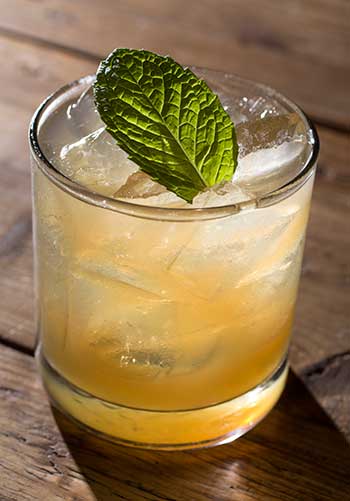 Wood loves Orange County's new passion for mixology and credits shows like AMC's Mad Men for sparking people's interests in classic drinks such as the Old Fashioned and Manhattan. He's put his own spin on those classics, giving them a contemporary twist by creating and crafting cocktails that are approachable, yet sexy and sophisticated. Wood's philosophy is all about balance—nothing too sweet or too tart—and he loves making guests feel like they are back in the 20s or 30s during the height of the cocktail craze by bringing back the sip rather than the shot. His current favorite drink to concoct is the Barbadian, where he starts with Mount Gilboa black barrel aged rum, layering in flavors from the Amaro Nonino, hibiscus elixir, lime juice and mint—the result is a cocktail that is light in body and refreshing. Other signature drinks include the Blossom, made with Templeton rye, St. Germain, noilly prat and whiskey barrel bitters and the Hops, consisting of Hopshead vodka, aperol, orange, lemon and honey. Drinks anyone? Find Wood at Scott's Restaurant & Bar, 3300 Bristol St., Costa Mesa, 714.979.2400. scottsrestaurantandbar.com