Culinary internships often take place abroad, and for a chef to revisit the country that ultimately inspires his or her cuisine makes sense. But what happens when, in the course of their travels, an American chef is smitten by Tasmania, a wine-country chef by New Mexico or a pasta-centric chef by the American South? They change the menu, of course! Everybody benefits when a chef is excited.
MICHAEL ROSSI / THE RANCH
Dishes such as country-fried Texas quail and a behemoth cowboy ribeye might be the backbone of the American menu at the Ranch Restaurant in Anaheim, one of the county's finest dining destinations. And the country-western Ranch Saloon is adjacent. But chef Michael Rossi isn't constrained by the American label: Right up top with that Texas quail starter are French escargots and Peruvian ceviches.
That said, few outdo the Ranch when it comes to the eat-local mantra: Most produce comes daily from its own nearby farm, and the rest is local, too. But Rossi seeks the finest ingredients near and far, and his love affair with Tasmanian beef—born of recent travels to Tasmania, an island state south of Australia known for its rugged wilderness and pristine beauty—is a game-changer.
Now on the menu: Robbins Island Tasmanian wagyu beef carpaccio, of an otherworldly texture, served with white Alba Clamshell mushrooms, wild arugula, black truffle and Pecorino Romano, and 24-hour braised Cape Grim grass-fed-and-finished beef short rib alongside parsnip mash, tender roots and portobello mushrooms—this writer's single finest short-rib experience.
A surf-and-turf of Cape Grim grass-fed petite filet and South African lobster tail, with smoked tomato risotto, king trumpet mushrooms and broccolini, has been a special. Cape Grim, in Tasmania's northwest corner, and nearby Robbins Island have the cleanest air in the world, but that's just one of the pluses of using Tasmanian beef.
The most important among them, says Rossi, is one diners might not think about. "When you go to a restaurant," he says, "you expect the food to be good—you don't hope it's going to be good—and if it's better, we've exceeded your expectations.
"But service is the No. 1 thing, and service is about telling a story. If the servers can tell you this story, if you feel transported to Tasmania, that you're on this island, you're going to remember—'I've had carpaccio, but let me tell you about this carpaccio that I had.'
"That's the kind of stuff that makes me excited about making a dish."
MARK MCDONALD / OLD VINE
Chef Mark McDonald of Old Vine Kitchen + Bar in Costa Mesa was trained in southern Italy, leads culinary tours to southern Italy and teaches at the Italian Culinary Institute in Italy. Fresh pasta has always been on the menu. Yet his restaurant is not Italian.
More like … Euro eclectic? How, for instance, do a rabbit mole and torta de lengua—a beef-tongue sandwich with tomatillo salsa and pickled serrano chiles—fit in?
"Maybe 'global cuisine with strong regional Italian?' " McDonald suggests.
"Travel has always been really important to my personal development—honestly, more than anything," he says. "You learn far more traveling in other countries than in any classroom setting. My travels in Mexico, South America, Central America and even in the Middle East have influenced my flavor combinations."
Not to mention traveling in this country.
McDonald has spent a great deal of time traversing the American South, and many of the dishes on his brunch menu—fried green tomatoes, biscuits-and-gravy—are the result.
One dish in particular caught his fancy: scrapple, in which stewed pork scraps and cornmeal are shaped, sliced and fried.
"I tasted at least a dozen versions of scrapple in Virginia," he recalls. "I loved the concept. I've always been a firm believer in regionalism. I've been leading tours in Italy for nine years. People will say, 'I wish we had this regionalism at home.' The reality is we do; the U.S. is home to amazing regionalism.
"What I love about regional Italian, regional Mexican and even regional American is that the vast majority of traditions, some lasting 500 years, are not based on the wealthy, on an affluent dining experience. They're based on peasant food prepared for generations that was kind of survival food. You worked on a farm in Italy, you probably ate polenta twice a day. In the United States, you ate grits—an American version of polenta."
Scrapple is another example of that, McDonald says. "To this day, it is made from the less desired parts of the animal mixed with cornmeal, because that's what the people of the region had. They just fried it and turned it into a means of feeding the family.
"I tasted scrapple in Virginia that was beyond gamey, really intense, and others that weren't as intense," he adds. "What's really cool is that I can use high-quality Duroc pork at Old Vine and recreate the tradition so it appeals to a more refined palate."
McDonald recently moved his restaurant into a larger and more beautiful adjacent space, adding a bar and an expanded patio.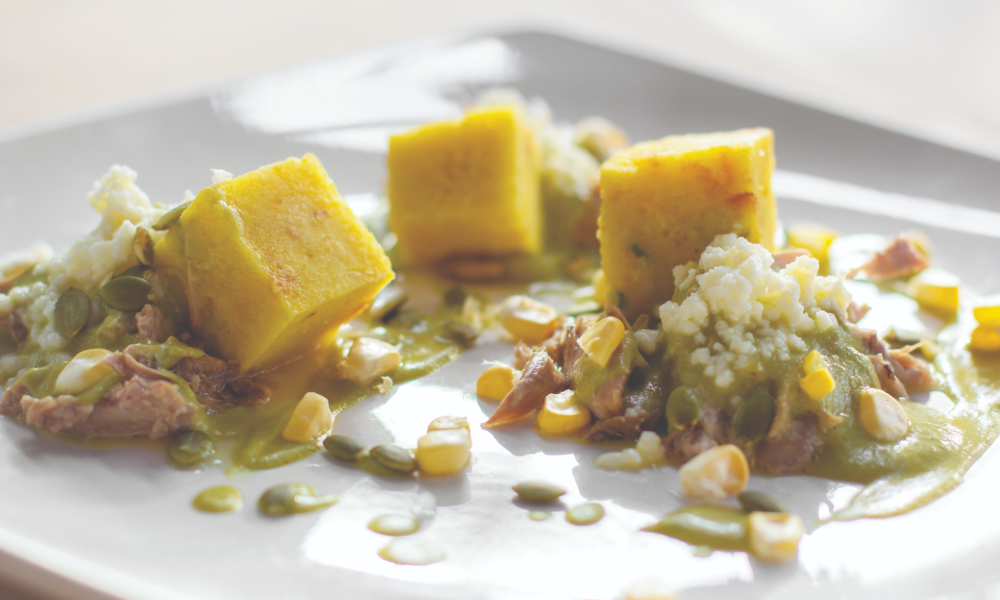 CATHY PAVLOS / PROVENANCE
Cathy Pavlos, chef-owner at Provenance in Newport Beach, and her husband are also inveterate travelers.
"We recently spent time in the Loire Valley and Paris and the Cotswolds outside London," Pavlos says. "I go back to Italy all the time—my family is from Italy—and to New York. We go once or twice every year to the Napa Valley—we rent a farmhouse between Napa and Yountville. Napa Valley has the best food in the world right now."
That assessment explains the Napacentric wine-country concept that Pavlos presented at Provenance for five years.
But when an Italian restaurant in the same center recently closed, Pavlos jumped on the chance to retool the menu to reflect her own Italian roots and family recipes such as Nonna's Meatballs. She updated dishes with premium ingredients, e.g., seared whole wild branzino and Kobe beef Bolognese, and replanted her spectacular on-site garden with Italian produce. The transition was easier than it sounds, according to Pavlos.
"We are an Italian concept translated through the clean and fresh prism of California wine country—we're Cal-Italian," Pavlos says. "It makes sense: Napa Valley has its roots in France and Italy."
None of which explains the New Mexican touches on her menu.
Case in point: the spicy chicken pasta with pomegranate molasses and chipotle chile that tops the menu's pasta list.
"We've been several times to Santa Fe," she says. "We found the best red chile sauce I ever had at this restaurant where this one young woman was basically doing everything…. She explained that it was their mother sauce. I practically interrogated her, and I started making my own spin on it.
"Napa cuisine, Italian, it doesn't matter— it's the one sauce I didn't want to give up when I changed concepts. In fact, the sauce is part Italian, part New Mexican: It's my family's Italian ragu over fresh spinach fettucine with zucchini and corn, plus pomegranate molasses and New Mexico chipotles.
"It was inspired by Santa Fe but tastes like things coming out of Sicily right now," Pavlos says. "Italians don't like the spice of fresh japaleño. They like the spice that warms the back of the throat, the spice of dried jalapeño—chipotles."
All photos are courtesy images.