A sprawling home on a bluff in San Clemente showcases South County's history, lifestyle and aesthetics.
By Roger Grody.
At the southern edge of Orange County, just before crossing into San Diego County, is the laid-back burg of San Clemente, home of President Richard Nixon's "Western White House" and some renowned surfing. The median home value in this upper-middle-class community hovers around $1 million, but prices for estates with oceanfront exposure are stratospheric.
One such property is the 12,854-square-foot Casa San Mateo on Calle Isabella, which at time of publication was on the market with a $44 million price tag. The residence is strategically located by Trestles, a series of beaches whose waves challenge professional surfers, and a couple doors from La Casa Pacifica, Nixon's home-state retreat. The bluff-top residence, in gated Cotton Point Estates, sits on 2.6 acres—an unusually large seaside lot for the county, with 450 spectacular feet of ocean frontage.
The property was in fact originally part of La Casa Pacifica, which Nixon purchased for $1.4 million in 1969 from the widow of Hamilton Cotton, a founder of San Clemente. A subsequent owner subdivided the Western White House's 26 acres, creating this parcel and several other luxury-home sites. A portion of La Casa Pacifica's three-hole golf course was on the subject parcel.
Built in 1927, La Casa Pacifica has been on the market several times in recent years, for as much as $75 million and most recently at $63.5 million. The historic presidential compound has about 15,000 square feet of living space on the more than 5 remaining acres.
The initial impression of Casa San Mateo may suggest a historic vintage, but the home was actually completed in 2007. Its aesthetics reflect Colonial Spanish architecture with Italianate sensibilities; the home's stone-clad facade is a refreshing departure from the increasing obsession with modernism along the county's coast.
Though the expansive glass walls of sleek minimalist homes maximize coastal views, the large arched windows of this structure frame ocean vistas to great effect. Dark and austere are oft-heard criticisms of European-inspired residential design, but this home is flooded with light and capitalizes on its oceanfront site inside and out.
The home was built by former technology executive and venture capitalist Martin Colombatto and his wife, now empty nesters whose only reason for selling is to downsize. "The family grew up, and the kids moved out, and this is a pretty big home for two people," explains Colombatto, who plans to remain on the coast. "We've had a lot of great memories in this home. Now it's time for another family to create their own memories here."
The Colombattos purchased the raw land in 2001, captivated by its proximity to surf and sand and delighted with the lot's generous proportions. "What I loved most was the location and the views, and because there's nothing but open space on one side," Colombatto says.
He notes that this is the southernmost private home in Orange County, pointing to a wall along his property built in the 1920s that marks the county line. On the other side is a huge expanse of undevelopable government-controlled land in San Diego County that includes the Camp Pendleton Marine Corps base, providing a genuine sense of privacy.
Residences of this size and price point are rarely characterized as family-oriented homes and are often ostentatious expressions of wealth. But Casa San Mateo is unusually tasteful and understated, consisting of a collection of intimate spaces instead of majestic rooms designed primarily for show.
The couple commissioned San Clemente-based building designer James Glover, who specializes in large luxury homes, to create a residence that would accommodate their love of entertaining and reflect the architecture of coastal Spain and Italy. Glover, who also designed the Colombattos' previous home, had the advantage of already knowing the family's preferences for daily living and entertaining.
Glover delved into the design of Casa San Mateo on a flight from Italy back to the States, inspired by a seaside hotel in Tuscany exhibiting the very spirit of design he believed would suit the Colombattos' oceanfront lot in Orange County. "For me, it lit up my mind, and I immediately started on some concept sketches," recalls Glover, who shares his clients' passion for coastal Mediterranean architecture. "I wanted to sprawl the house over the large lot yet … create a residence that was intimate," the designer says of his core concept for the home.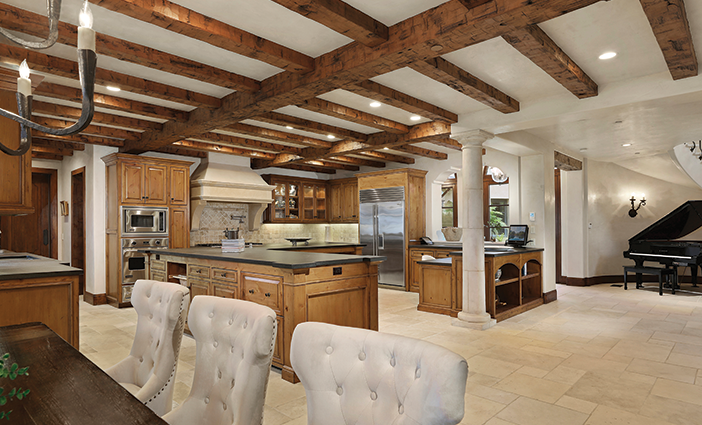 He envisioned a home that functions with integration of indoors and out and between formal and informal spaces. This multifaceted integration is a Glover signature. In a family residence, he views the kitchen as the hearth, a nucleus around which everything else revolves. This home's kitchen, with Old World touches such as a limestone range hood, opens up to both indoor and outdoor dining spaces with ocean views.
More structured spaces such as the formal dining room and living room feel separated from other common areas, but not detached—a subtle but critical distinction. "Even with the formal spaces the clients requested, we wanted to minimize the visual separations," explains Glover; his approach resulted in a winning compromise between a traditional floor plan and an open living concept.
Floors, ceiling beams and counters are more likely to be honed vintage surfaces that age with character than highly polished materials with mirror finishes; a deft blend of different stones and brick creates nuanced shading and considerable warmth.
Instead of one grand staircase, there are several artfully conceived stairways providing access to the second floor. Space dedicated solely to circulation tends to be filled with light and views. "We wanted every room to have a view, so we oriented the house on the lot in a way to encourage and maximize exposure to the ocean," Glover says. "My goal was to grab the outdoors and bring it inside as much as possible."
Though the Colombattos enjoy entertaining, the objective first and foremost was to create a family home that was comfortable and user-friendly. Not all of the entertaining has been low-key, however.
The Colombattos once hosted 900 guests for a fund-raiser featuring a live performance by rocker Eddie Vedder of Pearl Jam for the Surfrider Foundation. The downstairs media room, whose walls fold back entirely to integrate the yard and panoramic ocean views, has been used for everything from dances to memorials.
"Every space gets used," Colombatto says. There are multiple locations—some casual, others more structured—for alfresco dining or simply enjoying the ocean view. It may not have the retractable glass walls of some modern houses, but the design seamlessly blurs lines between indoors and out, encouraging a resort lifestyle.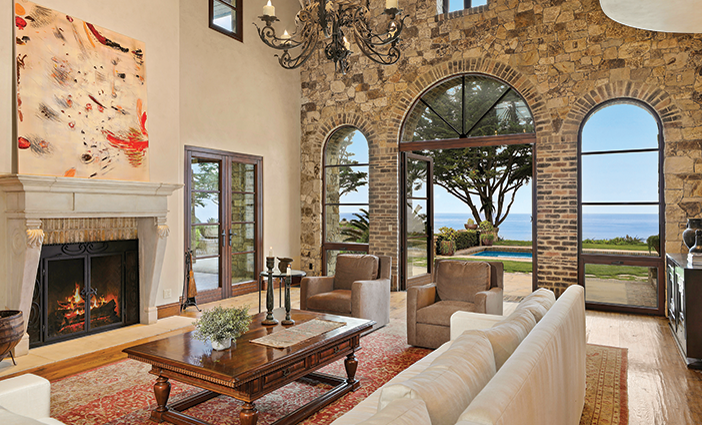 "And every space has a purpose and a killer view," he adds. The living room, with its soaring timbered ceiling, 16th-century Tuscan limestone fireplace, antique French chandeliers and prominent arched window, is his favorite. "I like to come in here and read, or just enjoy the view," he says—then reverses his decision. "To be perfectly honest, my favorite room is the outside."
The master suite is generously proportioned, with an indoor seating area and an intimate outdoor terrace with a spectacular view with which to enjoy the day's first cup of coffee. The master bath is impressive but not overly flashy, as its Pacific views are more precious than any of the high-end finishes incorporated into the space.
The grounds, what you might expect of a Tuscan farmhouse, include a vegetable garden, chicken coop and fruit orchard. Recreational amenities include an elegantly tiled 55-foot-long swimming pool as well as tennis and bocce ball courts. Stairs descend from the bluff to one of the few private beaches on the entire California coast. A surfer himself, Colombatto enjoys his access to Trestles, one of the Golden State's premier surfing destinations.
Only a handful of oceanfront properties of this size in the county are likely to come on the market anytime soon. At $44 million, Casa San Mateo may be out of reach for most homebuyers—but the Orange County lifestyle it represents is available to everybody.
Photos courtesy G2 Design Collective.