Prix fixe tasting menus are curated by the person in the kitchen likeliest to know what's best.
By Crawford McCarthy.
WHAT TO ORDER? That is always the question when dining out. The question can be daunting, even for the most experienced epicurean, given the litany of choices presented on many menus. And that's without the daily specials.
In some cases, the best answer is hidden at or near the bottom of those menus: the chef's prix fixe tasting menu, a fixed-price multicourse meal that, depending on the restaurant, can change daily, weekly or seasonally—or never, in which case it might feature the chef's signature dishes. Remember, they're signature dishes for a reason.
A more exclusive experience might unfold at a special space—with limited seating, near the kitchen, reservations required—designated the chef's table.
In either case, tasting menus present an experience curated by the one person most likely to know what's best. At the table as in the kitchen, perhaps the best idea is simply to say, "Oui, chef."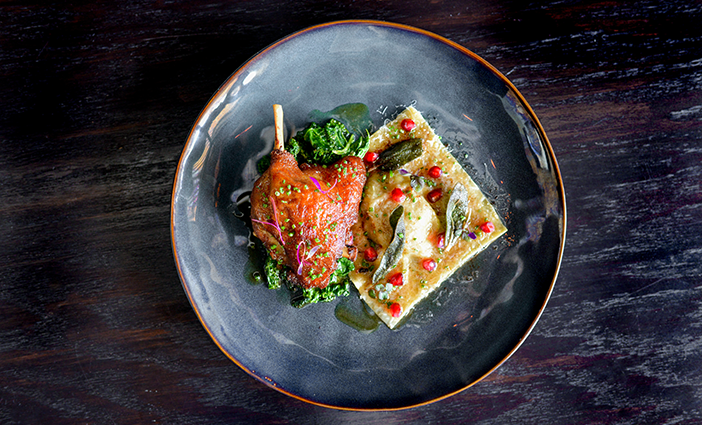 Mix Mix Kitchen Bar
CHEF ROSS PANGILINAN'S nightly prix fixe menu at Mix Mix in Santa Ana takes its name from just that: the Oui Chef Table.
Widely considered the county's best new restaurant when it opened in 2016, Mix Mix is an amalgam of the chef's time spent in Michelin-starred kitchens in France, Los Angeles and Las Vegas, reflecting a wealth of knowledge and techniques and drawing on cuisines as diverse as French and Filipino.
Mix Mix offers two prix fixe menus: a four-course option in which diners choose one item from each menu category—snacks, small plates, plates and desserts ($46, $66 with wine pairings) and the five-course, reservations-only Oui Chef experience, which unfolds at an intimate counter facing the kitchen and features ever-changing courses of the chef's choosing ($65).
The atmosphere is relaxed; you can leave the dinner jacket and cocktail dress at home.
>Recent highlights Seared-albacore tostada with avocado, seaweed, Japanese dressing, sriracha aioli and radish; rib-eye steak with asparagus, sweet purple potato espuma and peppercorn sauce; tropical verrine with lychee, passion fruit, coconut and macadamia nuts.
On a related note: Pangilinan recently opened Terrace by Mix Mix at South Coast Plaza in Costa Mesa, where he offers a casual prix fixe three-course lunch. Diners choose one item from each menu section—for $15. It's a steal.
300 N. Main St., Santa Ana, 714.836.5158. mixmixkitchenbar.com
Oak Grill
TASTING MENUS OFFER a window onto the chef's gastronomic background. In the case of Brittany Valles—new chef at Oak Grill, fine-dining room at the Fashion Island Hotel in Newport Beach—that would include seven years as chef de cuisine at acclaimed but now-shuttered Ink.well by Bravo Top Chef winner Michael Voltaggio in West Hollywood.
Social skills? Check! Valles acts as both commander of the kitchen and docent of the dining room, moving from table to table, obviously enjoying talking about food as much as cooking it.
In addition to her à la carte menu, the Huntington Beach native presents three-course menus in which she tweaks flavors to play with, and exceed, our expectations.
Diners choose from two or three options per course that change monthly. Salads can be a high point: Valles might use mole sauce in the spinach salad or sweeter Coraline endive in her endive salad. After a break for the holidays, the meals are offered twice weekly ($65, $90 with wine pairings).
>Recent highlights Saffron paella with oyster mushrooms, artichoke hearts, cherry tomatoes and parsley; barbecue-spiced short ribs with baked macadamia nuts, grilled peaches and baby kale; olive-oil cake with blackberry-yuzu compote, lime curd and meringue.
Fashion Island Hotel, 690 Newport Center Drive, Newport Beach, 949.760.4920. oakgrillnb.com
Studio
AMONG THE COUNTY'S most luxurious dining experiences, Studio at Montage Laguna Beach may be the sine qua non. The view—from a bluff-top bungalow overlooking the ocean—and food are equally photogenic.
New chef de cuisine Benjamin Martinek sources the best local ingredients for his six-course seasonal tasting menus ($175, $260 with wine pairings). Luxe ingredients such as local San Clemente Island uni, Hudson Valley foie gras and white Alba truffles, as well as root vegetables, are favored. The vegetarian tasting is every bit as elaborate ($140, $220 with wine pairings).
Seating at the chef's table, in an opulent private room adjacent to the kitchen, is an even more elevated, completely customized affair that runs several thousand dollars.
The kitchen is very much a team effort, with every résumé boasting extraordinary credentials. The dining room is a master class in hospitality. The intent is to make lasting memories, and Studio succeeds.
>Recent highlights Hudson Valley foie gras torchon with black plum, Sichuan peppercorn brioche and mustard seed; dry-aged beef strip loin with Cordyceps mushrooms, Sungold tomatoes, fermented garlic and braised parsnip; St. André cheese with cape gooseberry brulee and espresso meringue.
Montage Laguna Beach, 30801 S. Coast Hwy., Laguna Beach, 949.715.6420. studiolagunabeach.com
Pascal's Cafe and Grill
THE TERM "PRIX fixe" is French; it just makes sense to try a French prix fixe.
For his menu at Pascal's in San Juan Capistrano, venerated Pascal Olhats—who has trained an astonishing number of other wonderful chefs in Orange County—applies his revered skill to bring history, by way
of French classics, to the table. Consider it a Pascal Olhats retrospective; indeed, it is called the Pascal Experience.
The traditions of his native Normandy as well as Lyon and Provence inspire the dishes, in some cases dishes you'd expect, in others, dishes you thought you'd never eat again. Seasonal fare such as wild-boar paté and goose appear in winter.
Given the caliber of the cuisine, the atmosphere is relaxed. Olhats detests stuffiness and is accommodating to a fault. The taste of France permeates every bite, yet it feels like you are in a home sharing a meal cooked by a family friend. Because Olhats makes everything on the spot, he can prepare dishes to suit any dietary restrictions or preferences. In all cases, by meal's end, one ingredient predominates: love, born of Olhats' lifetime passion for what he does.
The four-course menu is offered Thursday through Saturday by reservation ($65, $105 with wine pairings; three-course option and corkage available). Diners choose from several options per course. A set four-course foie gras menu is $98.
>Recent highlights Baked veal bone marrow with garlic herb escargot; sautéed duck breast and duck leg confit, Périgord potatoes and haricots vert; Normandy tarte Tatin with creme chantilly.
31451 Rancho Viejo Road, San Juan Capistrano, 949.488.0031. pascalscafe.com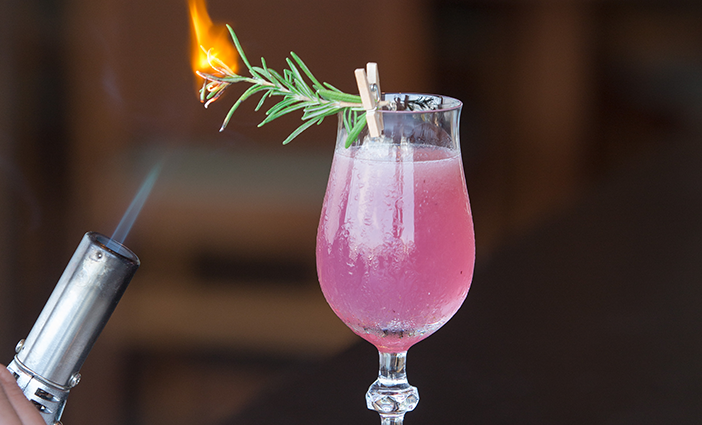 Nobu Newport
The food on a prix fixe menu virtually always takes center stage, with wine pairings an optional add-on. What if that concept was flipped?
The cocktail omakase at the Grand Cordon Bar at Nobu Newport Beach is the first of its kind for the celebrated chain, which operates 39 destinations around the globe. The program not only remains exclusive to the Newport Beach location, it's just plain exclusive: The outside bar where the elaborate repast is served seats only four.
The alchemist behind it crafts liquid art before your eyes. The cocktail recipes come from monthly companywide Nobu bar staff competitions—the best from the best worldwide. Five divine courses are created
to complement the spirits and other ingredients in each concoction.
The cocktail omakase is offered at two seatings, by reservation only, Thursday through Saturday ($85). Nobu is gorgeous inside and out, ideal for those on their own or for date night. Cooler nights at the Grand Cordon Bar bring the outdoor heaters but don't stop the magical murmur of Duffy boats making their way through the harbor waters a few feet away.
>Recent highlights Shiso Fresca (Nikka gin, Cocchi Americano, monk fruit shiso syrup, lime and celery bitters) paired with kanpachi sashimi with chimichurri, gobo, finger lime caviar, micro shiso and crispy nori; Sumoki Violeta (La Puritita mezcal, Meyer lemon, Giffard violet and Luxardo maraschino liqueurs, blueberries and serrano peppers) paired with grilled, spice-rubbed wagyu, rosemary egg sauce and roasted vegetables.
Lido Marina Village, 3450 Via Oporto, Newport Beach, 949.429.4440. noburestaurants.com
[et_bloom_inline optin_id=optin_12]