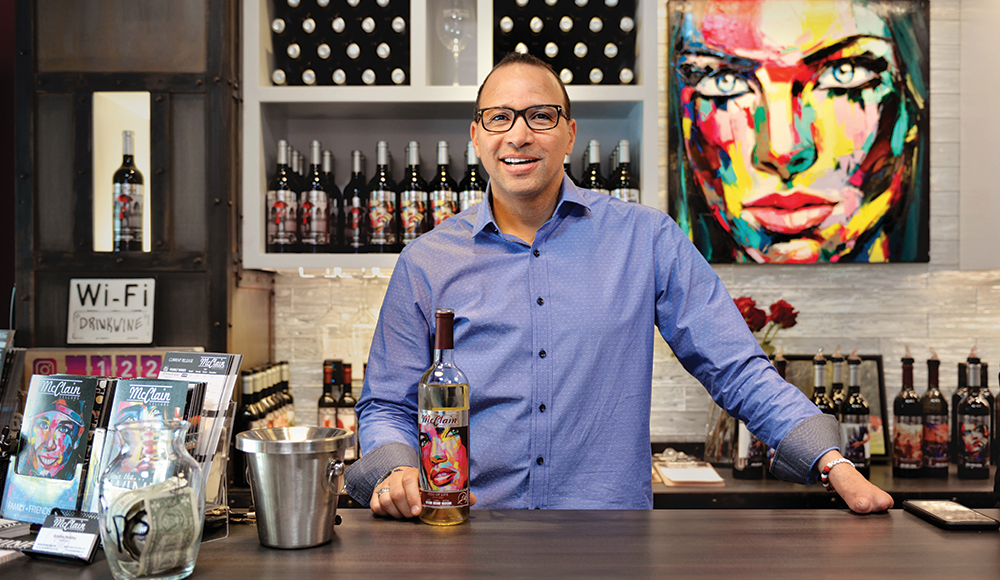 McClain Cellars is a cool and curated wine-tasting experience in Laguna Beach.
By Kedric Francis.
On a sunny afternoon, locals and out-of-towners gather in a modest, colorfully decorated tasting room, sipping wines with evocative names such as Summer Breeze, Kiss of Life and Old Black Magic.
Some nibble on artisan popcorn, others on charcuterie and cheese. All are engaged by what's in the glass, which comes from Jason McClain's boutique winery in the Santa Ynez Valley, on California's Central Coast—unusual in that his McClain Cellars tasting room is in Laguna Beach in Southern California.
McClain had his reasons and, after one year in business, the reasons have proved sound. "Laguna Beach gives me a tight-knit community in which to grow," he says. "Laguna Beach gives me the ability to be distinctive and different."
McClain and his family—he and his wife, co-proprietor Sofia, have three daughters—also live nearby in Coto de Caza.
The tasting room's location in Laguna Canyon has proved ideal. It's on one of two roads in and out of the city, nestled among the summer art festivals and an easy stroll to the downtown "Village" and Main Beach.
McClain Cellars is part of the Hive, a small but hip culinary, retail and creative center that has become the hub of canyon life. Also at the center are top-tier Italian restaurant Oliver's Osteria next door, Laguna Beach Beer Co. and that most valuable of assets in a busy beach town: free parking!
The tasting room features live music on weekends; special events include tapas pairings with local restaurants and blind tastings. Staffers act as concierges for visitors, arranging tables at restaurants such as acclaimed Harley that offer discounts to tasting room patrons.
Above all, McClain says, "we help you experience and understand the difference between a cab, a petite syrah and a petit verdot." Finding McClain wines you love is highly likely. Purchases can be delivered to a visitor's hotel, packaged for travel as checked luggage or shipped home.
The McClain Cellars vision is based on family as well as wine.
"When you get married, there's wine. If you have a child, there's wine. When you meet with good friends, there's wine," McClain says.
"Wine is alive. It's always growing. It's always getting better. No other spirit, no other beverage, has the joy and love of a 6,000-year relationship with human beings like wine has."
A passionate and charismatic speaker, McClain seems a natural for the screen or as a coach or motivational speaker.
Been there, done that, it turns out.
A successful 30-year career in dot-coms included several startups; McClain also served as consultant and life coach to leaders of many more. The serial entrepreneur's projects have included a digital marketing agency, a design firm and even a do-it-yourself divorce website and app. He had a contract on the table for a television show on Amazon Prime.
"At the time, I thought, 'I'm successful. I'm at the top of my game … but I'm not happy,'" he says. "I'm not doing something I truly love.
"So … I quit."
McClain turned down the lucrative TV contract, sold his companies and focused on something he was passionate about: wine. "I went into an industry I knew nothing about."
Well, not exactly nothing. According to McClain, he and Sofia had bought a plane so they could explore hidden corners of Napa Valley and the Central Coast. "We'd land at tiny, little airstrips, do some wine tasting, buy and fly cases back," he recalls.
The McClains made an enormous leap of faith: They founded their own winery.
They bought 5 acres in the Santa Ynez Valley where they could grow their grapes, hired winemaker Dean Guzman (whose résumé includes Fess Parker and Terravant) and partnered with other growers to contribute to their proprietary blends.
That was in 2016. They made 1,500 cases of wine the first year—and were told they were crazy to produce so much. "I wasn't worried about producing too much," McClain says. "I just needed to make a great wine."
Was it great? He went on Facebook to invite people to come and taste it, which proved a savvy bit of digital marketing.
"We had 150 people show up on our doorstep," he says—by which he means literally on his doorstep. That first tasting and many that followed were held at the McClains' home.
"That was June 27, 2018: our first tasting, our first sales, our first wine club members and our first reviews," McClain says. "By December, we'd grown our wine club to hundreds and were planning to open our first tasting room." McClain Cellars debuted Feb. 29, 2019.
It was an instant hit. "We went all in," he says. "I want to live deep and suck out all the marrow of life is one of my favorite quotes, by Henry Thoreau."
He switches to life coach mode. "People don't embrace change," he says. "It's a fundamental flaw in the human character. We don't make change a priority. I made change a priority for my own life."
More tasting rooms are planned, including one on Balboa Island, where the harbor ferry picks up and drops off cars and passengers.
As for the aforementioned evocative names of the McClain wines, every one has a story.
"'Summer Breeze' is the 1976 song that was playing on the radio when I first fell in love," McClain says. "'Kiss of Life' is the 1991 song by Sade that was playing when my wife and I had our very first kiss. My dad once sang 'Old Black Magic' on television."
And he wants every one to inspire a story.
"Our lives are shaped and formed by significant emotional events," McClain says. "When guests come to McClain Cellars, we want them to have an amazing experience. They take that home in a bottle of wine. When they open that bottle, it might be 30 degrees and snowing outside, but that experience comes rolling back. They remember how great Laguna Beach was—and how they can't wait to come back."
Photo courtesy McClain Cellars.