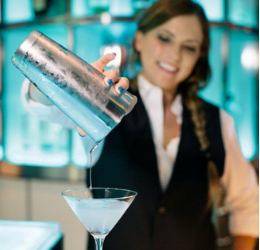 Feasts, buffets, brunch and beyond: the best places to dine on Christmas Eve and Christmas Day in Orange County.
Edited by Laura Okey.
Back Bay Bistro
Dec. 24. Back Bay Bistro hosts a gourmet, five-course Christmas Eve dinner highlighting seasonal sides, three succulent main-course options such as herb-crusted rack of lamb and decadent desserts including a chocolate yule log cake. Celebrate the season in a festive waterfront location featuring gorgeous views of the Back Bay illuminated with holiday lights. 4:30-8 p.m. 1131 Back Bay Drive, Newport Beach, 949.999.3170. newportdunes.com
Davio's Feast of the Seven Fishes
Dec. 24. Celebrate a traditional Italian Christmas Evedinner with Davio's Feast of the Seven Fishes. The three-course prix-fixe menu includes items such as Benvenuto with beets, crab, Swiss chard, crispy shallots and fennel aioli; antipasto with seafood croquette, shrimp, barramundi, oysters and spicy San Marzano tomatoes; and farinaceo with tagliatelle, Nantucket Bay scallops and truffle butter. 5-10 p.m. $75. Davio's Northern Italian Steakhouse, 18420 Von Karman Ave., Irvine, 949.477.4810. davios.com
Five Crowns
Dec. 24. Celebrate Christmas Eve like royalty at Five Crowns with world-class seasonal menu offerings, warm hospitality and an unforgettable festive atmosphere complete with strolling Victorian carolers, holiday decor and crackling fireplaces. In addition to prime rib, steak neptune and Jidori chicken, the menu presents traditional roasted goose with wild grains, mushroom, cherry and Brussels sprout leaves. 1-8 p.m. 3801 E. Coast Hwy., Corona Del Mar, 949.760.0331. lawrysonline.com
Grasslands Meat Market
Dec. 24. Let Grasslands serve you this Christmas Eve with a family-style feast. Indulge in holiday specials such as "prime ribs" and Grasslands house favorites including pulled pork chimichurri and barbecued brisket. Choose among seasonal sides such as apple-sausage stuffing. 2-9 p.m. 400 West Disney Way, Suite 199, Anaheim, 657.208.1133. grasslandsusa.com
Marché Moderne
Dec. 24. Indulge in a decadent, four-course holiday menu at Marché Moderne. Menu highlights include Nantucket Island scallops with celery confit, celery mousseline, chicken celery jus and black truffle, and roasted Maine black sea bass with tender leeks, beet root and blood orange jus and polenta pommes dauphine. Among dessert options are assorted sorbets with warm lemon-zest madeleine and cafe au lait with hazelnut genoise, creme de marron and praline ice cream. Reservations required. 4-9 p.m. $130; wine pairing additional $50. 7862 E. Coast Hwy., Newport Beach, 714.434.7900. marchemoderne.net
Mastro's
Dec. 24-25. Make your holiday meals unforgettable with perfectly chilled bottles of champagne, jaw-dropping seafood towers, Mastro's famed sizzling steaks, decadent sides such as lobster mashed potatoes, and, for the perfect sweet ending, the beloved signature butter cake. Reservations highly recommended. Christmas Eve 3-10 p.m., Christmas Day 3-9 p.m. Mastro's Costa Mesa, 633 Anton Blvd., Costa Mesa, 714.546.7405; Mastro's Ocean Club, 8112 E. Coast Hwy., Newport Beach, 949.376.6990. mastrosrestaurants.com
Oak Grill
Dec. 24-25. Indulge with Oak Grill's Christmas dinner complete with all the trimmings. The four-course prix fixe features options for each course including chicken-fried quail with buffalo sauce, blue cheese and celery salad; kale pesto-crusted salmon with parsnip purée, pickled cherry heirloom tomatoes and crispy onions; and seasonal wild mushroom soup with fine herbs and brown butter croutons. Options for a sweet finish include eggnog creme brûlée or peppermint mocha cremeux. Full menu available online. 4-9 p.m. $90 adults, $35 ages 5-12. Oak Grill, 690 Newport Center Drive, Newport Beach, 949.760.4920. oakgrillnb.com
Pacific Hideaway's Christmas Dinner near the Pier
Dec. 24-25. Eat, drink and be merry this Christmas Eve and Christmas at Pacific Hideaway. The Huntington Beach favorite is serving their popular brunch and lunch menus until 2 p.m., as well as offer some Christmas specials. The menu includes lobster bisque, a seafood tower and a 32-ounce dry aged prime porterhouse. Sink your teeth into something sweet including eggnog cheesecake and stop by Pacific Hideaway's holiday-themed Miracle pop-up bar for fun cocktails and festive decor. 7 a.m.-11 p.m. 500 Pacific Coast Hwy., Huntington Beach, 714.965.4448. pacifichideawayhb.com
Studio at Montage Laguna Beach
Dec. 24-25. Feast on the seasonal delights of Chef Benjamin Martinek. On Christmas Eve, indulge with a four-course holiday tasting menu including crispy chicken ballottine with braised baby carrots, white beans and smoked egg emulsion, and roasted filet of beef with butternut squash millefeuille, royal trumpet mushrooms and huckleberry beef jus. On Christmas Day, choose between a 12-station brunch buffet that includes live entertainment, a complimentary champagne toast and family photographs, or an evening four- or five-course holiday tasting menu. Christmas Eve 4-10 p.m.; Christmas Brunch 11 a.m.-3 p.m.; Christmas Dinner 5-9 p.m. $175-$180 adults, $50 ages 4-12. Additional cost for wine pairings. 30801 S. Coast Hwy., Laguna Beach, 949.715.6420. montagehotels.com
Vue Restaurant
Dec. 24-25. Enjoy Christmas Eve and Christmas dinner with sweeping ocean views at Laguna Cliffs Marriott Resort & Spa. Vue Restaruant offers holiday specials such as rack of Australian lamb, pan-seared Icelandic cod and mascarpone creamed polenta. Call for reservations. Laguna Cliffs Resort & Spa, 25135 Park Lantern, Dana Point, 949.487.7516. lagunacliffs.com
Brunch of Christmas Cheers
Dec. 25. Fashion Island Hotel decks the halls and ballroom tables for a brunch full of good cheer. Expect champagne and mimosas to accompany a decadent food choices: a carving station featuring whole-roasted herb-marinated filet of beef and roasted crown of pork, a seafood station with shrimp cocktail and crab legs, and a tamale grill with pork and chicken tamales and a salsa bar. 10 a.m.-3 p.m. $80 adults, $20 ages 5-12. Adult pricing includes mimosas. Fashion Island Hotel, 690 Newport Center Drive, Newport Beach, 949.760.4913. fashionislandhotel.com
Splashes
Dec. 25. Savor an inspired three-course menu amid expansive ocean views at Splashes this Christmas. Entree choices include seared scallops with charred romanesco, beet cylinders, squash batonets, pickled beech mushrooms, puffed quinoa and beet and raspberry vinegar coulis; petite filet mignon with watercress, oyster mushrooms, whole grain mustard Yukon potato, wasabi pea puree and sauce medici; and spiced duck breast with carrot and cardamom puree, orange glazed turnips, spinach, purple cauliflower, cocoa soil and cassis gastrique. Call for reservations and pricing details. Noon-8 p.m. $85-$125. Surf & Sand Resort, 1555 S. Coast Hwy., Laguna Beach, 888.281.3502. surfandsandresort.com
Back Bay Bistro photo courtesy the Ace Agency.