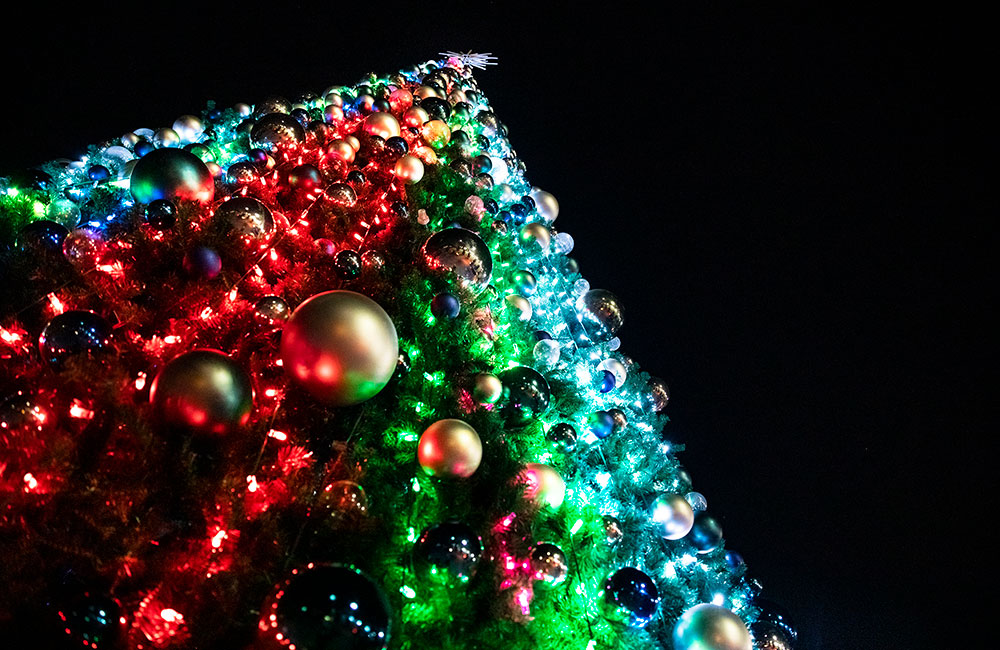 May this season in Orange County be merry and bright with these festive happenings and holiday to-go dining options from local restaurants.
With the end of 2020 finally upon us, it goes without saying that we could use an extra boost of cheer. Unlike past years, the holidays this year won't look the same—but we hope this roundup of festivities and meal packages from O.C. restaurants help bring back some joy and light this December.
Note: Call or check websites for pandemic-related updates and to confirm hours of operation before visiting venues as they can change without notice.
FESTIVITIES
Dec. 19. Shop small and support local businesses during this "Holiday To Go-Go" pop-up market. Find handcrafted treats and goods from local SoCal artisans such as Uprising OC, Dough & Arrow, Daughter's Granola, 61 Hundred Bread, Small Batch Doughnuts, Heirloom Potager, Tan's Dumplings, Taylor J Designs, Little Big Chains and more. Note: Masks must be worn at all times; maximum of two shoppers per group as crowd levels will be controlled to maintain safe distances; no food or beverages may be consumed while on the premises; and all food and beverages purchased are to-go only. Noon-4 p.m. 802 E. Washington Ave., Santa Ana.
Through Dec. 24. Delight your children and family with a personal virtual visit from Santa Claus! No crowds, no lines—just a safe, convenient and fun way for Santa to hear your holiday wishes! To connect with Santa via a video call, pick a day and an hour that's convenient for you, receive VIP access to the North Pole via phone or tablet, and share your holiday wishes directly with Santa. Each visit is personalized especially for your family. See website for more info and reservations. $25.
Through Jan. 1. Light up your evenings at Newport Dunes Waterfront Resort's 30th annual Lighting of the Bay, beginning at dusk on Friday and continuing through the holiday season. Masks required when physical distancing is not possible; see website for more info. Newport Dunes Waterfront Resort, 1131 Back Bay Drive, Newport Beach, 949.729.3863.
Through Jan. 3. Dana Point Harbor Partners is spreading seasonal cheer with the annual holiday light display set to illuminate the harbor. Each night, the magnificent light display will illuminate the evening sky for guests of all ages to enjoy. Themed light exhibits throughout the harbor include Candy Cane Lane and the popular "Merry Kiss Me" arch. New this year, Dana Point Harbor Partners added light displays to the island to encourage visitors to explore all areas of the harbor and avoid large crowds. 34555 Golden Lantern St., Dana Point, 949.496.6137.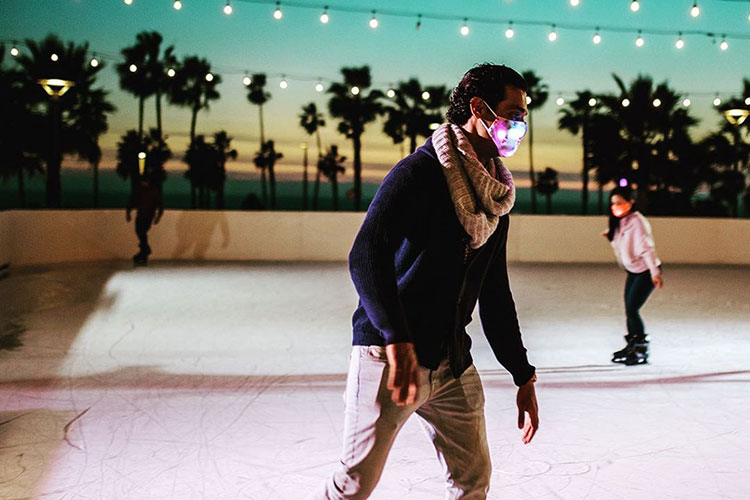 Through Jan. 3. Grab your mittens and coat, and head over to the the Huntington Beach hotel's ocean front ice rink! In order to maintain social distancing guidelines required, skaters under the age of 12 may have one non-skating parent or guardian accompany them into the venue; best to purchase a ticket for a parent, adult or teen to accompany small children. See website for schedule. $25. 21080 Pacific Coast Hwy., Huntington Beach, 855.622.2472.
Through Jan. 3. Relax under the evening stars as you cruise the Newport Bay observing all the glory of the community holiday lights and decor. The Newport Harbor homes, businesses and yachts get all decked out for the holidays and this is the best way to experience it without the crowds. The (approx.) 75-minute cruise departs three times nightly. Starting $20. 309 Palm St., #A, Newport Beach, 949.675.0551.
Through Jan. 10. Hikari means shine in Japanese and this event definitely shines. With over 30-acres of shiny twinkling lights, this 'Festival of Lights' is fully immersive with a downloadable app to take you on the journey. Reserve some time at the end to visit the Holiday Market Stand where you can take home your Christmas tree, holiday decor and souvenirs from the event. Santa makes a special visit every Fri.-Sun. Starting $49 per car. 5380 3/4 University Drive, Irvine.
Through Jan. 10. Cruise through a magical and immersive winter wonderland experience at the OC Fair & Event Center in Costa Mesa—all from the comfort of your car. When you purchase tickets to this one-mile drive-thru featuring over one million lights, there are holiday treats available for pre-order, include hot cocoa, cinnamon sugar donuts, Mom's Bake Shoppe cookie buckets and brownies, tamales, holiday family 4-pack meals, and more. Pre-order food online by 10 a.m. on the date of admission. Entrance opens at 5 p.m. with time sessions available until 9:30 p.m. $49.99-$69.99. 88 Fair Drive, Costa Mesa.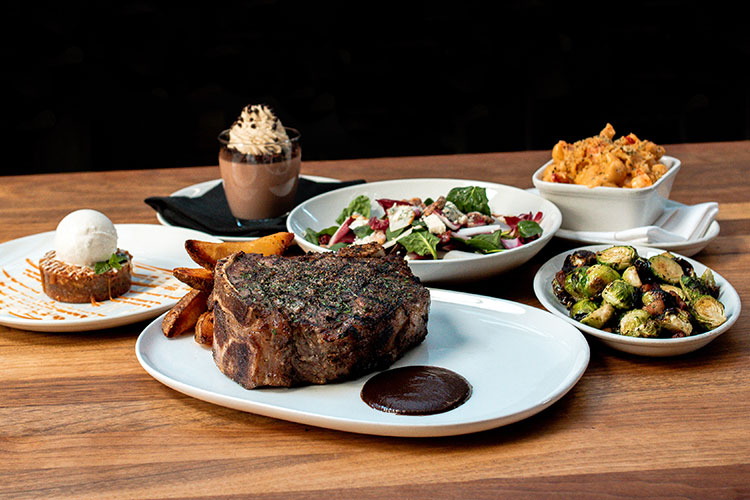 FEASTS
Preorder by 5 p.m. on Dec. 20. Descanso Restaurant in Costa Mesa is making spirits bright this season with a family holiday feast and family-style Pozole courtesy of new executive chef Fonzy de Zuniga. The feast features 2 pounds of succulent short rib accompanied by standout sides including rajas con crema, elote asado, fingerling potatoes, pozole rojo and a seasonal bread pudding for dessert. Available for pre-order and pickup on Christmas Eve from noon to 7 p.m. 1555 Adams Ave., Suite 103, Costa Mesa, 714.486.3798.
Preorder by Dec. 22. Driftwood Kitchen is offering two Christmas dinner to-go options with prime rib or whole roast turkey. Chef Rainer Schwarz begins the meal with Parker House rolls, followed by a Driftwood winter salad and jumbo shrimp cocktail with atomic horseradish sauce. For the main course, there is a choice of a 6-pound Double R Ranch prime rib roast with yukon gold mashed potatoes, au jus, grilled jumbo asparagus and heirloom carrots; or Diestel whole-roasted turkey with yukon gold mashed potatoes, green beans and heirloom carrots, cranberry sauce, and sherry-sage gravy. For dessert, enjoy a traditional Yule Log "Buche de Noel." There's also cocktails to-go and a selection of wines by the bottle. The prime rib dinner is $350 and the roasted turkey dinner is $285; both options feed 6-8 guests. Curbside pick-up on Dec. 24 between 11 a.m. to 3 p.m. 619 Sleepy Hollow Lane, Laguna Beach, 949.715.7700.
Preorder by 6 p.m. on Dec. 21. Sister restaurants Fable & Spirit, Dublin 4 Gastropub and Wineworks For Everyone are offering a family-style Christmas Eve dinner to-go. The four-course dinner begins with a chef's selection of artisanal cheese and charcuterie, followed by shrimp en cassoulet with grilled country bread. For the entree, guests have choice between Pasturebird chicken confit or veal osso bucco. The meal ends with sticky toffee pudding. The restaurants' sommelier Ali Coyle has put together a few wine recommendations to accompany the meal, and director of spirits Drew Coyle has assembled a D4 Irish Coffee Kit that serves two. The family dinner is $130 and serves two guests ($260 for four, $380 for six). Dinner can be picked up at the designated restaurant of your choice between 4 to 7 p.m. on Dec. 24. Fable & Spirit: 3441 Via Lido, Suite A, Newport Beach, 949.409.9913; Dublin 4: 26342 Oso Parkway, Mission Viejo, 949.582.0026; Wineworks: 26342 Oso Parkway, Mission Viejo, 949.582.0026.
Preorder by noon on Dec. 21. For Christmas, chef Craig Brady is offering a cook-at-home holiday prime rib roast dinner for four. This holiday meal kit includes a 4-pound roasted garlic-and-herb-crusted Allen Brothers boneless angus prime rib with duck fat roasted fingerling potatoes, sage roasted Brussels sprouts, horseradish cream, balsamic-and-red-onion jam, and beef and mushroom jus. Guests may add on beverages including beers, a variety of wines and cocktail kits to-go. Pick-up is between noon and 7 p.m. on Dec. 23 or Dec. 24 (closed on Christmas). 190 S. Glassell St., Orange, 714.221.0680.
Preorder by 5 p.m. on Dec. 16. Your favorite local hangout wants to make your holiday stress fee and bountiful with its easy heat-and-serve holiday feast. Offerings include a choice of 6-pound ham ($190), 8-pound turkey breast ($190) or 5-pound prime ribs ($275) with an accompaniment of sides such as roasted root veggies; mashed potatoes; dinner rolls; Brussels sprouts with candied bacon; a hot chocolate peppermint cheesecake; and your choice of Riesling or Cabernet. 2610 E. Katella Ave., Anaheim, 714.634.9200.
Preorder by 6 p.m. on Dec. 21. Enjoy an elegant Christmas dinner by Michelin-starred chef Tony Esnault, who has carefully curated a four-course meal to enjoy in the comfort of your home. The meal begins with a fall soup with sunchoke, salsify, parsnip, celery, beluga lentils and Granny Smith apple; followed by a Maine lobster salad. For the main course, chef Esnault presents beef Wellington with pasture-raised beef tenderloin, mushroom duxelles and spinach, wrapped in brioche with black truffle jus; alongside his signature roasted vegetables and rosti potato. The meal ends with Bûche de Noël with cognac sponge cake, caramel crémeux and sauce, and meringue. The meal will be cooked and chilled with simple instructions for serving. Orders must be placed online for pick-up on Dec. 23 from noon to 6 p.m. or Dec. 24 from noon to 3 p.m. $460 (serves 4). South Coast Plaza, 3333 Bristol St., Suite 3001, Costa Mesa, 714.266.3388.
Preorder by 9 p.m. on Dec. 20. Newport Beach's American eatery in Lido Marina Village Holiday is serving up a special selection of food and beverage packages, including a prime rib Christmas Eve dinner (feeds 4-6 people) and wine gift packs. The prime rib dinner includes farmers market winter salad, milk rolls, prime rib with fennel and rosemary crust, savory farro porridge and more. Delivery not available; Pick-up is in-store only on Dec. 24 from 11 a.m. to 4 p.m. 3408 Via Oporto, Suite 103, Newport Beach, 949.529.2784.
Preorder by Dec. 22. Indulge in some Christmas Eve takeaway offerings from North Orange County's premier steakhouse. Serving families of two or four, each meal includes a choice of beef Wellington, surf and turf or prime rib—plus a roasted pear salad, five seasonal sides and a festive chestnut trifle for dessert. Availability is limited; visit the website to place an order and reserve a pickup time for Dec. 24. 180 S. Brea Blvd., Brea, 714.592.3122.
Preorder by 4 p.m. on Dec. 24. Toast to the holidays at home with The Ranch Restaurant's Christmas Eve dinner for two. The dinner kit features a winter greens salad, 40-ounce HyPlains Heritage Farms 28-day dry-aged prime New York delmonico with duck fat fries, lobster mac 'n' cheese, maple-roasted Brussels sprouts, República del Cacao chocolate pot de crème and Old-Fashioned pecan pie. There's also cocktails available to-go including the Winter Sangria, California Manhattan and Cucumber Martini. Preorder for curbside pick-up and delivery only on Dec. 24 between 5 to 8 p.m. $225. 1025 E. Ball Road, Anaheim, 714.817.4200.
Preorder by Dec. 21. This season, chef Ross Pangilinan is bringing Terrace by Mix Mix to you with a special Christmas family kit for four. The take-home meal includes butternut squash soup, seasonal salad, bacon-wrapped dates, braised beef short rib, salmon Wellington, roasted vegetables, twice-baked potatoes, Parker house rolls and apple toffee cake with whipped cream. All dishes will be cooked and chilled with simple heating instructions upon pick-up on Dec. 24 and Dec. 25 from noon to 1 p.m. $209. 3333 Bear St., Suite 316, Costa Mesa, 657.231.6447.
Through Dec. 31. Need a break from cooking? Costa Mesa's favorite modern diner, Toast Kitchen + Bakery, now offers an all-new family meal specially curated by executive chef John Park. This Korean-inspired family meal can feed a family of four ($59) and consists of dishes such as curry shrimp, bulgogi (Korean-style beef), black garlic noodles, yakitori vegetable skewers and more. Tu-F 8 a.m.-7 p.m. Sa-Su 8 a.m.-3 p.m. 1767 Newport Blvd., Costa Mesa, 949.873.5057.
Photo credits: Night of Lights OC courtesy Night of Lights OC. Ice Rink at Paséa Hotel and Spa courtesy Paséa Hotel and Spa. The Ranch Restaurant photo courtesy The Ranch Restaurant.