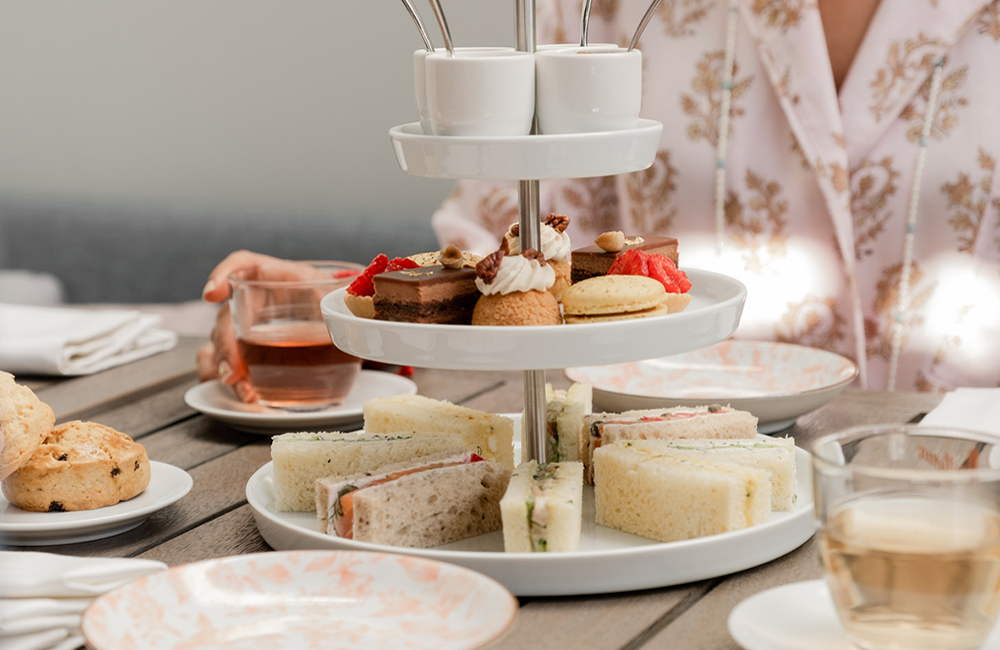 Celebrate Mom and any mother figure in your life this Mother's Day with help from our roundup of dining options, gifts and experiences in Orange County.
Note: Call or check websites for pandemic-related updates and to confirm hours of operation before visiting venues as they can change without notice.
DINING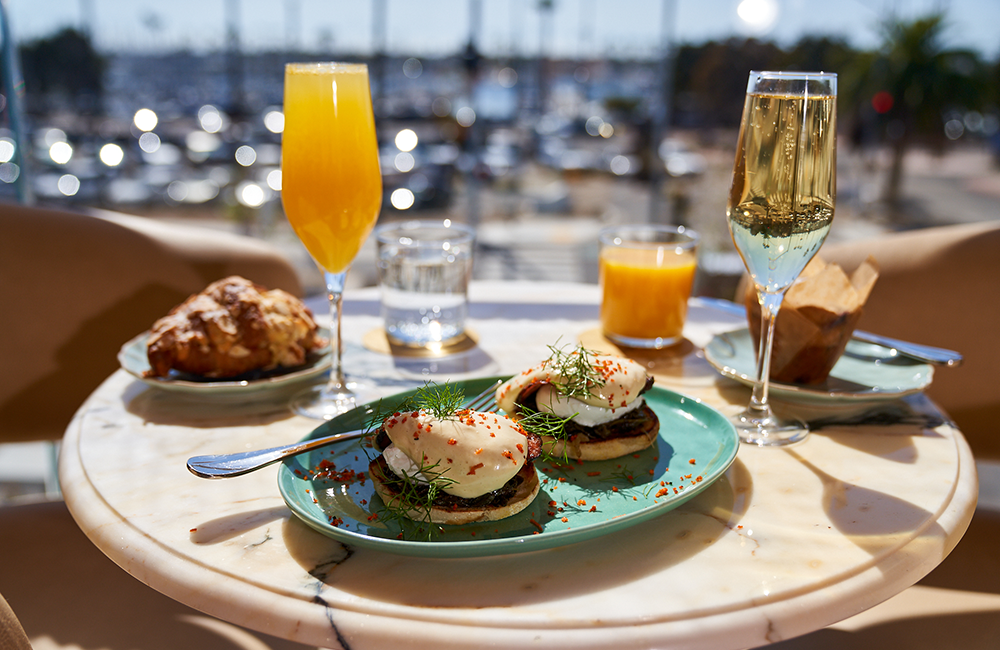 May 9. Bring the favorite mom in your life to Bayside for a special Mother's Day three-course prix-fixe brunch, with seating available outside or in and live music playing all day. The brunch begins with starter options such as compressed hickory-smoked Scottish salmon salad, and roasted beet and whipped goat cheese salad; followed by main courses like the California frittata, free-range chicken breast and wild-mushroom-crusted halibut. Save room for dessert, which includes your choice of a chocolate three-layer mousse topped with fresh berries and chocolate sauce, or New York-style cheesecake. Of course, the Champagne will be flowing all throughout brunch, or order a specialty cocktail like a Chambord Spritz or the Seacoast bloody mary. The regular dinner menu will also be available. Brunch: 10 a.m.-3 p.m.; Dinner: 5-9 p.m. Brunch: $68 per person, $30 children 12 and under. 900 Bayside Drive, Newport Beach, 949.721.1222.
May 9. Elevate Mom's lunch or dinner with a three-course Mother's Day prix-fixe menu or limited specialty menu at the award-winning Bistango restaurant in Irvine. The specialty menu features dishes such as ahi tuna tartare, sweet garlic soup, wedge salad, Parmesan risotto, shrimp linguine, tamarind-chili-glazed salmon, New Zealand Te Mana lamb chops, strawberry swirl cheesecake and more. On the prix-fixe menu, start with either roasted vegetables salad, New England clam chowder or ahi tuna tartare; followed by entree choice of macadamia nut-crusted Islandic cod, braised Te Mana lamb shank or lobster ravioli. The meal ends on a sweet note with tart bourdaloue with caramel sauce and mint. A special two-course menu for the kids will also be available. Call or go online to make reservations. Lunch: 11 a.m.-3 p.m.; Dinner: 5-9 p.m.; Live music 6-10 p.m. Prix-fixe: $68 per person (includes a glass of sparkling wine), $30 children ages 12 and under. 19100 Von Karman Ave., Irvine, 949.752.5222.
May 9. Treat Mom to Long Beach's best new brunch destination, The Bungalow Kitchen Belmont Shore. A collaboration between award-winning chef Michael Mina and hospitality veteran Brent Bolthouse, the restaurant features an expansive patio that boasts stunning views of the marina—sure enough to wow Mom! In addition to its regularly offered menu of Californian cuisine and craft cocktails, The Bungalow Kitchen will offer a variety of specials including seared diver scallops with white sturgeon caviar, charcoal-grilled lamb chops, and a blackberry and chamomile shortcake parfait, as well as a selection of specialty Mother's Day cocktails. Reservations highly encouraged and can be made online or by calling. 10 a.m.-3 p.m. 6400 Pacific Coast Hwy., Suite 200, Long Beach, 562.719.9400.
May 9. Book a table at Cafe Sevilla's Costa Mesa outpost Mom for a delectable Champagne brunch or dinner. Brunch includes a complimentary glass of Champagne for moms and dishes such as the breakfast meat paella—pork tenderloin, grilled sausage, chicken and flat-iron steak served over saffron-bomba rice and topped with two fried eggs. On the dinner menu (which is also available during brunch), try the empanada trio and the seafood paella with black rice. The fun also includes live music all day. Reservations recommended. Brunch: 10 a.m.-3 p.m.; Dinner: beginning at 4:30 p.m. Triangle Square, 1870 Harbor Blvd., Costa Mesa, 949.688.1555.
May 9. Spoil Mom with an incredible waterfront Mother's Day brunch at Driftwood Kitchen. Chef Rainer Schwarz celebrates the holiday with prix-fixe meal, accompanied by a complimentary glass of Champagne for Mom. This brunch features breakfast breads, pastries and fresh fruit for the table, along with a choice of entree (eggs Benedict, Driftwood omelet, Greater Omaha prime rib or Atlantic king salmon filet). Desserts will be presented to the table and a separate kids menu will be available. Driftwood Kitchen offers a full bar with signature cocktails and a selection of wines by the glass and bottle. 10 a.m.-4:30 p.m. $69 per person, $20 children, free for kids 6 and under. Reservations can be made online via Yelp or by calling. 619 Sleepy Hollow Lane, Laguna Beach, 949.715.7700.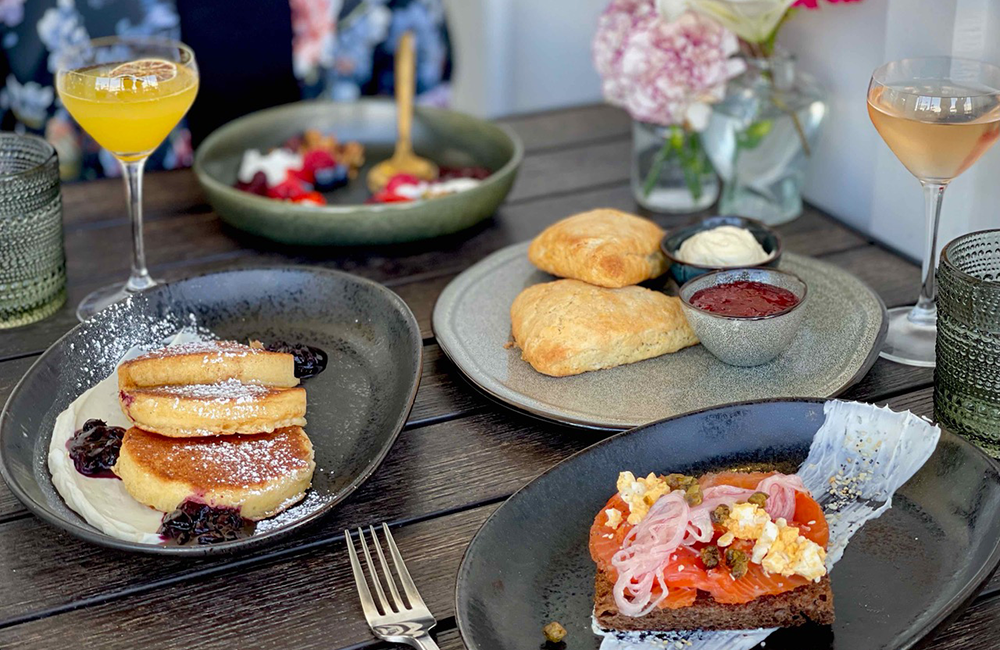 May 9. This Mother's Day, allow Fable & Spirit executive chef David Shofner to present an elevated take on classic brunch favorites. Standout offerings include wood-fired shakshuka featuring baked eggs, poblano, Moroccan-spiced tomato, crème fraiche and queso fresco, served with naan; and house-smoked salmon on toasted pumpernickel, with everything bagel spice, citrus-infused red onion, dill crème fraiche, hardboiled egg and crispy capers. To make reservations, call or visit the website. Brunch: 11 a.m.-2:30 p.m.; Dinner: 5-9:30 p.m. 3441 Via Lido, Suite A, Newport Beach, 949.409.9913.
May 8-9. For moms who want to brunch all weekend, head to Haven in the heart of historic Old Towne Orange to enjoy its Mother's Day brunch. Chef Craig Brady has created a menu with something for everyone, which includes duck confit chilaquiles, avocado toast, fried jidori chicken sandwich, pork belly BLT, pappardelle pasta with pesto, prime hangar steak and more. Reservations encouraged. 10 a.m.-3-p.m. 190 S. Glassell St., Orange, 714.221.0680.
May 9. Allow Michelin-starred chef Tony Esnault help you treat Mom to Sunday Tea at Knife Pleat this Mother's Day! Take full advantage of a relaxing Sunday afternoon with fresh scones, elegantly composed tea sandwiches, handmade desserts, and expertly selected teas. Add caviar to complete the experience—because Mom deserves it. Additional beverages and caviar course available for purchase. Seating is limited; reservations highly recommended. Mother's Day tea offerings are also available to-go and orders must be placed by calling. 11 a.m-2:30 p.m. $75 per person. South Coast Plaza, 3333 S. Bristol St., Costa Mesa, 714.266.3388.
May 9. Take in scaping views of the Laguna Beach coastline at the iconic cliffside restaurant while enjoy a three-course Mother's Day brunch or a la carte menu for dinner. For brunch, indulge in dishes such as the smoked salmon tostada, spicy tuna tostada, steak and Lobster enchiladas, French toast and prime rib among many other dishes. Seating available on the patios or in the dining room. Reservations highly recommended and can be made online or by calling. There will also be a kids menu available. Brunch: 8 a.m.-3 p.m.; Dinner: 3-10 p.m. $72 per person (additional $15 for bottomless mimosas or bloody marys), $25 children ages 12 and under. 361 Cliff Drive, Laguna Beach, 949.497.5434.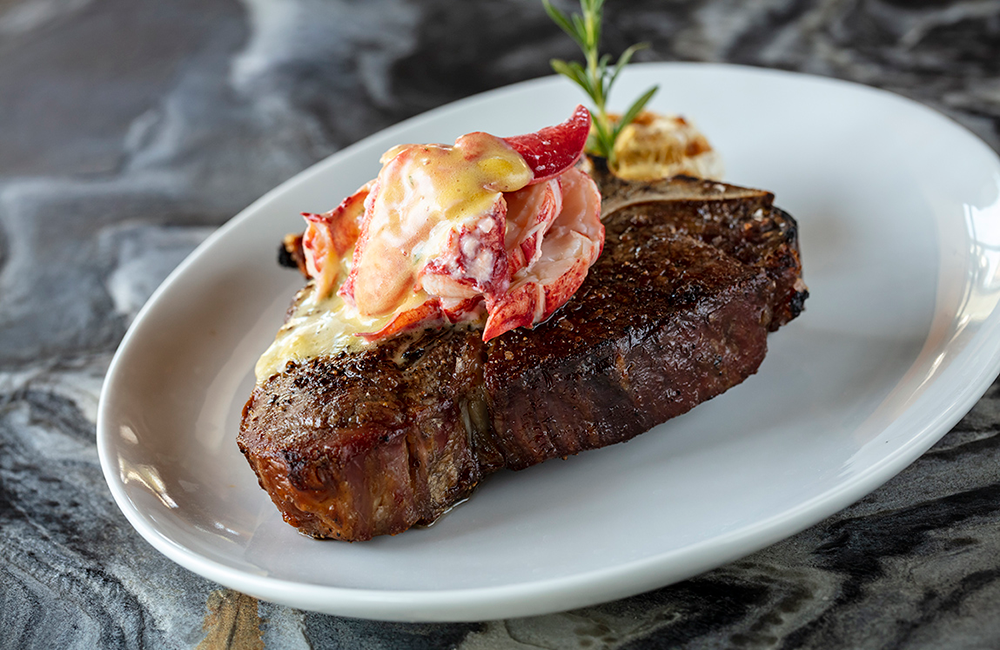 Preorder by May 7 | Dine-in May 9. North O.C.'s premier steakhouse restaurant is offering four to-go dinner specials and dessert for Mother's Day. Guests can bring home surf and turf (pictured), prime rib, dry-aged ribeye cap and ora king salmon as the special entree options, plus panna cotta for dessert. Preorders must be placed on the website by May 7 for pickup on May 9. Old Brea Chop House is offering the same specials for dine-in, but reservations are extremely limited. 11 a.m.-10 p.m. 180 S. Brea Blvd., Brea, 714.592.3122.
May 9. Elevate Mom's morning with interpretations of American cuisine in a special four-course prix-fixe brunch. Menu highlights include the Di Stefano burrata; hot smoked Kvarøy salmon tartine; Maryland blue crab cakes and eggs; Delta asparagus, black truffle and smoked gouda quiche; and chocolate chip panettone bread pudding. Regular dinner menu will also be available starting at 5 p.m. Brunch: 10 a.m.-2 p.m. $95 per person (includes complimentary bubbles: sweet, dry or mimosa). 1025 E. Ball Road, Anaheim, 714.817.4200.
Preorder by May 9. If your mom is a sushi lover, check out Sushi Roku's ultimate take-home Mother's Day sushi pack! Available for preorder and ordering day-of for pickup only, the pack includes sashimi (tuna, salmon, yellowtail – four pieces each), nigiri (tuna, salmon, fluke – four pieces each) and rolls (spicy tuna, baked crab, white lotus and senshi). You can also add on a bottle of Prosecco and orange juice for $27 to mix up glasses of mimosas at home. Available for pickup only. $148. Fashion Island, 327 Newport Center Drive, Newport Beach, 949.706.3622.
May 9. Highly regarded chef Ross Pangilinan is serving up a three-course brunch for Mother's Day at his beautiful terrace restaurant, located at South Coast Plaza. Guests will have a choice of four starters: seared yellowfin tuna; house Caesar salad; "snack" plate of bacon-wrapped date, mushroom tempura and signature albacore tostada; or a trio of toast of avocado, goat cheese and chicken liver mousse. Main course selections are housemade bucatini, diver scallops and pork belly Benedict, prosciutto pizza, or—for a $10 surcharge—beef ribeye with sides. A lemon semifreddo or chocolate potato cake are offered for dessert. Kids menu has three choices: French toast, cheese pizza or pork adobo with fried rice. Reservations highly recommended. 11 a.m.-3 p.m. $50 adults, $12.50 children. 3333 Bear St., Suite 316, Costa Mesa, 657.231.6447.
May 9. Make Mother's Day a memorable one with a seafood feast at one of O.C.'s best seafood restaurants. Mom-approved dishes include pan-roasted wild Alaskan halibut with lobster sauce, Oregon morel, fava beans and gnocchi; and classic surf and turf with 8-ounce filet mignon, South African lobster tail, chimichurri sauce and melted butter. End the night on a sweet note with the lemon sable cake. Top it all off with the Jubilee cocktail for Mom, made with Prairie organic gin, fresh lemon, aperol and limoncello—all served over ice and charged with Prosecco. Reservations highly recommended. 11 a.m.-10 p.m. 3300 Bristol St., Costa Mesa, 949.208.7060.
May 9. Celebrate Mother's Day the Winery way! Available at its Newport Beach and Tustin locations, The Winery is offering a Mom-worthy two-course menu with twists on chef Yvon Goetz's wine country favorites. Enhance Mom's special day with a seafood tower and endless mimosas. Menus vary by location. Call your preferred location to make a reservation. Newport Beach: $62.95 per person; Tustin: $54.95 per person (additional $22.95 for endless bubbles or mimosa at both locations). 3131 W. Coast Hwy., Newport Beach, 949.999.6622; The District at Tustin Legacy, 2647 Park Ave, Tustin, 714.258.7600.
GIFTS + EXPERIENCES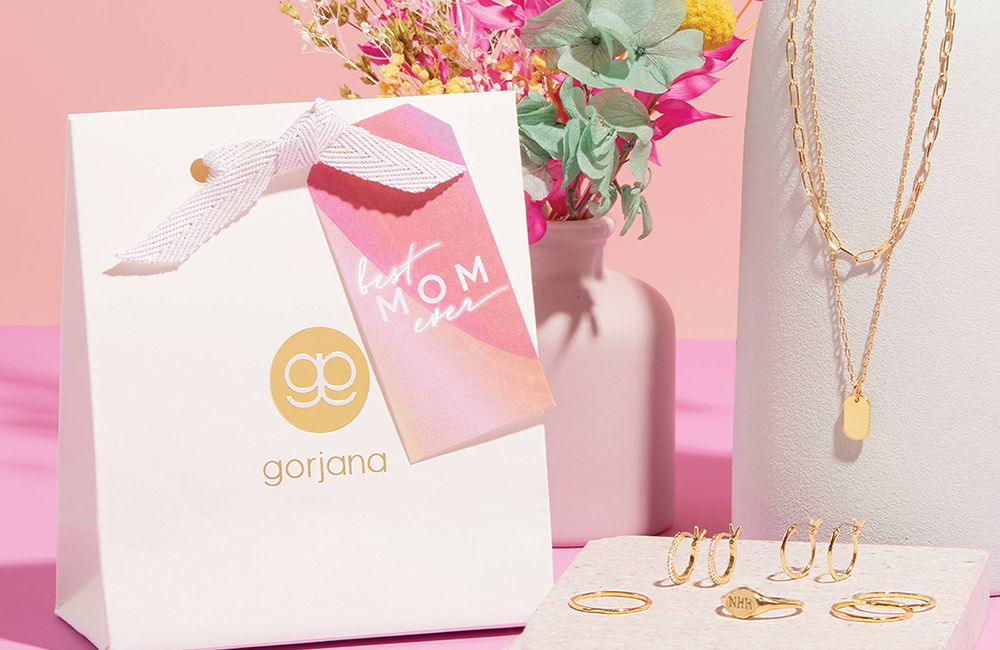 May 9. Set sail with Dana Wharf's special two-hour Coastal Cruise aboard the Ocean Adventures Catamaran this Mother's Day. This trip will depart Dana Point Harbor and cruise up the coastline to Laguna Beach. All guests will receive a "MOMosa" or Champagne, and breakfast boxes filled with pastries, muffins and fruit. To book a reservation, visit the website. Cruises: 10 a.m., 12:30 p.m., 3 p.m. and 5:15 p.m. $56 per person, $39 children ages 3-12. 34675 Golden Lantern, Dana Point, 949.496.5794 (ext. 2).
Fill Bakeshop | Mochi Baking Mix and Molds
Preorder Now. Wanna make mochi doughnuts with Mom at home? Fill Bakeshop in Costa Mesa has teamed up with Manoa Bake Co. to offer two bags of mochi baking mix and two (recently released) doughnut molds for $24.99. This offer will come inside Fill's half-dozen box and makes the perfect Mother's Day gift! The molds come as a pair (one prink and one green) and make 6 x 2.5″ mini mochi doughnuts, so making a full dozen is a breeze. You can find this recipe and other mochi baking recipes using the baking mix on Manoa Bake Co.'s website. 1767 Newport Blvd., Costa Mesa, 949.873.5075.
Open Daily. Laguna Beach-based contemporary jewelry brand Gorjana presents a curated gift guide featuring simple yet elegant pieces to gift to Mom. Inspired by the California lifestyle, Gorjana offers a range of collections, from lockets and heart-shaped necklaces, to charms and gemstone studs. Fun fact: Fans of Gorjana include a long list of starlets and influencers, among them Bella Hadid, Keira Knightley, Jessica Alba, Jamie Chung and Mandy Moore. See website for store hours. Irvine Spectrum Center, 864 Spectrum Center Drive, Irvine, 949.585.9128; Fashion Island, 265 Newport Center Drive, Newport Beach, 949.662.6101; 190 Beach St., Laguna Beach, 949.715.8166.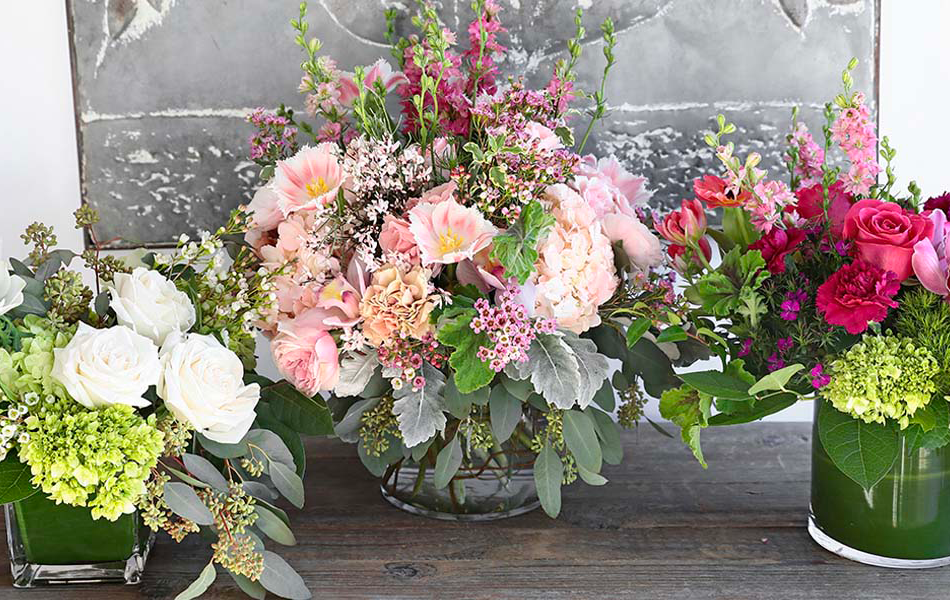 Roger's Gardens | Florals and Planted Arrangements
Order Now. Make Mom feel extra special this year with a beautiful, fresh floral arrangement from O.C.'s leading garden center and nursery. Choose from a variety of options such as centerpieces, baskets, planters, pots and more. There are also themed arrangements (pastel, all white, bright), succulents and potted plants. Order now for curbside pickup May 7-9. 2301 San Joaquin Hills Road, Corona del Mar, 949.640.5800.
Open Daily. For those with a mom who is an avid gardener, head to The Garden Shop at Sherman Library & Gardens in Corona del Mar to peruse a variety of unique and interesting flower and garden-related gift items! You'll find a selection of greeting cards, note cards, kitchenware, recipe and garden books, and more. If you'd like to have your purchases gift-wrapped, just ask! 10:30 a.m.-4 p.m. 2647 E. Coast Hwy., Corona del Mar, 949.673.0920.
Open Daily. Want to give Mom something that's better and lasts longer than a bouquet? We recommend Voluspa's A Dozen Roses collection—the perfect gift that will have home smelling like a fresh dozen roses all day, every day. For moms who aren't a fan of the scent of roses, Voluspa offers other fragrances such as citrus, woody, fruity, gourmand, warm/spiced and aquatic. If you splurge and spend $200 at the Fashion Island boutique, you'll receive an exclusive Maison Discover Set gift (while supplies last). Don't have time to peruse inside the boutique? You can call to make express to-go orders! Fashion Island, 245 Newport Center Drive, Suite 245, Newport Beach, 949.717.6855.
Photo credits: Fable & Spirit and Knife Pleat courtesy Moxxe PR. The Bungalow Kitchen courtesy Outshine PR. All other images are courtesy of the businesses featured.