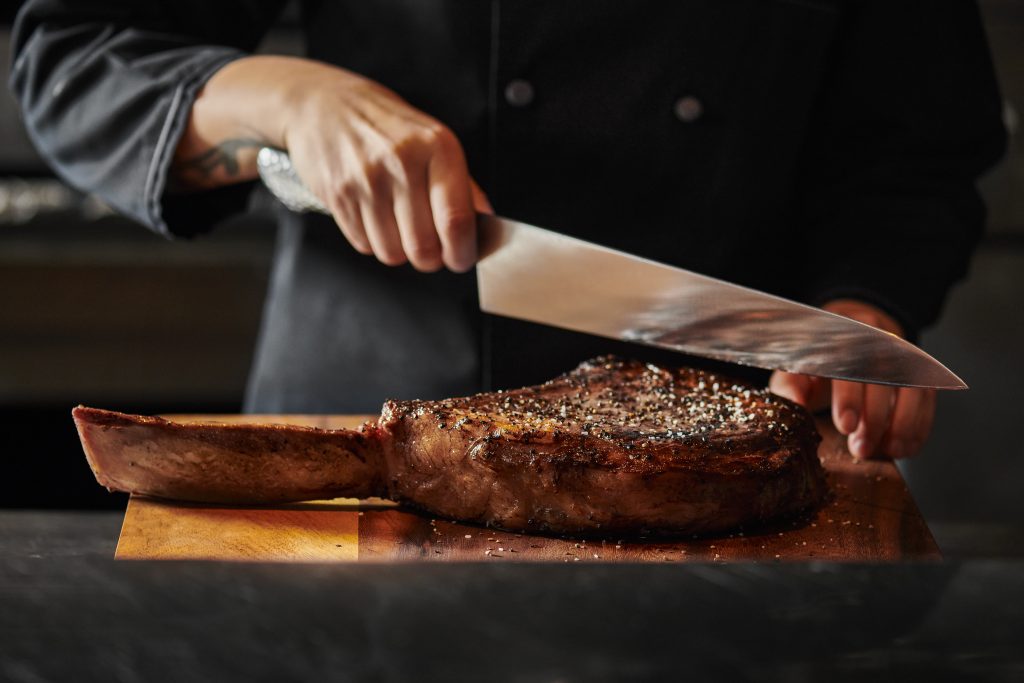 Fine-dining anchor Fleming's Prime Steakhouse & Wine Bar opens ahead of the Westin Anaheim Resort.
It's been upwards of a quarter century since restaurateurs Paul Fleming and Bill Allen opened their first Fleming's Prime Steakhouse & Wine Bar in Newport Beach. Now there are nearly 65 locations nationwide—the latest back where it started in Orange County.
The new Fleming's, fine-dining anchor at the Westin Anaheim Resort, brings the number in California to a dozen. The restaurant is open now; the hotel is set to open in June.
This time, location is the attraction, as prime as Fleming's specialty rib-eyes.
Imagineer or conventioneer, you're covered. Street-side diners look across to the Incredicoaster at Disney California Adventure; the back patio is adjacent to the Anaheim Convention Center.
Remember the homey Anabella Hotel and its Tangerine restaurant? Let's just say the contemporary chic Westin that replaces them is an upgrade: In fact, it will be the city's first four-diamond-rated hotel not affiliated with Disney. It's also family friendly. And huge, with more than 600 rooms.
The Fleming's menu is dinner only. Creative taco destination Puesto will serve breakfast and lunch when the hotel opens; a rooftop bar is coming, too.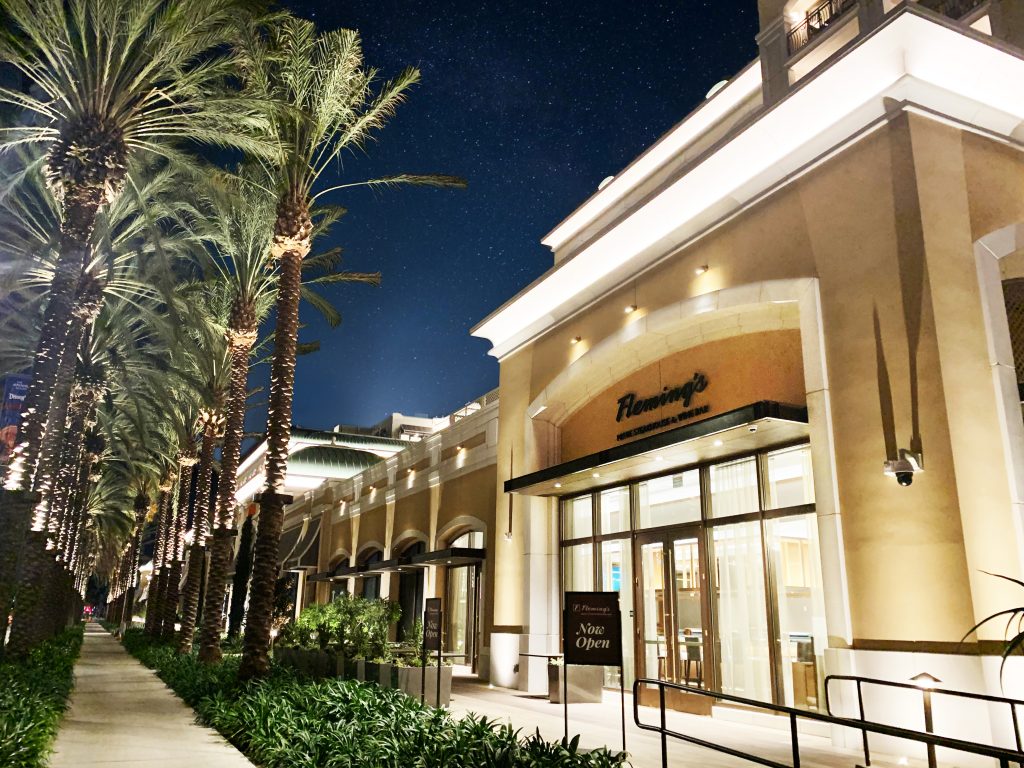 Much of the Fleming's experience is a known quantity and this team further assures consistency. Operating partner Casey Valverde has spent 17 years with the restaurant, most recently in Newport Beach; chef-partner Curtis Mar had been at Fleming's L.A. Live for four years.
You can expect ambiance that's at once lively and upscale as well as attentive service. Wine Spectator considers it one of its "10 top-notch restaurant chains to rely on for great wine."
Yet the meat—USDA Prime, aged for 21 days and broiled at 1,600 degrees—always stars. The petite filet mignon may be the most popular but we gravitate to the rib-eyes, whether dry-aged, bone-in or behemoth bone-in tomahawk.
Whichever your preferred cut, you'll get a steak that is very simply prepared—kosher salt, pepper, chopped parsley and nothing else—and simply very satisfying.
It doesn't have to be simple: Those so inclined can top their steak with butters such as smoked chili or herbed horseradish or with items from the aptly named category Over the Top—among them pan-seared pork belly with fig demi-glace or way-over-the-top truffle-poached lobster with béarnaise sauce and caviar.
That same fig-inflected pork belly is offered as a first course with creamy goat-cheese grits. Most starters, notably the crab cakes and the spectacular chilled seafood tower serving four to six, seem like signature dishes.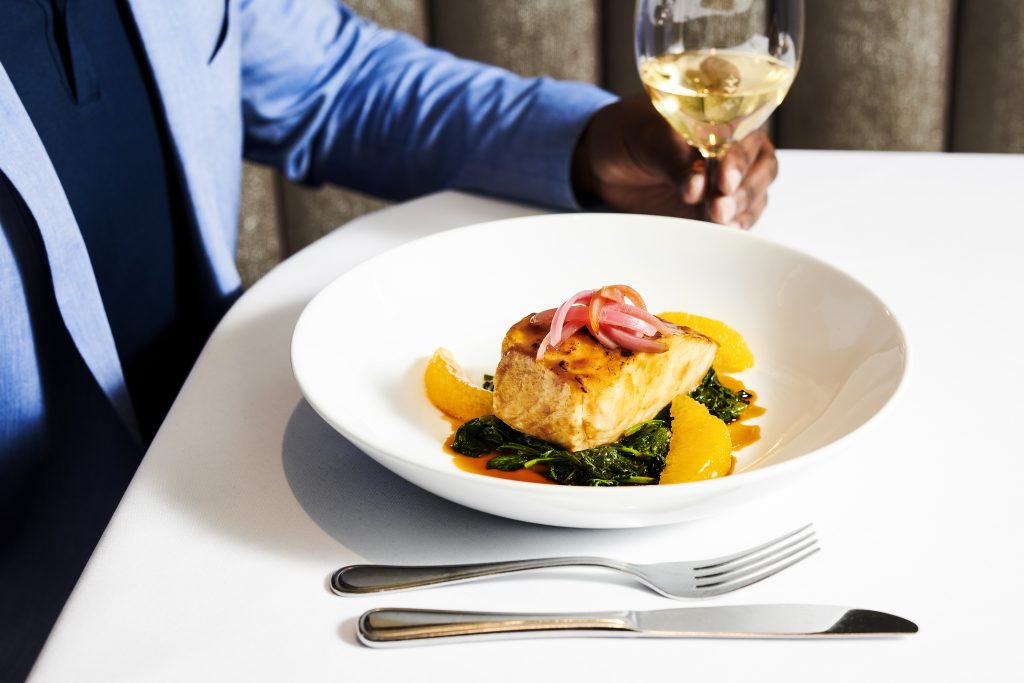 Listed alongside the double breast of chicken and Chilean sea bass entrees, a non-meat dish—chickpea and roasted eggplant croquette with roasted cauliflower steak, arugula, campari tomatoes and romesco sauce—has quickly gained fans. Newer sides include a winning cauliflower mash with cilantro oil.
Once the theme parks reopen, request a seat out front and time your dessert to the Disneyland fireworks. The Fleming's chocolate lava cake—molten with Callebaut chocolate, topped with chopped pistachios and suitable for sharing—should pair well. 1050 W. Katella Ave., Anaheim, 657.722.6038
Photos courtesy Fleming's Prime Steakhouse.