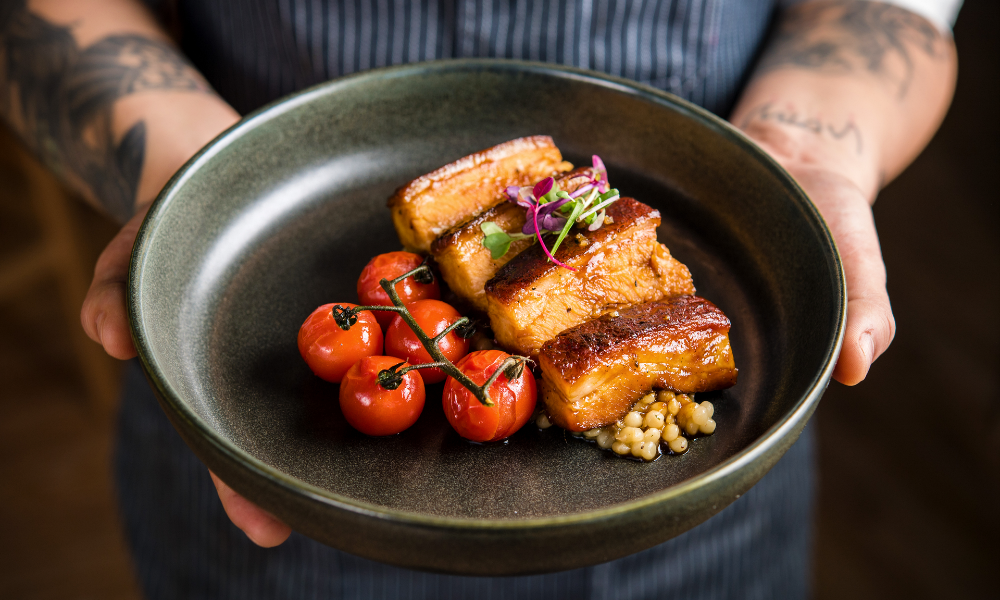 The number of new restaurants that have debuted at or near the top of their genres of late—dramatically altering the county's culinary landscape in little more than an academic calendar year—has been extraordinary. Note: Restaurants within each category are listed alphabetically.
Euro Chic
Fable & Spirit » Newport Beach The decor beguiles—the bright-mustard Dublin front door, deep peacock velvet drapes, black marble bar, dragonfly chandeliers, elegant wallpaper, chevron-patterned wood floors and Instagrammable women's room—and so does the menu. Both mix originality and Irish nostalgia but—despite the decadent boxty dumplings and don't-miss Guinness brown bread—aspirations and technique are more worldly. Picks: sugar-snap peas; cracked-pepper bucatini; rabbit fricassee; and grilled Prime rib cap. The cocktails captivate.
Knife Pleat » Costa Mesa Chef Tony Esnault and restaurateur Yassmin Sarmadi, his wife, are best known for launching acclaimed Church & State and Spring in Los Angeles. At South Coast Plaza, they offer elevated contemporary French fare in a light-filled room in perfect sync with sophisticated boutique neighbors such as Christian Louboutin and Louis Vuitton. Picks: légumes de saison; Crescent duck breast; all desserts; and Sunday afternoon tea. Cocktails are inspired by fashion designers.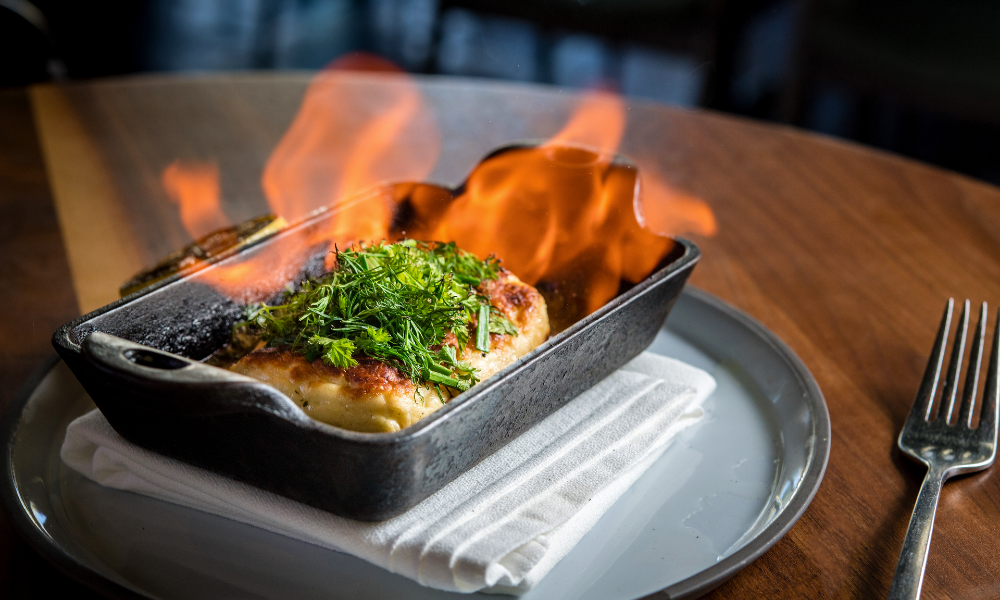 American Dreams
CdM » Corona de Mar The team behind A Restaurant—chef Jonathan Blackford, Hollywood producer McG, partner Jordan Otterbein—unveil an inviting spot with a lively bar scene and, downstairs, a diminutive, dark and disarming speakeasy with photo booth. Star mixologist Ravin Buzzell stars upstairs and down. Picks: Parker House rolls with whipped A5 tallow; white-corn soup; roasted lamb ribs with garam masala; Mary's organic chicken.
Harley » Laguna Beach Chef-owner Greg Daniels is adventurous and comforting in equal parts. Decor juxtaposes traditional bookshelves and molecular chandeliers. Love the kitchen-view counter—and those Chambong champagne glasses! Proteins are superbly sourced; local vegetables shine. Picks: shredded Kennebec hash fries with chive aioli; oysters with foamed mignonette; fried halloumi cheese with aquavit; "Get Together" chicken-and-rib Sunday suppers.
Henry's Ocean View Dining » Huntington Beach Innovative German-born chef Kenny Seliger helms the fine-dining room near a new pool at the dramatically expanded Waterfront Beach Resort, and his culinary vision is as elevated as the city has seen. Picks: PEI mussels, nduja broth and ramp kimchi; Mangalitsa pork chop; American Imperial Wagyu steak; and the tableside Conductor cocktail. Jacky Martinez won best pastry chef at the Golden Foodies.
Whitestone » Dana Point Chef Tony Celeste and sous chef Nick Herrera serve up surprises at every turn, presenting dishes at once unusual and accessible, and even some culinary sleight of hand. "BBQ" mushrooms? Cold-smoked, not barbecued. Blue cheese panna cotta masquerades as the plate. Don't miss: forbidden rice; hay-smoked carrot tacos. Lots of fun fermentation going on in the back. Owner Steve Dickus operated the late, great Pizza e Vino for a decade.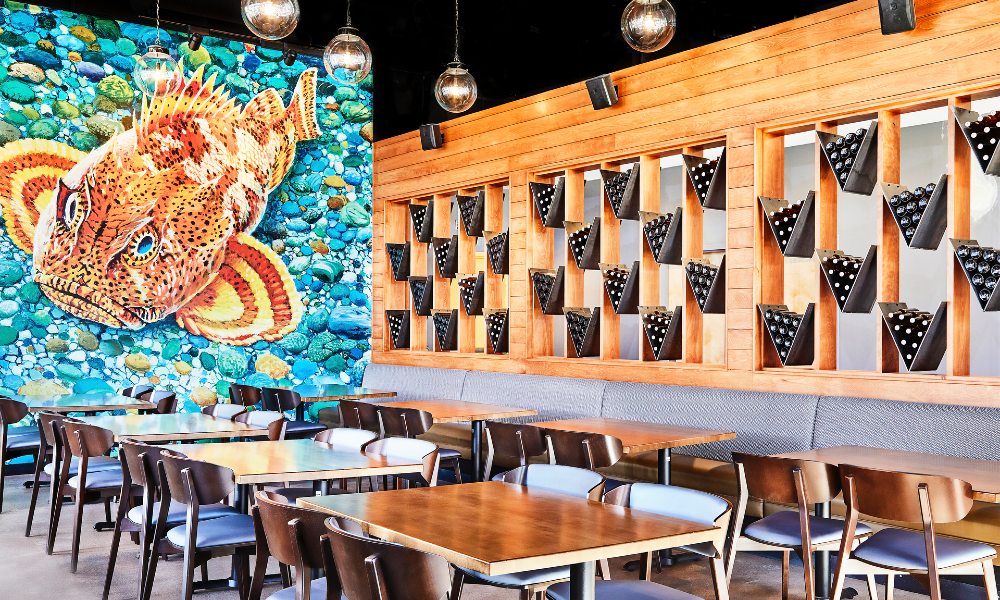 New Brew
Ballast Point » Anaheim Iconic brewery known for its IPAs gets a nautically themed location overlooking Downtown Disney; pub fare including beer-steamed mussels, soyrizo-cauliflower tacos and burgers; 50 beer taps; a decorative wall of 400 taps; and another of fascinating label sketches.
Pickled Monk » Fullerton Abbey ambiance meets brick-and-chandelier decor. The gastropub presents Cal-global comfort dishes, a self-pour craft-beer and- wine wall with 30 taps … and a beer vending machine. Picks: Brussels sprouts with bacon-gochujang jam and blue cheese; and fried-chicken-and-doughnuts.
That's Amore!
Davio's » Irvine The northern Italian steakhouse— an East Coast concept with locations from New York City to Atlanta—opens in a striking, high-ceilinged spot at Irvine Towers, not far from John Wayne Airport, with white-jacketed service, a bustling bar—and a grab-and-go. Picks: farro-caulilini salad; an improbable selection of spring rolls; squid-ink conchiglie with Maine lobster; and 30-ounce Prime aged Brandt porterhouse.
Louie's by the Bay » Newport Beach Restaurateurs Piero Selvaggio (of late landmark Valentino in Santa Monica) and Ron Salisbury (the Cannery in Newport Beach, El Cholo chain) partner at a most impressive and cordial waterfront steakhouse. Selvaggio is without a doubt the host with the most. Picks: wild mushroom tortino with saffron fonduta; grilled octopus and squid-ink-infused fregola; cioppino; osso buco with saffron risotto; and classic cocktails.
Oliver's Osteria » Laguna Beach Owner-chef Erik De Marchi's modest and endearing spot near Laguna's art festival grounds is inspired by the cuisine he grew up with in Italy's Emilia-Romagna region. De Marchi's résumé includes acclaimed Angelini Osteria in Los Angeles; his son, Oliver, was born the day the restaurant opened. Rigatoni al cacio e pepe may be the county's best; salt-baked whole branzino; frittatina e caponata at brunch.
Global Outlook: Way Up
Chaak » Tustin Gabbi Patrick—who also owns Michelin Bib Gourmand-designated Gabbi's Mexican Kitchen in Orange—explores her Yucatecan roots with chef Vincente Espinoza amid smart Mayan-inspired decor. Picks: pumpkin seed dip; cherrywood-smoked Muscovy-duck salbute; puffy tortilla with 24-hour cochinita pibil; and Prime Aspen Ridge skirt steak. The tar-like charred habanero salsa on every table is alone worth a visit.
Kyung Bok Kung » Buena Park The first outpost in the United States of this luxury South Korean chain presents elaborate feasts showcasing Korean cuisine and stellar meats in elegant digs, served up by a personable staff. The Premium Beef Combination includes two stews, seven cuts of meat—with A5 Wagyu an option—and nine other dishes. A la carte ordering is also possible, and there are bansang lunch specials. Patrons come dressed up.
OmG Omakase by Gino » Santa Ana Gino is Gino Choi, the owner and sushi chef of a 10-seat, omakase-only spot in Santa Ana's happening downtown. The set-price menu—three appetizers, sashimi, 10 pieces of nigiri sushi, two signature dishes and dessert—is "for serious sushi lovers." Offerings—flown in daily from Tsukiji Fish Market in Tokyo as well as local seafood delicacies—change nightly. Uni pasta topped with truffle and pollock roe is a signature. It books months in advance—but cancellations happen.
Terrace by Mix Mix » Costa Mesa Chef Ross Pangilinan of acclaimed Mix Mix in Santa Ana opened at South Coast Plaza, serving small plates that showcase his eclectic style— French, Italian, Filipino—and refined technique. As the name suggests, it's mostly on a covered terrace, but inside are a small wine bar, a quick-service counter and the open kitchen. Picks: albacore tostada; crispy pork belly; agnolotti; and tropical verrine. The three-course express lunch is a steal.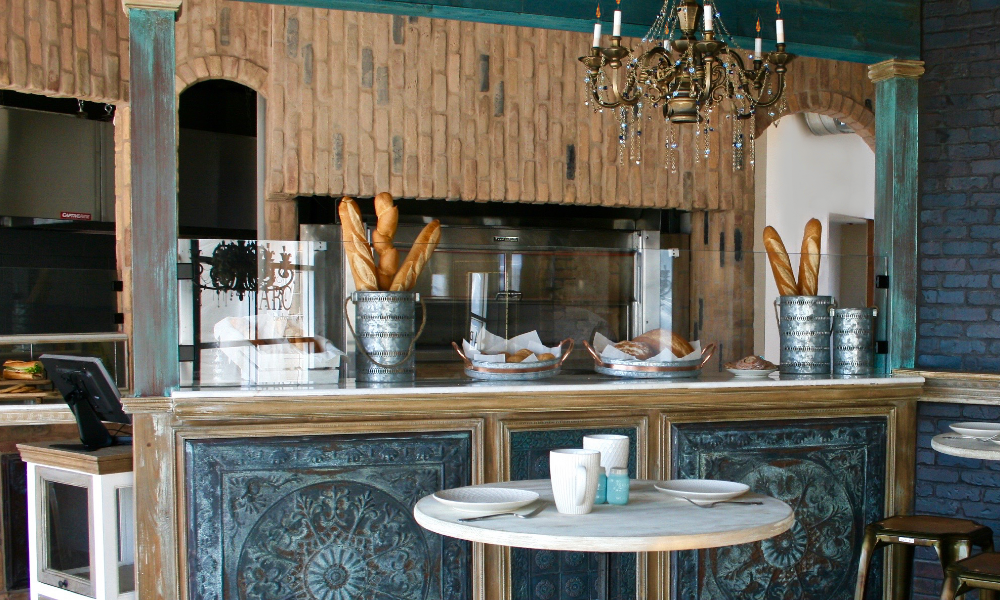 Fab Casual
Arc Butcher & Baker » Newport Beach This spot defies easy categorization. There are a few seats, but basically it's the most beautiful takeout ever, whether you're after a.m. doughnut holes, a remarkable burger or evening steaks.
Marugame Udon » Costa Mesa More than 1,000 cafeteria-style stores worldwide offer made-toorder, freshly kneaded and boiled noodles, toppings, and a seemingly endless array of sides at elaborate tempura and rice-ball stations.
Taquiero Taco Patio » Irvine Fresh handmade tortillas, addictive salsa macha, distinctively folded tacos, superb mulitas and Tijuana craft beers in a center near the UC Irvine campus make this spot irresistible.