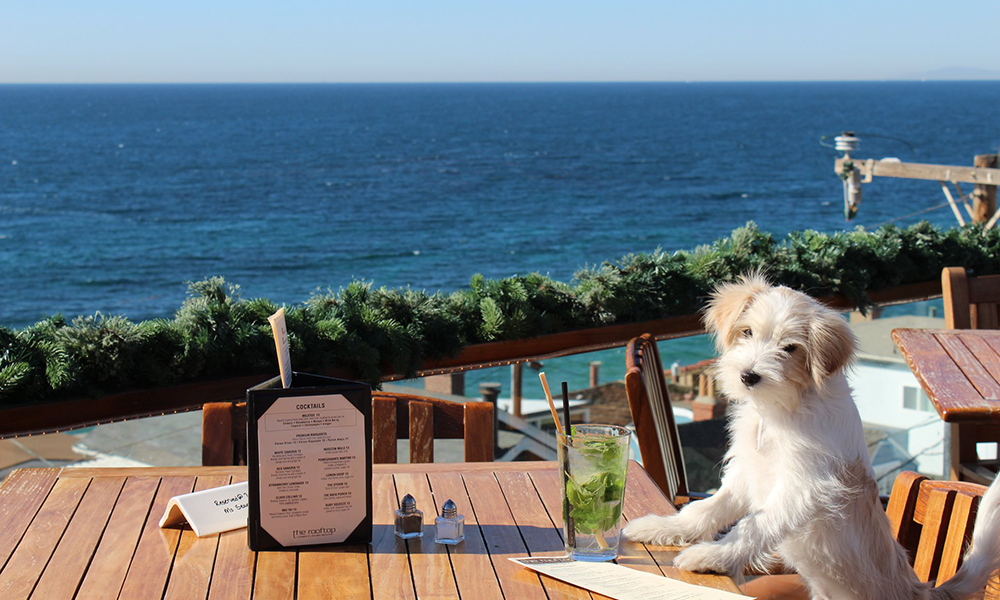 Don't want to leave your furry best friend at home while dining out? Here are the top 16 dog-friendly restaurants in Orange County.
Aveo Table + Bar
Nestled inside the stunning (and pet-friendly) Monarch Beach Resort, AVEO Table + Bar serves up Mediterranean cuisine for guests to dine on for an meal of the day and includes an outdoor, dog-friendly patio with a spectacular view of the ocean. In addition to AVEO's patio, pet owners can walk their dogs along Monarch Beach Resort's Grand Lawn, though its botanical gardens and along the beach path that leads to the resort's private Monarch Bay Beach Club. One Monarch Beach Resort, Dana Point, 949.234.3900. monarchbeachresort.com/aveo-table-bar
Bad to the Bone BBQ
When the owner is a real cowboy and comes from a rodeo family, you can bet the business is going to be pet-friendly. At Bad to the Bone BBQ, owners and their dogs are welcome to enjoy the spacious outside patio dining areas together. Even horses have saddled up to the popular restaurant. As Orange County's first "real pit barbecue" restaurant, Bad to the Bone BBQ doesn't have a menu for dogs specifically, but if you're the kind of owner who likes to share chicken, tri tip or the occasional rib bone with your pup, you're in luck with their signature slow-cooked meats. 31738 Rancho Viejo Road, San Juan Capistrano, 949.218.0227. badtothebone-bbq.com
Coastal Kitchen
Embrace the relaxed southern California lifestyle on Coastal Kitchen's outdoor, dog-friendly patio. Guests can enjoy classic cocktails and fresh California coastal dishes while their dogs enjoy the open patio all summer (or year) long! Coastal Kitchen offers quality dishes of seafood, farm-fresh salads, sandwiches and premium dry-aged steaks in a comfortable and friendly atmosphere. 34091 Pacific Coast Hwy., Dana Point, 949.449.2822. coastalkitchendanapoint.com
The Filling Station Cafe
Housed in the historic 1920s Baker's Ruckfield gas station, The Filling Station Cafe and Coffee House is a favorite among locals and visitors. Known for its distinctive all-day breakfast and cafe classics, this family- and dog-friendly spot specializes in breakfast dishes as diverse as pork chorizo and eggs; and cranberry-orange French toast, as well as globe-spanning dinner options including Asian pot stickers, Italian cioppino and American pot roast. Old Town Orange, 201 N. Glassell St., Orange, 714.289.9714. fillingstationcafe.com
The Lazy Dog Cafe and Restaurant
As the name suggests, The Lazy Dog Cafe and Restaurant welcomes canine companions to all of their locations and even has a menu for your dogs as well. Only available on the patio, guests can order their dogs a choice of a grilled hamburger patty or grilled chicken breast served with brown rice ($4.95). If your furry friend needs to skip the protein, Lazy Dog offers a plain bowl of brown rice ($1.95). 240 S. State College Blvd., Brea, 714.529.9300; The Market Place, 13290 Jamboree Road, Irvine, 714.731.9700; Stadium Promenade, 1623 W. Katella Ave., Orange, 714.769.7020; 16310 Beach Blvd., Westminster, 714.500.1140. lazydogrestaurants.com
The Lighthouse Bayview Café
With indoor, outdoor and "wooftop" deck seating with unobstructed views of Newport Harbor, Lighthouse Bayview Café offers a waterfront dining experience that is the ideal spot to bring along your dog. Owners can enjoy any meal of the day whether it's breakfast, lunch, dinner or weekend brunch. After dining, take a walk around Marina Park to give your furry best friend a good dose of exercise. Marina Park, 1600 W. Balboa Blvd., Newport Beach, 949.933.1001. lighthousenb.com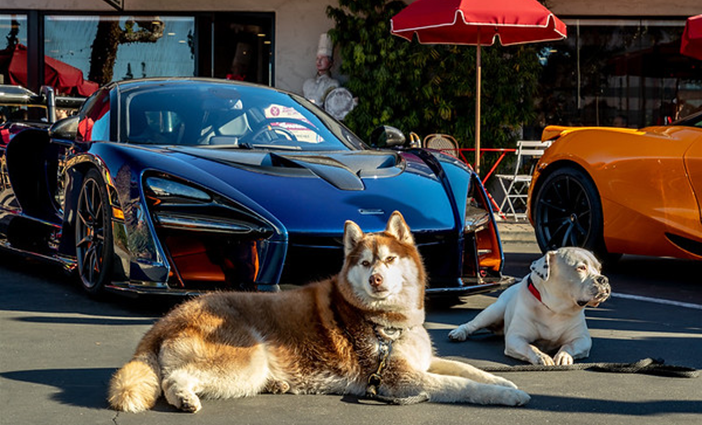 Moulin
Get an authentic French experience at Moulin where you can order fresh-baked artisan breads and pastries along with full entrees to nosh on while sitting in their pet-friendly patio with your dog. Look forward to the last Sunday of every month for Moulin's Cars & Café event where many auto aficionados bring their furry friends as they peruse the parking lot filled with exotic autos and antique cars. 1000 N. Bristol St., Newport Beach, 949.474.0920. moulin.com
Old Vine Kitchen & Bar 
Alfresco enthusiasts will agree that alfresco dining is always better when paired with wine. Chef Mark's veteran wine-driven concept, recently reopened as Old Vine Kitchen & Bar, located at The CAMP retail center offers diners the chance to enjoy their seasonal menu on a beautiful, expansive outdoor patio where dogs are more than welcomed. Shade from the sun is provided by nearby trees and contemporary wood and iron fixtures that transport diners on a woody retreat that feels more NorCal than Costa Mesa. Guests are invited to taste selections from their curated wine list while enjoying inventive constantly-rotating dishes inspired by various culinary destinations for breakfast, lunch and dinner. The Camp, 2937 Bristol St., Suite A-103, Costa Mesa, 714.545.1411. oldvinekitchenbar.com
Park Bench Café
Located near the Huntington Dog Beach, locals can stop by for some refreshments and food with their furry best friend at the Park Bench Café. For dogs, guests can order the fan-favorite Bow Wow Wow (a cup of bite-sized boneless and skinless chicken filet pieces), Hot Diggity Dog (a bun-less, all-beef hot dog), Rover Easy (a scrambled egg dish) or the Peanut Butter Bone. 17732 Goldenwest St., Huntington Beach, 714.842.0775. parkbenchcafe.com
The Rooftop Lounge
As a local favorite and must-see for visitors, The Rooftop Lounge offers a front row seat to those beautiful SoCal sunsets to enjoy with your four-legged friend on top of the La Casa del Camino hotel. Indulge in one of the best happy hours in town, with signature fresh fruit Mojitos and an amazing panoramic ocean view while sampling small bites and California casual cuisine. La Casa del Camino, 1289 S. Coast Hwy., Laguna Beach, 949.497.2446. rooftoplagunabeach.com
Slater's 50/50
Founded in 2009 in Anaheim Hills, SoCal native Scott Slater is known for his creation of the original 50/50 patty—made with 50 percent ground bacon and 50 percent ground beef. Now, the recently renovated second location in Huntington Beach is the only one that features a large outdoor, dog-friendly patio and also has a menu for your pooches, which includes a choice of beef patty, turkey patty, two strips of bacon, chicken strips or Slater's signature 50/50 patty. 17071 Beach Blvd., Huntington Beach, 714.594.5730. slaters5050.com
TAPS Fish House & Brewery
If you live or find yourself in the northern or southern part of Orange County, TAPS Fish House & Brewery has two separate locations at each end for you to bring along your dog. Both locations' patios are spacious and have partial covering for those bright, sunny days. TAPS also offers a Man's Best Friend menu that includes offerings for canine companions such as grilled chicken breast ($4.99), grilled hamburger patty ($4.99), top sirloin steak ($14.99), Lillie's Q smoked pig ear ($2.99), a hard boiled egg ($0.99) and carrot and lettuce ($2.99). Brea Downtown, 101 E. Imperial Hwy., Brea, 714.257.0101; The Market Place, 13390 Jamboree Road, Irvine, 714.619.0404. tapsfishhouse.com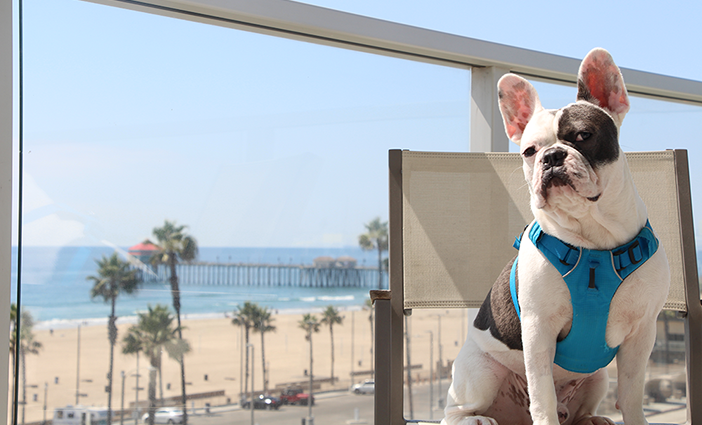 Tanner's Restaurant and Treehouse
With a prime location right across from the ocean, Paséa Hotel & Spa's offers dining venues, Tanner's Restaurant and Treehouse, that are dog-friendly with great food and libations. Tanner's has a dog-friendly patio, and pups are allowed at Treehouse bar, which will be launching a small pup menu in spring 2019. For dogs registered with the hotel, guests can bring them to Paséa Hotel & Spa's newly opened 1,100-square-foot interactive pup play park called The Paw-Séa. This park is outfitted with a lifeguard station dog house and is a fenced-in area where dogs can be off-leash. 21080 Pacific Coast Hwy., Huntington Beach, 714.698.6130. tannershb.com
TRADE Food Hall
For diners who are not sure what they're hungry for but want to bring their dogs along, this indoor-outdoor food hall has everything from Greek gyros and Vietnamese pho to dessert waffle creations, fried chicken, vegan fare and more. The space itself features large open patio-style seating, dog water bowls and treats from some of the food stalls! Merchants to choose from include Ground House, Dos Chinos, Center Hub, Sweet Combforts, Gyro King, Butterleaf, Two Birds, Portside and Red Envelope. 2222 Michelson Drive, Irvine. tradefoodhall.com
Wind & Sea Restaurant
Beginning as a limited-menu prime steakhouse in 1972, Wind & Sea Restaurant has evolved into one of Southern California's premier restaurant destinations for Pacific Rim fusion cuisine. Enjoy an abundance of outdoor seating that puts guests and their four-legged friends in the perfect spot to soak in panoramic harborside views and nosh on a wide variety of seafood fare. Dana Point Harbor, 34699 Golden Lantern, Dana Point, 949.496.6500. windandsearestaurant.com
Zinc Cafe and Market
Dog owners seeking a casual, contemporary dining experience, Zinc Cafe and Market offers two locations in Orange County for guests to bring their pups. Both locations have an outdoor covered patio area where dogs can take a nap while guests indulge in breakfast foods, pastries, fresh market salads and more on the traditional cafe menu. 3222 E. Coast Hwy., Corona del Mar, 949.719.9462; 350 Ocean Ave., Laguna Beach, 949.494.6302. zinccafe.com
Photos: The Rooftop Lounge courtesy Ajenda PR. Moulin courtesy Outshine PR. Tanner's Treehouse courtesy Paséa Hotel & Spa.