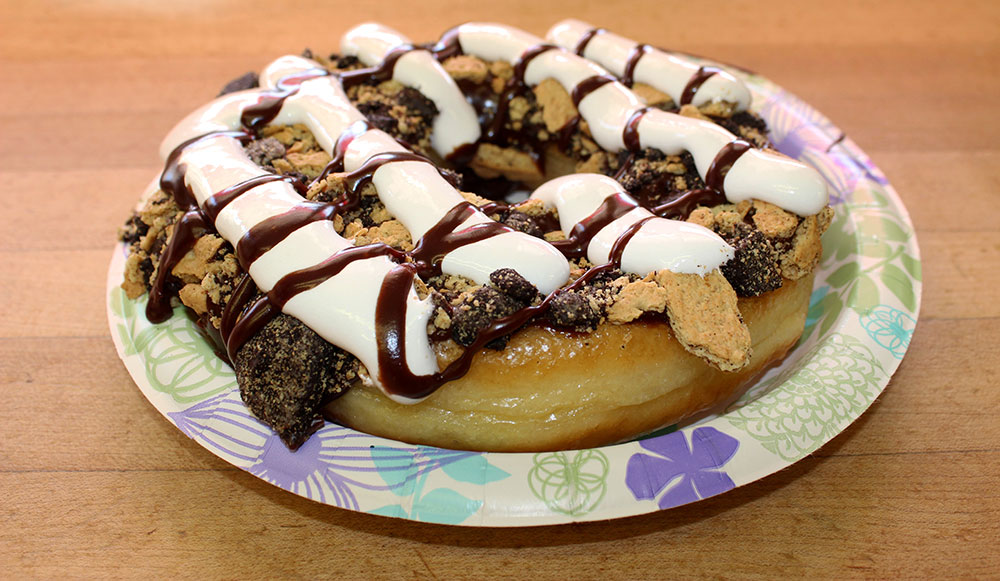 From Kool-Aid hot wings to French toast bacon bombs, the 2016 OC Fair debuts new must-try deep fried, battered and on-a-stick food items. Here's a drool-worthy list of some of our favorites.
Edited by Laura Okey
Summer in Orange County isn't complete until the OC Fair arrives—23 days and nights of fried food, carnival rides, pig races and more. This year's theme, "Get Your Fair Face On!" is an easy request to fulfill with its numerous exhibits, headline performances in the Pacific Amphitheatre, nightly music in The Hangar and adrenaline-inducing events in the Action Sports Arena. There's plenty to do for the entire family—but let's be honest—we want to know about the food.
Foodies can sample their way through the 2016 OC Fair on Thursdays from Noon-4 p.m. with $2 samples during the Taste of Fair Food promotion. Fair admission is required and samples vary per vendor per week. Though fair classics like giant turkey legs and funnel cakes will never get old, the new and interesting creations being served are better than ever—try not to drool as you read this list of deep fried, battered and on-a-stick additions to this years fair-food shenanigans.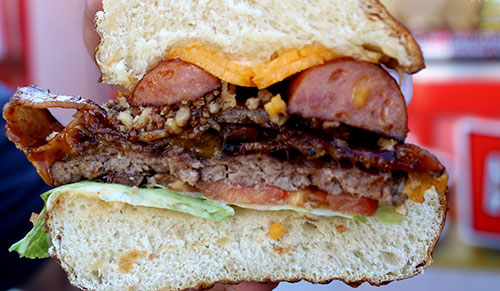 The bacon cheddar brat burger at Grant's Tasti Burger is taking burgers and brats to the next level with this massive burger that combines a bratwurst and an Angus beef patty with cheddar, chopped candied pecans, Applewood smoked bacon, Sriracha bourbon and chipotle sauces, lettuce and tomatoes and served inside a pretzel bun.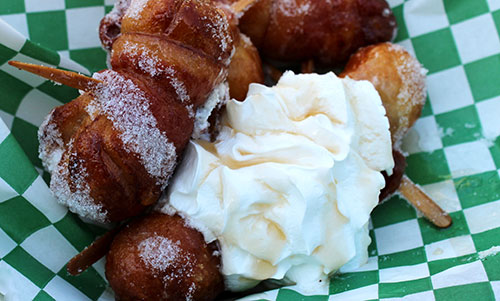 French toast bacon bombs can be found at Bacon A-Fair. The breakfast-inspired offering is comprised of sweet dough stuffed with cream cheese and wrapped in bacon, deep-fried and rolled in cinnamon sugar.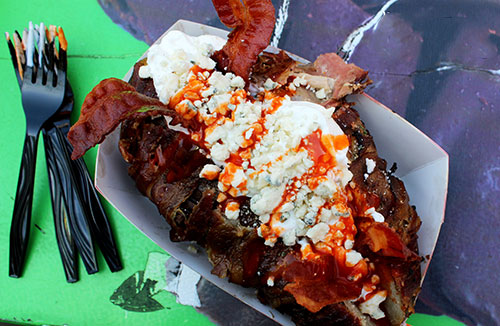 From the same vendor find the bacon-wrapped baked potato—it starts with a giant one-pound potato wrapped in a half-pound of bacon and slow cooked in a wood-fired smoker oven. It is then served with butter, Bacon A-Fair's signature bacon-infused sour cream, grilled veggies, blue cheese and your choice of hot buffalo sauce or nacho cheese and jalapenos.
Bigger is better with the S'moreo Texas donut, a soft, Texas-sized doughnut topped with chocolate drizzle, Oreo cookie crumble, graham cracker crumbs and marshmallow cream.
Head to Pickle O' Pete's for the bacon Nutella pickle—a dill pickle filled with the popular hazelnut cocoa spread Nutella, then wrapped in bacon, dipped in a funnel cake batter and deep fried. Also try the pickle fries and pickled cheese on a stick.
Try the Pork Belly Bacon Dog at Biggy's—two feet of bacon wrapped around a slow-smoked pork belly and dipped into a corn dog batter, then finally, deep fried.
Chicken in a waffle on a stick at Chicken Charlie's makes the popular chicken-and-waffles combo portable by cooking fried chicken tenders in a waffle and serving it all on a stick, with a side of maple syrup.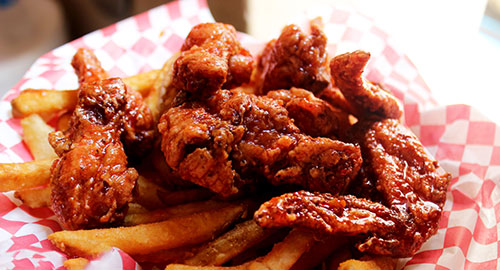 Another new item being served up at Chicken Charlie's is shrimp fried rice on a stick and Kool-Aid hot wings. Chicken Charlie takes his breaded wings and tosses them up with his new, slightly-spicy Kool-Aid sauce. He will serve the orange flavor exclusively at the OC Fair.
Additionally, find new offerings such as the bison burger from Juicy's, the lasagna sandwich from Pignotti's Pasta and the Oreo churro from Dutchmen's Funnel Cake.
The Fair is open Wednesday-Sunday. Tickets are available for purchase online or from the on-site box office during limited hours. Free parking and shuttle service are available on Saturdays and Sundays from the Experian parking structure located off the Bristol St. exit of the 405 freeway. M-Tu Closed, Wed-F noon-midnight, Sat.-Sun. 10 a.m.-midnight. $7-$12, under 5 free; $10 (cash only) for parking. 88 fair drive, Costa Mesa, 714.708.1500. ocfair.com