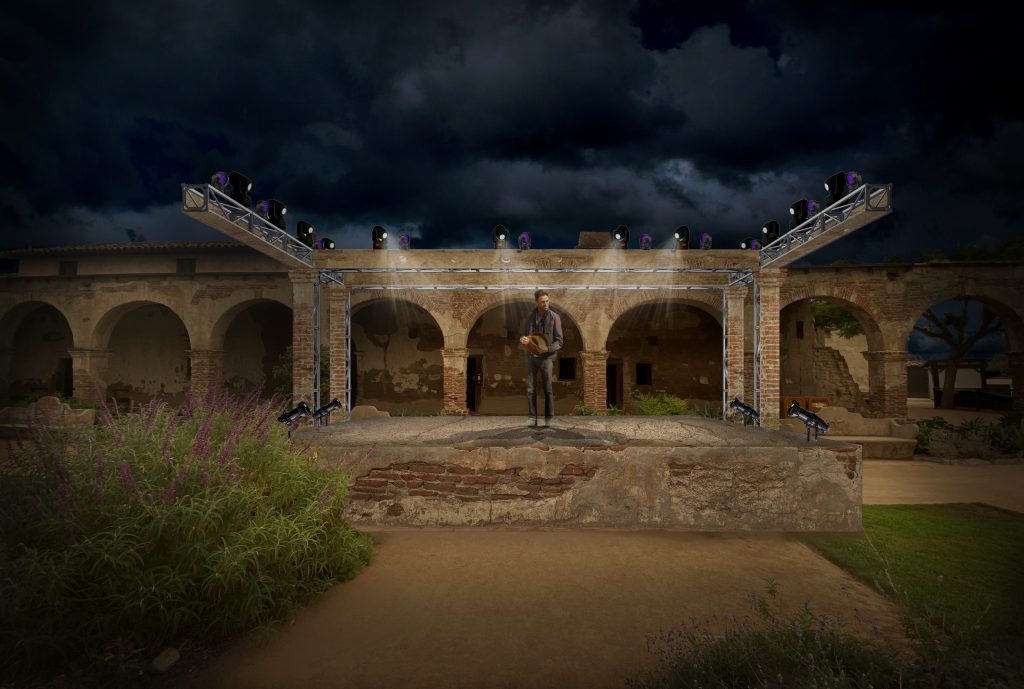 The acclaimed Costa Mesa-based theater unveils an outdoor venue at Mission San Juan Capistrano this summer.
Third in a nine-part series, "The Arts of Innovation," powered by Performances Magazine.
By Sherry Stern
When life hands you COVID … open a theater?
With its stages dark, the realization that Zoom allows for only so much, and with the anxiety of a wobbly bottom line, South Coast Repertory needed to look inward for inspiration to secure its future. Or in this case, outward.
Enter Outside SCR, a two-play summer season unveiling under the stars at Mission San Juan Capistrano, the historical landmark 21 miles south of the theater.
"I am desperate to return to the live experience of storytelling," says David Ivers, artistic director of South Coast Repertory. But it's not simply about putting on a show.
"It's the gathering." Ivers says. "It's the ritual and the witnessing and the sharing of stories to laugh, cry, affirm and deny that helps shape a context by which we live. That is what I miss."
Even in these times, such a gathering is conceivable on the mission's 10-acre courtyard, spacious for audiences under whatever social-distance guidelines might be in place come summer.
Though seating configuration remains a work in progress, SCR is designing and building a versatile stage for the space. Dubbed "the container," it will hold sets for two plays that will run on alternating nights July 15-Aug. 1.
The plays, which Ivers calls "triumphant, celebratory and family-friendly summer fare," are American Mariachi, a comedy with music by José Cruz González, and the 1967 musical You're a Good Man, Charlie Brown, based on the classic Charles M. Schulz comic strip. Tickets will run $10 to $30.
Like cultural institutions worldwide, SCR and the mission face declining revenue and anguish over employee furloughs and layoffs while yearning to enrich their communities.
With the pandemic stifling the mission's outreach in countless ways, Outside SCR is a welcome positive, says Mechelle Lawrence Adams, executive director of the mission for 17 years.
"It's emotional for me, because I've worked here for so long. I see so many people looking for hope, especially during COVID."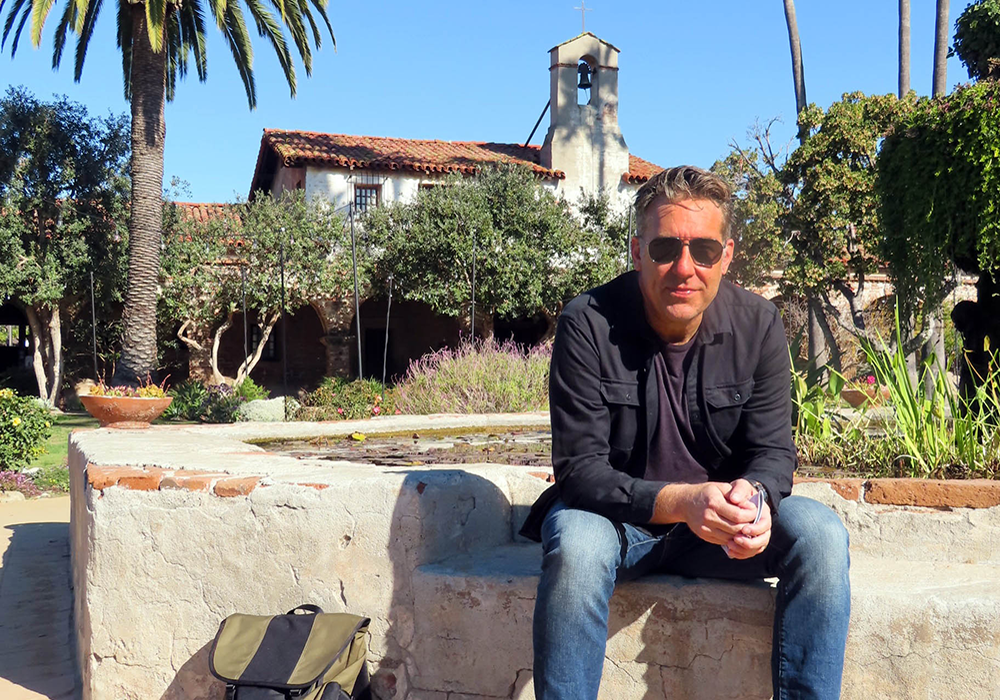 The plan for Outside SCR was hatched a few months into the shutdown but had germinated somewhat longer. When Ivers joined the company in March 2019, he'd privately hoped to expand SCR's reach beyond Costa Mesa, and by going outdoors, in five or so years.
The lockdown accelerated that timeline.
He brought his concept to Paula Tomei, SCR's managing director, and to the board of directors. They agreed the scheme was audacious. And they bought in.
"It's actually in keeping with our vision and artistically and every other way for this organization's legacy and the future," Ivers says he told the theater leadership. "I feel really passionate about it. I can see it."
By July, SCR was considering half a dozen or so venues across the county. But once Ivers visited the mission and San Juan Capistrano's downtown district, there was no turning back.
"I just fell in love with it. I felt it was the right place, the right vibe, the right community," he says.
He and Tomei found kindred spirts in Adams and in the team that stewards operations of the 246-year-old site. They share a blend of ambition, inspiration and vision.
The mission's vast courtyard has a history of hosting large events, from bullfights a century ago to a mariachi festival for 16 years pre-COVID. In normal times, it can seat 1,500 people at tables.
Adams envisions SCR ticketholders appreciating the architecture and exploring the grounds and blossoming gardens.
"We can serve new constituencies. People who love the mission get an opportunity to see the arts. People who love the arts, maybe they don't even think about the mission—they're going pick up an appreciation."
Key to the venture is the new stage. A priority of the design, Ivers says, is to honor the aged mission so that the theater lives in harmony with its corridors, archways and colonnades.
Audiences will spread across the quadrants of the central lawn, likely a combination of reserved seating and areas where families can set up blankets.
The undertaking carries a price tag somewhere in the high six figures. "This does not come cheap," Ivers says.
Born out of the pandemic, it launches with a commitment for a second year and with high hopes for more beyond that.
"If it succeeds, my greatest hope is for it to become tradition, which is what I think we're heading toward," he says. "I'm terrified … and super excited."
Rendering by Efren Delgadillo; Ivers photo courtesy SCR