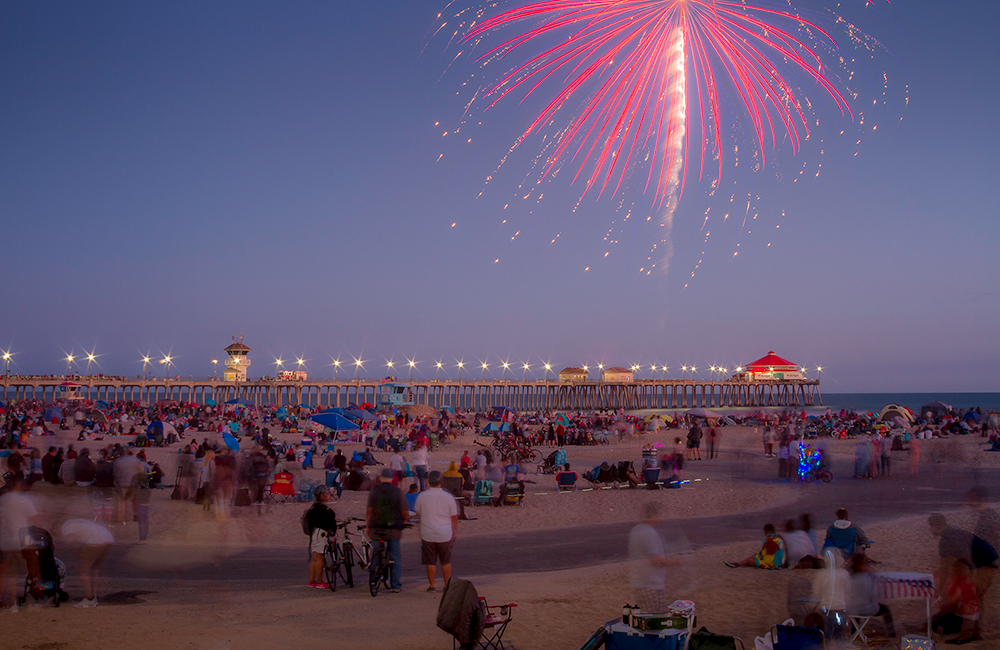 Looking for ways to celebrate our nation's independence? Here's a list of Fourth of July happenings in Orange County, ranging from fireworks shows and parades to take-home barbecue and holiday specials.
FESTIVITIES
July 2-4. Kick-start your holiday weekend in Huntington Beach with a variety of fun celebrations. Locals and visitors can enjoy festivities such as neighborhood car parades, an outdoor Pier Plaza Festival, socially distanced and virtual Surf City 5K Runs, and home/business decorating contests. The events will be capped off with an incredible fireworks show over the Pacific Ocean. Pacific Coast Highway and Main Street, Huntington Beach, 714.536.5486.
July 4. The City of Tustin Parks and Recreation Department welcome locals to watch fireworks this Independence Day from Tustin High School. The event will feature entertainment by Brent Payne & The Boyz, a tribute to those that have and currently serve our country, followed by a fireworks show. Additional highlights include a DJ, food trucks and children's craft area. Gates open at 4:30 p.m., fireworks begin at 9 p.m. Pre-registration required; $4 per person, free for ages 2 and under. 1171 El Camino Real, Tustin, 714.573.3326. Tickets
July 4. Gather family and friends at Dana Point Harbor this Fourth of July and look towards the sky over Doheny State Beach to experience south O.C.'s best aerial fireworks display. Hosted by the City of Dana Point, this event is one of the most spectacular fireworks shows in SoCal and also has its own customized playlist via KSBR 88.5 FM featuring patriotic music to listen and sing along to. The fireworks begin at 9 p.m.
July 4. Come to the Back Bay for the annual Fourth of July celebration at Newport Dunes Waterfront Resort & Marina. Enjoy a jam-packed day of live music, an inflatable aquatic park, watersports, food trucks (noon-7 p.m.) and a the acclaimed fireworks finale (9 p.m.). Doors open at 8 a.m., 8 a.m.-10 p.m. Free admission. Day-of onsite parking: $50 per vehicle until sold out; VIP reserved parking: $100 per vehicle (limited street parking also available). 1131 Back Bay Drive, Newport Beach, 949.729.3863.
July 4. Join Pacific Symphony at FivePoint Amphitheatre for a spectacular musical journey celebrating the decades of chart-topping hits of Sir Elton John. Starring Craig A. Meyer as "Almost Elton John," he'll perform the hit singles of mega pop star Elton John, such as "Your Song," "Rocket Man" and "Goodbye Yellow Brick Road." Additional highlights include patriotic favorites, traditional salute to the U.S. Armed Forces and a brilliant fireworks finale. Tickets to this concert are only available online through Ticketmaster—not available by phone through the Symphony box office. Doors open at 6 p.m., show starts at 8 p.m. $25. FivePoint Amphitheatre, 14800 Chinon, Irvine.
July 4. Spend your Fourth of July in the sky at The Waterfront Beach Resort's Offshore 9 and enjoy exclusive aerial views of Huntington Beach's annual firework spectacular on the pier. Enjoy access to the rooftop lounge, celebrate with the special "Sparkler In the Sky" cocktail; and enjoy tasty options such as the al pastor or short-rib fries to snack on during the show. Or gather your crew and level up to an exclusive fire table top which also includes a charcuterie board to share and a bottle of bubbly. A special holiday menu with all-American themed food is also available. $200 per person, $1000 for fire table top (up to 4 guests). 21100 Pacific Coast Hwy., Huntington Beach, 714.845.8000.
DINING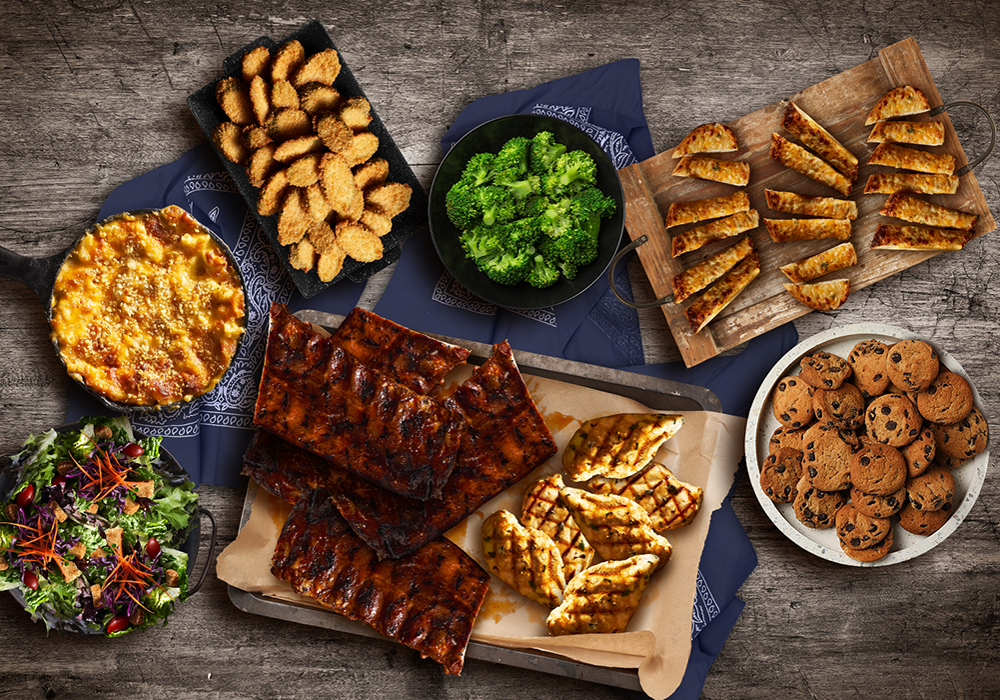 July 2-4. For those who are celebrating at home, Black Angus Steakhouse is offering two different Fourth of July party platters that can feed up to 10 people. The first platter ($269.99) comes with the choice of two Steakhouse Starters platters, a garden salad with choice of dressing, top sirloin center-cut steaks (6-ounce per person), home-style mashed potatoes, fresh broccoli with garlic butter, and two dozen chocolate chip cookies. Pictured above is the second platter ($299.99) comes with the choice of two Steakhouse Starters platters, a garden salad with choice of dressing, four racks of barbecue baby back ribs, fire-grilled chicken breasts, home-style mashed potatoes, fresh broccoli with garlic butter, mac 'n' cheese, and two dozen chocolate chip cookies. Guests can order the platters for delivery through the website only and pick-up between July 2-4. 7111 Beach Blvd., Buena Park, 714.670.2012; 17920 Brookhurst St., Fountain Valley, 714.968.4477; 1350 No. Tustin Ave., Santa Ana, 714.558.3057.
Preorder by July 2. Save yourself the hassle of cooking with a family meal delivered by Clay Oven. The main dishes will be the wagyu hanger steak as well as a ginger-mango-glazed Tandoori chicken. Additional menu highlights include a Chino Farms burrata, greens and heirloom tomato salad; grilled, spice-rubbed white corn; mint chutney; a roasted red pepper hummus; and plain naan. See website for list of cities Clay Oven delivers to. Orders must be placed by 9 a.m. on July 2; deliveries will be made on July 4 between 8 a.m. to noon. $60 order minimum.
July 2-4. Looking to eat out? Head to Pacific Hideaway at the Kimpton Shorebreak Resort in Huntington Beach to enjoy Fourth of July specials all weekend long. On the food side, specials include barbecue beef ribs with cilantro slaw and chipotle sweet-potato salad ($30); and Southern fried-chicken dinner (breast, wing, thigh, leg) with collard greens biscuits, mashed potatoes and red-eye gravy ($28). On the drinks side, there's Miller High Life and bourbon boilermaker ($10); Smirnoff Ice ($5); and Frozen Rocket made with red vodka, frozen lemonade blue curaçao and mini rocket pop. Reservations highly recommended. 500 Pacific Coast Hwy., Huntington Beach, 714.965.4448.
Preorder by July 4. Prepare your Fourth of July picnic or barbecue with Cha Cha's to-go homemade salsas, guacamole and fresh tortilla chips. The ordering process is easy—Simply choose any salsa pint ranging from the mild pico de gallo to Cha Cha's spicy salsa ranchera, and pair with a fresh side of guacamole prepared with Hass avocado, serrano chile, and fresh lime juice. Don't forget the drinks! Cha Cha's also offers cocktails and margaritas to-go by the pint or quart. 110 W. Birch St., Brea, 714.255.1040; 13126 Jamboree Road, Irvine, 714.408.7819.
July 4. This Fourth of July, dine at Tanner's for dinner with a two-hour limit beginning at 5 p.m. or elevate your celebration at Treehouse Lounge with bottle service reservations from 7 p.m. to close. All bottle service reservations receive a dedicated lounge area with premium fireworks viewing and two bottles of Veuve Clicquot. Reservations start at $2,500, with premium seating available for $3,000. Each reservation accommodates between 10 and 12 guests and includes a food and beverage minimum spend of $2,500 (Veuve Clicquot bottles are not included in the minimum). Paséa Hotel & Spa, 21080 Pacific Coast Hwy., Huntington Beach, 714.698.6130.
Photo credits: Huntington Beach 4th of July by Gus Martinez. Black Angus Steakhouse courtesy Black Angus Steakhouse.