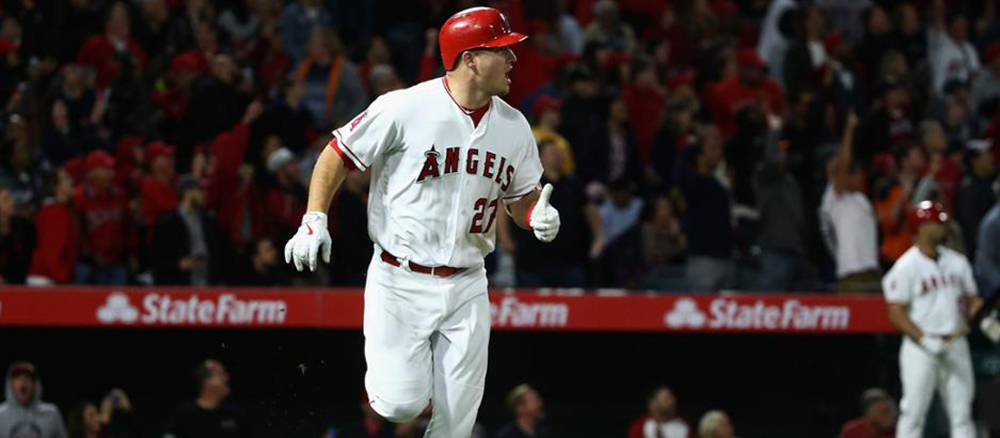 Baseball season is in full swing—plan your perfect game day with our guide to Angel Stadium of Anaheim.
By Laura Okey
Not everyone enjoys a bag of peanuts or a simple hot dog when watching Mike Trout hit a home run. And sometimes, our favorite player's name on our jersey just isn't enough—we want it customized. Also, "pregaming" is a skill that requires careful planning. Plan your perfect baseball game experience with our guide to Angel Stadium of Anaheim—discover where to eat, where to shop and where to pregame this season.
DINING
Crafty Dawgs
A fan favorite since its launch in 2016, Crafty Dawgs (Section 127, Field Level) features hand crafted hot dogs brimming with specialty toppings. Now you can upgrade your Crafty Dawg experience with Crafty fries and Crafty beer at the newest outpost in Section 420 on View Level (previously Panda Express).
The Change Up Kitchen
Bring variety to every home game with The Change Up Kitchen. The new destination will feature a rotating themed cuisine each home game. For opening week, the Asian inspired menu included chicken steam buns, garlic fried chicken and Korean barbecued short rib fries. Located in Section 226 on Terrace Level.

LA Rotisserie
Opening later in the season, LA Rotisserie will deliver an incredible dining experience of fresh and delectable fine roasted meats and poultry. Located directly behind home plate on field level, this new location will feature a delicious variety of composed salads and slow roasted chicken roasted with savory spices, served as a wholesome platter or in hand-crafted sandwiches.

Ballast Point
Previously known as Angels Wings, Ballast Point brings a new craft brewing destination to the stadium. Beyond the incredible craft beers, try its new signature Southern fried chicken sandwich made with hand breaded buttermilk fried chicken and topped with pickles and mayo. Located in Section 207, Terrace Level.

Spuds
Trade your bag of peanuts for gourmet French fries at Spuds. Try the new pork belly poutine featuring crispy fries topped with rich gravy, crisp pork belly, shredded cheddar and green onion. Located in Section 130, Field Level.

The Lexus Diamond Club
Experience prime viewing this season in The Lexus Diamond Club restaurant. Enjoy a new enhanced buffet experience complete with exciting action stations filled with both sweet and savory options for fans. The Lexus Diamond Club restaurant is limited to guests who have tickets in the Lexus Diamond Club seating area or suite owners. Visit OpenTable.com and search "Lexus Diamond Club" to make reservations ahead of time. Located in Section PB49.
Smoke Ring BBQ
The brisket sandwich is a fan favorite at Smoke Ring BBQ. The brisket is slow smoked for 14 hours then hand carved and piled high with coleslaw tossed in a zesty vinaigrette, topped with tangy Carolina-style barbecue sauce and served in a toasted bun. Located at Gate 1 on Field Level and Section 237 Field Level.
The St. Archer Brew Pub
For those of you who don't associate a baseball game with hotdogs, the Legendary House Blend burger is the perfect alternative. The burger is made with sharp cheddar, secret sauce, lettuce, tomato, caramelized onion and a buttered bun, served with house-cut fries. It can be found at both The Lexus Diamond Club and The St. Archer Brew Pub. If you're looking for a lighter option, try the smoked salmon salad made with 3 grains, roasted peaches, sweet corn and watercress. Located in Section 349, Right Field Corner.
The Big Cheese
Much like baseball, cheese is a great American pastime. The Big Cheese features the crowd favorite, Angel Dog, as well as a thick cut bacon grilled cheese, a short rib grilled cheese, home style mac and cheese and much more. Section 211, Field Terrace Level.
Yogurtland
Yogurtland is the perfect accompaniment to a hot and sunny home game. Find two locations in the stadium where you can create your own sweet masterpiece. Section 232, Field Terrace Level; Section 238, Field Terrace Level.
See full list of dining options at Angel Stadium online at losangeles.angels.mlb.com.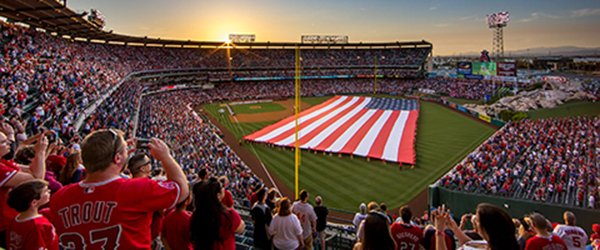 RETAIL
Angels Team Store
The new Angels Team Store location is on the View Level and offers all your favorite merchandise, plus a view of the field from Section 419. An additional Team Store location, the one behind home plate, is newly-expanded with its enhanced jersey customization zone where you can make your jersey one-of-a-kind; and the full-sized Louisville Slugger custom bat engraving station! Located in Section 120, on the Field Level behind Home Plate.
'47 Brand Store
Find your favorite sport lifestyle apparel at the new '47 Brand Store—perfect for those of you whose wardrobe inside and outside the stadium showcases your love for the Los Angeles Angels of Anaheim. Located in Section 240, Terrace Level.
New Stance Sock Store
Foot fetish? Or perhaps you just love cool socks? Either way, New Stance Sock Store has just what you're looking for on the Hall of Fame Level near the Hall of Fame Team Store.
Hall of Fame Team Store
Find all the gear you need to honor your favorite Hall of Fame players at the Hall of Fame Team Store. Also find pillows, blankets, accessories and more. Located in Section 213-221, Terrace Level behind Home Plate.
New Era Team Store
For the baseball hat enthusiasts, the New Era Team Store in Section 127 now offers custom head wear embroidery. Head over to the New Era Team Store in Section 109 to find an increased selection of the throwbacks and the classics only found in the Cooperstown Collection. Located in Section 127, Field Level; and Section 109, Field Level.

PREGAME
Backstreet Brewery
Backstreet Brewery's Anaheim Tasting Room is appealing to both simple beer drinkers (find light beers like Bud Light and Coors Light on draft) and the complex (find a selection of IPA's, blondes, lagers, red ales and more). Located just a half mile from the stadium, you'll have plenty of time to down a few brews and walk or ride share to the stadium. 1884 S. Santa Cruz St., Anaheim, 657.236.4050. backstreetbrew.com
Karl Strauss Brewery
From seasonal and small batch to barrel-aged and collaborations, find all the beer you need before a baseball game at Karl Strauss. Located just a minute away, it's a convenient spot to get the fun started early. 2390 E. Orangewood Ave., Suite 100, Anaheim, 714.940.1772. karlstrauss.com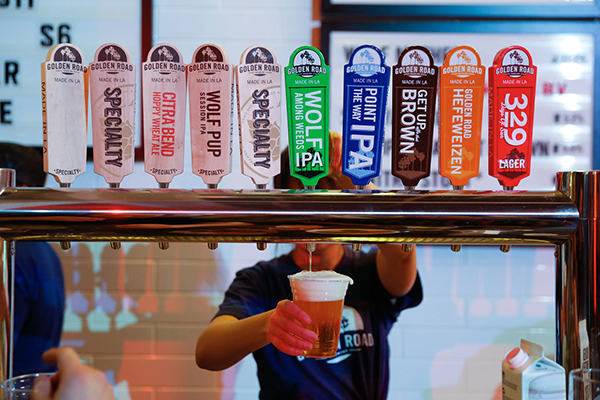 Golden Road Brewing
Located right across the street from Angel Stadium and just minutes away from the Anaheim-ARTIC Metrolink station, Golden Road Brewing's Taproom offers a varitey of IPA's and seasonal brews. 2210 E. Orangewood Ave., Anaheim, 714.912.4015. goldenroad.la
Noble Ale Works
Beyond delicious crafted beer, get free parking! Located in the Platinum Triangle area just off Katella Avenue and the 57 Freeway, Noble Ale Works encourages you to park at their place for free, have some beers, then walk over to the game just across the street. 1621 S. Sinclair St., Suite B, Anahiem, 714.634.2739. noblealeworks.com
JT Schmid's Restaurant and Brewery
If stadium fare just isn't your cup of tea—or your cup of beer—find everything from appetizers and salads to steaks and gourmet burgers at JT Schmid's. Arrive early—this is a popular game day destination—and pick your poison with a menu of martinis, cocktails, a wide selection of whiskey's, bourbons and brews. Located approximately 2 miles from Angel Stadium. 2610 E. Katella Ave., Anaheim, 714.634.9200. jtschmidsrestaurants.com
Angel Stadium of Anaheim, 2000 Gene Autry Way, Anaheim, 714.940.2000. losangeles.angels.mlb.com