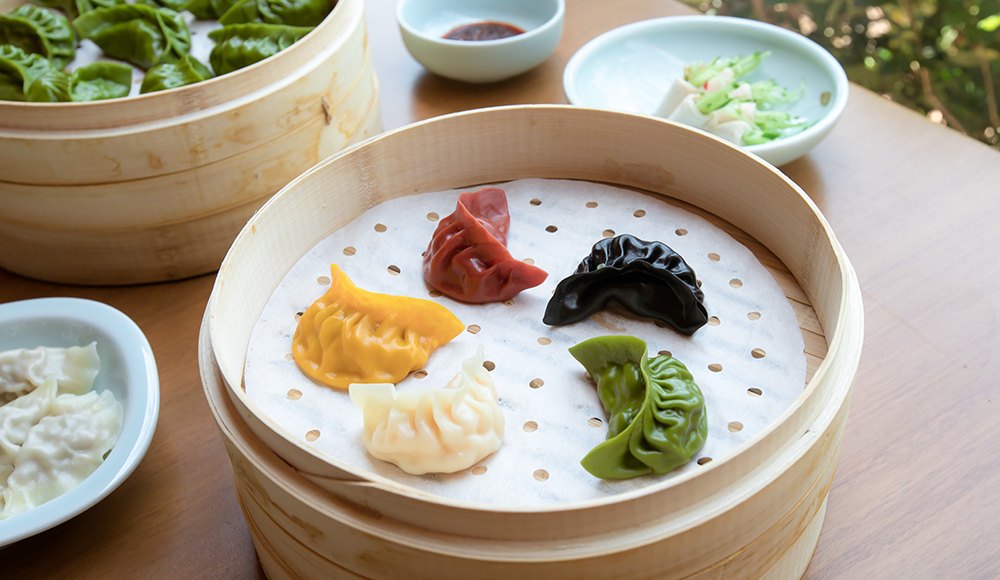 Welcome to the fold! The humble dumpling is suddenly a star, especially on the plate.
By Kat De Angelis.
Dumplings are having a moment. You know that the humble dumpling has reached a new echelon of cool when Pixar Studios makes it the star of an animated short preceding its blockbuster film Incredibles 2 and when TV host/restaurateur David Chang devotes an entire episode of Ugly Delicious to all things dumpling.
Why not? Dumplings are adorable and, for foodies, worthy of adoration and adulation. The delicate orbs are at once sophisticated and a beloved comfort food with iterations in almost every culture. Most often, they have a savory filling.
The ones currently being exalted are Asian and have a history dating back more than 1,800 years. Creations such as potstickers, wontons, bao and jiaozi are meticulously hand-folded into shapes such as pleated crescents or swirl-topped satchels; then steamed, boiled or pan-fried; and ultimately dipped into a mix of soy sauce, vinegar and chiles for the perfect little flavor bomb.
The new wave of dumpling shops in Orange County can be traced to the opening of venerated Din Tai Fung at South Coast Plaza. Four years later, the scene's exploding like the broth in xiao long bao.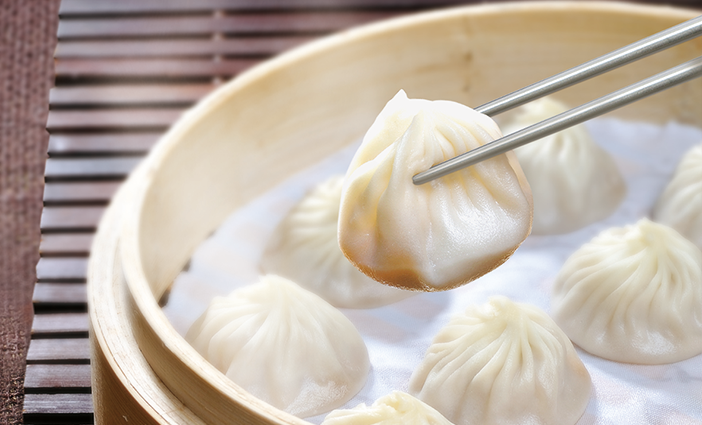 Din Tai Fung
This Taiwanese juggernaut pretty much singlehandedly catapulted the xiao long bao—aka XLB or soup dumpling—to worldwide culinary stardom. When Din Tai Fung opened its first U.S. location in Arcadia in 2000, its XLBs set the standard by which all other dumplings continue to be judged. They arrive enveloped in petal-thin wrappers that burst with juicy pork-broth deliciousness. Fans clamor for the other Taiwanese street-food classics as well: stellar wontons doused in red chile oil, a savory fried pork chop, spicy braised beef noodle soup—and a plethora of vegetable side dishes such as double-fried green beans and stir-fried mustard greens with ginger. The county's only Din Tai Fung can still draw two-hour waits—but what better place to wait than a luxury shopping center?
M-F 11 a.m.-9:30 p.m., Sa 10 a.m.-9:30 p.m., Su 10 a.m.-9 p.m. South Coast Plaza, 3333 Bristol St., Costa Mesa, 714.549.3388. dintaifungusa.com
Ja Jiaozi
The county's newest dumpling house is an upscale cafe with smart decor focusing on jiaozi, a Beijing-style dumpling with a thicker dough. Posting on Instagram? The Steamed Jiaozi Combo presents five crescent-shaped dumplings in a rainbow of colors. But the best bets flavor-wise are steamed or boiled jiaozi. Don't judge these filled dumplings by their austere presentation: They may look plain, spread out in their shallow bowl, but the chicken-mushroom and beef-onion versions possess near-silky exteriors and they're delicious on the inside. The restaurant does not serve xiao long bao; it does offer house specialties such as braised brisket with quail eggs and desserts including matcha green tea mousse.
Su-Th 11:30 a.m.-9 p.m.; F 11:30 a.m.-9:30 p.m.; Sa 11 a.m.-9:30 p.m. Irvine Marketplace, 13776 Jamboree Road, Irvine, 714.786.8999. jajiaozi.com
18 Folds
The county's first all-day, fast-casual dim sum eatery, 18 Folds is a sleek and stylish concept featuring scratch-made fusion "originals" such as bacon-wrapped shu mai (pork-and-shrimp-stuffed dumpling) and an impressive local craft-beer lineup—from breweries such as Bottle Logic, the Bruery and Golden Road—neither of which you would find at a traditional dim sum establishment. The restaurant serves soup dumplings, but far better options are the traditional shu mai, generously packed with steamed pork and shrimp, and shrimp har gow. Also worth ordering on the "originals" menu are the deep-fried spare ribs, a crispy change-up to the usual steamed versions.
M-Th 11 a.m.-10 p.m., F 11 a.m.-11 p.m., Sa 10 a.m.-11 p.m., Su 10 a.m.-10 p.m. 430 S. Anaheim Blvd., Anaheim, 714.386.5768. 18finc.com
Peking Restaurant
The service may initially seem brusque, but the women are actually cheery in their own gruff way. In any case, it's a small price to pay for the glorious panoply of old-school Chinese dishes in this charming and revered hole in the wall, among them house-made noodles, crispy beef rolls and some of O.C.'s best pan-fried potstickers. Filled with a mixture of pork and onions, the latter arrive looking less like typical half-moon potstickers and more like a sheet of loosely connected cylinders with a flattened, crispy top. A variety of home-style boiled or pan-fried dumplings are available thick-skinned or thin. The beef roll finds shaved beef tucked into a crispy scallion pancake with cilantro and plum sauce; it's like a Chinese burrito, only better.
Open daily (10:30 a.m.-9:30 p.m.). 8566 Westminster Blvd., Westminster, 714.893.3020.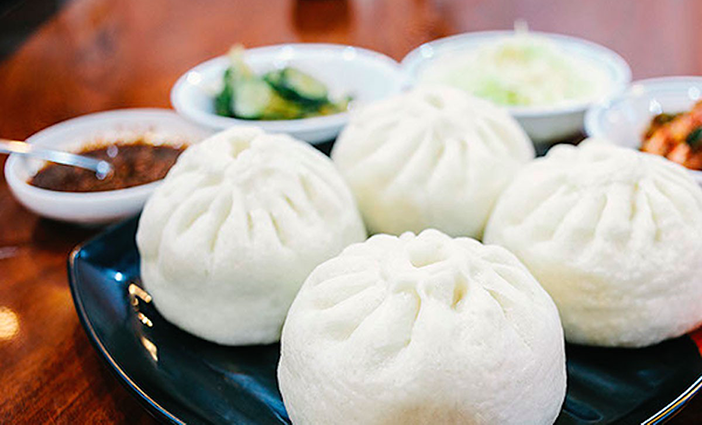 Myung In Dumplings
Don't let the no-frills grocery market locations of this popular Korean mandu chain fool you: The dumplings here are the real deal, comfort-food gems. The first thing you might notice are large photographs of the late Anthony Bourdain posted on the windows, evidence that the iconic culinary personality had eaten at the L.A. outpost and given it his stamp of approval. Order the kimchi boiled dumplings, little pouches packed with so much flavor that you won't need to dredge them through sauces. The boiled beef dumplings come bobbing in a simple and homey noodle soup, perfect for whatever might ail you. If you have room, opt for the softball-sized buns stuffed with the same fillings—e.g., kimchi pork, pork and shrimp—as those in the dumplings.
Garden Grove: M-Sa 9 a.m.-9 p.m.; Irvine: Open daily (9 a.m.-8:30 p.m.). 8911 Garden Grove Blvd., Garden Grove, 714.638.4009, Myung In Dumplings 7, 4800 Irvine Blvd., Irvine, 714.508.7858.
Kitakata Ramen Ban Nai
Ramen is king at Kitakata, of course, but the house-made gyoza (Japanese potstickers) at the bustling ramen-ya merit high praise. Since they're available gently pan-fried, fried or boiled, ordering all three versions of the pork-filled dumplings can be a fun option. The boiled version comes slathered in an addictive yuzu-and-scallion sauce you'll want to use on everything. Arrive before opening time if possible—or be prepared to wait an hour or two.
Weekdays: L (11 a.m.-2:45 p.m.), D (5-9:45 p.m.); Weekends: 11 a.m.-9:45 p.m. 891 Baker St., Costa Mesa, 714.557.2947; 7550 Orangethorpe Ave., Buena Park, 714.752.6878. ramenbannai.com
101 Noodle Express
Excellent as they are, the handmade noodles in the eatery's name aren't the only stars. The xiao long bao, for instance, are also respectable. And there are, oh, more than 20 other kinds of dumplings, almost as big as tennis balls, to choose from. You can opt for them to be pan-fried or steamed. The leek-and-pork or celery-and-pork fried dumplings are sure-bet starters, but take care with that first bite: You might burn your tongue when the hot porky liquid spurts forth. Sour vegetables are the marvelous garnish.
M-Sa 11 a.m.-10 p.m., Su 11 a.m.-9:30 p.m. 5408 Walnut Ave., Irvine, 949.654.8542. 101noodleexpress.com
[et_bloom_inline optin_id=optin_12]