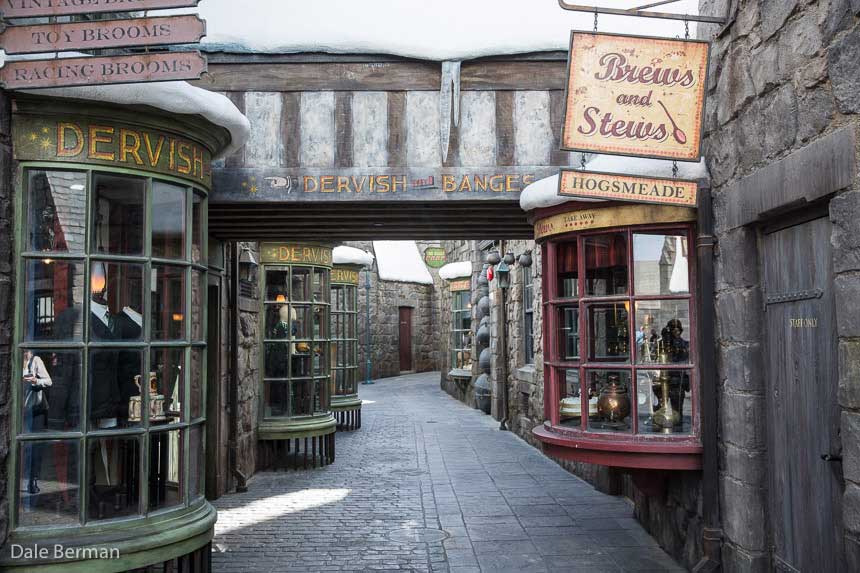 Find out what you need to know about Wizarding World of Harry Potter at Universal Studios Hollywood.
Adapted from Experience the Magic by Suzanne Ennis in the April 2016 issue of WHERE Los Angeles Magazine.
The April 7 opening of The Wizarding World of Harry Potter at Universal Studios Hollywood just may be the year's most anticipated event for muggles, witches and wizards alike. Based on J.K. Rowling's Harry Potter book series and Warner Bros.' film adaptations, the immersive world comprises two rollicking rides and the quaint village of Hogsmeade, pictured here, where you can dine and shop just like one of Harry's Hogwarts classmates. Here's a behind-the-scenes peek, plus a few things to know before you go.
It pays to purchase online.
Universal's new EZ Rez online ticket-reservation service lets you buy a date-specific ticket to the theme park for up to $20 off the front-gate price and, as of April 7, grants admission to the Wizarding World of Harry Potter an hour before the park opens. (Prior to April 7, the attraction is in technical rehearsals, with sporadic opening times.)
Hang on to your hat.
Step into the magic bench, don your 3-D glasses and let Harry Potter and the Forbidden Journey take you on a hyperrealistic, topsy-turvy trip through Hogwarts and beyond. (During a sneak peek, we had nothing but fun—but those with weak stomachs, beware.) Meanwhile, the much shorter Flight of the Hippogriff—Universal Studios Hollywood's first outdoor coaster—manages to be both exhilarating and family-friendly (though a height requirement rules out the youngest muggles).
The design is the real deal.
According to Alan Gilmore, the art director of the Harry Potter films and supervising art director of the immersive land, no detail was spared to re-create the story exactly as Rowling imagined it—and the author was involved in every step. Original film props are even sprinkled throughout the land like Easter eggs: We spotted Hermione's pink Yule Ball dress in a shop window, as well as luggage racks from the Hogwarts Express inside the train's re-created cabin (where you can pose for a souvenir photo).
Come hungry … and thirsty.
Why? In a word: Butterbeer. The original Hogwarts-student favorite (akin to cream soda topped with whipped cream) is a must-try. There's also on-theme British fare at the Three Broomsticks (opt for the feast platter to share with friends) and adult potions at the adjoining Hog's Head pub. And who can resist Bertie Bott's Every Flavour Beans, available at Honeydukes?
You can perform magic.
But it requires a special wand that, with a swish and a flick, triggers animation effects in 11 magical windows, designated by gold medallions on the ground (yes, your wand from Orlando will work here, too). Interactive wand: $47.95. Casting spells like Harry or Hermione: priceless.
100 Universal City Plaza, Universal City, 800.864.8377. universalstudioshollywood.com