Wine Riot Brings Raucous Wine Tasting to Downtown Los Angeles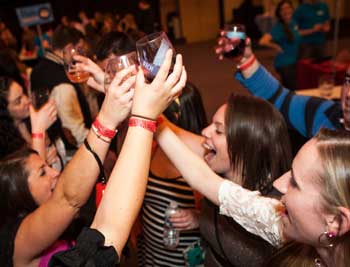 What's something to do in LA that doesn't suck? Wine! At Wine Riot, sip 250+ wines from all over the globe, talk to vino pros, strike a pose in the photo booth, and dance to DJ beats.
You don't have to travel to the Central Cost or Napa to taste a variety of top wines this month. At Second Glass' third annual Los Angeles Wine Riot event, which wraps up its six-city tour on Nov. 9, wine is best served paired with DJ beats and an accompanying app to log your favorites. Sip more than 250 wines spread out over 35 wine booths representing almost every type of wine from around the world, including up-and-coming wines from Mexico's Baja wine country.
Exciting new additions to this year's event, which offers both afternoon and evening sessions, include a "Bubbly Bar" that showcases every major style of sparkling wine. Also stop by the special introductory "Wine 101" booth that includes eight different pairing stations, the booth aims to educate aspiring oenophiles about the differences between all the major tasting profiles including sweet vs. dry, young vs. aged, oaked vs. unoaked and old world vs. new world.
Download the free "Second Glass" mobile app for iPhone and Android created specifically for the Wine Riot event. The mobile app comes preloaded with every wine available for tasting at the event and boasts the ability for you to store details about each wine that you "like" or "love" along the way. It also allows you to receive real-time notifications of crowd favorites, and can be used after the event to find local stores that carry your favorite wines.
Before you leave, don't forget to strike a pose at the prop-stocked photo booth and pick up temporary tattoos and postcards to remember your wine rioting experience.
Wine Riot, Select 1–5 pm or 7–11 pm. $60. Majestic Halls, 650 S. Spring St., downtown. secondglass.com/wineriot