WHERE To Eat In Los Angeles Now
Here's our breaking list of top Los Angeles restaurants, and reason why you should book a table at them today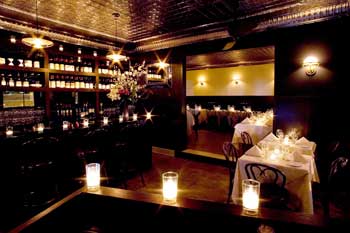 BREADBAR'S "HATCHI TRUCK STOP"
Starts March 31. BREADBAR Century City's guest food truck series extracts chefs from LA's premier food trucks and offers a one-night-only meal of inspired small plates priced at $8 each. In March, selected choices from Food Network's "The Great Food Truck Race" winners Grill 'Em All truck, followed in coming months by food from Great Balls on Tires, Dim Sum Truck, Frysmith, Gastrobus and many more. BREADBAR Century City, 10250 Santa Monica Blvd., Century City, 310.277.3770. www.breadbar.net
The Spice Table
The tastes of Singapore and Vietnam fuse with Bryant Ng (former Pizzeria Mozza chef de cuisine) at the helm. Find street-food inspired dishes including a variety of satays (chicken, beef, pork, lamb belly, chili prawns) grilled on a wood-burning oven; fried cauliflower; Laksa (spicy noodle soup); curry fried chicken wings; Otah (spicy mackerel & coconut grilled in banana leaf) and more. 114 S. Central Ave., downtown, 213.620.1840. www.thespicetable.com
Il Sole
Beloved West Hollywood eatery has just received a nip/tuck to sport a stylish new design and inviting vibe. Chef Issac Rivera has fine-tuned the menu to complement the aesthetic changes and offers selections such as Ravioli Aragosta (homemade ravioli with Maine lobster filling served in a lobster butter sauce);  Zuppa di Vongole (fresh Manila clams sautéed with white wine, garlic & olive oil); along with the famous  Sogliola Arrostita al Burro (imported "Dover Sole" oven roasted and served with a lemon sauce). 8741 W. Sunset Blvd., L.A., 310.657.1182.
Saint Amour
French bistro food is elevated to perfection at this quaint Culver City spot. Find specialties such as house-made charcuterie (chef Bruno Herve Commereuc weaves hazelnuts and cognac into his Toulouse venison sausage). Moules Mariniers & Frites are the ultimate gourmet comfort food along with Boeuf Bouguignon that melts in your mouth. Also stop by for brunch on the weekends and all-you-can-eat family-style fried chicken on Sundays. 9725 Culver Blvd, Culver City, 310.842.8155. www.lesaintamour.com
Son of a Gun
The seafood-focused venture with nautical decor from Animal chefs Vinny Dotolo and Jon Shook promises a daily changing menu with selections that could include fluke crudo, king crab leg, alligator schnitzel, oysters, along with salads and some land dishes. 8370 W. 3rd St., L.A., 323.782.9033. sonofagunrestaurant.com
Cafe del Rey
The newly remodeled and culinarily revamped Cafe del Rey features seasonal menus, by Chef Daniel Roberts, that focus on the flavors of the French and Italian riveras with additional accents of the Mediterranean region. Lounge menu offers small plates such as truffle pizza, lamb kaftan cigars (our personal favorite) oysters, steamed black mussels and more. Wash that down with $6 cocktails at happy hour (daily 4-7 p.m.). 4451 Admiralty Way, Marina del Rey, 310.823.6395. www.cafedelreymarina.com
Corkbar
Chef Albert Aviles rolls out his spring menu March 24 and offers a special tasting event that night with Los Olivos-based Epiphany Cellars. Mix and mingle with the Epiphany team while sipping on a flight of 5 wines ($15). Nosh on Aviles' spring selections of Banh Mi sliders, spice-crusted pork chop and a Spring lamb sandwich. Also stop by for Test Kitchen Tuesdays to try Chef Aviles' new creations for $2 a taste, or weekday happy hour from 4-7 p.m. Open daily from 11:30 a.m. Corkbar, 403 West 12th St., downtown, 213.746.0050. www.corkbar.com
Fig & Olive
New York-based Fig & Olive has opened an 8,000-square-foot, Riviera-inspired restaurant and tasting bar on the corner of Melrose Place. Chef Pascal Lorange offers a menu of refined elegance with a special focus on olive oil. Upstairs is the Fig Champagne & Cocktail Bar. 8490 N. La Cienega Blvd., L.A., 310.360.9100
Cafe Entourage
Late-night dining in Hollywood just got more stylish. Find two stories of a chic, yet relaxed environment that boasts two full bars and a second floor lounge that leads out to an outdoor patio. Chef Michael Ben's menu features pretty much anything you would want any time of day including breakfast, sandwiches and paninis, salads, pizzas and pastas and entrees like lamb chops, seared duck breast and grilled salmon. Open 24 hours Thurs. – Sat. 1600 Vine St., Hollywood, 323.467.4200.