Where to Eat Easter Brunch in Los Angeles?
We've assembled your guide to Los Angeles Easter Brunches, Easter Basket Treats and More.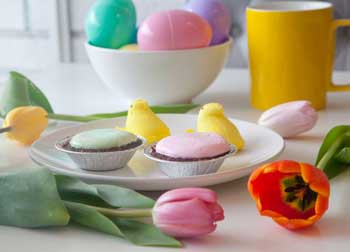 Scarpetta
Debuting its weekend brunch buffet last week, just in time for easter, Chef Scott Conant's Beverly Hills outpost at the Montage Hotel offers a luxurious brunch experience. Find everything from sashimi offerings like yellowtail and ahi tuna, citrus cured salmon, raw bar with freshly shucked oysters, shrimp and lobster; an array of baked pastries; salads such as roasted asparagus, caramelized cauliflower, roasted tomato and mozzarella; carving stations for fish, beef and lamb; omelets made to order, fresh fruit selection and fresh cheese plates made to order by The Cheese Store of Beverly Hills. Topping off the experience is a room full of desserts including macaroons, bite-sized chocolate tarts, financiers, strawberries drizzled with balsamic vinegar and some themed for Easter by executive pastry chef Richard Ruskell. Also, children dining at Scarpetta or staying at the Montage are invited to join the easter egg hunt (noon and 3 p.m.) being held in the gardens adjacent to the Scarpetta/Montage patio. $88 adults (includes a complementary Mimosa or Bloody Mary) $35/children 12-5, children under 5 free. 225 North Canon Drive, Beverly Hills, 310.860.7970. www.scottconant.com/restaurants/scarpetta/beverly-hills
Dominick's
The lauded West Hollywood restaurant (and former rat-pack hangout) has relaunched its weekend brunch for Easter and beyond. Relax on the quaint outdoor patio and dive into menu selections such as Blueberry Ricotta Pancakes, smokey Wood Grilled Oysters, Creamed Ramps with Hackelback Caviar on homemade Brioche, Smoked Salmon with Herbed Waffles, and Poached Eggs with Dill Hollandaise; Steak and Eggs, poached with Pollen Hollandaise; Fried Potatoes with Garlic and Lemon, Wild Boar Bacon and More. Eye opener brunch cocktails include the Cardamom Crisp with Plymouth Dry Gin, Cardamom Bitters, Muddled Cucumber, Lemon and Soda; Straberry-Ginger Mule, Mint Julip (with 3 oz. of bourbon), Bloody Mary, Arnold Palmer and more. 8715 Beverly Blvd., West Hollywood, 310.652.2335. www.dominicksrestaurant.com
Cecconi's
Find a selection of specials in addition to the regular brunch and dinner menus. Items include Asparagus & Pienza Pecorino Fritatta priced at $9, "Torta Pasqualina" a classic Easter quiche priced at $12, Salt Cod & Potato Ravioli with clams, garlic and chili priced at $18, and of course, Roast Leg of Lamb with a mostarda glaze and artichokes "Romana" priced at $22. For dessert, guests can enjoy a Pastiera Tart, another Easter classic priced at $8. 8 a.m.-11 p.m. 8764 Melrose Ave., 310.432.2000. www.cecconiswesthollywood.com
Tres at SLS Hotel
Prix-fixe Easter Brunch includes items such as Pan con Tomate toasted bread, tomato and olive oil, Gazpacho with traditional condiments, and a Smoked Salmon Display with Russ & Daughters diamond selection, caper berries, minced red onions, quail eggs, chives and Greek yogurt. A number of a la carte items are available as well, including 12 Quail Eggs Sunny Side Up huevos a la cubana "Andy Garcia," SLS Eggs Benedict with eggs 63, toasted brioche, hollandaise air, and Russ & Daughters smoked salmon or Jamon Serrano, Croissantini a pressed croissant sandwich, eggs, chicken sausage and herb cream cheese, and the Rack of Lamb with mint oil and paired with a glass of Cain Cuvee specially prepared for Easter. 11 a.m.-3 p.m. $49/pp. 465 South La Cienega Boulevard, 310.246.5551. www.slshotels.com/experience/trés
FIG & OLIVE
New Melrose Place outpost offers a French Riviera-inspired three-course prix-fixe brunch menu. The eatery's new outdoor café will provide diners the perfect al fresco setting to enjoy a complementary Mimosa, Bloody Mary, or Piscine, paired with Executive Chef Pascal Lorange's Buttermilk Pancakes with Figs and Walnuts, South of France Poached Eggs, Provencal Lamb, and Strawberry Crostini, among others. 11:30 a.m. – 3 p.m. $40/pp. 8490 Melrose Place, West Hollywood, 310.360.9100. www.figandolive.com/menu/melrose-place
Vu
Dine on a three-course brunch with free flowing sparkling wine, mimosas and coffee service. Menu items include Compressed Fruit with Honey Yogurt Foam, Green Curry Soup, Grilled Polenta, Brioche French Toast, omelets, quiche, Steak & Eggs and many more with dessert options ranging from White Chocolate Polenta to Warm Apple Tart. 14160 Palawan Way, Marina del Rey, 310.439.3033. www.vumdr.com
Sprinkles
Through April 24. Fill your Easter basket with the Sprinkles spring selection in their specialty HOP box. Children and adults alike with delight in the brown sugar praline cupcakes, made with caramel cake, brown sugar frosting and topped with crunchy nut praline, as well as adorable Easter decorations. The HOP box contains dark chocolate, red velvet, brown sugar praline and carrot cupcakes adorned with pink and green bunnies. Each box is priced at $39 per dozen and is sealed with a HOP for Cupcakes sticker. www.sprinkles.com
Napa Valley Grille
Westwood Village's beloved 11-year-old neighborhood restaurant—offers Angelenos a taste of spring with a rustic three-course prix-fixe brunch menu crafted by Executive Chef Joseph Gillard. Guests can enjoy Gillard's signature seasonally-influenced breakfast and lunch dishes including Poached Eggs with Artichoke Crab Hash and Roasted Tomato Hollandaise; Apricot-Stuffed French Toast with Spiced Ricotta Cheese and Plum Syrup; Mint Noodles with Sweet Peas and Cultivated Mushrooms and more. Menu is paired with a complimentary glass of champagne, sparkling cider, or a refreshing mimosa, alongside Easter-themed arts, crafts, and coloring kits for children at each table. Adults can also sip on a rum-based "Hop To It" cocktail ($10). 10:30 a.m.-3 p.m. $49/pp, $12/children 12 years old and under with three-course kids menu. 1100 Glendon Ave., Westwood, 310.824.3322. www.napavalleygrille.com
Four Seasons Los Angeles at Beverly Hills
Culina, Modern Italian will be offering a decadent Easter brunch sure to please the whole family. Chef Ashley James has created buffet stations filled with classic dishes that highlight festive offerings such as Lobster Eggs Benedict with Choron sauce and Lemon Cottage Cheese Pancakes with either whipped cream, maple syrup, pomegranate syrup and berry compote. Additionally, in the spirit of Easter egg hunts, Culina will be offering a "Candy Factory" filled with chocolate eggs, cotton candy, flowing warm chocolate with strawberry skewers, marshmallows, pretzels, and sponge cake skewers. $95/pp; $45/children ages 5 to 12. 300 South Doheny Drive, Beverly Hills, 310.860.4000. culinarestaurant.com
Locanda del Lago
The Third Street Promenade's northern Italian eatery celebrates Easter all week long–April 23 – April 29–with a multi-course prix-fixe dinner (three courses $55/pp; four courses $69/pp). Executive Chef Walter Cestrone's holiday specials include Borage & Ricotta-Stuffed Tortellini with Burrata Cheese Sauce, Roasted Lamb Shank with Heirloom Potatoes, and traditional Easter Ricotta-Rice Pie with Pink Lady Apple Sorbetto. Courses can be matched with optional wine pairings ($24/pp), and can also be ordered à la carte ($10-32 each). Available all-day on Easter Sunday; 4 – 10 p.m. April 23 – 29. 231 Arizona Ave., Santa Monica, 310.451.3525. www.lagosantamonica.com
Magnolia Bakery
For Easter, Magnolia Bakery offers two special treats: Easter Egg Brownie Bites ($3.75), two egg-shaped brownies decorated with festive pastel royal icing wrapped up with a bow and vintage tag, and Vintage Egg Carton Minis ($26) a dozen vanilla/chocolate mini cupcakes, iced with vanilla buttercream and topped with toasted coconut and chocolate covered sunflower seeds—all tied up with a pretty gingham bow and Easter tag. 8389 West 3rd St., L.A., 323.951.0636. www.magnoliabakery.com
Royal/T
Guests can enjoy a whimsical Easter-inspired brunch at Culver City's vibrant art space, Japanese "cosplay" maid café, and retail store with themed menu specials that will include a special High Tea Set, Peter Rabbit's Carrot Ginger Soup, Coconut Bunny Snowballs, and the Easter Basket Breakfast Set with the choice of an entrée and pastry, fresh Fruit, fresh Juice, and a choice of Tea or Coffee ($3-25). Resident DJs spinning mellow electronic beats and the new street art-inspired "FACEMAKER" exhibit will round out the family-friendly festivities. 10 a.m. – 3 p.m. 8910 Washington Blvd., Culver City, 310.559.6300. www.royal-t.org
CHAYA Brasserie Beverly Hills
Located off trendy Robertson Blvd., tucked away on this quiet neighborhood street, diners at Chaya Beverly Hills can enjoy a three-course prix-fixe Sunday brunch from Executive Chef Harutaka Kishi (whose name translates to the word spring) Choices include the following but will not be limited to: Chilled English Pea Soup, Organic Poached Egg 63, Applewood Smoked Pork Belly; Grilled shrimp Wrap, Pimenton Ahumado, Butter Lettuce; Crispy Egg, grilled asparagus, truffle vinaigrette; French Toast, Granola crust, Organic Berry compote, citrus scent; Spring Risotto, English Pea, Sugar snaps, Baby artichoke, Chive Blossom and more. $37/pp (includes bottomless champagne); $15 young adults. 8741 Alden Drive, Beverly Hills, 310.859.8833. www.thechaya.com
simplethings sandwich & pie shop
Pick up a signature Peep Pie, created by Chef Carrie Cusack with the classic Easter-candy staple, through the month of April. The whimsical treats will be available as a "cutie pies" for $2.50 and "simple pies" for $5.50. Full sized "big pies" can be whipped up with 24 hours notice, for $20. 8310 West 3rd St., L.A., 323.592.3390.  www.simplethingsrestaurant.com
CHAYA DOWNTOWN
Executive Chef de Cuisine Kazuya Matsuoka features a three-course prix-fixe brunch of Euro-Asian market-driven ingredients in its chic and modern dining room. Diners will get to choose from seafood, homemade pastas, and sushi selections that include Flash Seared Albacore Carpaccio, yuzu-pepper sauce; Warm Asparagus Salad, crispy egg, pancetta; Grilled New York Steak & Fries, wild arugula, poached egg, truffle vinaigrette; Pancetta wrapped Gulf Shrimp, provençal grits and more. $35/pp (includes bottomless champagne). 11 a.m. to 3 p.m. 525 South Flower St., downtown, 213.236.9577. www.thechaya.com
Comme Ca
To celebrate the holiday Comme Ca offers a prix-fixe brunch menu, specialty cocktails, as well as an 18A take on mimosas. Diners can choose from Salade de Legume with ultra baby gems, Easter egg radish, potato and beans; House made Corned Beef with roasted potato and cabbage; Eggs Oscar English muffin, Dungeness crab, asparagus and hollandaise; Raspberry Macaroon with raspberry pastry crème and candied orange zest. Specialty cocktails, priced at $10, include the Sparkling Greyhound with vodka, muddled grapefruit and sparkling rose, as well as the Eastside with gin, lime, muddled mint and cucumber. For those who want to provide libations to the whole table, Comme Ca is offering a special "Mimosa by the Bottle," priced at $40 per setup, that includes a bottle of Jean Phillipe "Blanquette de Limoux" Languedoc, fresh squeezed orange juice, mint and berries. $35.pp (includes a mimosa). 8479 Melrose Ave., 323.782.1104. www.commecarestaurant.com
CHAYA VENICE
Enjoy the beauty neighborhood vibe and Delight in a three-course prix fixe menu inspired by its Euro Asian traditions along with modern seasonal products sourced from local purveyors including specialties for vegetarians. Executive Chef Yuichi Natori offers: Spicy Tuna Tartare, Crispy Wonton; Spring Jumbo Crispy Asparagus with Spicy Miso; Grilled Tempeh and Curried Lentils with Tuscan Kale and Sweet Potato Puree; CHAYA Chicken Dijon with Pommes Frites and more. $32/pp (includes bottomless champagne). 110 Navy St., Venice, 310.396.1179. www.thechaya.com
Obikà Mozzarella Bar
Easter brunch buffet showcases Obika's exceptional Mozzarella di Bufula Campana DOP, which is shipped to the restaurant from Italy three times a week. The Mozzarella di Bufala will be offered along with a selection of savory and sweet items including Assorted Salumi, Caponata with Pan Carsau, Artichoke Ricotta Quiche with Thyme and Mint, Ricotta Mousse, Smoked Wild Alaskan Salmon and Four flavors of Tiramisu. In addition, the brunch includes a choice of one of Obika's signature pastas, served family-style for the table. 10 a.m.-4 p.m. $25/pp (a complimentary mimosa or glass of Prosecco for those 21+); $15 children under 12. Obikà Mozzarella Bar, Westfield Century City Shopping Center, 10250 Santa Monica Blvd., Century City, 310.556.2452. www.obikala.com/locations
The Peninsula Beverly Hills
Guests can enjoy a three-course Easter menu in The Belvedere featuring free-flowing Nicolas Feuillatte Champagne. Prepared by Executive Chef James Overbaugh, the will feature specialties such as Mediterranean Seafood Salad with Sherry-marinated Scallops; Roasted Rack of Lamb with Fava Beans, Morels, Ramps, Minted Pomme Macaire and Raspberry-Gin Gastrique; and Grilled Juniper-cured Chicken Thighs with Crispy Chicken Oysters, Bloomsdale Spinach, Confit of Shallots, Carrot Gnocchi and Chicken-Rosemary Jus. For dessert, guests will be invited to sample from a bountiful pastry buffet. 11 a.m.-9 p.m. $115/pp; $39 for children under 12. 9882 South Santa Monica Blvd., Beverly Hills, 310.975.2736. www.peninsula.com/belvedere
All Jarred Up
All Jarred Up offers an Egg-ceptional Easter Berry Pie ($7) through their online store with a choice of custom mixes choosing from strawberries, blueberries, blackberries or raspberries. Orders are suggested to be placed by April 17th to ensure they are shipped to your door by Easter Sunday. www.AllJarredUp.Etsy.com @AllJarredUp. 310.993.1803.