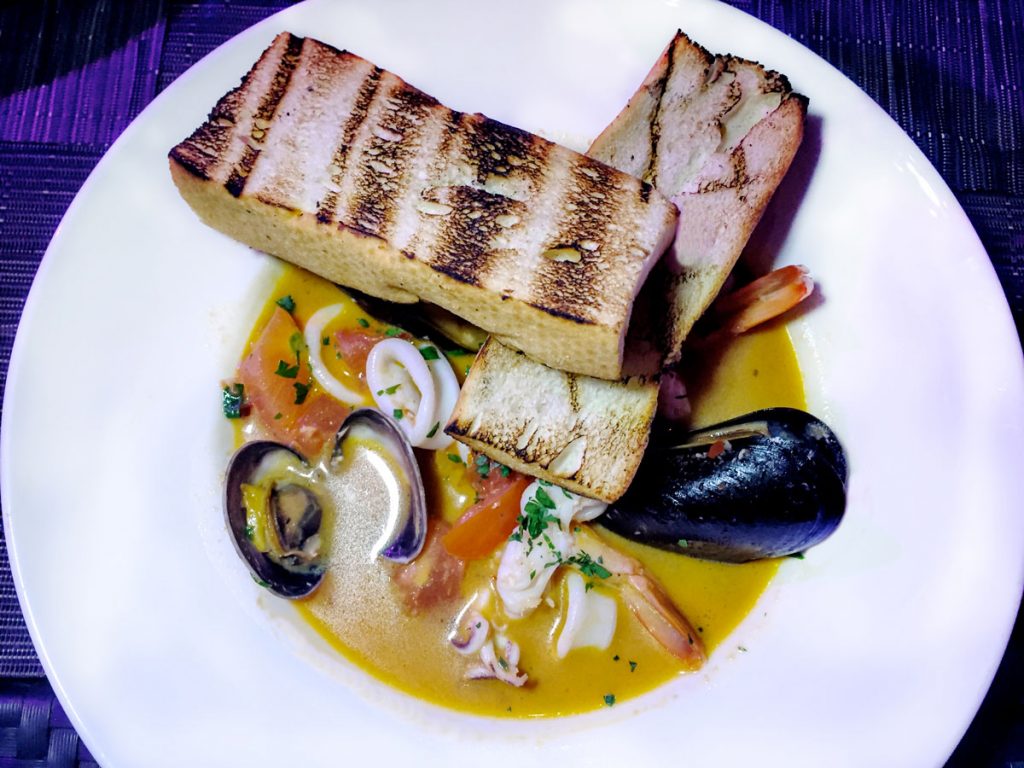 Each week we spotlight top Los Angeles restaurants, dining and drinking experiences you need to try.
Edited by Christina Xenos
Vinoteca Bar
Come for an espresso (and housemade breakfast pastries), and stay for a dynamite wine selection and traditional Italian street food at new Vinoteca Bar at Four Seasons Los Angeles at Beverly Hills. Chef de cuisine, Denis Dello Stritto will draw inspiration from his upbringing in Napoli to curate a menu of hyper-seasonal sharable plates montanara (fried) pizzas, pear-shaped arancini, frito misto and raw bar selections. To complement the Mediterranean cuisine at Vinoteca Bar, Italian Sommelier, Luca Bruno offers a "taste of Italy with California flair" through his handcrafted list of imported Italian wines and local varietals. Also don't miss the retail floral arrangements designed by Resident Florist, Jeff Leatham. 300 South Doheny Dr., 310.273.2222. fourseasons.com/losangeles
Shake Shack
Opens Sept. 23. Shake Shack is second restaurant to open in the new 525 S. Brand Blvd. stretch—it's also the brand's second outpost to open in LA. Expect your favorite ShackBurgers, crinkle cut fries, frozen custard, and a selection of Glendale-specific concretes (liquor license is still pending, so you'll have to patiently wait for the ShackMeister Ale). 525 S. Brand Blvd., Glendale. shakeshack.com
CIRCA 55
Get a taste of Italy poolside at The Beverly Hilton. It's restaurant, CIRCA 55, offers Serata Italiana: A Thursday night feast from executive chef Alberico Nunziata. Feast on classic Italian fare like melt-in-your-mouth eggplant parmigiana; a selection of housemade pastas like fettuccine with Italian sausage and mushroom sauce; seafood soup with calamari, shrimp, mussels and clams; grilled whole branzino with asparagus and Campari tomatoes; pizzas and decadent desserts like tiramisu. Also find a variety of Italian wines, and each dinner kicks off with a complementary glass of prosecco. Thursdays, 5-10 p.m. 9876 Wilshire Blvd., Beverly Hills, 310.274.7777. beverlyhilton.com
Fig & Olive Melrose Place
Sept. 20. The French Riviera-inspired dining destination offers an exclusive wine pairing event, featuring a five course prix-fix dinner curated by the brand's executive chef Wilfrid Hocquet. In addition to a selection of hors d'oeuvres—including Manchego and duck prosciutto crostini paired with sparkling rosé—the menu includes dishes like hamachi crudo, Allan Brother's prime rib eye and a selection of cheeses. $150/pp. 7 p.m. 8490 Melrose Pl., West Hollywood, 310.360.9100. figandolive.com
Ramen Slurpfest
Sept. 22. Five top SoCal ramen shops convene for an indulgent evening of slurping and sipping. True to Tokyo train station tradition, guests will have 13 minutes to slurp up each bowl before moving on to the next; while specialty Bombay Sapphire EAST cocktails are served to pair with each broth. Participating restaurants include: Sun Noodles, Ramen N.A.O., Ramen Hood, Shin Ramen, and The Ramen Joint. Millwick, 800 E 4th Pl., downtown. luckyrice.com
Mid-Autumn Harvest Moon Cocktail Feast
Sept. 23. Revel in the full moon's light while enjoying a collection of creative cocktails from the city's finest restaurants and bars. A traditional harvest celebration in China and Vietnam dating back over 3,000 years, each cocktail will utilize the versatile flavor profile of Bombay Sapphire East (infused with Thai lemongrass and Vietnamese black peppercorns) while offering an innovative and exciting way to celebrate the Harvest Moon Festival. Participating Bars/Restaurants include: Bellwether, Blue Ribbon Sushi, ETA, General Lee's Cocktail House, Lock & Key, Minibar Hollywood The Cannibal, and Roku. Alexandria Ballrooms, 501 S Spring St., downtown. luckyrice.com
VERSUS at Terrine
Debuts Sept. 20. Join head bartender Ryan Wainwright for a monthly event where he'll challenge the city's finest barkeeps to a cocktail duel, enlisting their help in building one-night-only menus of ingredient-driven drinks. The battle goes down this week with Wainwright battling it out with Belcampo's Una Green. Wainwright and Green asked four local cocktail enthusiasts to each pre-select one ingredient—alcohol or otherwise—that they would like to see in drink format. Each bartender will be tasked with presenting one drink that embodies each ingredient, for a menu of eight drinks total available exclusively that night. Guests in attendance will have the opportunity to vote for their favorites on the spot, helping Wainwright or Green win glory and bragging rights. 5-10:30 p.m. 8265 Beverly Blvd., L.A., 323.746.5130. terrinela.com
Alexander's Steakhouse
The seasons are changing and Alexander's Steakhouse is marking the equinox with a series of Saturday night dinners observing the event. The Solstice to Equinox dinners each feature a five-course family-style menu served on the patio. Highlights of this week's menu include everything from chilled foie gras to American Wagyu ribs. 111 N Los Robles Ave., Pasadena, 626.486.1111. alexanderssteakhouse.com
Cafe Birdie
Opens Sept. 20. The Cal-Med neighborhood bistro—housed in a former underwear building—is the latest addition to the Highland Park dining scene. Dine on classic dishes designed to comfort and share like Moroccan-spiced fried chicken with harissa, mint and lime; Manila clams with chorizo, crispy garbanzo beans and green garlic; housemade pasta like Passatelli with squid ink, dungeness crab, uni butter, cherry tomatoes, and basil; and more. Cocktails range from light weekend sippers to dinner nightcaps and include selections like The Roosevelt with rye whiskey, sweet vermouth, Aperol, Benedictine and Angostura Bitters. Dinner nightly. 5631 N. Figueroa St., Highland Park. cafebirdiela.com
Herringbone Santa Monica
Sept. 21. Raise a glass to the last day of summer with $25 bottomless rosé—all day—at Herringbone Santa Monica. Brian Malarkey's Santa Monica hotspot will be pouring throughout lunch, happy hour, and dinner service making sure that the season is given a proper send off. 1755 Ocean Ave., Santa Monica, 310.971.4460. herringboneeats.com
Salazar
Frogtown's al fresco dining destination is expanding their menu to include oysters every Sunday night from 4 p.m. until close. Diners can enjoy oysters from catering duo Oyster Boys, who will bring a rotating selection to the restaurant, including Nautilus from Baja and Mirada from Hood Canal, WA. Also, catch a glimpse of  Brion Brionson will be hosting his podcast "Shucking with Brion" there one Sunday every month, where guests will join him for some shucking and chit chat. 2490 Fletcher Dr., L.A. salazarla.com
Bakers Will Bake
Sept. 25. Pastry powerhouse Roxana Jullapat fronts a group of over 20 local bakeries and restaurants offering delectable confections for a good cause. The fourth annual event happens at the Hollywood Farmers Market and benefits the Micheltorena Elementary School Community Garden. 8 a.m.-1 p.m. Hollywood Farmers Market, Ivar Ave. at Selma Ave., Hollywood. More Info.
Angel City Brewery's Oktoberfest
Sept. 25. Angel City Brewery channels the spirit of a traditional Munich Oktoberfest through traditional games, food and beer. The brewery  will be serving up two Märzen-style beers, Oktoberfest and Imperial Oktoberfest, all festival long. 1-8 p.m. 216 South Alameda St., downtown. AngelCityBrewery.com