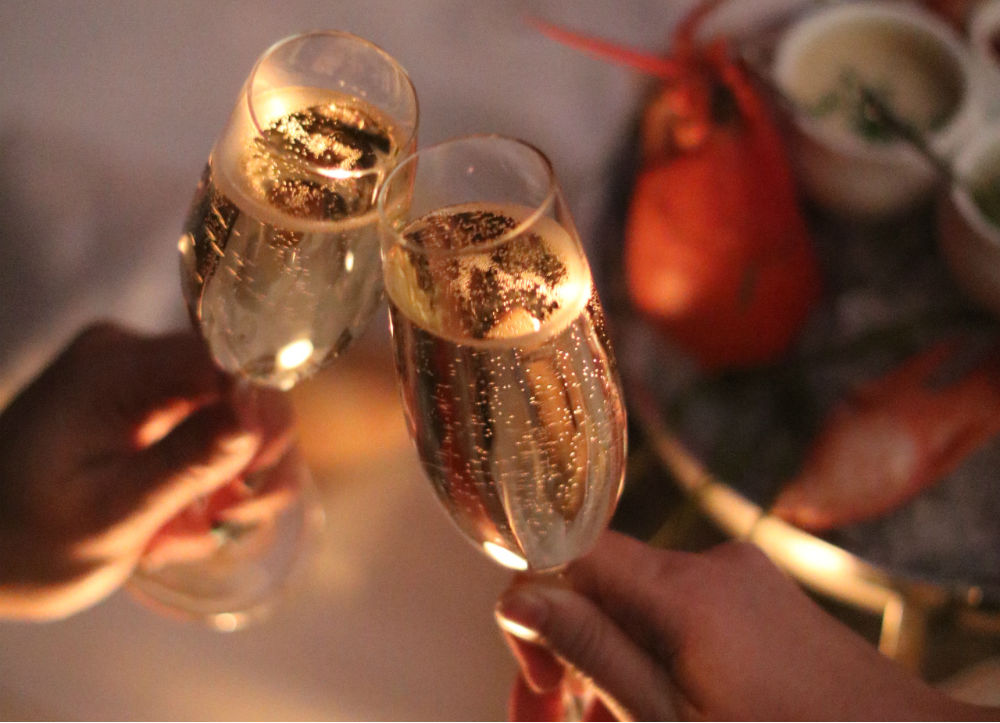 There is no shortage of options in Los Angeles where to ring in New Year's Eve 2019 with a great meal and celebration. Note: Most require advance reservations so be sure to call ahead.
Edited by William Yelles.
BEVERLY HILLS
The Bazaar by José Andrés
Signature Bazaar cuisine is paired with an array of magical performances and entertainment. The night begins with a strolling dinner showcasing a decadent spread of The Bazaar's signature modern and traditional tapas and a few New Year's Eve specialties. Then don your mask as the masquerade turns into a lavish celebration. Dinner: 7:30-10:30 p.m. ($225); Masquerade soiree: 10:30 p.m.-1:30 a.m. ($145). SLS Hotel, 465 S. La Cienega Blvd., L.A., 310.246.5555. thebazaar.com
Beverly Wilshire, A Four Seasons Hotel
To ring in 2019, the iconic 90-year-old property offers an indulgent New Year's Eve dinner at its signature restaurant, THE Blvd. In addition to a five-course menu, extravagant add-ons on offer include seafood platters, grilled lobster and unlimited Dom Perignon to toast to the New Year. 9 p.m.-midnight. $300+. 9500 Wilshire Blvd., Beverly Hills, 310.385.3901. theblvdrestaurant.com
CIRCA 55 at The Beverly Hilton
Ring in the New Year with dinner, dancing, and Champagne at CIRCA 55. Two seatings are offered. The first includes dinner only; the second includes dinner and access to a New Year's Eve party. At both seatings, enjoy decadent dishes such as lobster bisque, an assortment of cheese and charcuterie, fresh oysters, mushroom and black truffle risotto, prime rib, an extravagant dessert spread and Champagne toast. 6-8 p.m. first seating; 8 p.m.-12:30 a.m. second seating. 9876 Wilshire Blvd., Beverly Hills, 310.887.6055. beverlyhilton.com
The Double Barrel
Enjoy a prix-fixe menu including items like fennel and arugula with goat cheese and pecorino, chicken with orange confit and carrot; salmon and pommes; rack of lamb with risotto and brussels; and bourbon tiramisu. The evening will also include a Champagne or whiskey toast. $75. 8689 Wilshire Blvd., Beverly Hills, 310.657.5040. doublebarrelbh.com
Montage Beverly Hills
The hotel's Marquesa ballroom transforms into a lavish New Year's Eve Great Gatsby-themed black-tie gala that includes a cocktail reception, a five-course seated dinner with wine pairings, dancing and a champagne toast at midnight. Guests can also close out the year with an evening of celebration and dining at The Restaurant. Enjoy a four-course prix fixe menu with optional wine and champagne pairings. $415 gala (21+); $295 dinner. 225 N. Canon Dr., Beverly Hills, 855.691.1162. montagehotels.com
The Peninsula Beverly Hills
Celebrate the New Year in style at The Peninsula Beverly Hills with a six-course prix-fixe menu, live music and dancing lasting well into the night. 5 p.m. seating: $165 adults; $75 children 12 and under. 7:30 p.m. and 8 p.m. seatings: $310 adults; $195 children under 12. 9882 S. Santa Monica Blvd., Beverly Hills, 310.975.2736. peninsula.com
Viviane at The Avalon Beverly Hills
Choose from one of two seatings: The first seating includes a four-course pre-fixe menu and whiskey pairings, while the second seating features a five-course menu, amuse bouche upon arrival, complimentary whiskey pairings and a Champagne toast. 6:30 p.m.; $65. 9 p.m.; $95. 9400 W. Olympic Blvd., Beverly Hills, 310.407.7791. avalon-hotel.com
BRENTWOOD
Baltaire
This New Year's Eve at Baltaire is a tribute to Midnight at legendary New York nightclub Studio 54. During the first seating (5-7:30 p.m.), Baltaire will offer a limited a la carte menu. The second seating (8:30-11 p.m.) includes a five-course menu for $250 per person, as well as a Krug champagne toast at midnight. Supplemental caviar, cheese, and champagne carts will be offered. 11647 San Vicente Blvd., Brentwood, 424.273.1660.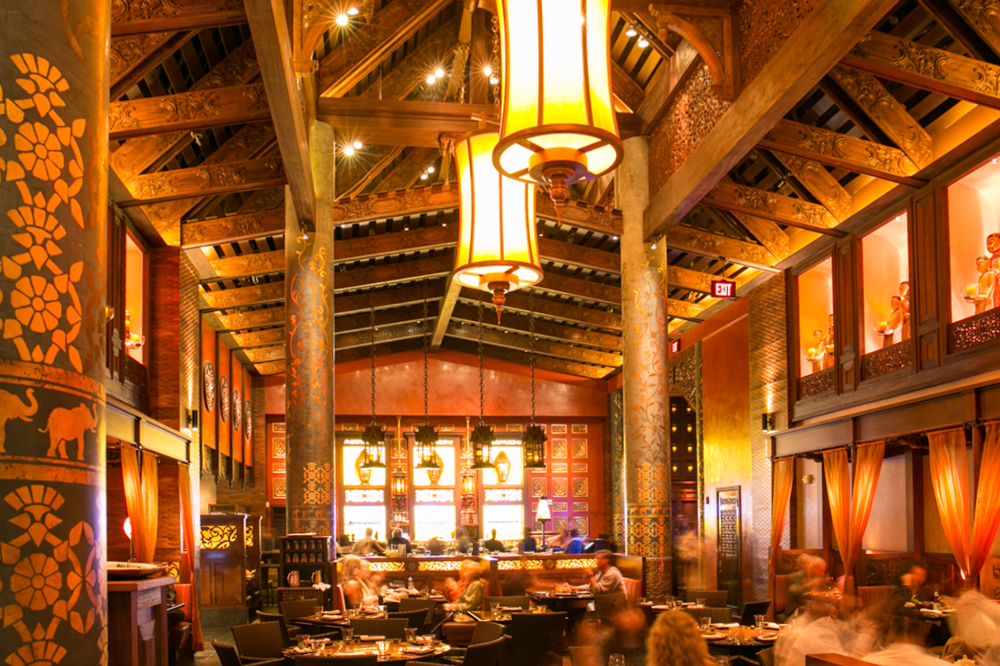 CENTURY CITY
RockSugar Southeast Asian Kitchen
For the perfect date night for two, enjoy three shared appetizers, one soup or salad, two entrees, one shared side and two desserts from Executive Chef Mohan's exclusive prix-fixe New Year's Eve menu. Perrier Jouet Champagne is included. $68. Westfield Century City, 10250 Santa Monica Blvd., L.A., 310.552.9988. rocksugarkitchen.com
DOWNTOWN LOS ANGELES
Baldoria Bar + Kitchen
Baldoria will offer a New Year's Eve grand buffet that includes a selection of signature pizzas and off-menu creations like Foie Gras Potato Pizza, a DIY nacho bar, Blue Bell ice cream cones, and a Champagne toast at midnight. 10 p.m.-1 a.m. $40 in advance; $45 at door. 243 San Pedro St., L.A., 213.947.3329. baldoriadtla.com
Café Pinot
Ring in 2019 with holiday specials by Executive Chef Phillip Martin. Specials include oysters with apple, yuzu, and black pepper; whole Dungeness crab dip in shell with smoked crème fraiche; and crispy short rib. Full a la carte menu, champagne and curated wine pairings are also available. 5:30 p.m.-close. 700 W. Fifth St., L.A., 213.239.6500. patinagroup.com
Eve American Bistro at The Mayfair Hotel
Begin New Year's Eve dinner with dishes such as steak tartare with Dijon aioli, shallots, capers, parmesan, quail egg and house kettle chips; and pan seared diver scallops with black truffle celery root puree and shaved brussels sprouts. For dessert, enjoy red velvet mini churros with Nutella sauce, a warm sea salt chocolate chip cookie with Madagascar vanilla ice cream or a hazelnut chocolate tart with Harrys Farms strawberries and caramel sauce. $75. 1256 W. Seventh St., L.A., 213.632.1210. eveamericanbistro.com
Inko Nito
Available at both the Arts District and Beverly Grove locations, the celebratory three-course menu features multiple dishes for each course, is shared between two guests and highlights the restaurant's signature unconventional Japanese flavors served in an environment inspired by an Asian street market after dark. Dessert will feature Inko Nito's over-the-top charred coconut soft serve sundae with soy, Pocky and Japanese granola $75+. 227 Garey St., L.A., 310.999.0476; 8338 W. Third St., L.A., 310.439.3076. inkonitorestaurant.com
Kendall's Brasserie
Ring in the new year with French regional favorites by Chef Jean-Pierre. Three- or four-course options include the duck foie gras terrine with fig marmalade and toasted brioche; pumpkin ravioli with roasted broccolini, lemon confit, and chives; and roasted venison loin with celery root brandade, red wine poached pear, and green peppercorn poivrade sauce, among many other festively decadent options. 4-11 p.m. $75+. 135 N. Grand Ave., L.A., 213.972.7322. patinagroup.com
Nick & Stef's Steakhouse
Nick + Stef's Steakhouse celebrates with dry-aged steaks, festive holiday drinks, desserts and a New Year's toast. The Surf & Turf Special ($72) includes a petite filet mignon, lobster tail, potato puree, roasted root vegetables and sauce au poivre. Full a la carte menu will be available. 5-10 p.m. 330 S. Hope St., L.A., 213.680.0330. patinagroup.com
NoMad Los Angeles
To celebrate their first New Year's Eve, the NoMad Los Angeles is throwing a party with an open bar, live music and various food stations throughout the downstairs Restaurant space. Ticket proceeds will benefit Chrysalis, a non-profit with a downtown L.A. chapter that is dedicated to job placement for the homeless and low-income individuals. 9 p.m. doors; $135. 649 S. Olive St., L.A., 213.358.0000. thenomadhotel.com
Patina
Join Patina for a culinary celebration with four- and six-course options featuring dishes by Executive Chef Andreas Roller. Supplements and wine pairings available. First seating 4 p.m.; gala seating 7 p.m.; final seating 10 p.m. Walt Disney Concert Hall, 141 S. Grand Ave., L.A., 213.972.3331. patinagroup.com
Redbird
Chef Neal Fraser and team will be serving a celebratory three-course dinner, with optional wine pairings. Expect dishes like grilled octopus with romesco breadcrumbs, white hummus, preserved lemon; smoked tofu with mountain caviar, Japanese yam, maitake, ginger; and rabbitchetta with white grits, carrot mole, oja santa. Redbird will also host a New Year's Eve party for hors d'oeuvres, drinks featuring Moët Hennessy, and a DJ. Dinner: $130. Wine pairings: $75/$95. Party: $60. 114 E. Second St., L.A., 213.788.1191. redbirdla.com
Seven Grand
Dress up in your favorite masquerade outfit and masks and enjoy a special New Year's Eve menu with complimentary midnight prosecco toast. 8 p.m.-close. 515 W. Seventh St., Suite 200, L.A., 213.614.0736. sevengrandbars.com
Simone
For the first New Year's Eve at the newly opened Simone, Chef Jessica Largey will offer a tasting menu with an optional supplemental beverage pairing. Highlights include Caviar with Celery Root Cream, Passionfruit Sabayon with Santa Barbara Uni, Scallops with Black Truffles, Aged Duck with Matsutake Mushrooms and A1 Wagyu Beef. $195. 449 S. Hewitt St., L.A., 424.433.3000. simoneartsdistrict.com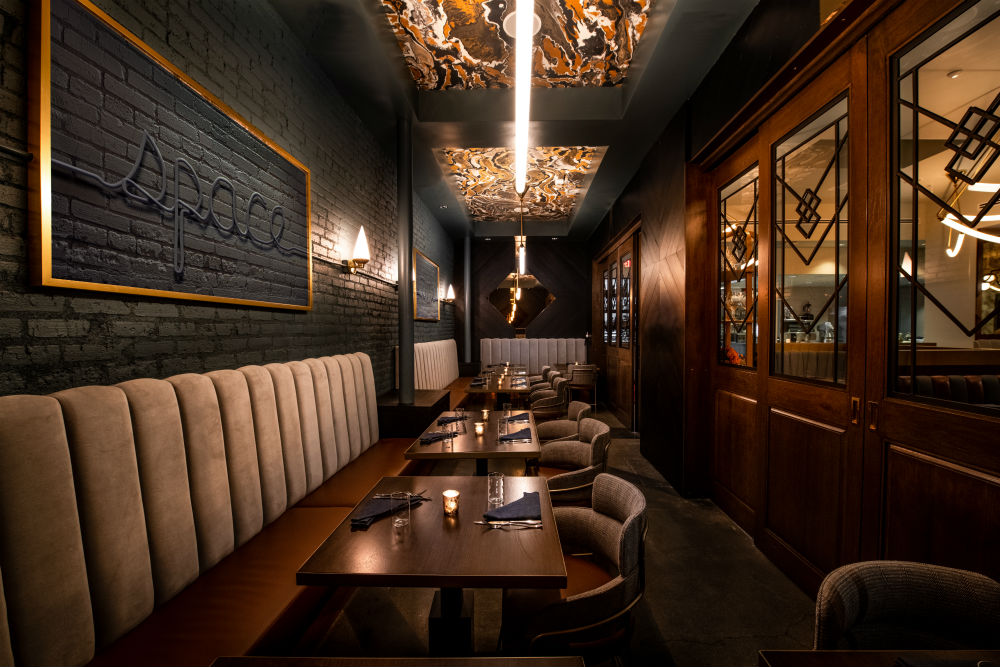 GLENDALE
Bourbon Steak
The modern-inspired steakhouse located at The Americana at Brand is offering a festive three-course menu composed of dishes meant to celebrate culinary classics. Starters feature options such as Michael Mina's caviar parfait with golden ostera caviar, salmon gravlax and cream fraîche. Main dishes include an aged duck breast and duck leg confit a l'orange with sweet potato pavé and carrots; filet mignon surf and turf; Ora King Salmon Wellington; and a lobster Thermidor with brandied lobster cream and market vegetables. $105+. 237 S. Brand Blvd., Glendale, 818.839.4130. michaelmina.net
MID-WILSHIRE
Ray's & Stark Bar
Seasonal specials include Ossetra Caviar with blinis, and crème fraiche; Tagliarini Alla Chitarra (made in-house) with Santa Barbara sea urchin, and New Caledonian prawns; and Roasted Rib Eye Steak for two with pommes puree and black truffle sauce. Full a la carte menu will also be available. 11:30 a.m.-8 p.m. 5905 Wilshire Blvd., L.A., 323.857.6180. patinagroup.com
PLAYA VISTA
Hal's Bar + Grill
Hal's will be celebrating New Year's Eve with two seatings of a prix-fixe dinner. Both include a glass of wine, Champagne toast and live music from Weekend Celebrity. The menu includes sorrel salad, choice of blackened halibut, prime rib or cacio e pepe, and pavlova dessert. First seating: 4:30-6:30 p.m., $45. Second seating: 7-9 p.m., $60. 12751 Millenium Dr., Suite 140, Playa Vista, 310.751.6834. halsplayavista.com
REDONDO BEACH
Gabi James
For the evening, Executive Chef Chris Feldmeier will add the following specials to his Spanish and Coastal French-inspired menu: Black Truffle Beef Tartare Fried Capers, Dijon Mustard, Red Onion, Lemon, Egg Yolk; Tomahawk Pork Chop Fennel Pollen, Olive Oil; Prime Rib Roast Whole Roasted with North African Spices; "Cava & Caviar" Caviar Service with traditional accoutrements (chopped egg, red onion, chives, creme fraiche, toast) and a bottle of Gramona Imperial Cava. A complimentary Cava toast will be shared with all guests dining through midnight. 5-11 p.m. 1810 S. Catalina Ave., Redondo Beach, 310.540.4884. gabijamesla.com
SANTA MONICA
Catch at Hotel Casa del Mar
Ring in 2019 with Chef Gemma Gray's prix-fixe menu of oysters on the half shell with caviar and smoked apple mignonette, prawn cocktail with brandy sauce, rack of lamb with purple kale, lobster frisée salad and finishers like avocado key lime Citrus Celebration and chocolate sphere with raspberries and gooseberries. $110. 1910 Ocean Way, Santa Monica, 310.581.7714. hotelcasadelmar.com
FIG Restaurant at Fairmont Miramar Hotel
The most formal of the New Year's Eve celebrations at Fairmont Miramar, FIG Restaurant is hosting a seated dinner party, complete with Champagne, seasonal cocktails, caviar station, charcuterie and cheese station, and a multi-course plated dinner, prepared by Chef Jason Prendergast. Black tie recommended. Early seatings: $125+; Late seatings: $175+. 101 Wilshire Blvd., Santa Monica, 310.319.3111. figsantamonica.com
Hotel Shangri-La
The celebration kicks off with a cocktail hour followed by a five-course decadent dinner featuring a poached pear salad, lobster bisque, an intermezzo, a surf and turf main consisting of petit filet, poached lobster tail, potato au Gratin, and micro vegetables, and a finale of Milles Crepe Cake. 9 p.m. $150. Hotel Shangri-La, 1301 Ocean Ave., Santa Monica, 310.394.2791. shangrila-hotel.com
1 Pico at Shutters on the Beach
Enjoy Chef David Almany's celebratory menu of burrata ossetra caviar, artichoke soup with perigord truffle, carnaroli risotto of Maine lobster, roasted maple leaf duck breast with black truffle, roasted wagyu filet mignon diane with maitake mushrooms and standout desserts including bittersweet chocolate custard, slow roasted apricot and margarita semifreddo. 1 Pico Blvd., Santa Monica, 310.587.1717. shuttersonthebeach.com
SHERMAN OAKS
Wood & Water
Enjoy a five-course menu to include items like spicy tuna with crispy Japanese eggplant chips, avocado, and cayenne aioli; escargot en croute with mushrooms and puff pastry; wonton halibut with blue crab, shiitake, roasted red pepper coulis; and duo of bread pudding with bourbon cream and dark chocolate pot de creme. 5-7 p.m. ($110); 8:30-9:30 p.m. ($140). Following the second seating, there will be an after-party with a DJ, dancing, balloons, Champagne toast and more. 13359 Ventura Blvd., Sherman Oaks, 818.855.1661. woodandwaterla.com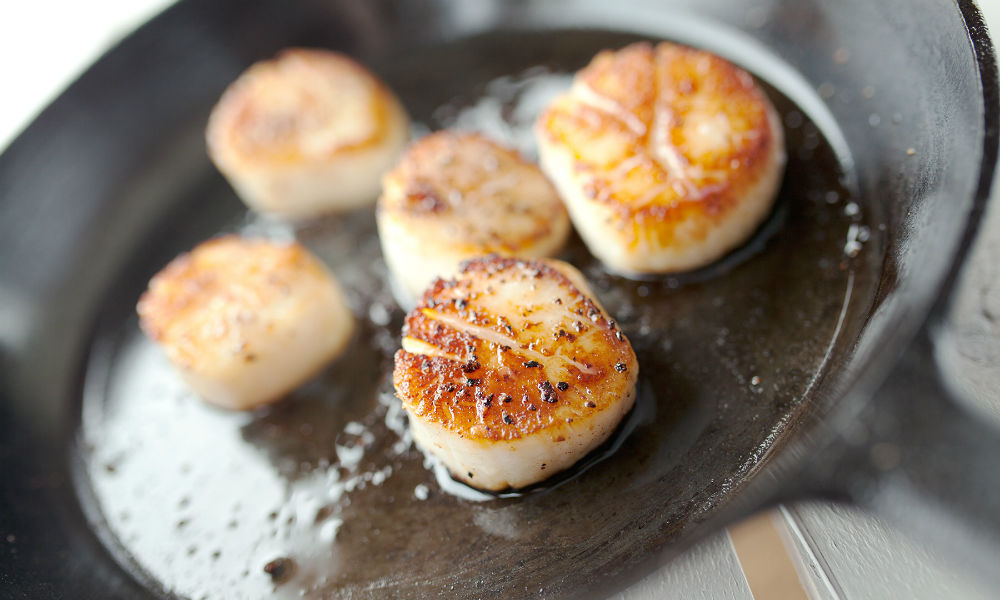 VENICE
The Rose Venice
Ring in New Year's Eve 2019 with music by DJ Obi-Wan Neroni (aka Chef Jason Neroni), Lost Beach and DJ Osamu, welcome drink, midnight toast and photo booth. There will also be a raw bar, soft serve and a buffet of pizza, fried chicken, burgers and more. 8 p.m.-1:30 a.m. $110. 220 Rose Ave., Venice, 310.399.0711. rosecafevenice.com
The Waterfront
The newly opened Venice restaurant will host a low key, family-friendly neighborhood affair for New Year's Eve, featuring happy hour all night, no cover charge, and a champagne toast at midnight. Catch the last sunset of 2018 from the Venice Boardwalk and watch the fireworks with friends and family. 3 p.m.-1 a.m. 205 Ocean Front Walk, Venice, 424.309.5331. thewaterfrontvenice.com
WEST HOLLYWOOD
Barbette
Chef Robert Flaherty and his team offer an elegant and innovative French Bistro prix-fixe menu of seasonal, locally sourced, organic dishes for New Year's Eve. Vegan options are available on request. Tables of four or more guests receive a complimentary bottle of Champagne; smaller groups receive a glass per guest to toast 2019. Seatings: 6:30 p.m. and 9 p.m. $75. 7511 Santa Monica Blvd., West Hollywood, 323.850.8888. barbettebistroandbar.com
Cecconi's
Cecconi's is ringing in the New Year with Casablanca-inspired celebrations and a six-course family-style menu. Touches of Old Hollywood glamour and 1940s-era cocktails pay homage to the classic film, while chef Samuele Pricoco serves shared plates such as Santa Barbara spot prawns, artichoke crostini and table-side white truffle risotto, as well as entrees including beef filet with cipolline, seared scallops with cauliflower purée and agnolotti with squash and ricotta. In keeping with the era's elegant fashion, trench coats, frocks and hats are encouraged. 5 p.m.-1 a.m. $95 (first seating); $140 (second seating, includes champagne toast, festive props and your table all evening). 8764 Melrose Ave., West Hollywood, 310.432.2000. cecconis.com
Kimpton La Peer Hotel
Kimpton La Peer Hotel celebrates the new year and the hotel's first anniversary with a luxurious Venetian masquerade ball, four-course meal, live entertainment, DJs and bottomless prosecco. Masked guests can feast on dishes including caviar blini, rabbit boudin blanc, wood-grilled scallops and torta di limoncello. The exclusive event takes place on the entire first floor of the property, taking over the courtyard and lobby areas. 9 p.m.-1 a.m. $150, dinner and ball; $50 masquerade ball only. 627 N. La Peer Dr., West Hollywood, 213.296.3038. lapeerhotel.com
Rosaline
Modern Peruvian bistro by famed chef Ricardo Zarate Rosaliné in West Hollywood is offering a pre-fixe menu for New Year's Eve. Early diners (6 p.m. – 8 p.m.; $95) can choose from a selection of starters to share including Eggplant Ceviche, Pork Ribs, Diver Scallops and more while indulging in the main course; Chaufa Paella. Those dining between 8:30 – 10 p.m. can enjoy amuse-bouche prior to the seating, their choice of two starters as well as a Chaufa Paella to share for $105. Both seatings include a dessert and a Champagne toast. 8479 Melrose Ave., West Hollywood, 323.297.9500. rosalinela.com
Spartina
Chef Stephen Kalt's casual Cal-Italian eatery is offering guests a four-course menu including a selection of hand-rolled pastas like butternut squash and pumpkin cannelloni. Desserts such as Shelley's Sicilian Almond Cake with candied oranges, Alisa Magni's Aunt's Tiramisu and Walnut Pie with caramel make up the sweet offerings. $60+. First seating at 8:15 p.m. Guests at 9:30, 10 and 10:30 p.m. seatings will be treated to a Champagne toast at midnight to ring in the new year. 7505 Melrose Ave., L.A., 323.782.1023. spartina.la
The Henry
The New Year's Eve prix-fixe menu offers specials not usually available on the regular dinner menu and includes a glass of champagne, Tuna Crudo, Grilled Artichoke, Beef Filet & King Crab Bearnaise and Dark Chocolate Marquis. A limited a la carte menu will also be available. $75. 120 N. Robertson Blvd., L.A., 424.204.1595. thehenryrestaurant.com
Baltaire photo courtesy Baltaire. RockSugar photo courtesy RockSugar. Simone photo by Rob Stark. Cecconi's photo courtesy Soho House.