Water Grill Reopens in Downtown Los Angeles Jan. 24
Water Grill in downtown Los Angeles reopens with an expanded bar area, revamped menu after four weeks of remodeling.
The Water Grill just announced that it will re-open Tuesday Jan. 24 at 5 p.m., with a new look and new menu. Over the last four weeks its interior has undergone a massive transformation (that reaches all the way down to their logo) which ultimately gives it a more contemporary and open feel.
The biggest change? The bar area that once felt enclosed is now open and the focal point of the bar and dining room area. It includes an expanded bar area with an oak-topped bar (used to be zinc) that seats 24 where you can casually dine, grab a beer–10 on tap and 11 by the bottle–sip a crafted cocktail from their new cocktail program, or catch a game on one of two televisions.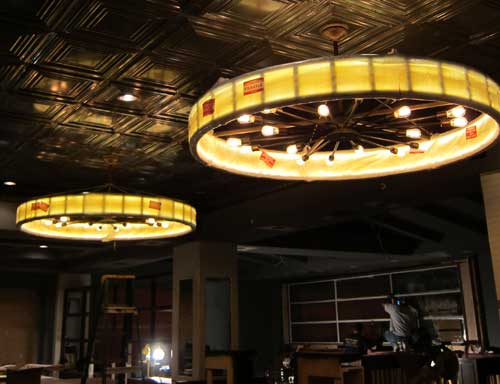 Rather sit at the raw bar? Now you can. The raw bar now has seating and a huge raw seafood selection starting with 10 to 12 different types of oysters daily (the WG averages just over two oysters eaten per guest). Six high top tables and a wall of pullman-style booths round out the bar area. In the dining room five horseshoe booths that seat five to six people replace the banquettes that used to line the room. Antique mirrors line the walls over them, in addition to a wall of antique fishing rods and reels will replace the murals that were once on the far wall. For those who aim for more discrete dining, find two six-top booths tucked away toward the back of the restaurant, near the newly opened kitchen.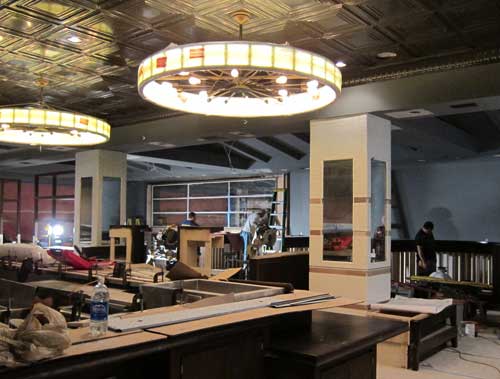 While complete details of the menu are still under wrap (including who the new head chef will be), expect the restaurant to make good use of its new wood-burning oven. The WG is also planning a whole fish program which offers three to five whole fish daily, cooked in a variety of ways. In all, they are planning to have 35-40 new dishes offered on one menu all day long, including in the bar. Formerly popular menu items like the New England lobster roll, Maryland Crab Cakes and Clam Chowder remain on the menu.
We were able to sample a few of the new selections:
Whole Mediterranean loupe de mer served ceviche style: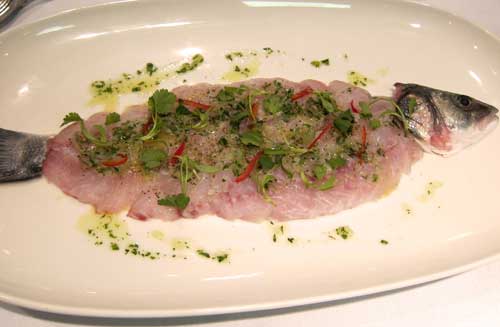 Fish and chips: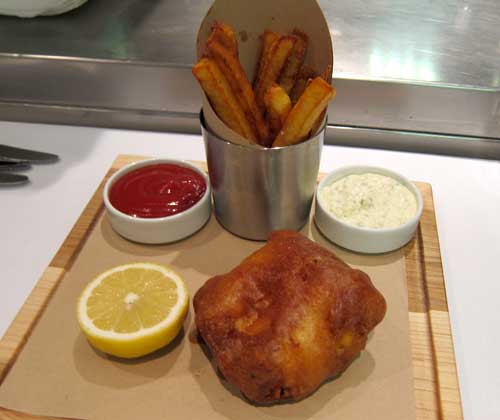 Swordfish, cooked to perfection in the wood burning oven: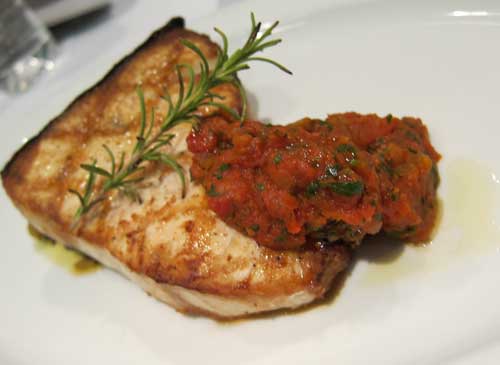 Side of braised kale: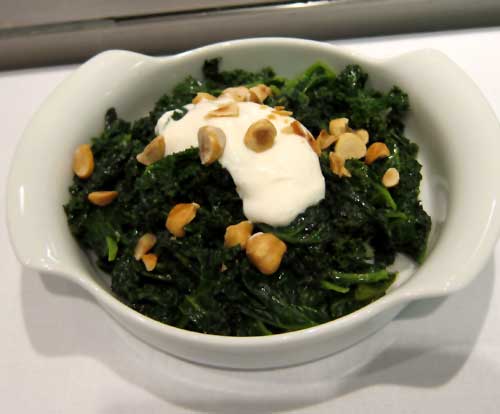 Water Grill, 544 S. Grand Ave., downtown, 213.891.0900. www.watergrill.com