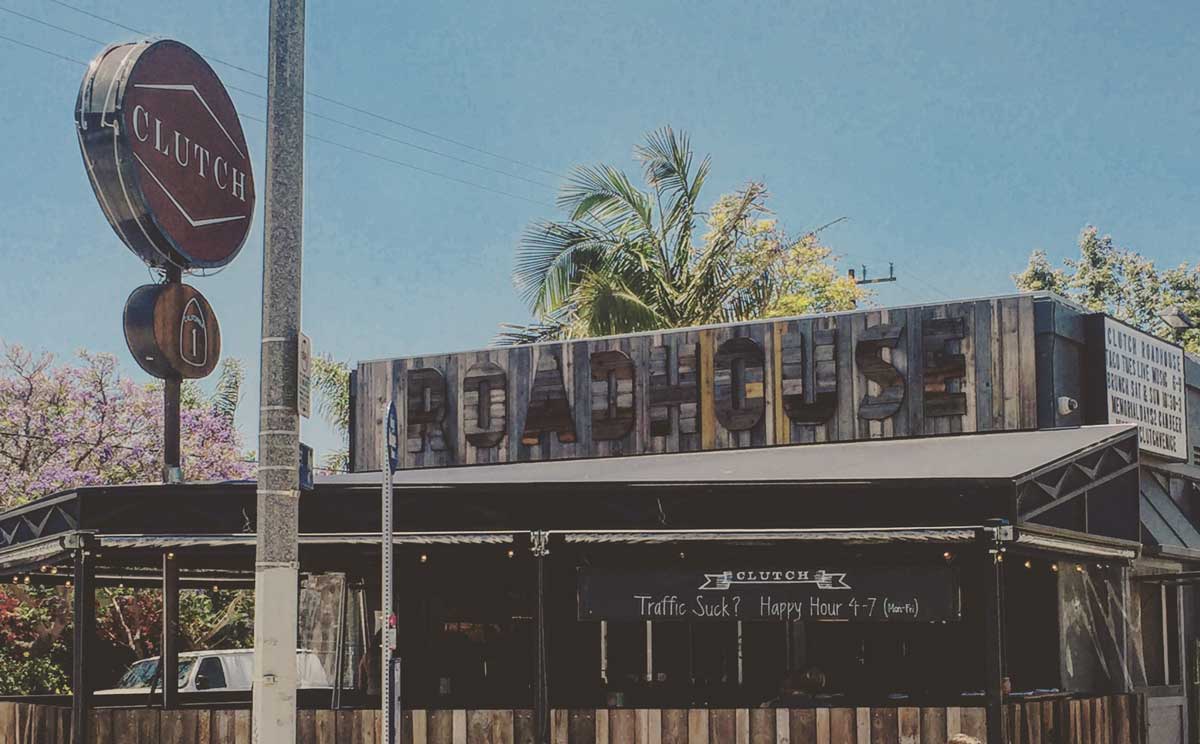 In Los Angeles Super Bowl LI kicks off at 3:30 p.m. on Feb. 5, where will you be? Watch the New England Patriots battle the Atlanta Falcons with game day fare, drink specials and more.
Clutch
The Venice CaliMex Roadhouse throws a Super Bowl party that starts with brunch and is followed by happy hour for the rest of the day. Their extensive happy hour menu offers everything from nachos and a calamari tacos to the Griddle Burger and sausage sliders. Drink $3 Tecate Light drafts while you watch the game on one of their seven screens throughout the restaurant and on their patio. 3-11 p.m.
Brack Shop Tavern
Head to the downtown sports bar to watch the game over specials on buffalo wings, French onion dip and all-American sliders along with bottomless rosé, 64 oz. growlers of beer, and 32 oz. howlers of cocktails.
L.P. Rooftop
Party above La Cienega Blvd. on the L.P. Rooftop with pre-game DJs, $5 beers and specials all afternoon starting at noon.
The Church Key
Enjoy an all-you-can-eat buffet (hot wings, barbecue pulled pork, mac 'n' cheese and more) from 3-7 p.m. at $60/pp, $15 for children under 12 years old. Also enjoy pitchers and buckets of bottled Bud, Bud Light, and Heineken will be available for purchase.
Baldoria
Stop by the downtown dining destination to watch the game and down shots of Buffalo Trace for $6.
33 Taps
The Hollywood and Silver Lake outposts of the sports bar offer burgers, beers and fries and a large collection of craft beer. Reserve VIP Table Packages available for groups of eight or more.
Sycamore Tavern
The newly opened, 10,000-square foot venue is equipped with 55 flat screen TVs for your Super Bowl viewing pleasure. $4 house beer cans, $4 Bud Light drafts, $5 mimosas, $6 Bloody Marys, $6 well drinks and $6 wine.
The Abbey Food & Bar
Celebrate at The Abbey where there will be food specials such as chips & dips ($12), sampler wings ($14) and an AstroTurf dance floor.
Boneyard Bistro
Head to the Sherman Oaks barbecue spot for a special game-day menu that includes buffalo wings by the pound, soft pretzel bites with smoked salt and spicy beer queso dip, French onion dip burger and more.
K Ramen. Burger. Beer.
Watch the game over a pound of K Ramen fried chicken confit, and a pitcher of Kirin Beer for $29.
Tavern
Head to the Blue Room inside the Brentwood restaurant for a festive buffet of chef-driven game day snacks. Highlights include bacon-wrapped dates, Spanish fried chicken, St. Louis-style ribs and more starting at 3 p.m.
Eureka!
Watch the game and enjoy one of their signature beers and wings for $10 starting at 1 p.m.
Horse Thief BBQ
Head to Horse Thief BBQ's downtown patio to watch the big game and enjoy Santa Maria-style tri-tip sandwiches for $8, along with 15 beers on tap and 11 wines by the glass.
Tom's Urban
Watch the Super Bowl on any of Tom's 75 screens and enjoy a bucket of five beers for $21 and other specials on Bloody Marys and shots of Jack Daniels.
The Morrison Pub
The Atwater Village offers their weekend brunch until 3 p.m. on game day. Also find happy hour from 3-7 p.m. and a Super Bowl-themed drink menu while watching the game.
The Garland
The North Hollywood hotel hosts a viewing party in their lobby bar and courtyard. Enjoy food specials like smoked lime chili wings with pineapple aioli and the Front Yard street dog along with happy hour drink prices.