Walt Disney Concert Hall 10th Anniversary Celebration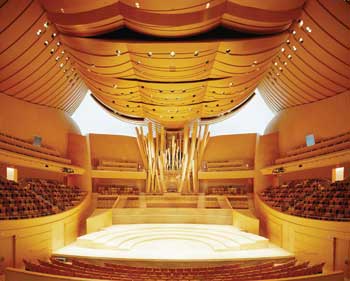 Celebrate a decade of world-class performances at the Walt Disney Concert Hall with a variety of star-studded events.
Upon its grand opening in October 2003, the Walt Disney Concert Hall was hailed as an architectural and acoustical masterpiece, an artistic inspiration, an instant landmark and a triumph for L.A. A decade later, the superlatives still ring true. In fulfillment of its mission, the permanent home of the Los Angeles Philharmonic reigns as one of the finest concert halls in the world.
The L.A. Phil kicks off a 10th-anniversary celebration with InsideOUT, a star-studded series of concerts and lectures led by music director Gustavo Dudamel. Highlights at the hall include the following events:
Walt Disney Concert Hall 10th Anniversary Events
Public Forums with Frank Gehry
Oct. 2. In a special live Which Way, L.A.?, host Warren Olney talks with Frank Gehry, KCRW's Frances Anderton, LA Phil President & CEO Deborah Borda and others about the building and its place in the ongoing plans to remake L.A.
Dudamel Conducting the L.A. Phil and Pianist Yefim Bronfman
Oct. 3-6. The late Peter Lieberson was long associated with the LA Phil – Esa-Pekka Salonen led the orchestra in the premiere of Lieberson's Grawemeyer-winning Neruda Songs here at Walt Disney Concert Hall in 2005. When he passed away in April 2011, Lieberson was working on the LA Phil-commissioned percussion concerto that would become Shing Kham. This new work (as realized by Oliver Knussen) is paired with Tchaikovsky's First Piano Concerto, played by Yefim Bronfman, a frequent LA Phil guest who regularly shares his passion and his deep musicality with Walt Disney Concert Hall audiences.
Esa-Pekka Salonen Conducting the Anniversary Concert Featuring the World Premiere of
Oct. 23. In May 1970 at UCLA's Pauley Pavilion, Zubin Mehta led the Los Angeles Philharmonic and Frank Zappa & The Mothers of Invention in the world premiere of Zappa's Concerto for Mothers and Orchestra. Zappa incorporated some of that music into the score for his surrealistic band-on-the-road film 200 Motels, released the following year, as was a soundtrack double album featuring the Royal Philharmonic Orchestra and narrator Theodore Bikel, as well as the Mothers. Zappa was often frustrated with orchestras, but his music was gradually embraced by the classical world, particularly as championed by Pierre Boulez. (Boulez also conducted the LA Phil in a concert that was also part of the same Contempo '70 mini-festival that featured Zappa's Concerto.)
Walt Disney Concert Hall, 111 S. Grand Ave., downtown, 323.850.2000. For more information on additional programming visit laphil.com